So realistic they often only reveal themselves to be paintings (and not photographs) up close and in person, the canvases of Damian Loeb are hyper realistically-rendered compositions based on photographs. The self-taught painter, born in 1970 in Connecticut, moved to New York City in 1989 and had his very first solo show ten years later at Mary Boone Gallery, one of the most instrumental galleries in developing the art market in the '80s. Now, represented by Acquavella Galleries in New York, Loeb has moved from using found photos from advertising, the media, and cinema to using his own photography as source material. Says the artist: "These images are solidified and codified through the act of painting them on canvas where they can be viewed as a new chapter in a conversation exemplified by artists as diverse as Vermeer, Balthus, Millais, and Eric Fischl , as well as the theatrical visions of the Lumiere brothers and the language created by master directors like Hitchcock, Kubrick, and Spielberg."
Artspace worked with Loeb to curate an online exhibition of alumni from the New York Academy of Art , the graduate school in Tribeca, where students are taught traditional methods and techniques, combined with rigorous critical discourse. Here the artist talks about the exhibition. Read what he has to say, and browse the online exhibition here on Artspace to collect some of brightest post-grad talent from The Academy!
What's your relationship to The Academy? What do you appreciate about the school?
I have been an involved fan of the school for over twenty years. The earnest enthusiasm of the students and teachers is infectious. Being surrounded by people who love and fetishize the act of drawing, painting, and sculpting is invigorating. I go to most of their shows and events; sometimes just to be reminded about the true basics of art and other times to discover and enjoy all the new talent.
Can you describe some of the pieces you chose to include in the exhibition and talk a little bit about why you chose them?
It was very difficult narrowing down the selection. There was so much fabulous and heartfelt work this year! But here are just a few of the ones I would love to look at everyday.
Caleb Booth 's piece Go to Sleep Ichabod shows both amazing texture and control in a beautifully moody work. The juxtapositions are hard yet seamlessly meshed to enforce the emotional impact.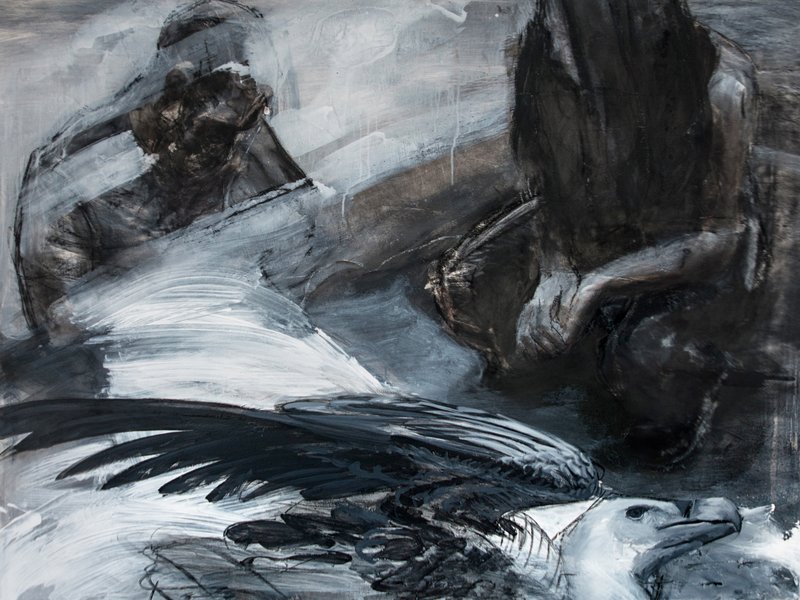 Caleb Booth, Go to Sleep Ichabod is available on Artspace for $3,000
Shiqing Deng 's homage to the pieta shows a sensual understanding of flesh and flatness that is intriguing and satisfying. And I am a sucker for good remixes.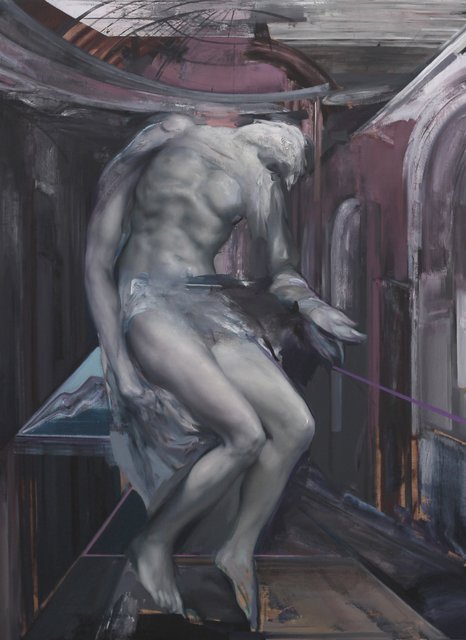 Shiqing Deng, Pieta is available on Artspace for $3,400.
Magaly Vega 's painting The Fairies Kindly… has a sense of color and liveliness in the strokes that belies the simplicity of the abstraction and pushes you to see more in its shapes and forms. I love the indefinable scale of it.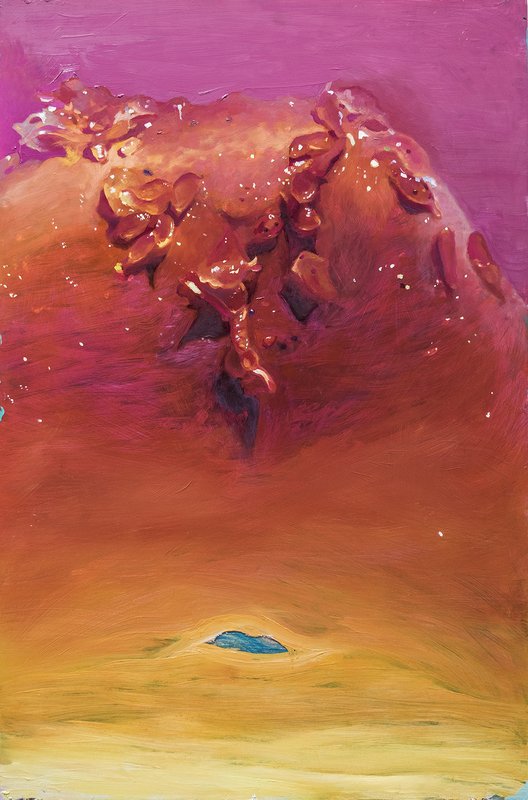 Magaly Vega, The Fairies Kindly Embrace Me Today I Left You a Note in the Usual Place My Wings Guide Me to a Nonexistent Paradise is available on Artspace for $1,500
What is the value of technical training in traditional art-making techniques? Even as art continues to expand and redefined to include new mediums and materials, will traditional painting and sculpting always be relevant?
There will always be a need for balance between the emphasis on technical acuity and heartfelt intellectual concepts in any art. It is the challenge that separates good art from great. There will also always be insistent voices dismissing or insisting on the supremacy of one or the other. I only know what I like and what I want; to do, touch, manipulate, and make. I continually hope it is appreciated and relevant. I don't think either is ever faked well. If an artist can truly commune with a material or technique in a way that expresses emotion it is usually obvious and always relevant, regardless of current culture, history, or precedent.
See the online exhibition, curated by Loeb, here on Artspace.
[related-works-module]