In a 1994 Saturday Night Live skit starring Chris Eliott and Kevin Nealson, the owner of an oddities shop called "Funny Strange" loses all of his customers to his twin brother who runs a nearby joke shop named "Funny Ha Ha": 
Lyle: [sighs] Plastic puke is Funny Ha Ha—not Funny Strange.
Customer #3: [confused] Well, what's Funny Strange, then?
Lyle: Well, my friend, I'll show you! Funny Strange, right over here. [leads his customer to a display] It's like, it's... it's a two-headed lamb–it's Funny Strange! Or, uh...or, a birthmark that looks like Italy! [laughs] That's...that's Funny Strange!
Customer #3: Ohhh. Then, you don't have any plastic puke, then?
Unlike the brothers, who drew a hard distinction between the two categories, today's contemporary art galleries sell it all—the humorous, the peculiar, and the humorously peculiar. Stoked by the recent trend of conflating comedy and art, some of today's best artists are practicing what David Robbins presciently coined in the 1980s: "Concrete Comedy," a humor communicated through objects and actions rather than words. Working outside of the mainstream forms of sketch, sitcom, and stand-up, artists have ample freedom to get weird. In this exhibition (curated by Samantha Best) we've brought together a collection of works that ask the audience to decide for themselves: funny strange or funny ha ha?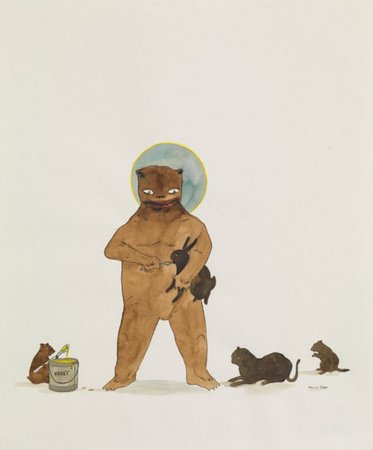 A sadistic bear with a honey feeding fetish? Marcel Dzama's bears have acted much more depraved—just look at the album cover for The Weakerthan's "Reconstruction Site."
JOHN BALDESSARI
Raised Eyebrows / Furrowed Foreheads: Crooked Made Straight, 2009

Leave it to John Baldessari to make a joke out of an old man's wrinkled forehead. Here, the conceptual artist uses one of his signature moves—isolating a body part—to irreverently transform found imagery into abstraction.
CINDY SHERMAN
Untitled (stuffed animals clown), 2003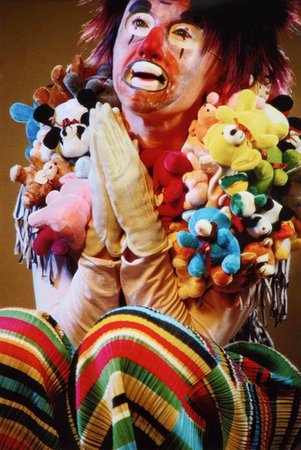 Remember when master of disguise, Cindy Sherman teamed up MAC Cosmetics to produce a palette inspired by clowns? Now you too can have this look.
INKA ESSENHEIGH
Show Girls, 2000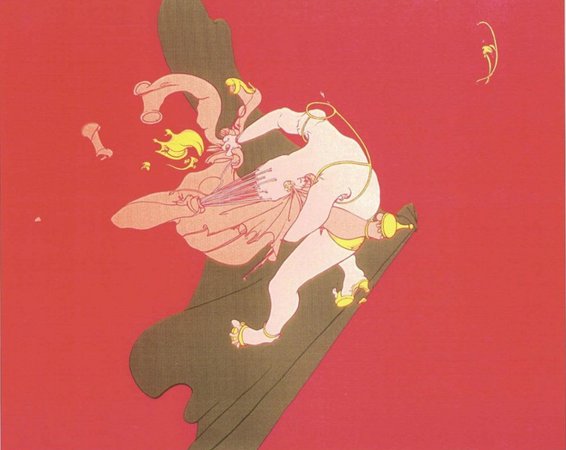 Hell hath no fury like a show girl upstaged! Even Inka Essenhigh's amorphous blob figures take their earrings out when it's time to throw down.
HARMONY KORINE
Ho Ho Suck, [2011 NYABF Fundraising Edition], 2011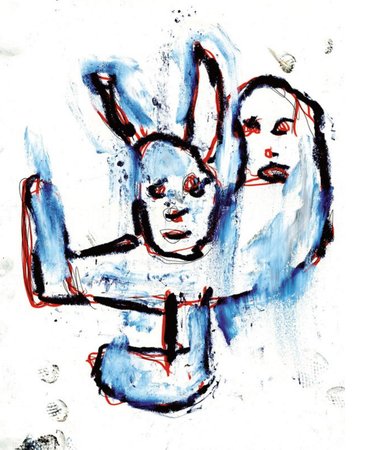 Perverse auteur Harmony Korine is never one to shy away from the disturbing or bizarre. This drawing of menacing bunny-eared creatures has a haunting effect not unlike the havoc-reeking hooligans in his underground cult classics, Trash Humpers and Gummo.
LAURIE SIMMONS
Ventriloquism, 1986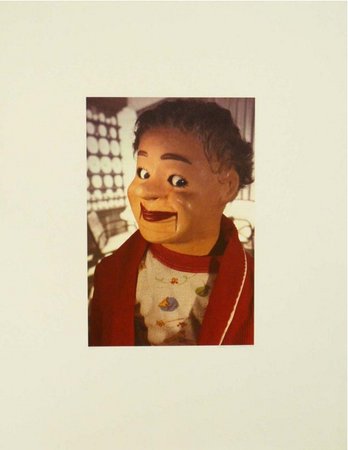 This dummy knows something you don't know—or maybe he just really enjoys having a hand up his rear end. Either way, Laurie Simmons has a way of pushing dolls deeper into the uncanny valley.
DAVE EGGERS
Untitled (Please Don't Tell me About the Sixties), 2015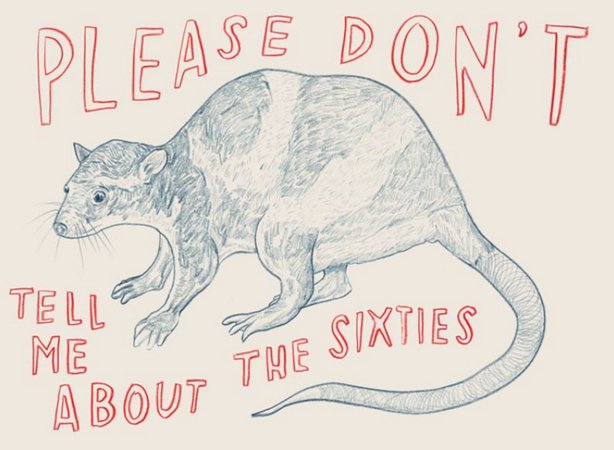 Part of a print series where hyperconfessional writer Dave Eggers lends his ironic voice to animals, this rat does NOT want to hear your nostalgia for the days when his kin ruled both the subways and the streets of New York.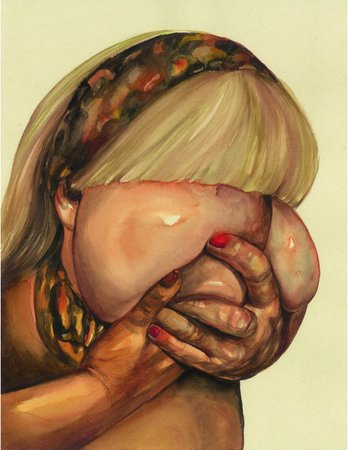 Oda Jaune comes from a storied lineage of eccentricity. Her teacher (and husband) was Jorg Immendorf, a Jungen Wilden (the Young Wild Ones) painter with a dark surrealist sensibility and penchant for orgies, and his teacher was Joseph Beuys, the conceptual performance artist who most famously covered his face in gold leaf and honey and talked to a dead rabbit for hours. This unsettling painting of a faceless girl in a state of anguish certainly keeps the strange quotient high.
DAVID SHRIGLEY
Salt & Pepper Shakers, 2008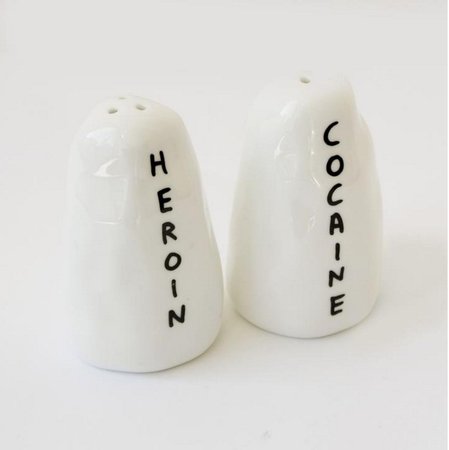 David Shrigley's cheeky cartoons often give advice for navigating life's difficulties, suggesting, "Cut off your redundant parts," or "It's ok to run away from your problems–it's a good idea." In this work, he offers an easy way to spice up any meal—hard drugs!
AHMET ÖGÜT
Mutual Issues, Inventive Acts: Simit Seller, 2008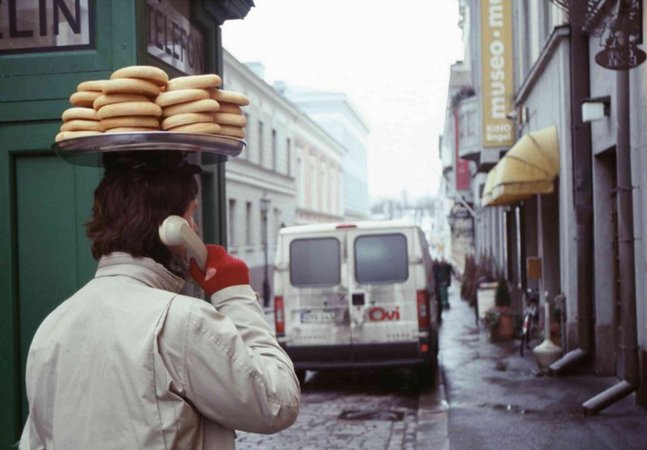 "Hey honey...yes work is fine...sold a few pastries..." A call like this could not wait. Amet Ögüt's work communicates the clever persistence of the working class; this man's work is literally hanging over his head (where else can he put it?), but he still finds time to chat.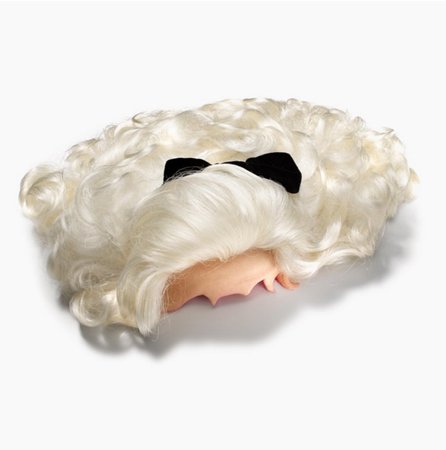 Called the King of Sleaze, the Prince of Puke, the Pope of Trash, cult film icon John Waters has always been willing to cross the line of propriety for a chuckle. In this piece, he immortalizes the death of Playboy playmate Jayne Mansfield who was rumored to have been scalped in a car accident—finding humor in the absurdity of both her life and death.