Philip Johnson intended Da Monsta, a strangely hunched red-and-black structure on his Glass House property in New Canaan, Connecticut, to be much like a living, breathing thing. The mock-aggressive name for the building—one of 14 in the famed architectural compound—reflects its unusual inception: Johnson took his friend Frank Stella's design for a museum in Germany as a jumping-off point, keeping in mind the influence of German Expressionists. Now artist E.V. Day has in turn riffed on Johnson's inspirations to create a new site-specific installation, SNAP! (up through November 30), that reimagines the outside as well as the inside of Johnson's asymmetrical, two-toned beast.
Day's installation embellishes Da Monsta with red, knotted ropes that coalesce into webs. (Director Henry Urbach noted that actual spiders have begun to spin their own actual webs on the artifice, giving the artwork an added layer of site-specificity.) Inside the building, which Johnson originally intended as a visitor's center, Day has five recent sculptures on display.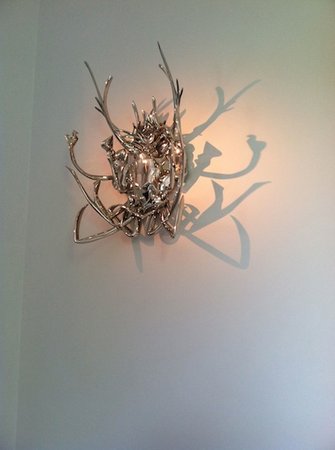 E.V. Day's Pollinator (2011)
For Pollinator (2011), the artist picked the petals off a flower then put the result through a 3-D scanner.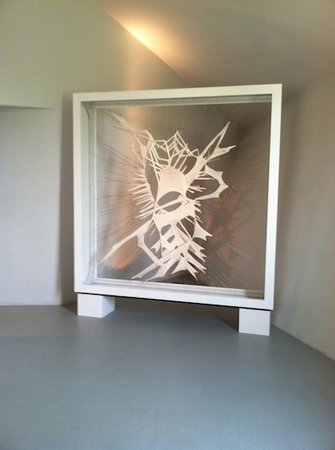 Bandage Dress (White With Chain) (2012)
In her Bandage Dress Series piece, a deconstructed Herve Leger bandage dress has been cut and stretched across a steel frame.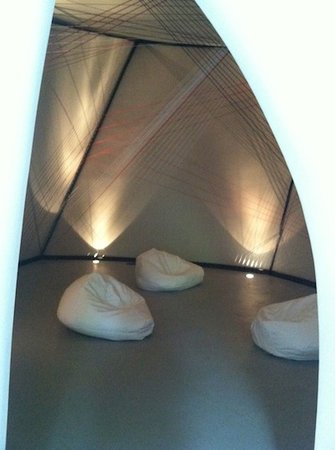 E.V. Day's Purring Chamber (2013)
In the second gallery, Day cast intersecting, colorful lines across the top of the room, calling back to the building's geometry, with soft white masses like beanbag chairs on the ground—out of which the sound of purring echoes through the room. Day calls this room the Purring Chamber, as a nod to Johnson's vision of the structure as a living entity.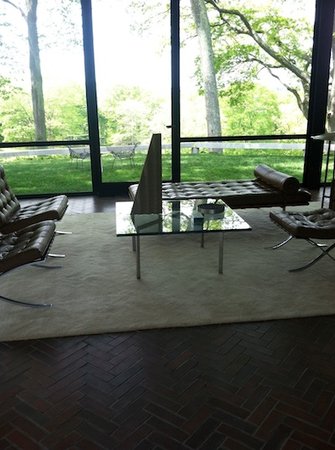 Tauba Auerbach's Gnomon/Wave Fulgurite I.I (2013)
Inside the Glass House itself, the artist Tauba Auerbach has created the latest sculpture for the Glass House's ongoing exhibition in honor of Giacometti's original sculpture Night (the artist died before the work could be restored and it was never returned to the house). In homage, artists now create sculptures to be on view for three to six months on the Glass House coffee table before the works "disappear." Auerbach's Gnomon/Wave Fulgurite I.I (2013), the second sculpture in the series (on view through September 1), acts both as art object and active allusion to a sundial. The undulating surface of her sand-and-resin work catches the brilliant light streaming into the house, and casts wavy shadows on the highly ordered environment.
Find artworks on Artspace supporting the Glass House's mission at right.