Post-Truth is defined by the Oxford English Dictionary—which chose it as its 2016 Word of the Year—as "relating to or denoting circumstances in which objective facts are less influential in shaping public opinion than appeals to emotion and personal belief." When art's purpose is arguably to help "shape" public (or at least its audience's) opinion, emotion, and personal belief, it's no surprise that Culture Lab Detroit chose "Post-Truth" as the subject for its fifth annual panel discussion series.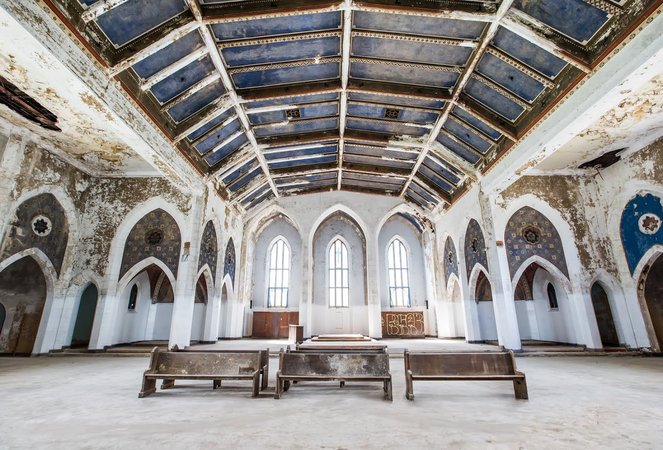 Woods Cathedral, Detroit. Coutesy JTG Detroit Project
The two-day event taking place October 5-6 is headlined by an impressive roster of heavy-hitters: 2017 Pulitzer Prize winning critic Hilton Als, artist and founder of the Watts House Project Edgar Arcenaux, conceptual visual artist Mel Chin, artist and writer Coco Fusco, architecture and design firm Leong Leong, and artist and self-proclaimed "conceptual entrepreneur" Martine Syms. The first pannel will involve a discussion that explores "different versions of history, ways of existing in American today, and possibilities for the future." The second, which is moderated by Deana Haggag and takes place at the repurposed historic 50,000-square-foot Woods Cathedral, will "clarify and complicate the border between art and reality" during a time of "autofiction, reality television, fake news, and virtual reality."
RELATED ARTICLE: Deana Haggag on How Funding Artists "Dismantles the Disgusting Rhetoric" of the (NEA-Less) Trump Administration
Culture Lab Detroit—a non-profit that hosts dialogues and facilitates public projects by international artists, architects, and designers in the city of Detroit—has organized serial discussions on topics like public green spaces, art interventions, and "living design" in the past. In its fifth year, Post-Truth is its most ambitious discussion series to date.
[related-works-module]