Yesterday, a woman open fired on employees at Youtube's headquarters in Northern California. Three people were injured (one remains in critical condition) and the shooter herself was killed by apparent suicide. Since then, we've learned that the shooter, Nasim Najafi Aghdam, had a website that aired grievances about Youtube's policies, which according to Aghdam, restricted her ability to make income from receiving views to her videos uploaded to the platform. Aghdam, who appears to also go by the name of Yeşil Nasim (which translates to Green Nasim) online, had four Youtube channels: three for English, Turkish, and Farsi, and one for "hand art." All four have been taken down.
But, clips of her videos can still be found, and after watching them, we couldn't help but notice that they look a lot like video art. Was she a video artist? We're not sure. But what we can say, definitively, is that what happened yesterday was tragic and wrong, and in no way do we wish to idolize or romanticize a person responsible for such ill doing. Our thoughts, of course, are with the victims and their families.
Let's take a look at some videos uploaded by the shooter. Aghdam was an ardent vegan and animal rights activist, and she produced videos that criticized animal abuse among other issues like consumerism, sex, and greed. In the video below, she parody's Nicki Minaj and criticizes the promotion of unhealthiness, alcohol, and lack of manners.
In another parody video, she assumes the likeness (sort of) of Taylor Swift, and uses the format of a music video to talk about animal cruelty and veganism:
In other videos, Aghdam takes on different characters, at times sporting a beard or blonde wig. And in one bizarre how-to video, she instructs viewers how to make vegan "shit cookies" in the shape of, well, feces.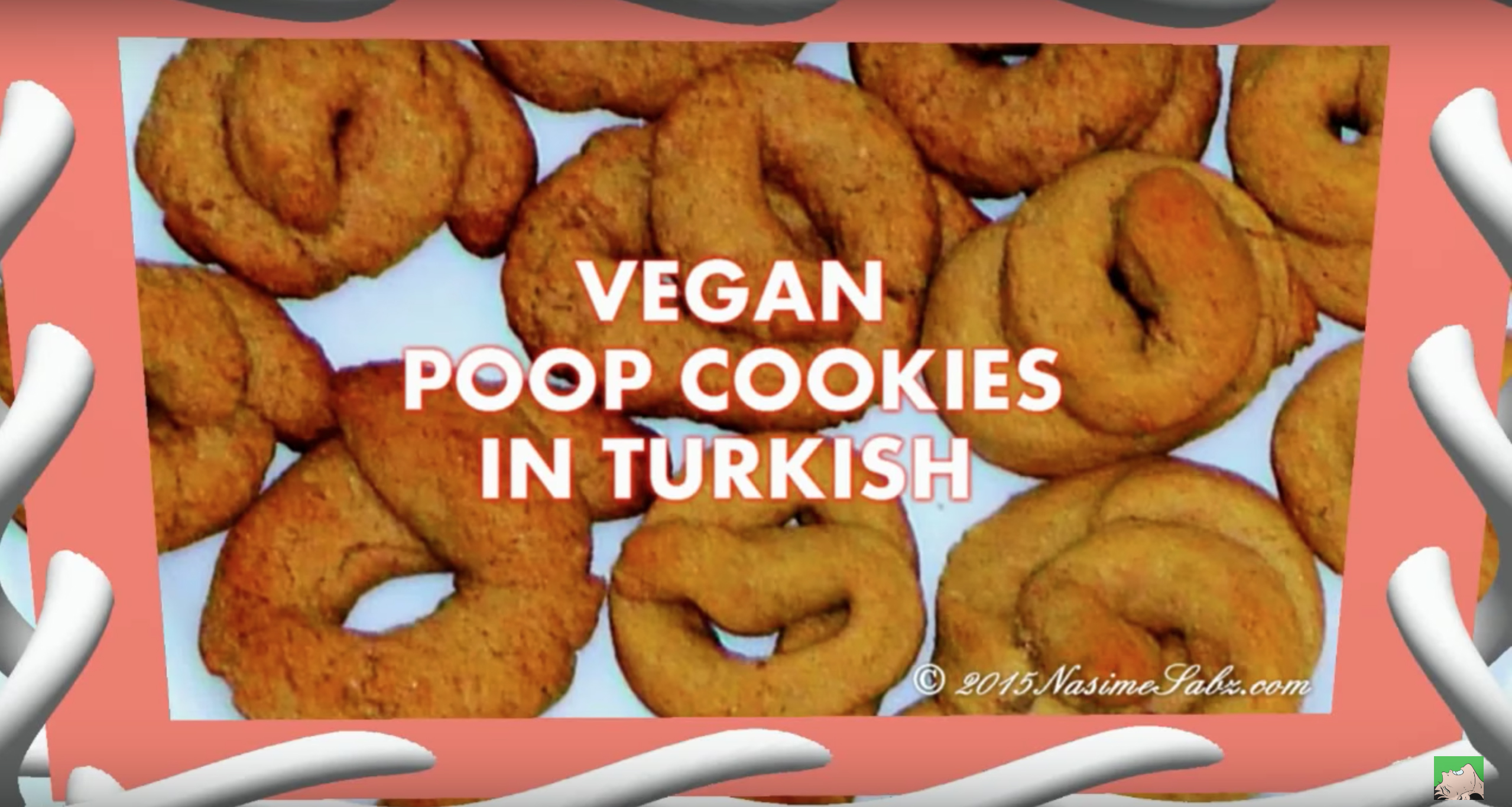 Screenshot of one of Aghdam's videos
The following video was uploaded by Aghdam but instead is a compilation of short clips excerpted from a variety of the shooter's videos.

Before the shooting, Aghdam seemed to have a bit of a cult following. Judging by pictures of her Youtube Analytics dashboard she posted to her website, her videos in 2016 were getting between 94,000 and 366,000 per month. Below is a video made by a fan, who interspersed excerpts of  Yeşil Nasim's videos with found footage and his own narration. (After the shooting, the video's author posted another video in which he denounces Yeşil Nasim's obsession with social media, and urges his followers to seek help if they feel their self-worth and mental health depends on the success of their social media channels.)

Whether or not Aghdam considered herself an artist, we don't know. And while we certainly see how these videos, say, in the context of a gallery, could resemble art, they are instead the expressions of a severely mentally ill person capable of inflicting harm on others and herself.