Artspace partners with galleries and institutions to provide art from all over the globe. But every once and a while, we'll come across an artist who isn't represented by a gallery or institution, and we just have to have them. Charles Wilkin is one such artist, whose surreal and seductive collages have been flying off the proverbial shelves since we've had them.
A native New Yorker living in the Catskills, Wilkin has shown his work in both solo and group shows in New York, Los Angeles, Paris, London, Barcelona and Berlin, and his work is part of the permanent collections of the Library of Congress in Washington, DC and the Museum für Kunst in Hamburg, Germany. Wilkin is also an active member and co-curator of the International Weird Collage Show based in Barcelona. Here, he answers a few questions about his studio practice.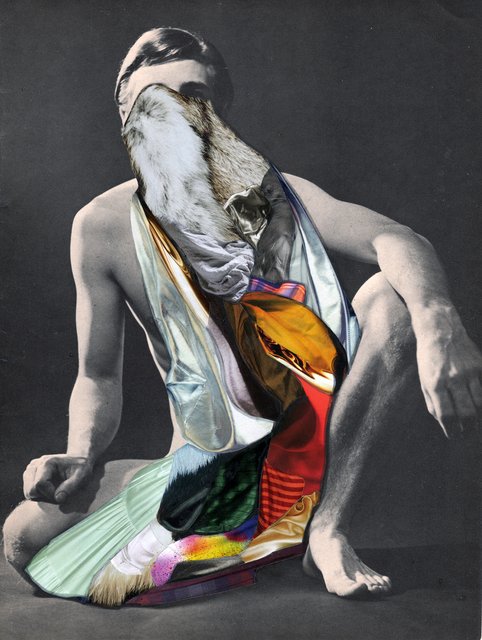 A Thousand Times is available on Artspace for $800
Can you describe your process?
My process is very spontaneous and fluid; I often call it the 'Perceptive Reading of Paper Scraps.' I'll generally start with a rough idea or mood but I rely heavily on the process itself to inform my work conceptually. For me, the sorting, selecting, and interaction of the paper scraps creates a space where everything is possible, which is both exciting and daunting. This experience of creative infinity is what initially drew me to collage and it's honestly what still inspires my work today.
Over the years I've developed a few basic "rules" within my process which provide structure and direction—but for the most part, there are very few expectations. By living in the moment I'm able to explore dozens of possibilities, which inevitably leads to those unexpected moments of beauty and clarity. I know a piece is done when the chaos and frustration of making turns into an incredible sense of quiet and calm.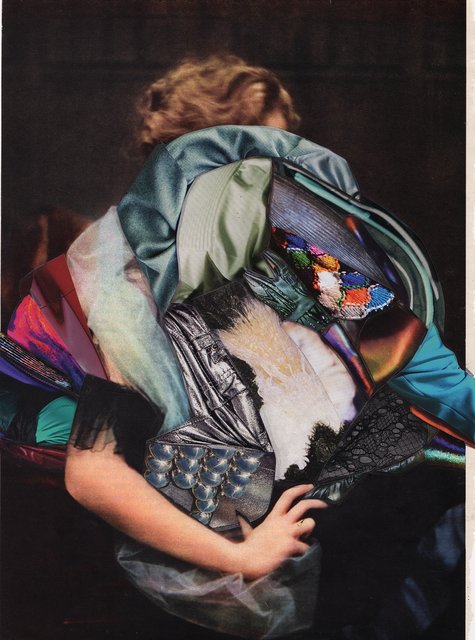 Indexing is available on Artspace for $800
What is your work about?
For me, a collage can be anything, really: a bouquet of flowers, a room full of people, or a pile of trash on the street. So, my work conceptually is not about one specific message but rather a loose connection of thoughts, experiences, and observations. Collage as a medium also has an inherent ability to replicate the frenetic world we live, with all its cruelty and ugliness. I'm always pushing my work to reconfiguring that reality through my use of layering, color, and texture. By finding associations that may seem awkward or unexpected I'm able to reveal the unseen qualities of human nature that lie just beneath the surface, transforming reality into something much more alluring and aspirational. I believe the true meaning of my work is derived directly from the intertwining of these associations and the spontaneous nature of my creative process.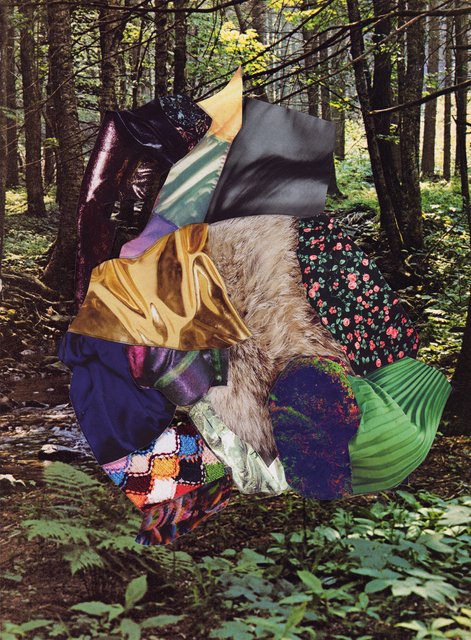 Atonement is available on Artspace for $800
Where do you find your source material?
The majority of my materials are old photo books found at flea markets and thrift shops, as well as contemporary fashion magazines. I have so many stacks of materials in my studio, it's probably more that I will ever be able to use in lifetime, which is why I'm often reluctant to add new materials to my piles. I find being selective helps choosing images for a project easier and I honestly enjoy the challenge of making something out of nothing.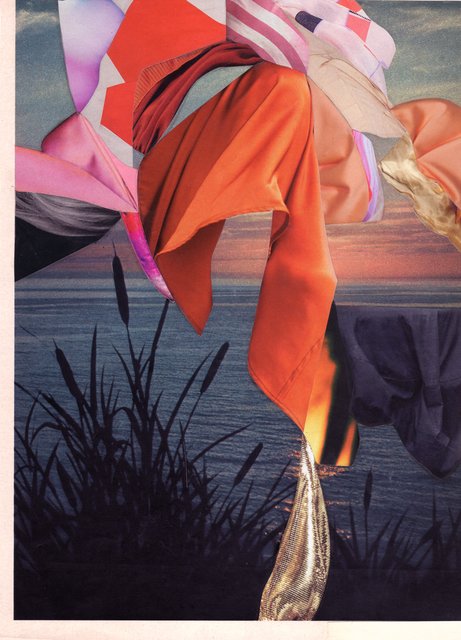 The Wake is available on Artspace for $800
What do you hope the viewer gets from your work?
One of the things I've been obsessed with from the very beginning is trying to create work that's convincing and transformative even if it seems surreal. By creating new realities, my work allows the viewer to see beyond familiarity, freeing them to explore the unknown that hovers just beyond our senses. A 6th sense, the paranormal, and peripheral vision are similar metaphors but I believe my objective conceptually is something much more meditative. For me, this unguarded sensibility is full of possibility and empathy, something many of us are often afraid to embrace or share. My hope is that the viewer will find a meaningful link in my work to their own narrative, discovering, even for a moment, the empathy and beauty within us all.
For more available works by Charles Wilkin, click here.
RELATED ARTICLES: