Walking into Tabboo!'s studio in the East Village is like stepping into a ray of sunshine. Not because actual sunbeams penetrate the well-lit apartment (which they do), but because of the ambience: overgrown plants, piles of musical instruments, vibrant art all over the colorful walls, even an entire wall dedicated to puppets. The studio exudes positive energy and warmth, much like the artist.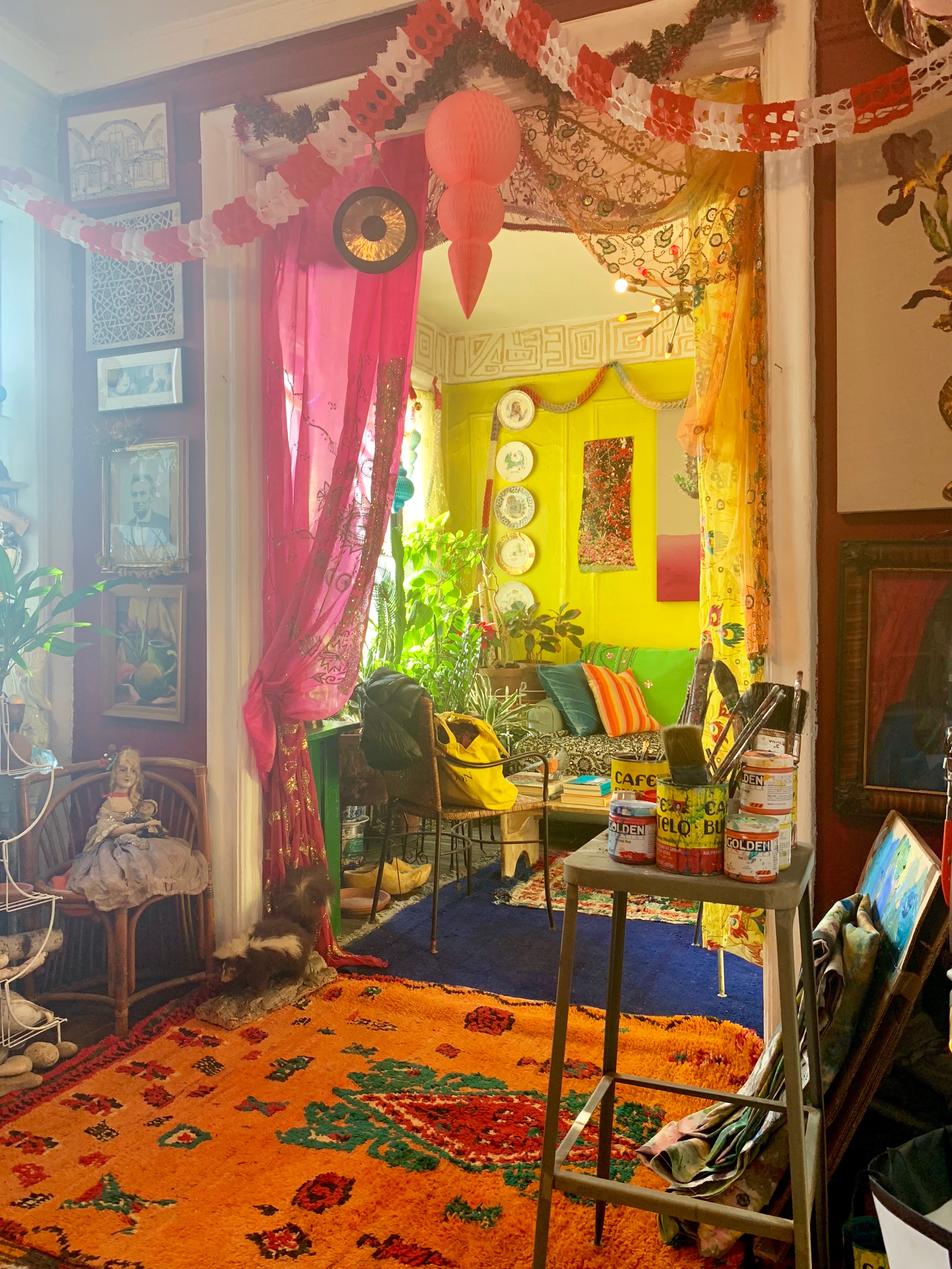 Inside Tabboo!'s apartment. Courtesy the artist and Gordon Robichaux, NY
Tabboo! has lived and worked out of this space for over 30 years now, bearing witness to the dramatic gentrification the neighborhood has undergone. As the East Village is now home to bougie bars and upscale boutiques, young millennials would never know that the area was once a gritty cultural hotbed for alternative art, music, and performance—and where the former professional drag queen, Tabboo!, blossomed. Along with painting and performing, Tabboo!'s been muse to many artists, including Nan Goldin , Ai Weiwei and Steven Klein.
However, unlike most fixtures of the East Village negatively impacted by gentrification, Tabboo!'s career was neither displaced nor demolished. The artist continues to flourish, creating portraits of friends, landscape paintings, and depictions of the current political resistance. He's even impacted the fashion world through collaborations with Marc Jacobs and Supreme. Now, he's showing his work in a group show organized by New York's Invisible-Exports at the Chicago gallery Western Exhibitions. And, his work is on view at London's Herald St. gallery, which is hosting Gordon Robichaux gallery (who represents Tabboo!) as part of Condo.
Here, we reminisce with Tabboo! during a studio visit, revealing both the revolutionary art history he's been a part of and how he's evolved with the times.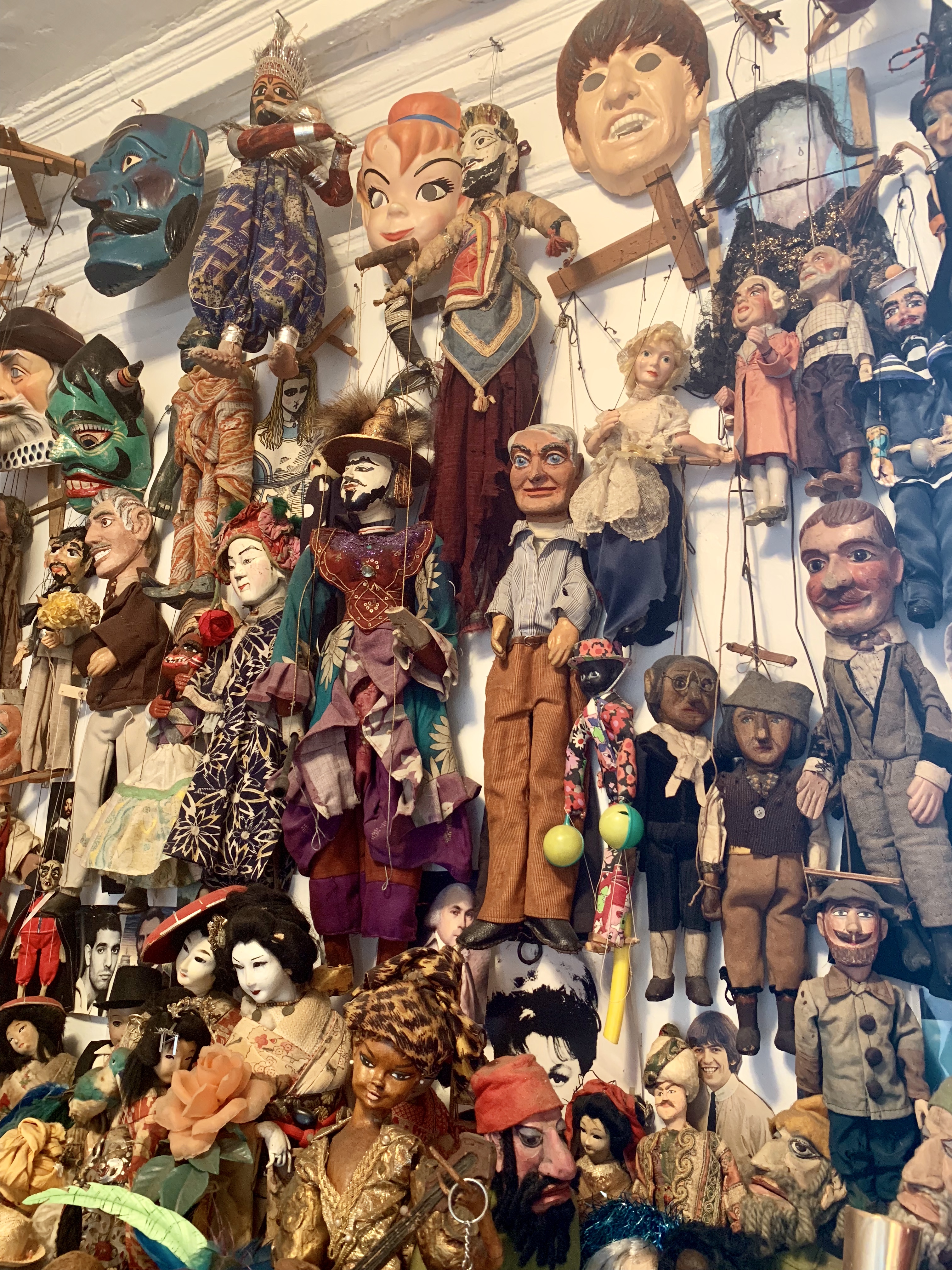 Tabboo!'s studio:  Wall of Marionettes and Puppets (detail), courtesy the artist and Gordon Robichaux, NY
You went to school at Massachusetts College of Art and Design in Boston, where you became friends with artists associated with the Boston School of Photography (Nan Goldin, Jack Pierson, and Mark Morrisroe). Did they influence your early work at all?
To correct history, I didn't meet Nan Goldin until years after I graduated, when I moved to New York City. I was familiar with her work, though, because she was at a neighboring school in Boston. She was a couple of years older than me. Jack Pierson was a few years younger than me, and he definitely influenced my early work. Jack was my first real art friend, and we're still friends many years later. We would collaborate on ideas for shows and do performances. It was the early stages of performance art. In Boston, we really tried to get a "scene" going. There was this little hotel that we called Polly Cow, where we had performances; but we could never really get it going. So we all left Boston for New York City, where the scene was actually happening—"we" meaning me, Pat Hearn, Mark Morrisroe , Jack Pierson, Nan Goldin, and David Armstrong .
When you moved to New York City in 1982 what was the scene like?
When I first came to the East Village, it was a real junkie vibe. Even the drag was junkie. The whole neighborhood was burned out and horrible. But when you can rent an apartment for under $100/month, artists can afford to live there; unless you're born filthy rich, most artists are dead broke. So, the scene was active with artists. The first week I moved to New York City, I met so many great artists—Greer Lankton, a transgendered sculptress, who's since passed away. Greer had these life-sized dolls at the Andy Warhol Mattress Factory. I met Ann Craig and Jean-Michel Basquiat at White Columns (Jean-Michel was performing in a hula skirt). And I met Nan Goldin, who I linked back up with in the early '90s when the drag scene was really huge in New York.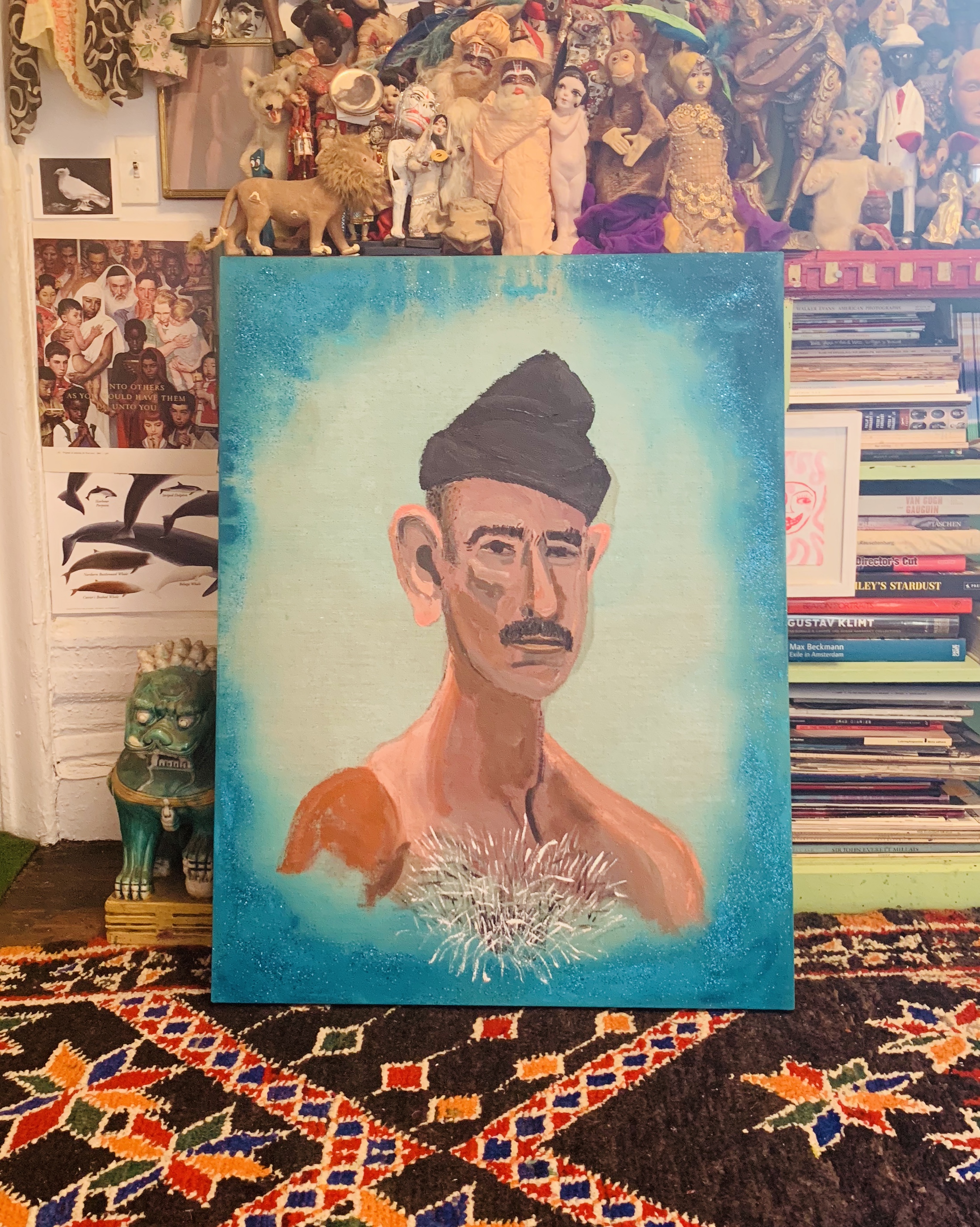 Tabboo!'s studio: Aqua Self-Portrait , courtesy the artist and Gordon Robichaux, NY
Drag culture first emerged out the of the new wave scene. I'm a music freak, and in the '70s there was mega-rock, like Queen and Led Zeppelin. Mega-rock was washed away by punk rock, with British bands like The Clash. Then new wave developed, which was really gay. It had a funky, sci-fi element, where musicians had wacky hairdos and makeup. New wave then latched onto the new romantic movement, which was even gayer. That's what Boy George comes out of. He was definitely presenting as a drag queen, in female fashion. That all morphed into drag. Boy George morphed into Leigh Bowery.
In the beginning, drag was so taboo, especially in the gay world. If you were in drag and walked into a gay bar, they'd throw you out—which the TV show Pose recently reenacted in a great scene. I have this theory, that in the gay world at that time, the most criminal, outsider art that you could possibly do was feminine. It became this real divide in the community. The West Village was where all of the Robert Mapplethorpe -type leather queens hung out. They were all about muscles, spike, and edge. Their logo was "no fats, no femmes, no Asians," so you couldn't be any of that shit. So all of the fats, femmes, and Asians got together and said, "fuck you we're going to really go wild." They created an opposite scene in the East Village, where the drag queen ruled the world. There was actually a movement called "fags against facial hair" ( Keith Haring signed stencils he painted on entrances to the East Village from the west with FAFH) because if you had a mustache, you obviously weren't doing drag. There were many East Village clubs, but the main club was The Pyramid. Everyone wanted to perform there, and the stars were the drag queens. I got in at the ground level and I was one of the top performers. During the club's heyday, I was professionally doing drag shows around five days a week.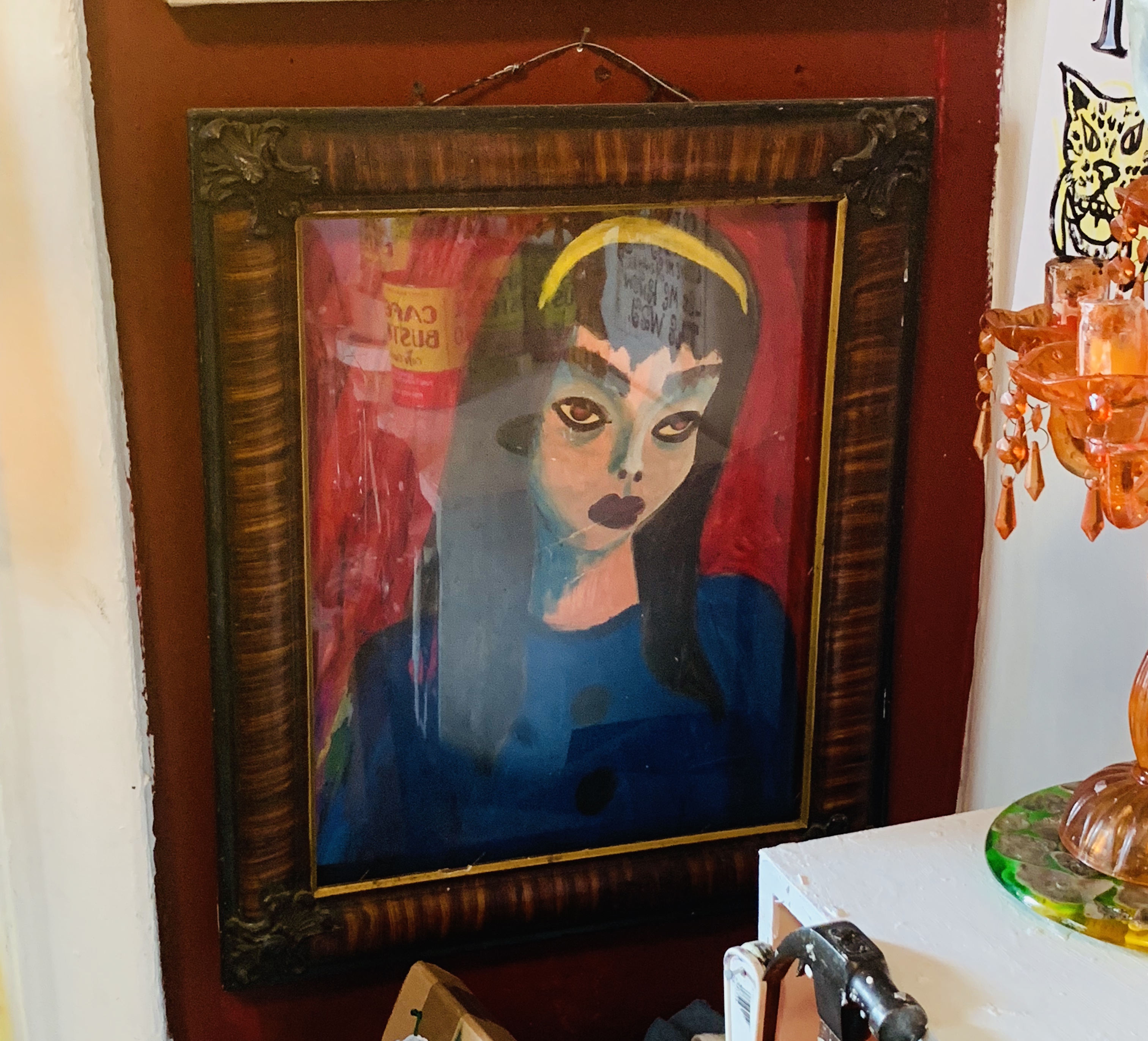 Tabboo!'s studio: painting by Cookie Mueller, made when she was a teenager, courtesy the artist and Gordon Robichaux, NY
How was the character of Tabboo! born?
You have to read my book [laughs]! As a child I was always artistic. I was the little kid painting murals in the elementary school, and I did a lot of puppet shows. As a pre-teen child, I was a professional puppeteer. And I would play all of the parts, both male and female. So it wasn't a huge leap for me to do drag; I had already performed as female in some sense. At the Pyramid Club, one of the shows we did was called "Solid Gold." It was a spoof on the 1980s television series of the same name—because with drag we were always spoofing popular culture.
Anyway, I was one of the guests on our version of the show, and they told me I couldn't go on stage without a stage name. They told me I couldn't be Stephen Tashjian [Tabboo!'s birth name]. So I decided my stage name would be Tabboo!. I grew up working-class, where being a professional artist was never a viable career option. The only other artistic person in my family was my aunt, who was a weaver. Her name was Roberta, but they called her Boo. I thought that was so funny and weird. So I decided on the "boo" and to sneak in Tashjian with the "Ta" part. That's where the name came from.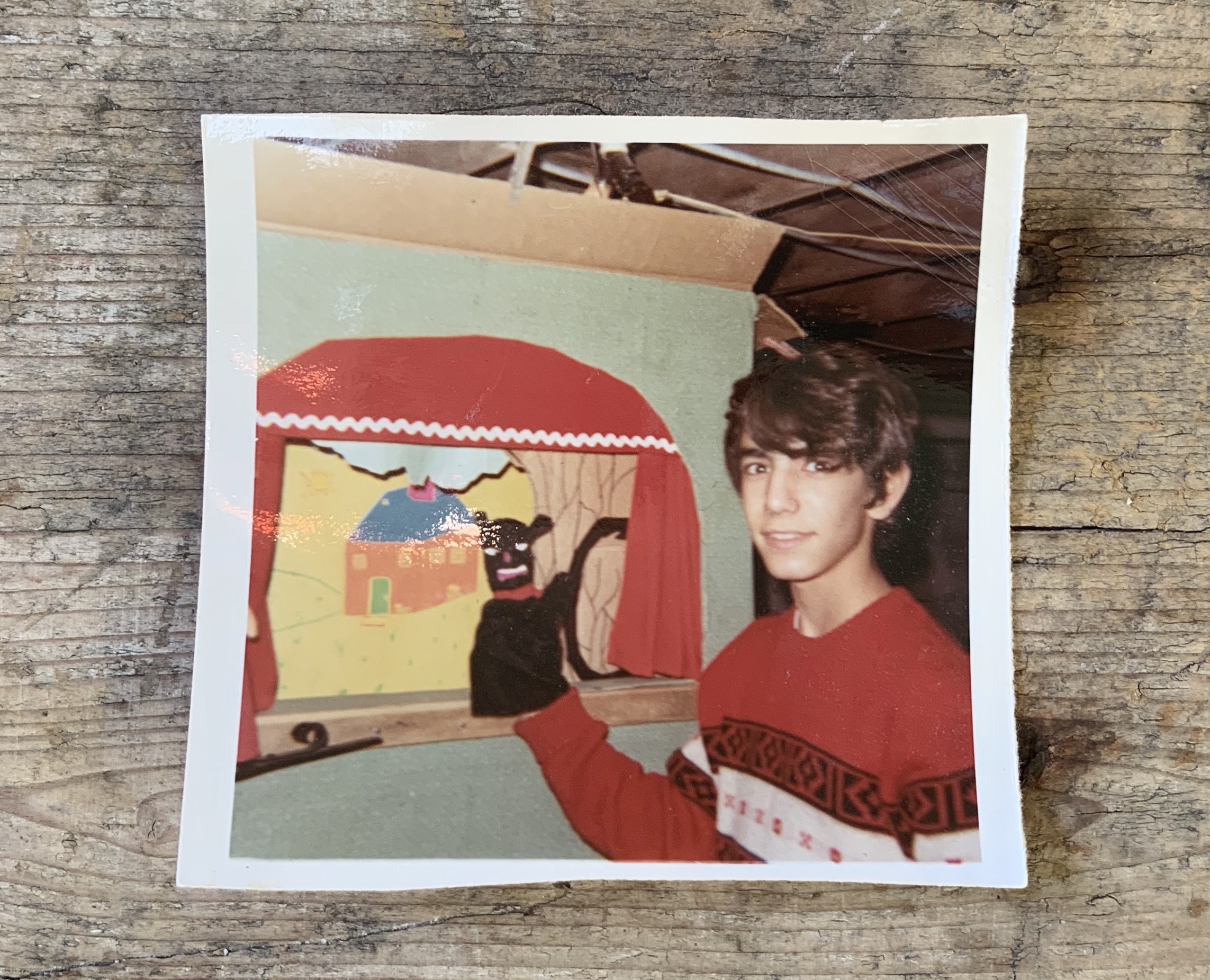 Tabboo! as a child puppeteer, courtesy the artist and Gordon Robichaux, NY
As far as the drag goes, I had been doing other kinds of drag, but once I was at the Pyramid Club, it was a real Petri dish of artists who were bouncing off of each other. If someone came in with a wild waist cincher, then everyone went out and got one. Or if someone came in with eyelashes on top of their eyelids, then someone would come in with eyelashes on the bottom of their eyelids. Fast forward 40 years to nowadays; every third grader has a drag tutorial on YouTube. They know how to contour and do a lace front wig—there used to be none of that! There was no real drag history before. For the most part, drag was only something you could learn from the people you dealt with at this club. So that's how my look evolved eventually.
It must be crazy to see how popular drag has become with RuPaul's Drag Race being a hit show, etc. Did you ever expect drag to become mainstream?
I never expected it! I remember when RuPaul and Lady Bunny came to New York City. I was already big at the time, and I was sort of the older sister of those two. In fact, RuPaul lived in apartment four of this building. Unfortunately, I never saw art or drag ever being a possibility for anyone, or myself really. I just never saw it. For a while, it seemed like the only people that could break into this showbiz art world had some connection to Andy Warhol. He was the guy who would point to, say, Keith Haring and say, "you, you're coming with me," and then boom—Haring was everywhere. I guess it's all about timing and that's in the good lord's hands [laughs]. Anytime I thought I couldn't make it as an artist the powers that be would throw me a huge bone. That's what I love about art and fashion; it just moves people and makes them happy. It's about positivity.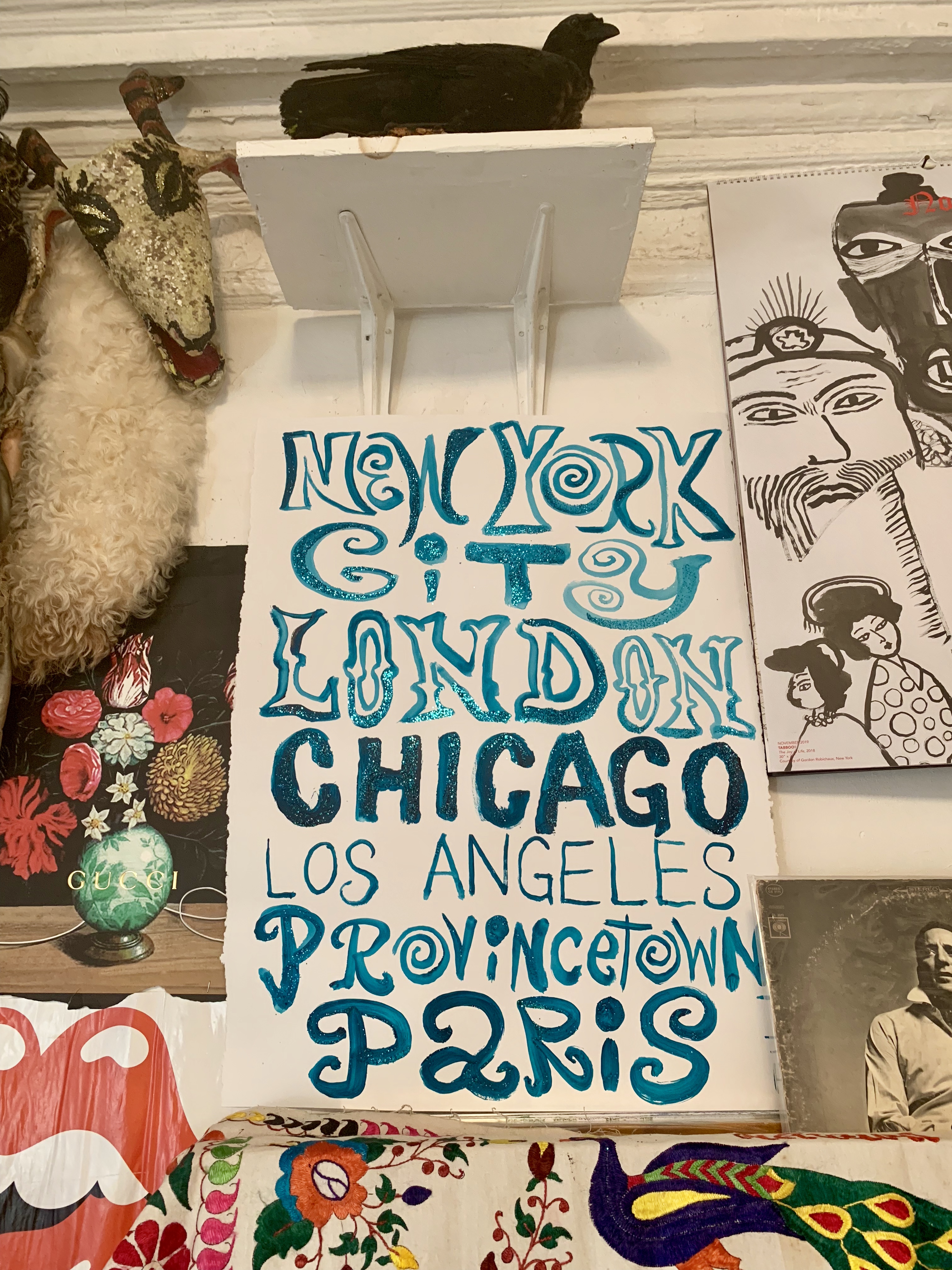 Tabboo!'s studio: Recent painting exhibitions, courtesy the artist and Gordon Robichaux, NY
It seems that people are almost nostalgic for the '80s underground club scene.
Yes, that's how I got into last year's MoMA show "Club 57: Film, Performance, and Art in the East Village, 1978-1983." And I'm grateful for that. But, I'm not a person who lives in the past. I'm not nostalgic about being in drag when I was in my twenties; I've never felt better. I think my paintings are better than ever.
You're an extremely versatile artist, how would you define your art, and has that definition changed over time?
I would call it gay. Not in a homosexual sense, but the old-school word of gay—meaning happy, colorful, friendly, well-done, beautiful, fine craftsmanship. That's been consistent in all of my work overtime. I mean, I come from doing puppet shows for children…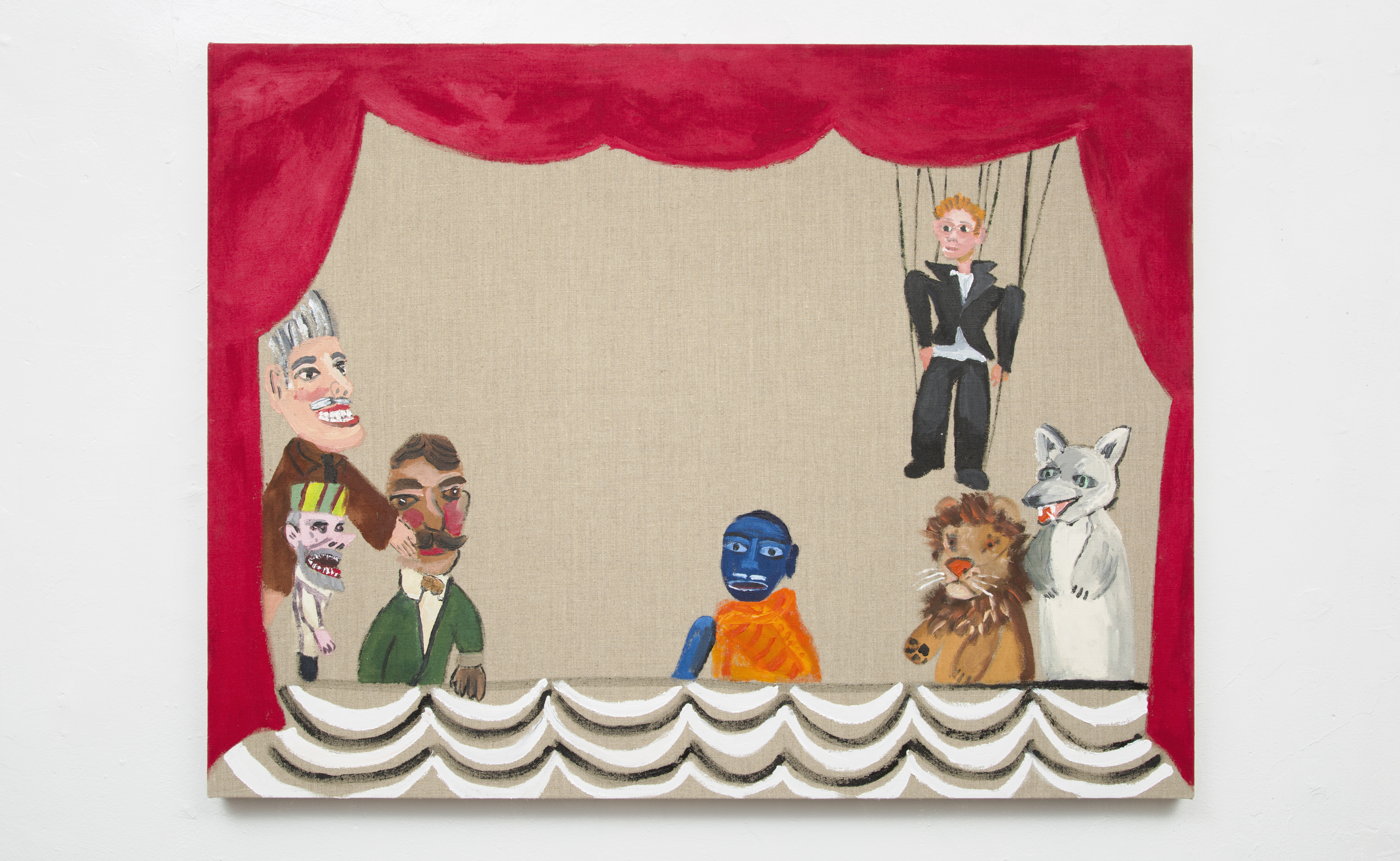 Tabboo! Puppet Show , 2017 on view at Western Exhibitions. Acrylic on linen 32 x 42 inches. Courtesy of Gordon Robichaux, NY, Photo Gregory Carideo
Is there any upcoming work from you that we should have on our radar?
Well there are a few projects that I can't discuss yet. But I'm in shows in London and Chicago as we speak. I'm currently working on another book, which is exciting. I'm also included in Grey Art Gallery's upcoming exhibition "Art after Stonewall, 1969-1989," which celebrates the 50 th anniversary of the Stonewall Riots of 1969.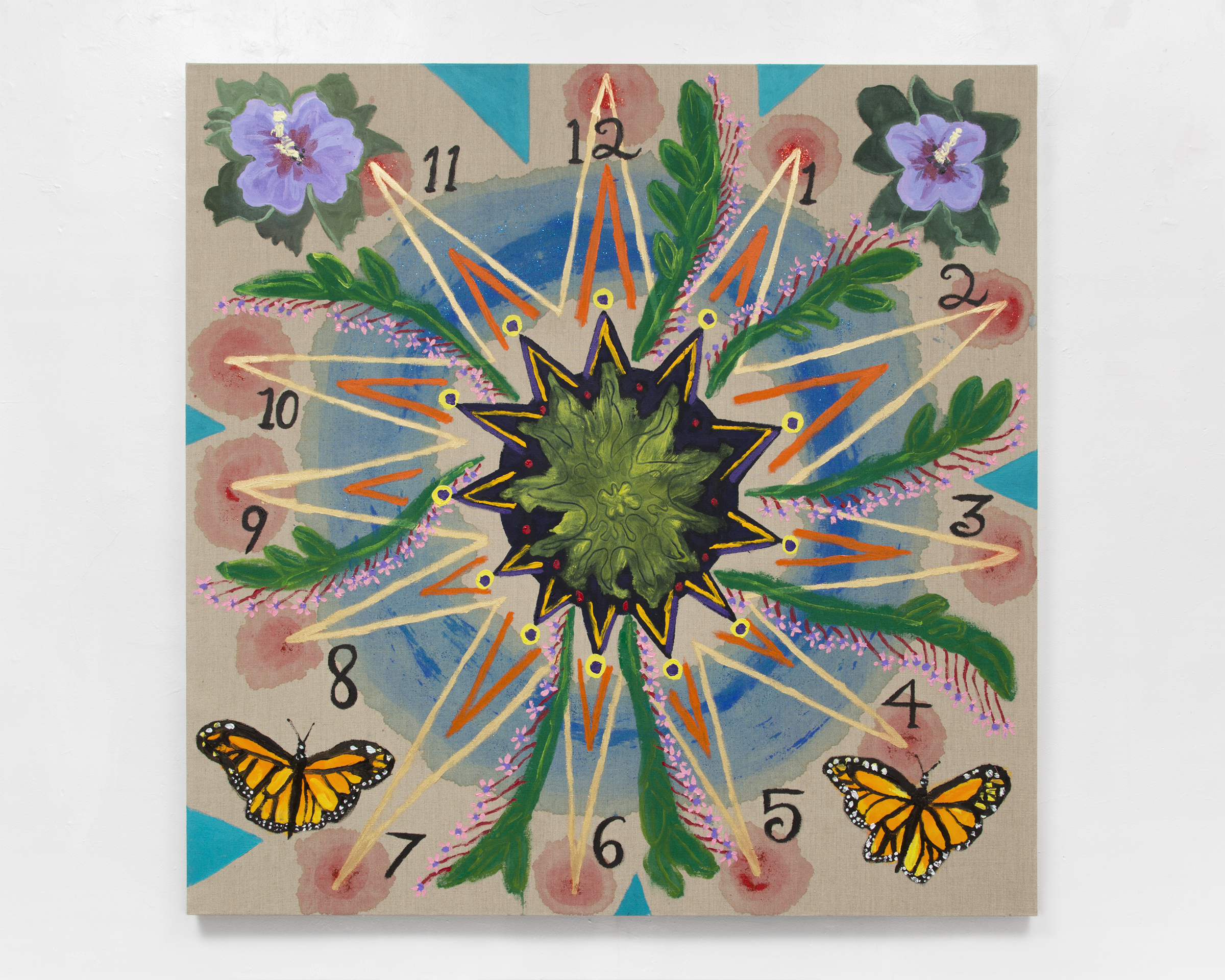 Tabboo! The Clock , 2018, currently on view at Herald St. Acrylic and glitter on linen, 60 x 60 in, Courtesy Gordon Robichaux, NY. Photo Gregory Carideo.
What advice would you give a young aspiring artist?
Just to follow your heart. Be yourself. Andy Warhol would always just paint what he knew, that's how he first started painting Campbell's soup cans. It's important to do what you like.
RELATED ARTICLES:
"It Was Magical": Kenny Scharf on Club 57 and the East Village Art World of the Early '80s
White Columns Director Matthew Higgs's Favorite Works from NADA New York 2017
How Nan Goldin's Snapshots of Sex, Drugs, and Death Redifined Photography