One of the most celebrated and controversial photographers of the 20th century, Nan Goldin has influenced a generation of photographers with her unsparingly intimate portrayals of life on the razor's edge, most famously in her unforgettable breakthrough series, "The Ballad of Sexual Dependency." Currently on view at the Modern Museum of Art in a survey curated by Klaus Biesenbach , the 1985 work—named after a song from Kurt Weill 's "Threepenny Opera"—tells not only the story of the 1980s drug-addled, sex-fueled, AIDS-plagued nightclub social scene in the Lower East Side, but also the story of a fearless artist whose honest vulnerability changed the nature of photography forever.
Goldin's impulsive habit to document every moment she could, coupled with a nocturnal attraction to the drag queens, junkies, prostitutes, and hustlers that constituted her "family," made for a diaristic oeuvre of flash-lit, snapshot-style photographs that defined a new genre of photography at the time, and continues to have a huge influence on young artists today. (Just look at Ryan McGinley 's work after seeing the show and you'll recognize the DNA.) Look at the "Ballad" at MoMA, where it is displayed both in prints and as a slide show (as it was originally exhibited), and you may feel its gravitational pull too.
Shining Light on the Underground


Picnic on the Esplanade, Boston (1973)
Growing up in the tame suburbs of Boston, Goldin struggled to fit in with her classmates, and found herself tossed from school to school on account of bad behavior despite her sheepish temperament. Goldin received a camera at the age of 15, when photography proved to be a productive coping mechanism for the young artist's difficult family life. (Her older sister committed suicide by laying on the tracks of an oncoming train when Nan was 11 years old.)
When she started at the School of the Museum of Fine Arts, Boston , Goldin dove into the city's budding LGBTQ scene and discovered the accepting friends she was never able to find in her suburban youth. The drag queens, sex workers, and drug addicts who became her closest friends also became the dynamic subjects of her photographic diaries, which took cues from the transgressive work of artists like Diane Arbus and Robert Frank . Unlike Arbus, however, who had previously photographed men in the drag community, Goldin says her "desire was to show them as a third gender, as another sexual option, a gender option."
In an interview with BOMB, Goldin explained that, unlike Arbus, who projected her own pre-conceived understandings of the community onto her subjects, she wanted "to show them with a lot of respect and love, to kind of glorify them because I really admire people who recreate themselves and who manifest their fantasies publicly. I think it's really brave. I just really have so much love and respect and attraction for the queens."
Coming to New York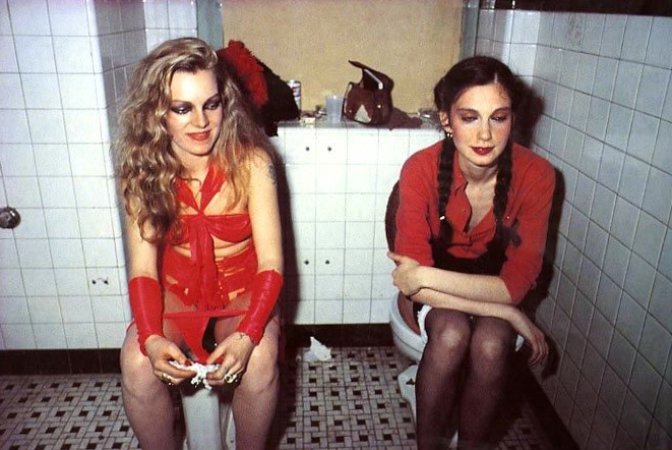 Cookie and Millie in the Girl's Bathroom at the Mud Club, NYC (1979), available on Artspace for $10,000
After graduating college, Goldin moved from Boston to New York City in 1977 at the very beginning of the AIDS epidemic, impulsively documenting the lives of a rotating cast of downtown characters, many of whom would tragically exit her candid narratives by way of death—either by AIDS or by drug overdose. One subject whom Goldin captured with particular tenderness was her close friend, the late actress, night-life personality, and columnist Cookie Mueller . A lead actress in many of the early cult films of experimental director John Waters , Mueller experienced the extreme highs and lows of drug addiction, recovery, marriage, and motherhood before her ultimately passing—all of which Goldin documented in a way that seamlessly fused sensational drama with everyday mater-of-fact-ness.
Goldin's photographs are unapologetically honest, at times chronicling people at their very worst: fighting, abusing drugs, sick. She was initially criticized for her controversial subject matter by those who felt her work glamorized self-destructive lifestyles, and her images still remain censored in certain contexts. For instance, a notorious photograph depicting two young children playing—one of them nude on the floor with her legs open—sparked outraged when it was released in 1998, and hundreds of catalogues that included the image were shredded. ( Elton John now owns the piece.)
Likewise, in 2012 an iteration of "The Ballad of Sexual Dependance" was slated to open in Rio de Janeiro but was cancelled last-minute when the primary sponsor of the exhibition, the Brazilian cell phone company Hi Future, became aware of its subject matter and deemed it unfit for the public. The exhibition was later held at the Rio de Janeiro Museum of Modern Art .
Defying Conventions, and Embracing the Snapshot
Heart Shaped Bruise, NYC (1980)
Goldin's automatic drive to document her life is deeply rooted in a fear of forgetting. She poignantly wrote, "I used to think that I could never lose anyone if I photographed them enough. In fact, my pictures show me how much I've lost." Golden's shooting style reflects this urgency in its immediacy. Abandoning technical accuracy in favor of capturing precise, emotionally raw moments, Goldin was initially criticized for her seeming lack of technical aptitude (mostly by, not surprisingly, male photographers who felt threatened by her audacity).
"I didn't really care about 'good' photography," she once said. "I cared about complete honesty." Goldin's flash-lit, color saturated, diaristic style helped define a new genre of photography: the snapshot style. Popularized by Calvin Klein 's 1993 campaign with model Kate Moss , among other fashion industry trendsetters, the "heroin chic" look—characterized by androgyny, emaciated frames, smeared make-up, and dark circles under the eyes—has been attributed to Nan Goldin's influence.
Photography as Cinema
Misty and Jimmy Paulette in a Taxi, NYC (1991)
Goldin's current MoMA exhibition is particularly relevant now, functioning as an unfiltered, analog precursor to today's calculated digital live-streams on Instagram and Snapchat. Though photographs have been added and removed over the years, "The Ballad of Sexual Dependency" at the MoMA is an iteration of the same series shown in nightclubs and other downtown venues in the 1970s. Goldin typically presents her photographs in the form of a slideshow, creating a cinematic narrative that further sets her apart from other documentary photographers.
On "The Ballad of Sexual Dependency" critic Andy Grunberg writes: "In terms of style, she favors the candid and unplanned over the technically polished and precise—which is not to say that she is incapable of remarkable images. She approaches photography from the perspective of film, seeking to open the medium's gates to narrative through sequencing and editing…. Goldin's slide show, with its screen and sound, closely replicates the experience of moviegoing."
As a slide show, "The Ballad of Sexual Dependency" is accompanied by an eclectic soundtrack of songs recorded by some of the very same people who frequented her social life and photographs: Maria Callas, the Velvet Underground, Screamin' Jay Hawkins, James Brown, and Yoko Ono . In the work's rich multimedia scope, it makes its era come to life.
An Acclaimed Photographer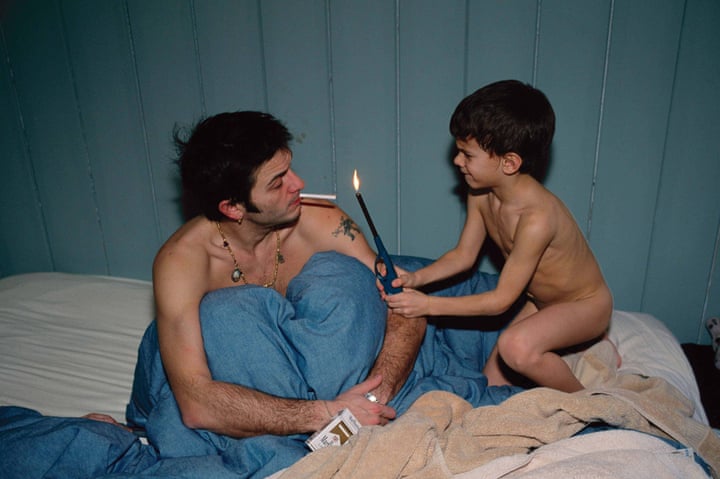 Lou lighting Aurele's cigarette, Sag Harbour (2000) from Nan Goldin's most recent book, Eden and After
Despite controversy (or because of it), Goldin has achieved great critical success. The 66-year-old artist has been the subject of retrospective exhibitions at the Whitney Museum of American Art (1996-97) and at the Centre Georges Pompidou in Paris (2001.) In 1995 she released a biographical film in collaboration with filmmaker Edmund Coulthard for the BBC, and has published dozens of books including The Ballad of Sexual Dependency, I'll Be Your Mirror , and The Devil's Playground . And in 2010, the Musée du Louvre in Paris allowed Goldin to privatly photograph artworks in the museum. She later combined those images with photographs from her own archives for her exhibition "Scopophila" at Gagosian Rome.
Goldin's most recent book, Eden and After published by Phaidon in 2014, photographs her friends' children exploring the freedom of childhood, of flexible gender, of unrestrained curiosity, and of unbridled self-expression—themes the artist has been investigating in adult subjects for her entire career. "The Ballad of Sexual Dependency" is on view at the MoMA in New York until February 12, 2017.
RELATED ARTICLES:
If You Like Nan Goldin, You'll Love These 5 Artists
Three Artists Queering Classical Portraiture
The Art Of Disguise? How Self-Portraiture Went Undercover
The Art of Gender Fluidity: 9 Works That Show How Sexual Identity Has Evolved Over Art History
[related-works-module]