Harmony Korine is known for movies. After writing Larry Clark's Kids (1995) at age nineteen and directing cult classic Gummo (1997) (then hailed as "the worst movie of the year"), Korine's films explore youth culture as death cult, the demented, edgelord-y boredom of being a teen under neoliberalism. You have no future, your only option is to self-destruct.
But in the early aught-teens, Korine also became a painter. His first solo show, "Shooter," debuted in 2014 at Gagosian, which now represents him. Korine's paintings, like his movies, are trippy. The paintings in "Fazors," his 2016 solo show, resemble visual ASMR or acid; Gagosian's press release, at least, argues that the works are inspired by Helen Frankenthaler .
Perhaps the paintings are attention-economy relational aesthetics: the point isn't whether it's genius or stupid, the point is––as became cliche with reality TV––that you're looking at it. Maybe the point is that these paintings, which sell for hundreds of thousands of dollars, bankroll Korine's movies (his latest, The Beach Bum , opens next year.) Either way, feel free to decide for yourself. His new show, "Blockbuster," opened at Gagosian on September 11th. But before you go, here are 10 things to know about the filmmaker-cum-painter—in no particular order.
1. Korine started out as a teen skateboarding phenomenon.
Harmony Korine grew up in Nashville, but would go to New York for the summers to skate, crashing with at his grandma's house in Queens. "It was a different time back then and it was more like obviously pre-internet and pre-cell phones…. You would go to school and come home and get your skateboard and disappear, then come back at night." Korine was good enough to get corporate sponsorship, but upon realizing that he wasn't brave enough to go for the big tricks––and wouldn't ever be––he quit skating for directing. But skating and skate films very much influenced his movies. "Skating was really provocative and people hated you. Kids became brutal, you would get spit on all the time, you would get in fights every day. That was part of the lure, you liked that feeling, it was kind of exciting. You liked making people upset and that carried over into my 20's… I still carried all that aggression. You still didn't trust grown ups or authority."
2. He met director Larry Clark as a nineteen-year-old when he was skateboarding in Washington Square Park.
"I used to walk around with these movies that I made in high school in my backpack—films that I shot on 16mm—and I would put my grandma's phone number on top of the VHS tape and if I saw someone I recognized, I would hand them the film." While skateboarding in Washington Square Park, Korine somehow met Larry Clark, the photographer known for documenting suburban drug use and male hustlers in Times Square. Korine gave Clark one of his VHS tapes, "and he called me the next day and I went to his place and started talking about making a movie together. He had an idea for a film and wanted to know if I wanted to write it."
3. Korine would later write the script for Clark's cult classic, Kids (1995), now seen as a summarium of '90s youth culture, and 90s culture in general.
The New York Times called the film a "wake-up call to the modern world" and The New Yorker dubbed it "nihilistic pornography." Many critics said it had a "documentary feel," but that was partly because a lot of the people in it had never acted before. "Larry had never directed, I had never written, Rosario Dawson had never acted. It was pretty much everyone's first thing." The movie is a "day in the life" of a group of New York kids as they drink, skate, take drugs, and have sex during the AIDS crisis.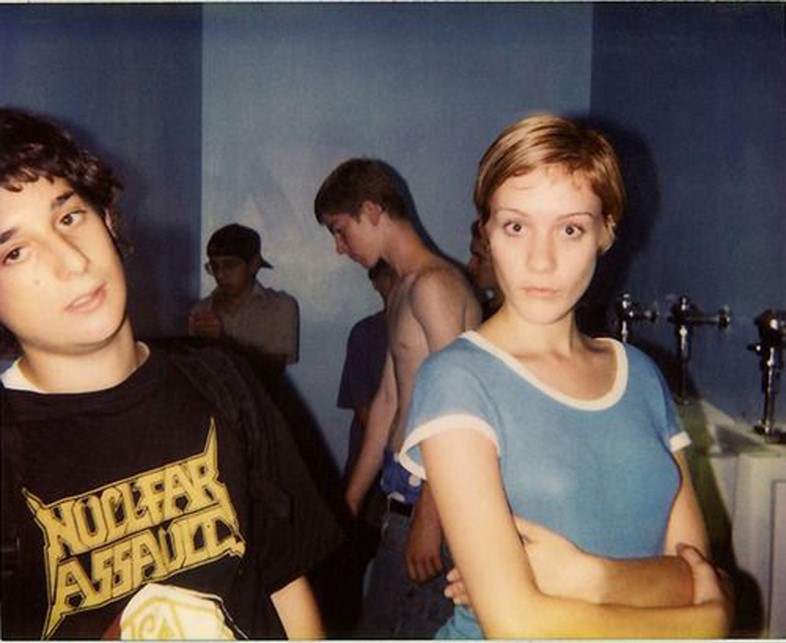 Harmony Korine and Chloë Sevigny on the set of "Kids" (1995)
4. Kids launched the career of actress Chloë Sevigny, who would later become Korine's girlfriend and muse.
Chloë Sevigny was already a New York City underground star before Kids even came out: a 1994 New Yorker profile described her as one of "the coolest girls in the world." Which was probably true. Prior to Kids , Sevigny had already worked for cultural lodestars like Sassy magazine and Sonic Youth. She got an Independent Spirit nomination for Kids , and would later star in indie classics like The Last Days of Disco , American Psycho , and Boys Don't Cry .
5. Korine's directorial debut, Gummo , was called the "most boring" and also "worst" film of the year when it came out.
Gummo was, in part, inspired by a skate video named Alien Workshop Screen . "The weirdness of it was so close I grew up… The repetition, the degraded imagery, the kind of violence of it, the middle America sadness." Alien Workshop Studio was filmed in Xenia, which had recently suffered a massive tornado, and was where Gummo was eventually set. The movie's loosely narrative series of vignettes involved two kids who kill and sell cats for money, skinhead brothers boxing in their kitchen, and a long scene of Solomon, the protagonist, eating spaghetti and chocolate while taking a bath in dirty water. Gummo became a cult classic, but this "edginess" often slipped into sensationalist edgelordism, a way for Korine to mock the people that he was supposedly celebrating.
6. A never-released film project titled Trash Harm was about Korine asking people to beat him up.
"I would go around with a camera crew, and the only rules were that I couldn't throw the first punch and the person I was confronting had to be bigger than me. Because that's where the humor comes in. It wouldn't be funny if I was fighting someone my size. They had to be bigger than me, and no matter how bad I was getting beat up—unless I was gonna die, that was the rule, unless I was like passed out and they were still killing me—they [the camera crew] couldn't break it up. Because that's where the comedy comes in as well." Trash Harm 's head cameraman was magician David Blaine, known for sticking a needle through his bicep without bleeding.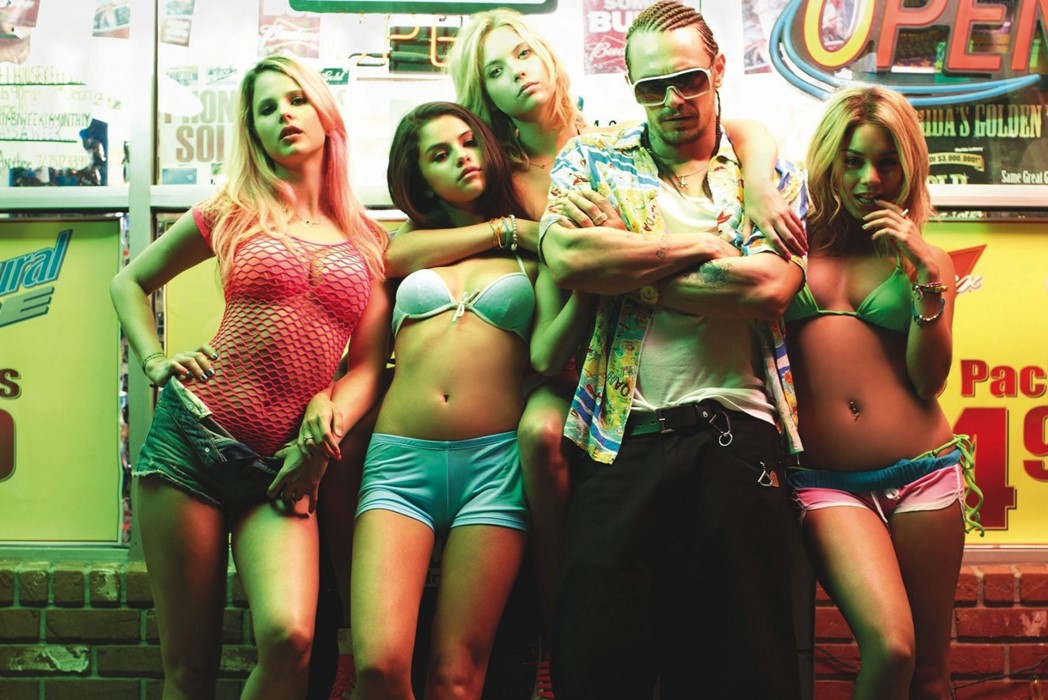 From "Spring Breakers" (2011). Image va Dazed.
7. Korine's first commercial hit was Spring Breakers (2012).
Spring Breakers is about four teen girls who run away to St. Petersburg, Florida, for spring break. In addition to co-starring Korine's wife, Rachel Korine, Spring Breakers shocked audiences by showing former Disney stars Selena Gomez and Vanessa Hudgens in a violent and highly sexual movie. The movie was also known for its druggy, neon-infused palette, and for James Franco's portrayal of fictional white rapper Alien, who has an uncanny resemblance to real-life "rapper" Riff Raff.
9. Korine is currently working on a new movie, The Beach Bum , set to release in 2019.
Starring Zac Efron, Matthew McConaughey, Snoop Dogg, and Isla Fisher, The Beach Bum is like Spring Breakers but with no coke, just weed. It also stars the Prada flame shirt. Garage editor Rachel Tashjian has already dubbed The Beach Bum as the "first cloutcore" movie and a representative of the current sleaze-bro moment in men's fashion: "If you've been wondering why everyone from Justin Bieber to Pete Davidson to Post Malone has been dressing like a sleazy piece of pineapple gum stuck to the bottom of a Supreme x Jeff Koons skate deck, the answer is The Beach Bum , images of which have been circulating online since the true launch of this sleaze movement in late fall of last year."
9. Korine starting making paintings around 2014, and is currently represented by Gagosian.
Why did Harmony Korine become a painter? He already had an established film career, and if he wanted to do contemporary art, then he could have easily shifted into video. Korine has always loved sketching, so it's possible that he just loved painting and decided to do it once he had the time and means to do so. It's also totally possible that he's churning out paintings to bankroll his movies. Blue Checker (2014) was valued at $120,000 before it was stolen. Who knows. Like all nineties counter-culture heroes, Harmony Korine is a brand now––one that people will pay for regardless of how it's commodified.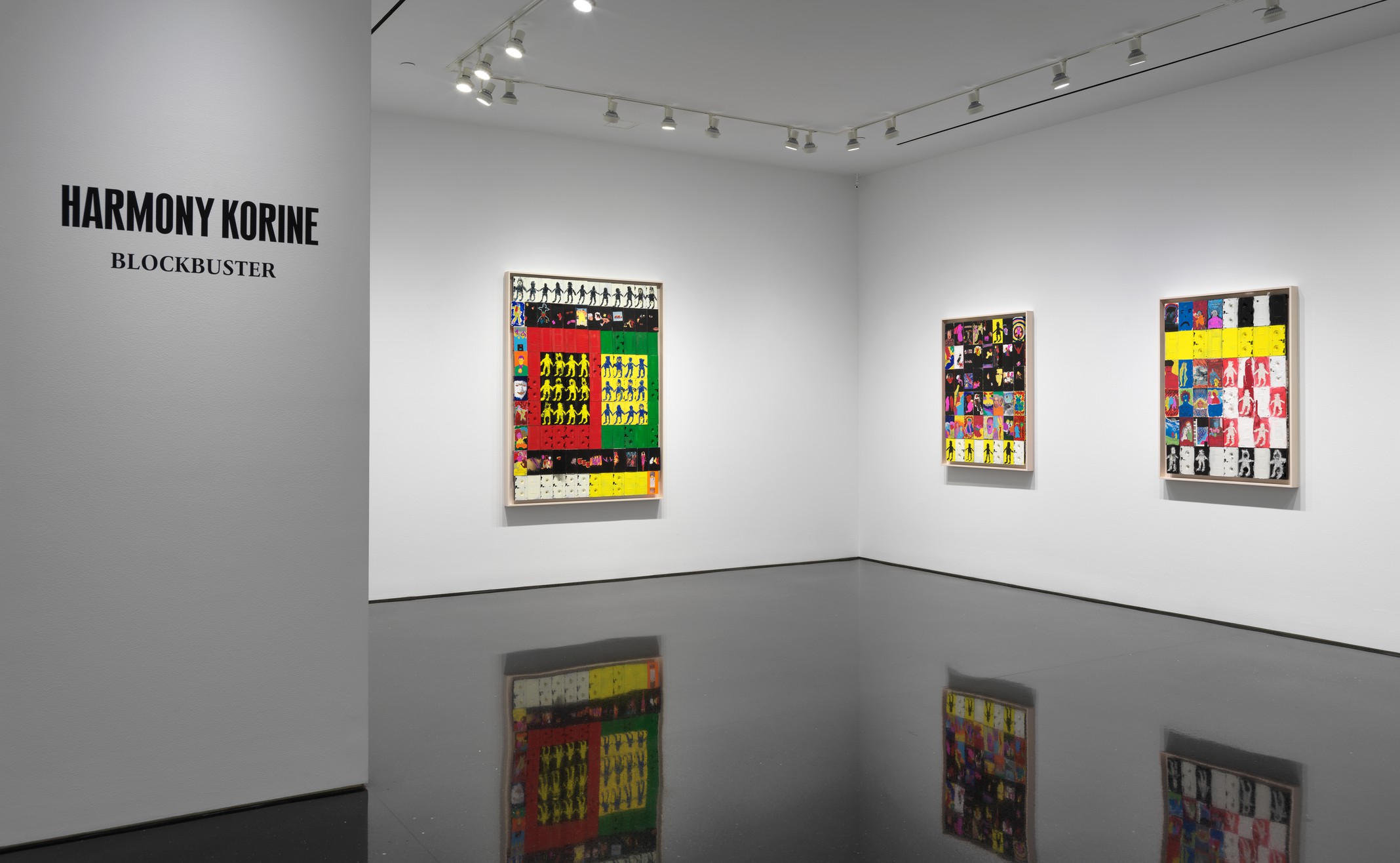 Installation view of Harmony Korine's "Blockbuster" at Gagosian. Courtesy of the artist and Gagosian.
10. His newest show, "BLOCKBUSTER" opened at Gagosian on––is it another prank?––9/11.
According to Gagosian's press release, "BLOCKBUSTER" includes "a new series of works that use grids of VHS tapes and their boxes as surfaces for painting," continuing Korine's homage to video (many of his movies were shot on video, or featured found video footage). "Often working with materials found at his local Salvation Army store in Nashville, Tennessee," the press release continues, "Korine combines subconscious impulses with objects from everyday life, resulting in what he refers to as 'mistakism.'"
RELATED ARTICLES:
Rita Ackermann on the Elusive Link Between Painting and Dancing
Audio Artist Christian Marclay and Sonic Youth's Kim Gordon Talk Performance, Sound, and Rock & Roll
The Revolution Will Be Xeroxed: 10 Iconic Prints From the Heyday of Punk Rock