Contemporary art and music have long walked hand-in-hand . With the rise of performance art, post-conceptual art, and the great number artists trying their hand at a variety of mediums all at once, the lines between what is considered music or art have become blurred. So it's a little surprising to hear musician/artists Christian Marclay and Kim Gordon talk candidly about how they would "never" consider themselves musicians.
If you're a vinyl freak who cringes when someone fails to put a record back into it's protective sleeve, you may want to stop reading— Christian Marclay is known to melt his records together, unravel  tapes and crochet them together, and destroy guitars. His innovative work explores sound, space, and time, and oscillates between sculpture, installation, video art, performance art, and recordings in which he distorts common tools of sound like records or instruments so that they no longer function for their intended use. In rendering them effectually obsolete, Marclay creates a dialogue between the visual, auditory, and experiential, exploring the language we use to bridge these worlds.
In this interview with Sonic Youth singer and guitarist Kim Gordon, excerpted from Phaidon's 2003 pressPLAY: Contemporary Artists in Coversation , artist Christian Marclay discusses how he came to fuse art and music, alternate between mediums to keep things exciting and fresh, and the importance of scale in his work.
...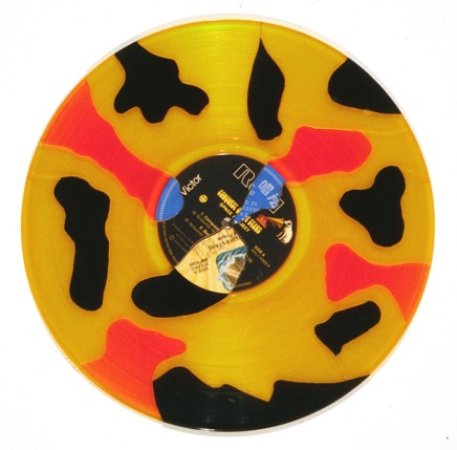 Recycled Record, 1980
When you were young, did you have a relationship with records?
No, not much actually.
I only ask because when I was little I was obsessed with my dad's record collection. He had jazz records. I'd pick them out and lay them in a row and make a story out of the covers.
Did you listen to them?
Yes, I listened to them too.
My family wasn't very musical. My parent's had this great-looking Braun turntable, and a bunch of Christmas records and a few show tunes that my mother brought back from the States. My father never really listened to music, so I didn't grow up listening to it that much. Maybe that explains the freedom I have with records. Thrift stores were a big deal for me when I first came to the States. I bought everything from thrift stores, and it was an incredible source for really cheap vinyl. Before that, the record was something I was taught to respect and preserve. But in the States everything was about consumption and I was reacting to that as well. I was attracted to all the album covers—such an amazing variety. Now this is an obsolete form, but there was so much creativity in the design of those 12-inch squares.
I know, I'm sort of sad that my daughter's not going to have that record experience.
She's probably disgusted because Thurston [Moore, husband and fellow member of Sonic Youth] is such a collector.
We joke that when she's a teenager she's going to be selling his records.
At least she knows what they are. Some kids don't even know what records are.
That's true. Did you see the show I curated, the 'Record Cover Show'?
I don't think so.
I asked artists to do record covers.
When was that?
In 1983 or 1984, at White Columns on Spring Street.
I don't remember the show. You asked artists to design covers?
Yes, just any cover. It was very open. I thought the record cover was such a good format. It didn't even have to be a square.
I wish I'd seen it.
Your work manifests itself through music and sound and it's all about that, but to me, you're such a consummate visual artist. You have so many more influences than those of a visual artist; influences that are more than just post-Conceptual ideas. I'd never think of myself as a musician, because of my training as an artist. In some of your interviews you say the same thing. And because you can go and look at The Who or Sid Vicious and make an analogy to something in the art world, you're also a visual thinker.
It's my background. I went to art school, not music school. I don't think like a musician.
Someone like Thurston, who grew up listening to every lyric on every record, has studied rock and roll in the same way you studied visual art. I've realized that I'll never relate to music or write music or lyrics with the same intensity that makes me angry or passionate or excited about visual art. But I see it in Thurston and other people like Jim [O'Rourke, fellow member of Sonic Youth], who grew up thinking about music in that way.
Thurston looks at pop music through a literary interest, through poetry and writing, from that point of view with the words. For me, lyrics have always been a totally abstract thing, because when I listened to pop music while growing up in Switzerland my English wasn't good enough. So I've never listened to pop music with a focus on the words.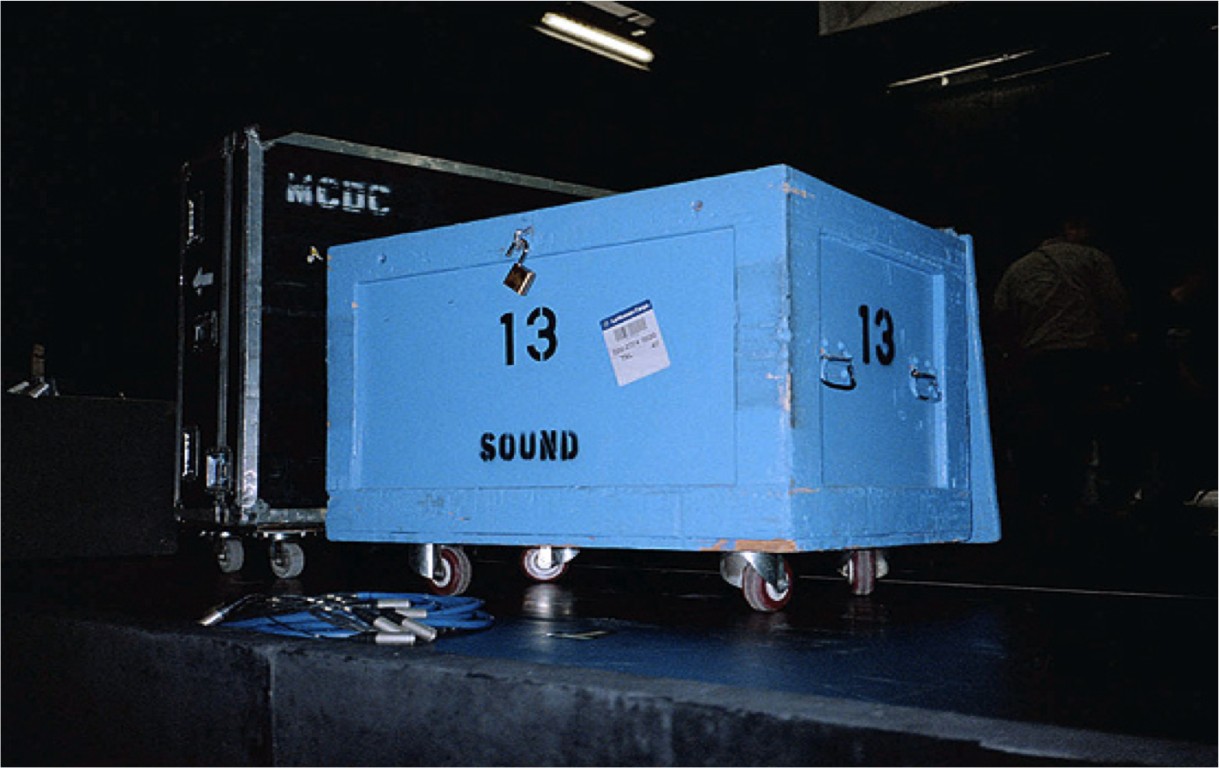 Was it more the attitude and the intonation?
And the sound. There are many people in Europe who grew up listening to British or American pop songs and never understood the lyrics well. But it didn't matter: the music had meaning, even though I know the words are so important. Rap is even harder to understand because it contains a lot of slang that I'm not familiar with, or different accents. I tend to listen to the textures, the samples used, the more unusual the better. Very often, there's this language barrier. For example, I listen to a lot of Brazilian music and don't understand the words. Listening to lyrics in French is a lot more natural for me.
It's interesting that you have the same kind of relationship to lyrics as I do, that they're not always so crucial. I'm surprised, especially because you sing. Which dominates in your mind when you create a song, the music or the lyrics?
The lyric ideas come from the music, or the mood of the music, but sometimes I'll just try and write conversationally. Or I have a bunch of lines, and then when I actually do a vocal take, I just try different stuff; sometimes meaning comes out when you juxtapose words or lines. It's more what goes with the voice. I've learned what works best for me because I'm not a natural singer or trained singer.
With my first band, 'The Bachelors, even', I wrote the lyrics first. I was a terrible singer. When my mother heard that I was singing in a band she said, 'That's not possible! He never even whistled in the shower.' So it wasn't something that came naturally. I was watching this documentary that Yoko Ono did on John Lennon's recording sessions for the album Imagine . They're in this house with the famous white room and white piano, and the camera follows him around. He was such a ham; he loved the camera. He was constantly clowning around and I was amazed by how it just seemed so natural for him to sing and write music. Some people are born performers, born with that talent. I don't have it; I never had, although I've always had a secret desire to play music.
But that's a different kind of music I mean look at Yoko Ono - how ineffective she is in the pop music realm, and yet she's a really interesting artist.
She is a trained musician though. In the film, she gives her input during his recording.
She's a trained opera singer, but not as a pop artist - even though some of her lyrics, her feminist lyrics, were definitely ahead of their time.
I love her hardcore vocalizations.
Yes, and her films.
She is a great artist, but people don't talk enough about her work in terms of this crossover between art and music. She's really an under-recognized precursor, an early Conceptual artist. I'm sure she had a great influence on John Lennon and The Beatles in the way they presented themselves. Their visual style was certainly influenced by her ideas. I don't think the White Album , for example, could have existed without her art interest.
I think she had a distinct disadvantage of having come out of Fluxus , one of the most obscure art movements ever.
It didn't help her reputation. In face, when you think of it, the White Album is a perfect crossover object, a mix of pop music, Pop Art and Fluxus : a cross between a Richard Hamilton and Fluxus edition.
To go back to the point I was making earlier about people like Pete Townsend and Sid Vicious - the whole notion of the physical/visceral aspect that so enhanced rock and roll, which clearly influenced not only you but other young composers like Glenn [Branca] and Rhys [Chatham] - there was something going on that they wanted to inject into new music. A lot of it has to do with sexuality, which is the one element that in art you're not really supposed to see in a direct way.
While pop music always had sex.
But not composer music. And art is never about that. It's about ideas, it's all intellectual. It's all in your head. Have you thought about that as a challenge, or an interest?
I've never identified with serious music - contemporary classical music or whatever - because it's a language I can't express myself in. I can't read or write music. The first thing that had a creative impact on me was not this kind of music, though Cage and Fluxus were influential. It was more like the Sex Pistols and DNA - the really raw energy of punk. It was more than just music; it was very physical. It's not music that translates well on recordings, because being there, the loudness, being part of the event and the performance was really important. I was more interested in the process.
Were you ever interested in Jack Goldstein?
Yes, I knew the records and films.
He's the first person I saw coming out of Conceptual Art who bridged the generation of hate 1960s and 1970s - people like Dan Graham , Michael Asher and Vito Acconci - and the younger 1980s artists who started to bring in elements of pop culture and also Expressionism . Jack's work took a more structuralist approach, and injected pop forms in- things that were not associated with Minimalism .
Yes, that was in the air, and had a huge influence on the whole group of artists associate with Artists Space and Metro Pictures in the early 1980s: Cindy Sherman , Robert Longo, Sherrie Levine and Richard Prince . These artists reworked pop culture. For me it was like taking the Conceptual Art motto of Douglas Huebler, 'The world is full of objects, more or less interesting, I do not wish to add any more', and using it towards a different end - like a Pop artist gone Conceptual.
Right, it wasn't so pure.
And music was the perfect antidote to making objects.
There was no room for sexuality and attitude.
It seemed like there were so many things happening in the 1980s that revolved around the body. Performance art was really important at the time, if you remember. Artists were always looking for places to do performances, and those places were not the museums because they weren't quite ready for it. They'd take place in music clubs, in abandoned buildings, wherever. The punks were piercing their bodies, abusing them with drugs. At the same time the gay culture became really visible and the male body became more sexualized. And then there was the AIDS crisis. The body was very present in that context. It wasn't just about concepts.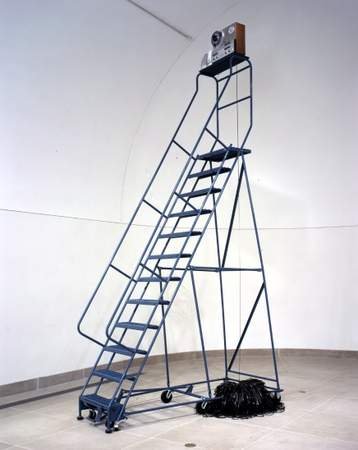 Tape Fall, 1989

There was the humor of it too, people like John Baldessari and the influence of Marcel Duchamp.
Yes, Duchamp was someone I was interested in. I was always more into Conceptual Art and ideas. I discovered Baldessari much later, and again, he had a Pop quality. I also liked the Nouveau Realistes, the French Pop artists like Martial Raysse, Jacques Villegle , Nikki de Saint-Phalle. When I was much younger I loved Pop Art. This idea that anything can be art, I first learned not directly from Duchamp but from the Pop artists. And then the whole movement of performance art opened the right doors. When I was first in New York I saw a lot of performances. You and I first met in 1980 during the the Eventworks festival, which I organized in Boston; I wanted to show the relationship between punk and performance art. I invited Dan Graham and he did this performance with a girl band, and you, and Miranda Stanton and ...
Christine [Hahn]. She was with The Static.
I invited Dan after seeing him perform at the Mudd Club. He was walking around the stage with a mic, asking people to relax ( laughs ), talking to the audience in a monotone voice. It was a strange contrast to this punk audience on speed. Most of the bands that I invited had some background in art schools, you know, like DNA, Z'ev....
And filmmakers like Eric Mitchell.
Yes, and Vivienne Dick, Beth and Scott B. There were all these films being made, low-budget productions, a lot of people making Super-8 films. There was also an interesting kind of crossover going on between film and rock music - and this was before MTV existed. I curated the festival because I wanted to show all the different manifestations of this crossover, to show the influence that music had on the arts.
I was a student at the Massachusetts College of Art in Boston, and in 1977 I came to New York on an exchange program to The Cooper Union. I was there for one semester, but I found this cheap apartment, so I stayed in New York for the whole year. Then I went back to finish my BA at Mass Art and I had this idea for the festival, to show what I'd discovered in New York. It was the first time that DNA played in Boston, and the first time that Boyd Rice played on the East Coast, as well as Johanna Went. I wanted Vito Acconci to do something, because for me Vito is a key figure in this crossover. He's not an obvious crossover artist, but I felt his work and attitude were very connected to rock and roll. I asked him if he wanted to come and do a lecture on the subject of his relation to rock music. He said 'yes' and then cancelled at the last minute; I was really disappointed. I still think he should do it one day. His word pieces were written like rock songs. He liked rock music, and I'd seen him in clubs.
I dont remember ever seeing Vito at clubs. Dan Graham was always there.
I remember seeing Vito at Tier.
Dan had one of the first stereo cassette players, and he recorded all these shows. It was an insanely large machine! But I remember I always heard of Vito as this rock and roller, in terms of his work.
The ranting on some of his earlier tapes, and his use of the body, made me link him to punk rock. There was a natural connection.
Well, he definitely had the fearless bravado, especially compared with someone like Dan, who's more cerebral, conceptual. But Vito - like Chris Burden and Bruce Nauman - had more obvious emotional manipulations going on.
But Dan is dealing with the relationship between audience and performer.
Yes, the time delay between the camera and the mirrors. It's very psychological, but in a different way. Aesthetically, it looks like Minimal Art, which is the difference. It's loaded with other things.
His performances were a cross between a lecture and a performance. It wasn't always clear what he was doing - sculpture, performance and lecture all in one. New York was a really fertile environment; I got so much out of being there at the time. To be exposed firsthand to it was exciting. You could go out and see so many kinds of activities that didn't take place in museums and galleries, but in clubs.
I don't know how many conversations I had with Rhys [Chatham] about the difference between playing in clubs and art spaces. It was an ongoing conversation. Rock spaces are expressly made for music, but they aren't really ... you know, they're made for the performer and the audience. The situation is always unclear. That definitely adds an exciting element to the work, and the context is going to change the perception of whatever you do. That was always interesting.
What do you think of what's going on now in terms of the relationship between art and music?
I think it's a really great time for music, especially underground music, experimental music. People talk a lot about the revival of New York music with these well-known bands like the Yeah Yeah Yeahs and Interpol and Liars. But there's this whole other sub-genre of experimental noise music going on that's so interesting, like the Double Leopards. It's really all about the small events and little gestures. Everything's so commercial not in New York, but for some reason music is still very uncommercial. It's still pervasive, and it's never quite gone away.
I don't think it's just happening in New York.
Absolutely; it's everywhere right now.
It's so easy to make music today. The tools are more accessible. Everybody has access to equipment. It was rare that anybody had equipment in the 1980s, but not everything is much easier. Computer technology facilitates things a lot and everything is more portable. I'm sure there's a lot of stuff that we're not even aware of being made in people's bedrooms.
You seem to do two different kinds of work. The Guitar Drag (2000) piece is probably the most extreme, creating this whole other sound form the destroying of a guitar. And also, it alludes to the killing of James Byrd. Was there something about the guitar that stood for white male rock?
The piece is charged with so many layers. At first I was ambivalent about responding directly to a race crime. There was something almost indecent about recreating this kind of violence, especially for a white artist. But because the video is about so many other things, I felt I could do it. I never stress the connection with James Byrd, Jr. over other links, such as the rock-and-roll tradition of guitar smashing, or the destruction of instruments in Fluxus. It's as much about all these things as it was about a desire to create a new type of sound. The variety of interpretations is what makes the piece successful. I'm always interested in the different reactions to the piece.
Will it be available to buy as a DVD?
No, it's an installation. To make a DVD would take something away from the piece. It has to be a projection, it has to be loud, it has to be experienced in a black box where you can lose track of time and space, lose your balance. The image is jerky and you may get dizzy. It has to be a physical experience; you need to feel it through your body. It's not a pleasant experience, though some people are exhilarated by the sound, its rock quality. If you could watch it at home on your little monitor with a bad sound system, then you'd be missing a lot. It needs a certain scale. But I have agreed to release the soundtrack on vinyl. At first I was reluctant to put it out on a record because of this reduction aspect, but being on a record will allow the piece to be more musical and also to reach a different audience, a music audience. There'll be a picture on the cover. I hope it'll make people think about the process. The guitar is the icon of rock and roll, it epitomizes the music, and there's something so American about it. It's an American invention. But now rock and roll is becoming nostalgic for the baby boomers.
To me, your most interesting work is the most simple, like Record Without a Cover (1985). That's so brilliant and it's such a simple gesture, yet it works on so many different levels. You've done a lot of pieces like that. Often, an artist will have only one idea and base a whole career on it. You're one of the few I know who can go between the music world and the visual art world and be equally respected. There aren't really many other, possibly Michael Snow. There's a certain tradition, but it seems to be much more visually oriented. A true crossover is very rare.
I don't like repeating myself. I'm lucky that I have more than one interest. I can make some music when I'm not inspired to make a sculpture; I can shift worlds. It's refreshing. Right now, I'd like to make more music, but in a different way, without necessarily using records. I try to find new methods to challenge myself musically, like Graffiti Composition (1996) or Guitar Drag and Video Quartet (2002). Video allows me to work with sound and image simultaneously. Working with video and doing a life performance are two very different things; video is more like recording. Performing is great, because it's all about the moment, and that's what I like.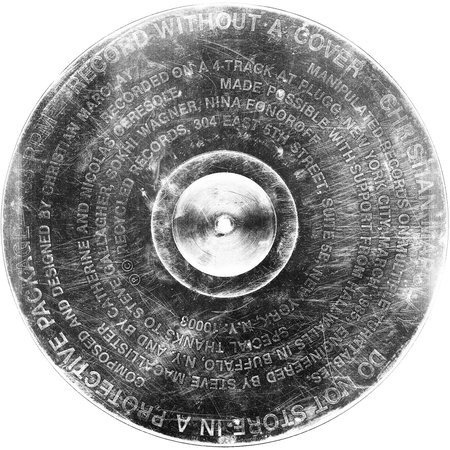 Record Without a Cover, 1985

Have you ever thought about working with a record lathe? I know you use a lot of found objects, but working with a lathe would introduce another aspect.
Yes, actually, I did this gig in Geneva last September at the Festival de la Bâtie. I collaborated with Flo Kaufmann, a technician who's been collecting old lathe-collecting machines. In the 1990s many record companies got rid of their record-making equipment, but as the demand for vinyl came back with the alternative dance music, there was a need for someone who could repair this obsolete technology. Flo, who lives in Switzerland, is now an expert, and he goes around the world to repair these amazing machines. They're massive and very heavy. So for this gig, he brought his lathe on a truck. I came with three turntables and no records, a very light set-up for me. He joined me on stage with his lathe. I created a collection of sounds on the spot with the turntables, using no records. I started with loud feedback, swinging a turntable with the volume cranked up in front of the monitor, and making all kinds of sounds, tapping and rubbing the tone arm, and banging the casing. Simultaneously, Flo was cutting these sounds on an acetate. Then he handed me the first disc and I started manipulating it, playing it at different speeds, scratching, and that was cut on a second acetate. So for an hour it went on like this, back and forth, creating new sounds and new discs, composing a piece out of nothing.
I can see how it would add a whole other element of physicality to the performance.
It was a lot of fun. We're doing it again in Bern this summer. It was so liberating to come to a gig with no records, just creating the records on the spot, and reworking the sounds again, like a loop constantly evolving, being recycled.