Depicting the "sad girl" long before Tumblr came on the scene, American Pop artist Roy Lichtenstein is most recognized for his iconic paintings of women in distress (see: Drowning Girl, 1963 and Oh, Jeff...I Love You, Too...But..., 1964 ). Lichtenstein's satirical works draw reference to a recognizable comic-book style while also saluting old masters like Monet, Cezanne and Picasso. By replicating the "Ben-Day" dot pattern used in mechanical printing with traditional painting techniques, Lichtenstein merged low-brow aesthetics with "high art," tackling subjects of cliché, melodrama, and paradox in a time oversaturated with industry, advertisement and pop culture.
In honor of the opening of Tate Modern Liverpool's exhibition Artist Rooms: Roy Lichtenstein in Focus , which will feature the artist's landscape, installation, and film work alongside his iconic Pop paintings, we've revisited a 1963 interview with the artist conducted by critic Gene Swenson, excerpted from Phaidon's comprehensive POP compendium (2005). The interview comes from the same year that Lichtenstein had his first solo show at Leo Castelli gallery and just two years after he made is first Pop painting. Here, Lichtenstein tells Swenson he "doubts" that Pop will have a lasting influencing on art, discusses ground-directed vs. object-directed painting, the immediacy of Pop Art and the deterioration of meaning over time, and subverts the notion that Pop art is an "American Art".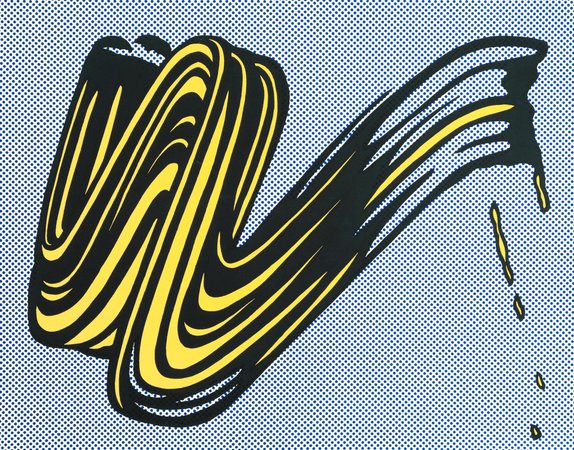 Brushstroke 1965
---
What is Pop Art?
I don't know—the use of commercial art as subject matter in painting, I suppose. It was hard to get a painting that was despicable enough so that no one would hang it—everybody was hanging everything. It was almost unacceptable to hang a dripping paint rag, everybody was accustomed to this. The one thing everybody hated was commercial art; apparently they didn't hate that enough either.

Is Pop Art despicable?
That doesn't sound so good, does it? Well, it is an involvement with what I think to be the most brazen and threatening characteristics of our culture, things we hate, but which are also powerful in their impingement on us. I think art since Cézanne has become extremely romantic and unrealistic, feeding on art; it is utopian. It has had less and less to do with the world, it looks inward—neo-Zen and all that. This is not so much a criticism as an obvious observation. Outside is the world; it's there. Pop art looks out into the world; it appears to accept its environment, which is not good or bad, but different—another state of mind.
How can you like exploitation? How can you be like the complete mechanization of work? How can you like the bad art? I have to answer that I accept it as being there, in the world.

Are you anti-experimental?
I think so, and anti-contemplative, anti-nuance, anti-getting-away-from-the-tyranny-of-the-rectangle, anti-movement-and-light, anti-mystery, anti-paint-quality, anti-Zen, and anti all of those brilliant ideas of preceding movements which everyone understands so thoroughly.
We like to think of industrialization as being despicable. I don't really know what to make of it. There's something terribly brittle about it. I suppose I would still prefer to sit under a tree with a picnic basket rather than under a gas pump, but signs and comic strips are interesting as subject matter. There are certain things that are usable, forceful and vital about commercial art. We're using those things—but we're not really advocating stupidity, international teenagerism and terrorism.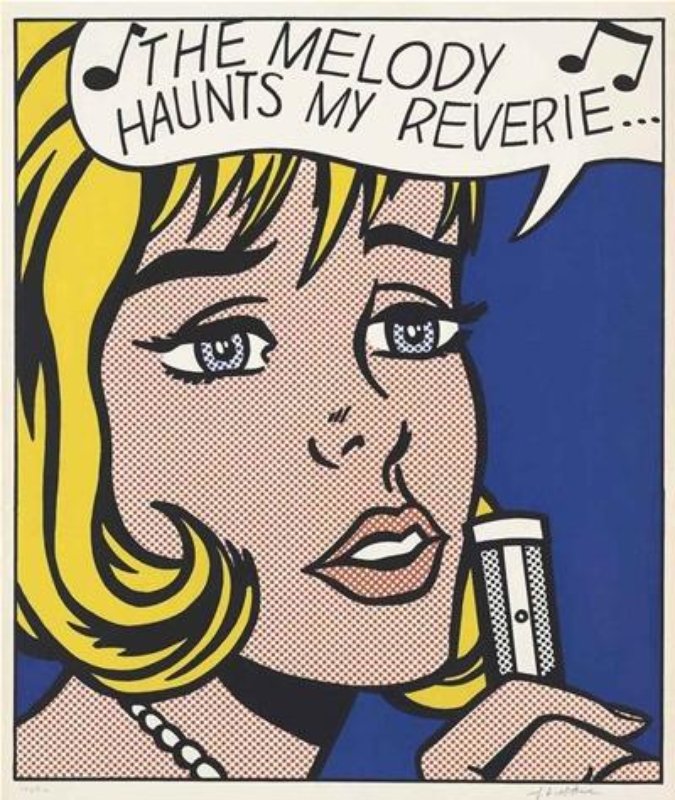 Reverie (C. 38) , 1965, available for sale on Artspace
Where did your ideas about art begin?
The ideas of Professor Hoyt Sherman [at Ohio State University] on perception were my earliest important influence and still affect my ideas of visual unity.


Perception?
Yes. Organized perception is what art is all about.

He taught you 'how to look'?
Yes. He taught me how to go about learning how to look.


Reflections on Girl, 1990
At what?
At what, doesnt have anything to do with it. It is a process. It has nothing to do with any external form the painting takes, it has to do with a way of building a unified pattern of seeing... in Abstract-Expressionism the paintings symbolize the idea of ground-directedness as opposed to object-directedness. You put something down, react to it, put something else down, and the painting itself becomes a symbol of this. The difference is that rather than symbolize this ground-directedness I do an object-directed appearing thing. There is humor here. The work is still ground-directed; the fact that it's an eyebrow or an almost direct copy of something is unimportant. The ground-directedness is in the painter's mind and not immediately apparent in the painting. Pop art makes the statement that ground-directedness is not a quality that the painting has because of what it looks like... This tension between apparent object-directed products and actual ground-directed processes is an important strength of Pop art.
Antagonistic critics say that Pop art does not transform its models. Does it?
Transformation is a strange word to use. It implies that art transforms. It doesn't, it just plain forms. Artists have never worked with the model—just with the painting. What you're really saying is that an artist like Cézanne transforms what we think the painting ought to look like into something he thinks it ought to look like. He's working with paint, not nature; he's making a painting, he's forming. I think my work is different from comic strips—but I wouldn't call it transformation; I don't think that whatever is meant by it is important to art. What I do is form, whereas the comic strip is not formed in the sense I'm using the word; the comics have shapes but there has been no effort to make them intensely unified. The purpose is different, one intends to depict and I intend to unify. And my work is actually different from comic strips in that every mark is really in a different place, however slight the difference seems to some. The difference is not always great, but it is crucial. People also consider my work to be anti-art in the same way they consider it pure depiction, 'not transformed'. I don't feel it is anti-art.
There is no neat way of telling whether a work of art is composed or not; we're too comfortable with ideas that art is the battleground for interaction, that with more and more experience you become more able to compose. It's true, everybody accepts that; it's just that the idea no longer has any power.


Abstract-Expressionism has had an almost universal influence on the arts. Will Pop Art?
I don't know. I doubt it. It seems too particular—too much the expression of a few personalities. Pop might be a difficult starting point for a painter. He would have great difficulty in making these brittle images yield to compositional purposes... Interaction between painter and painting is not the total commitment of Pop, but it is still a major concern—though concealed and strained.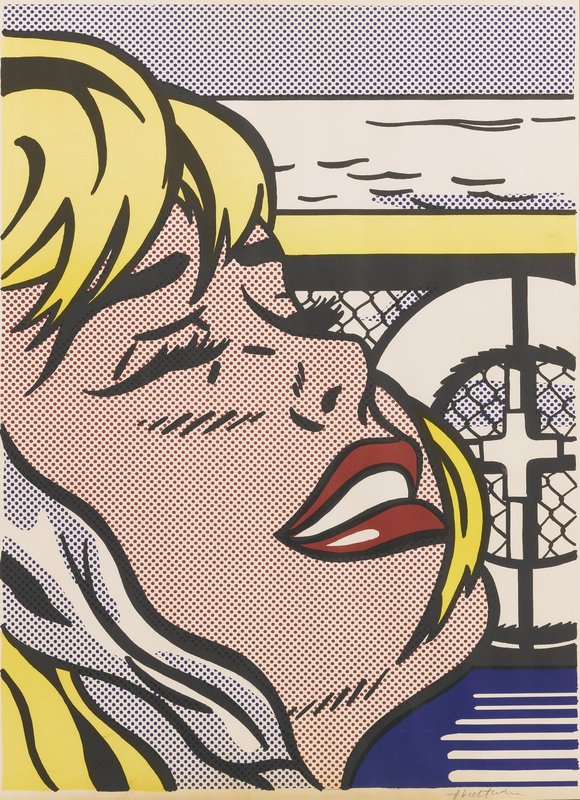 Shipboard Girl, 1965, available for sale on Artspace

Do you think that an idea in painting—whether it be 'interaction' or the use of commercial art—gets progressively less powerful with time?

It seems to work that way. Cubist and Action Painting ideas, although originally formidable and still an influence, are less crucial to us now. Some individual artists, though— Stuart Davis , for example—seem to get better and better.


A curator at the Modern Museum has called Pop Art fascistic and militaristic.
The heroes depicted in comic books are fascist types, but I don't take them seriously in these paintings—maybe there is a point in not taking them seriously, a political point. I use them for purely formal reasons, and that's not what those heroes were invented for... Pop Art has a very immediate and of-the-moment meanings which will vanish—that kind of thing is ephemeral—and Pop takes advantage of this 'meaning' which is not supposed to last, to divert you from its formal content. I think the formal statement in my work will become clearer in time. Superficially, Pop seems to be all subject matter, whereas Abstract-Expressionism , for example, seems to be all aesthetic ...
I paint directly—then it's said to be an exact copy, and not art, probably because there's no perspective or shading. It doesn't look like a painting of something, it looks like the thing itself. Instead of looking like a painting of a billboard—the way a Reginald Marsh would look—Pop Art seems to be the actual thing. It is an intensification, a stylistic intensification of the excitement which the subject matter has for me; but the style is, as you said, cool. One of the things a cartoon does is to express violent emotion and passion in a completely mechanical and removed style. To express this thing in a painterly style would dilute it; the techniques I use are not commercial, they only appear to be commercial—and the ways of seeing and composing and unifying are different and have different ends.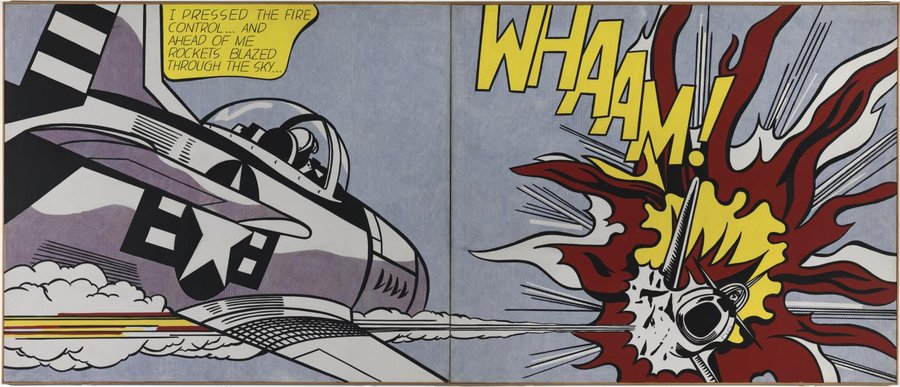 Whaam!, 1963

Is Pop Art American?
Everybody has called Pop Art 'American' painting, but its actually industrial painting. America was hit by industrialism and capitalism harder and sooner and its values seem more askew... I think the meaning of my work is that its industrial, it's what all the world will soon become. Europe will be the same way, soon, so it won't be American; it will be universal.
[related-works-module]