WHO IS JULIETTE BINOCHE?
Juliette Binoche —the French actress, dancer, and artist—is best known for roles in Three Colors: Blue in 1993 and Michael Haneke 's paranoid thriller Caché in 2005. She was also the second French actress ever to win an Oscar. (Binoche currently appears in the most recent reboot of "Godzilla.") In her new film Words and Pictures , the 50-year-old academy award winner plays Dina, an art teacher whose ability to paint is affected by her worsening rheumatoid arthritis.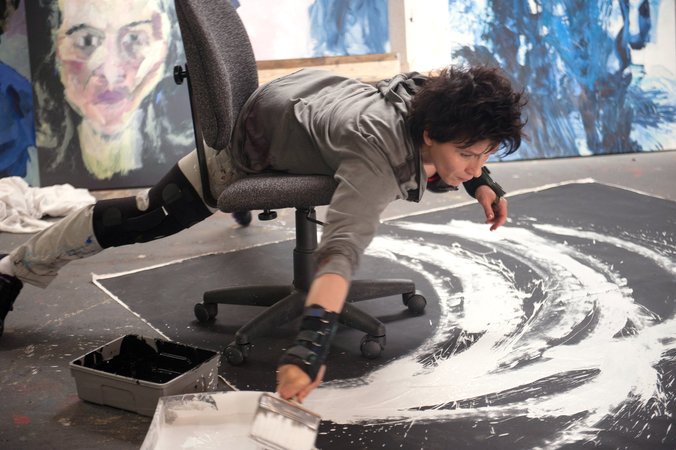 HOW IS THIS DIFFERENT FROM EVERY OTHER ART MOVIE?
In an unusually authentic twist, all of the paintings shown in Words and Pictures were actually made by Binoche herself, who for years has pursued a side career as an artist in her time off-screen. In the film, Binoche's character's works transform from illustrative portraits to large-scale abstractions as her arthritis forces her to resort to using huge ceiling-mounted brushes and a rolling desk chair to complete her works. The transformation that unfolds across the film is a stirring testament to Binoche's own acumen as a painter, as the actress convisingly adapt her style throughout the course of the movie.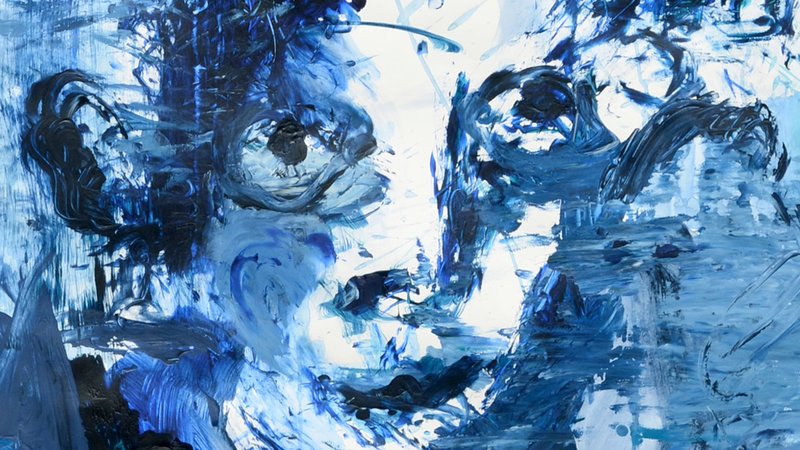 WHERE DOES ONSCREEN ART USUALLY COME FROM?
When an artist's works are depicted on the silver screen, there are a few production strategies for creating the actual pieces that the audience sees. Sometimes a professional artist creates the works, developing a characteristic 'style' that matches the on-screen auteur's persona; or, in some cases, the audience never actually gets to see the fruits of the artist character's labor—they're simply referred to in the abstract. Last year's Blue Is the Warmest Color , which also features a central character who's a painter, played the balance, giving the camera quick glimpses of the paintings that were just enough to assuage the audience's curiosity without giving up too many details to pick over.
But other directors get much more ambitious in the creation of their fictionalized artistic ouevres: for his 1996 Jean-Michel Basquiat biopic, director Julian Schnabel painted his own canvases in the style of the late artist; and real-life artist Francesco Clemente was responsible for the portraits supposedly done by Ethan Hawke 's character in the 1998 modernized Great Expectations .

It's also not the first time Binoche has created her own onscreen oeuvre; she also made all of the paintings depicted in her 1991 film The Lovers on the Bridge (Les Amants du Pont-Neuf), in which she played a street artist living rough in Paris. Not only that, but Binoche also drew and designed the French poster for that film.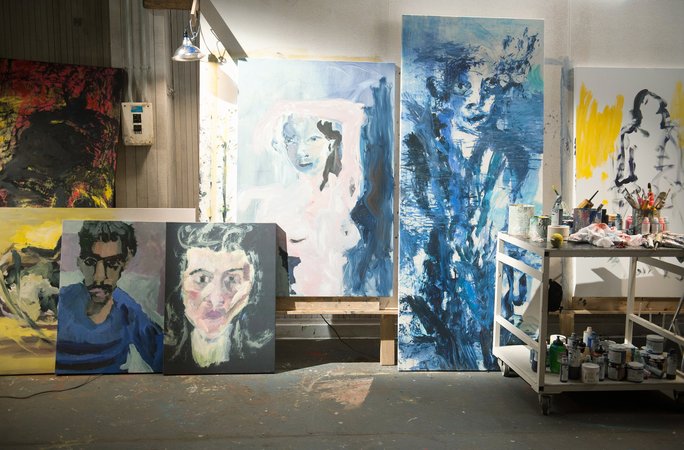 SO HOW'S HER PAINTING?
Beyond the Hollywood spin machine, Binoche's paintings also happen to be pretty good—a representative selection of impressionistic, ghostly portraits is available in her 2008 monograph Portraits In-Eyes .