Nineties male artists like Jeff Koons and Richard Prince made art about sex to feel transgressive; Sarah Lucas—whose first major US survey show "Sarah Lucas: Au Naturel" opened at the New Museum on September 25th—likes sex because it's accessible. Few people go to galleries. Lots of people have sex though. In Eating a Banana (1990), Lucas is photographed doing what the title says. If you've heard a dick joke, the photo will make sense. The very butch-looking (she's straight) Lucas looks straight at the camera, secreting charisma. "This must be what it's like to meet a cult leader," wrote writer Olivia Laing in a 2015 profile. "This is not to say that there's anything manipulative about Lucas, but rather that the force of her personality is so intense as to be almost frightening."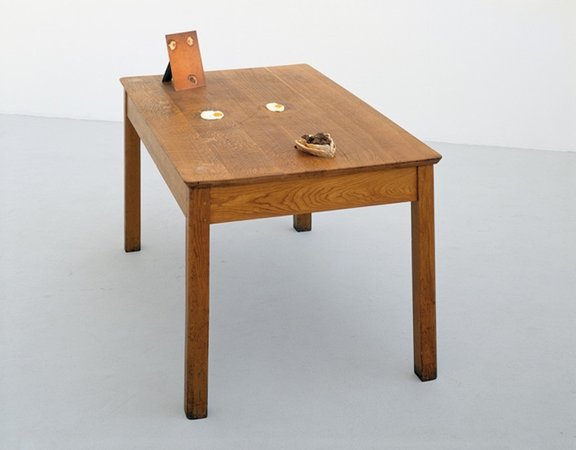 Two Fried Eggs and a Kebab (1992) by Sarah Lucas. Image courtesy of Saatchi Gallery.
In addition to sex, Lucas loves toilets as well. The invitation to her 1996 solo show was a photo of a toilet bowl. "Is Suicide Genetic?" was written on the toilet bowl in brown paint. Floppy Toilet Set (2017) looks like a toilet made of pee. Corresponding wall text points to the toilet as "a space of privacy and introspection, perhaps removed from societal pressures," while Lucas recalls the shared toilet at her 1990s London studio: "It had seen a lot of action." Affordable studio space for working-class artists––as Lucas was then––feels hard to imagine from 2018 New York. Now, Lucas prefers not to use a studio. Instead, she works spontaneously, picking up and using whatever is lying around her home. She also doesn't really live in London anymore, though she still has an apartment there. The YBA's tomboy ingenue lives in Suffolk with partner Julian Simmons. For Lent a few years back, they gave up phones, internet, drinking, meat, and socializing; instead, Lucas repeatedly plaster cast Simmons's penis, which, apparently, he loves.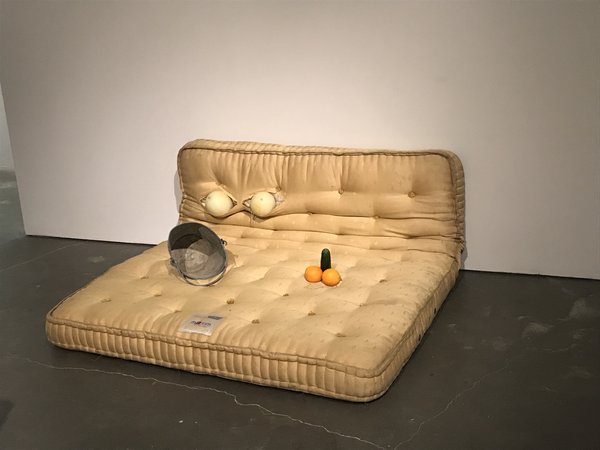 Au Naturel (1994) © Sarah Lucas. Courtesy Sadie Coles HQ, London
When it comes to labeling, the wall text for "Au Natural" is careful. Oranges and a cucumber stuffed into a mattress are described as "a penis and testicles (versus, for instance, "male genitals"), while a pair of melons is a "crude imitation of breasts." This is better but incomplete. Some cucumbers are vaginas; some vaginas are cucumbers. Part of Lucas's aim, of course, is to drain genitals of their symbology. She sculpts boobs as if she were sculpting elbows: free (or as free as possible) from societally projected taboos. In doing so, she questions why these taboos exist in the first place––that is, who they benefit. But she's also lolling that we give so much power to such goofy-looking organs. In NUD 18, a limp, uncircumsized phallus does not stand in for impotence, or for abject masculinity. Instead, like raw pretzel dough, it's knotted and wound-up, hugging itself; it looks like a butt.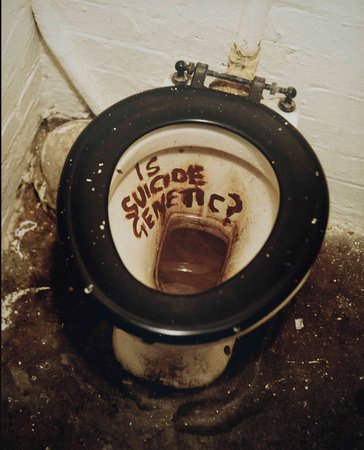 Is Suicide Genetic (1996) by Sarah Lucas. Image courtesy of Christie's.
Even so, a piece like Two Fried Eggs and Kebab (1992) is unmistakably very cis. The work critiques objectification and misogyny, but the the triangular kebab––laid out on a wooden table beneath two very breasty fried eggs––could never be (to use Lucas's favorite word for it) a nob. Of course, cissexuality is Lucas's experience. It's also her lane. And yet the rooms of disembodied genitals––which, at one point, someone had bought and sold––perhaps have an unintentional, overwhelming valence for trans viewers as well.
RELATED ARTICLES:
Massimiliano Gioni Interviews Provocative Artist Sarah Lucas in Time for Her Current Retrospective at the New Museum
"Art Video + Video Art": Watch Clips on 3 Artists to Watch This September
Sarah Lucas on Her Art, the Venice Biennale, and Learning to Be Less Abject