As the founding editor of the cultishly followed visual journal Contemporary Art Daily, Forrest Nash has been living up to a heady promise since 2008: to publish a visual survey of a worthy show by a contemporary artist every single day of the year. As one might imagine, this 27-year-old Chicago native has a pretty good eye. Here, he applies his choosy aesthetic EXPO CHICAGO, sharing his favorite works from this year's fair.


PIER PAOLO CALZOLARI
Untitled (Clepsydra), 1992
Marianne Boesky Gallery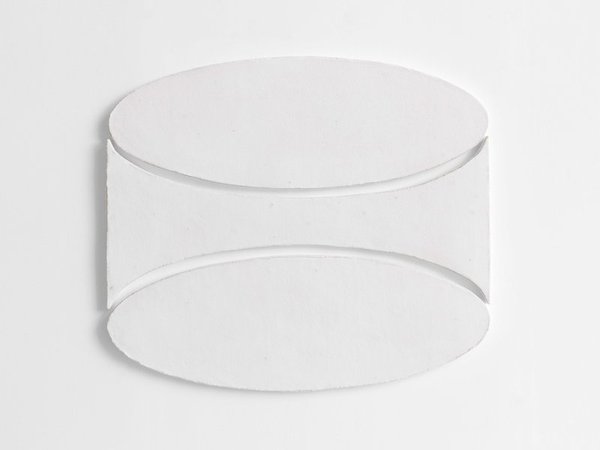 Pier Paolo Calzolari is represented in some of my favorite collections in Chicago, and this is an especially beautiful form. A water clock made from salt, always reacting imperceptibly with atmospheric moisture, the work offers a compellingly strange notion of measuring time.

TOMMA ABTS
Untitled (gap), 2015
Crown Point Press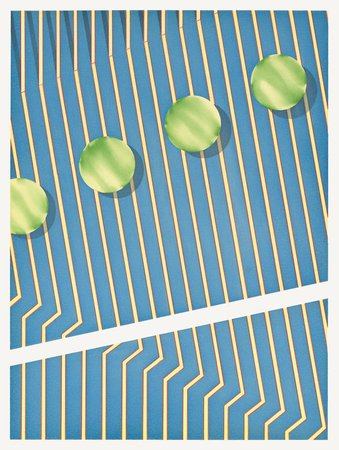 I have always appreciated the ideology of editions, and I love when they are able to stand comfortably alongside an artist's other works. Not just a souvenir from a famous name, Untitled (gap) has many of the same subtle complexities that Tomma Abts's paintings do, and likewise rewards careful looking.


JULIAN HOEBER
Pathos, 2015
Jessica Silverman Gallery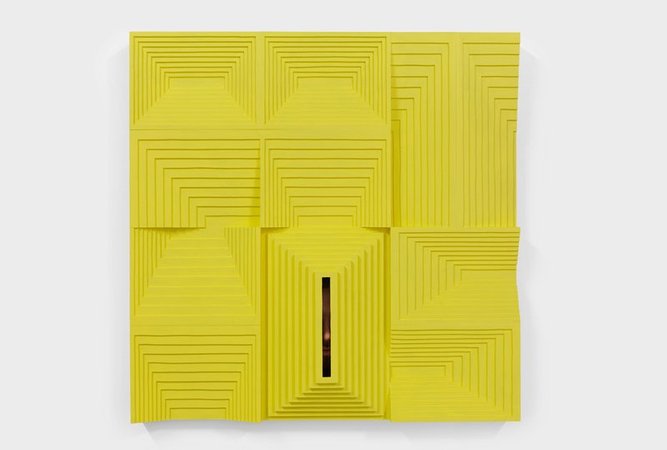 I'm interested in Julian Hoeber because I don't understand what he cares about. His signature geometry is literally a mask, here paradoxically identifying him and obscuring him. In the same way, the work's title contradicts itself—for me, overtly claiming "Pathos" as its title immediately sucks away any pathos the work might have naturally had. Oddly, the failure of the title gives it some pathos back, but then that undercuts its status as a failure....

NICOLE WERMERS
Untitled Chair-FX2T, 2015
Jessica Silverman Gallery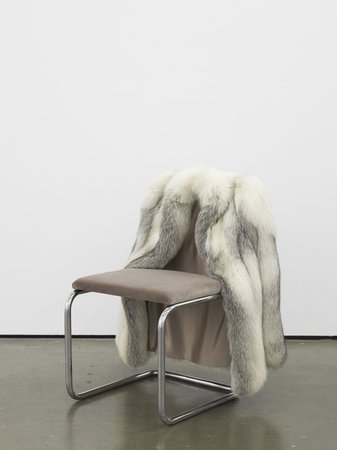 We published Nicole Wermer's exhibition at Herald St. in March, which included a number of these chair works. The idea to make a chair that has a coat sewn onto it, integrated into the chair as an object, elegantly frustrates conversations around art and design and usefulness. As a chair, it is theatrical, pretending to be holding a jacket for a character who isn't present. It's also pointing out an incidental, secondary function served by a chair, while simultaneously making that ostentatiously difficult for the real people who might actually use it. Remembering that it is, finally, a sculpture, makes me more conscious than ever of art's special, magical uselessness.


RICHARD REZAC
Untitled 15-03, 2015
Rhona Hoffman Gallery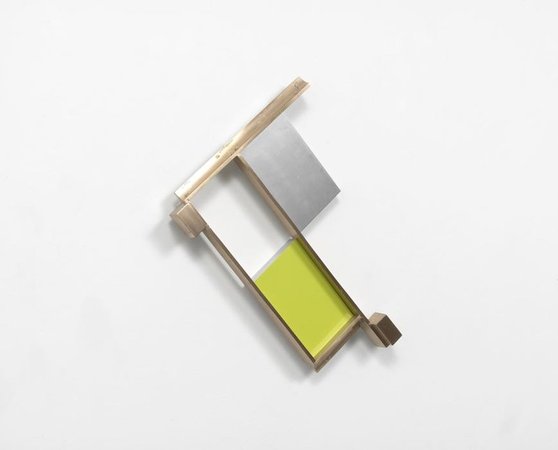 Richard Rezac is a virtuosic composer, and this is a lovely example. At a moment when the artist seems poised for renewed attention, I'm so happy to see this work in the booth of his longtime gallery in Chicago.


WILL BENEDICT
Untitled (Pompidou), 2015
Bortolami Gallery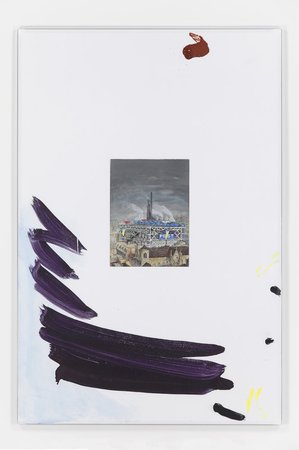 We've published so many Will Benedict exhibitions in recent years that we've had to consciously restrain ourselves. I particularly like this work, which includes a French cartoon insulting the Centre Pompidou in Paris, as a reminder of the usual peace with which satire can be greeted. I see this as a celebration of our collective indifference to cultural outrage, an embodiment of admirable civilization.


ANNA OSTOYA
Invitations No. 18, 2013
Bortolami Gallery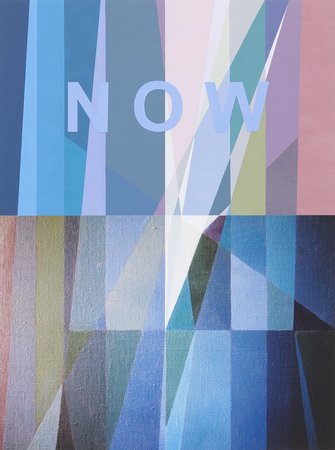 I first learned about Anna Ostoya on the occasion of her debut with Bortolami in 2011, in which she produced a small painting for each day of the month leading up to the show. The press release positioned this as a performance, rather than a creative process, jarring the temporality associated with most exhibitions of objects by emphasizing the period of their execution (which followed the conception of the performance) rather than the time during which they were on view. I get similarly captured by Invitations No. 18. "NOW" points to a different moment each time we read it, activating us as performers too.


JULIA FISH
Threshold, NorthWest — One [ spectrum : violet with grey ] 2010-2011, 2014
David Nolan Gallery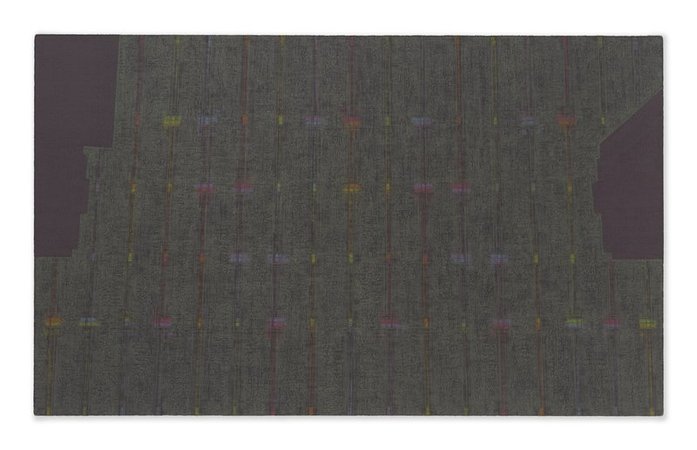 There is usually a gorgeous Julia Fish painting hidden in every iteration of EXPO Chicago. You would think the overstimulating environment of an art fair would harm such a sensitive, introverted work, but finding this painting comes as a welcome relief—an island of repose and thoughtfulness.


JOS DE GRUYTER & HARALD THYS
Die schmutzigen Puppen von Pommern 030, 2013
Galerie Micheline Szwajcer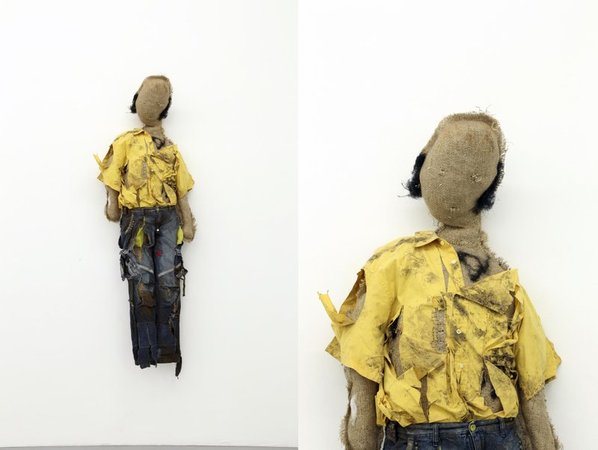 I've been studying De Gruyter & Thys for several years now, and they are thankfully becoming more visible here in the United States in recent months due to a series of excellent museum shows. The bleakness of these dolls blooms as you stare at them. Even though they are utterly blank, they somehow retain the horror and madness of the story that inspired them: the rise and fall of a 12-century German empire built by a family of executioners.