With its splediferous mixture of artworks from across most periods of human history, Frieze Masters occupies a unique niche in the art market—walking through the fair, it's as if you've entered an encyclopedic museum, only one where everything is for sale. In keeping with the focus of the event, we've highlighted a few artworks on view that are remarkable both for their art-historical significance but also for the fascinating stories of how they've been passed down through the ages, from one lucky (or, sometimes, distinctly unlucky) owner to another.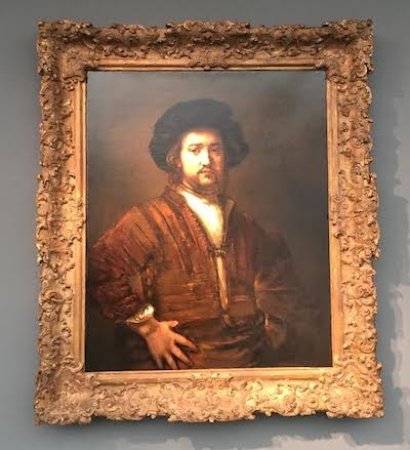 ARTIST: Rembrandt
TITLE & DATE: Portrait of a Man With Arms Akimbo (1658)
PRICE: $48.5 million
GALLERY: Otto Neumann Fine Art Ltd. (New York)
PROVENANCE: After its first recorded appearance in a 1797 sale in Liverpool, this painting was bought by one Daniel Daulby, then transferred to the collection of a Lancashire banker in 1805, then was sold to an English shipper (as a "portrait of a Dutch admiral"), from whence it became the property of the renowned British collector George Folliott. Folliot's grand sold it at Sotheby's in 1930, then it was bought by the A&P tycoon George Huntington Hartford II, who donated it to Columbia, where it hung for a decade in the office of the university president before being sold to the famed art patron and Johnson & Johnson heir J. Seward Johnson, whose widow sold it at Christie's in 2009, where it was bought by Las Vegas hotel magnate Steve Wynn. New York gallerist Otto Neumann heard that Wynn's hotels were struggling ("at half occupancy") and that he was going through a messy divorce, so he was able to advantageously purchase the Rembrandt on behalf of a financial backer and bring it to TEFAF in 2011, where it was priced at $47 million, making it the most expensive artwork to ever be shown at the Maastrict fair.
WHY IT'S IMPORTANT: Rembrandt painted this portrait after declaring bankruptcy and having had to sell his house—a desperate time in his life where his paintings began to roughen and take on a spectral glow, the hallmarks of his most-coveted late period. It's tremendously difficult to find a late painting by the artist, and this one is in superb condition.
WHY SELL IT NOW: Not only does the National Gallery currently have a high-profile show of Rembrandt's late paintings, but there's even some conjecture that the artist may have painted the portrait in England during a possible unrecorded trip outside of the Netherlands that is hinted at in the journals of an engraver named George Vertue, who recorded seeing him walking around in Hull.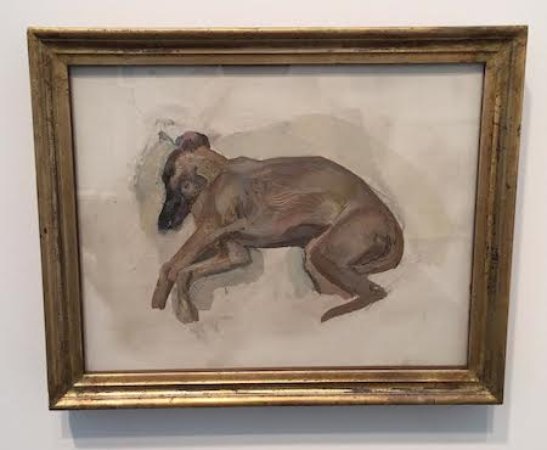 ARTIST: Lucien Freud
TITLE & DATE: Pluto (1988)
PRICE: In the $2-5 million range
GALLERY: Matthew Marks (New York)
PROVENANCE: Freud famously painted his those in his circle of intimates, and he gave this painting to one of his female models in 1988; she recently decided to sell it.
WHY IT'S IMPORTANT: A portrait of the artist's beloved whippet, Pluto, who appears in many of his paintings, this piece prefigures a print Freud made of the dog in the same position, only quite a bit fatter, in 2000. Titled Pluto Aged Twelve, that work has become one of the artist's most popular and widely disseminated works.
WHY SELL IT NOW: Marks, who worked closely with Freud to produce many of his earliest prints, wanted to use the gallery's first outing at Frieze Masters as an opportunity to pay tribute to the legendary London artist with a selection of his paintings and works on paper. Also, the English really, really, really love dogs.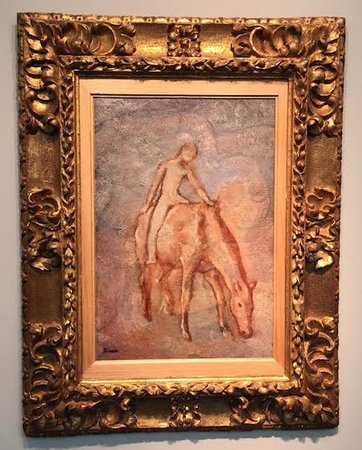 ARTIST: Pablo Picasso
TITLE & DATE: Jeane Garçon Nu à Cheval (1906)
PRICE: $22.5 million
GALLERY: Dickinson (London)
PROVENANCE: Picasso painted this portrait while he lived in the Bateau Lavoir and exchanged it for a painting (La Vigne, now in the Picasso Museum) by his friend and neighbor Kees van Dongen, who then featured it in the background of a drawing that he made of Picasso for a book about the famed Parisian artist enclave. Van Dongen kept the painting in his possession until 1948, when he sold it to Paris's Galerie Charpentier, which then sold it to British fashion designer Edward Molyneux; from there it passed through Marlborough Gallery in the 1950s into the collection of British financier and Selfridges owner Charles Clore, then through two more private collections before coming to Dickinson.
WHY IT'S IMPORTANT: Painted the year before the breakthrough of Desmoiselles d'Avignon, this work was made during the most impoverished stage of Picasso's life—it's surface is heavily built up, testament to the fact that painted it on top of a previous painting to save money on canvas—and stands as a rare and important part of his Rose Period, when he more commonly made works-on-paper due to his penury. The theme of the boy and his horse also directly relates to the iconic Boy Leading a Horse (1905-6) at MoMA as well as the never-realized painting The Watering Hole, which, as seen from the extant preparatory gouaches, would have been the most ambitious painting of the Rose Period. Very few paintings from this time in Picasso's life remain in private hands.
WHY SELL IT NOW: The gallery decided to make the painting the centerpiece of a curated presentation at Frieze Masters of works relating to its history, including pieces by Kees van Dongen (including the drawing with the painting in the background), Iberian statuary (a decisive influence on Picasso's style), and other works.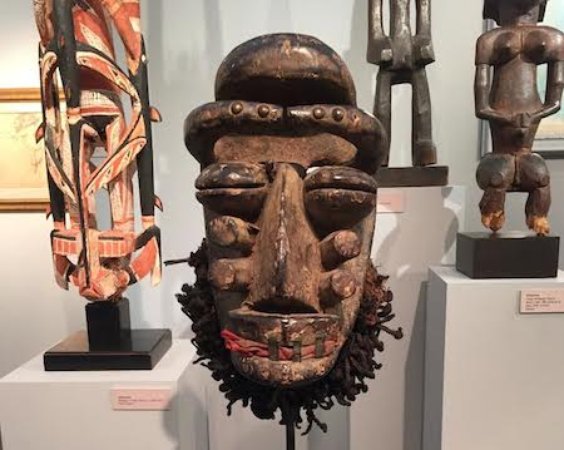 ARTIST: Unknown Ivory Coast artist
TITLE & DATE: A We Mask (early 20th century)
PRICE: $75,000
GALLERY: Pace (New York, London, Beijing, Hong Kong, Menlo Park)
PROVENANCE: While the specific provenance of this piece is unknown, it's general trajectory is not. During the colonial era, when Africa was systematically converted to either Christianity or Islam, the traditional creation of totems for use in African religious rituals went out of favor, and European traders bought tremendous quantities of these objects, flooding them into the flea markets of Europe. There, these icons were discovered by artists who were intently searching for ways to break into new forms of visuality, and they seized upon the object as icons of an alternative artistic tradition that allowed them to begin looking at the body in novel ways. When the artists began buying these pieces, their dealers began buying them as well and selling them to the artists' collectors—creating a vogue for African art that spread widely into pioneering Modern collections. This particular piece was sold by the prominent Parisian "primitive" art dealer René Rasmussen in 1951 to Hubert Goldet, an heir to the BP oil fortune and a founder of Art Press magazine who became a major trendsetter among collectors of the 1960s and '70s. After his death, this mask went to auction, where Pace Primative director Carlo Balla advised a client to buy it; years later, when the client wished to sell the statue, Balla bought it back from him.
WHY IT'S IMPORTANT: A war mask that was used in ceremonial dances to commemorate battles and tame the spirit of the bush, this is a very good example of its kind, with fierce imagery, multiple eyes, and attributes of both a human and animal face. It also ticks off all of the requirements for a covetable mask—it was made in Africa for Africans to use in an African context, and its wear indicates it was thoroughly used. Its provenance through Rassmussen's gallery additionally suggests that it was part of the milieu that gave rise to Modernism.
WHY SELL IT NOW: Pace founder Arne Glimcher decided to bring a curated selection of African masks and Modern paintings by the artists who were influenced by them to the fair, and he opted to display them in a format similar to that of his own home, under the precept that "beautiful things go well together." The Metropolitan Museum of Art's new survey of Cubism may also bring new interest among collectors in the art that influenced that period.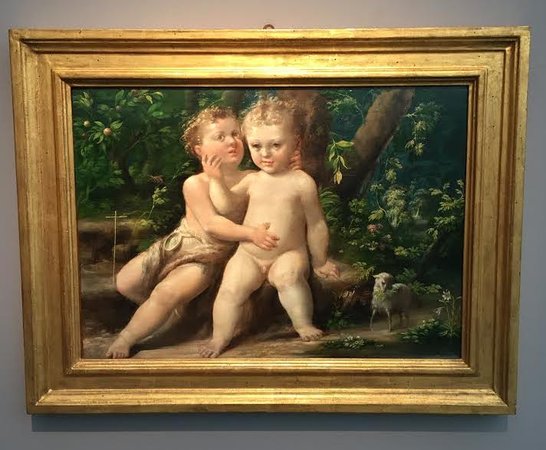 ARTIST: Girolamo Mazzola Bedoli
TITLE & DATE:Infant Christ With Saint John the Baptist (c. 1540-50)
PRICE: $319,000
GALLERY: Moretti (Florence, London, New York)
PROVENANCE: First documented in a Parma collection in 1632, the painting, originally attributed to the great Mannerist painter Parmigianino (Bedoli's cousin), entered the royal British collection later that decade under King Charles I and is thought to have stayed in the monarchical residence at Whitehall through the reigns of Charles II and James II. At some point, however, the painting was revealed not to be a Parmigianino, at which point a copy was made (which remains in the royal collection at Windsor today) and the original was sold, making its way into the collection of one Arthur L. Nicholson, who auctioned it off at Christie's in 1926, after which it transitioned into the collection of Berlin neurologist Ernst Remak and then to that of Los Angeles's Herbert T. Kalmus, the inventor of color film and the co-founder of the Technicolor Motion Picture Corporation. In 1954, Kalmus donated the painting to LACMA, which deaccessioned it in 2010 through Sotheby's, where a well-known private collector acquired it for $146,500.
WHY IT'S IMPORTANT: An exceptionally well preserved landscape from the Mannerist period, it is exquisitely painted, with finely observed fauna, cleverly understated religious iconography, and an unusual trompe l'oeil touch: over John the Baptist's baby sheep Bedoli painted a large, hyperrealistic fly in such a way that it seems to be standing on the surface of the painting. Also, that provenance.
WHY SELL IT NOW: What Londoner wouldn't want to own the original version of a painting that hangs in the British royal collection?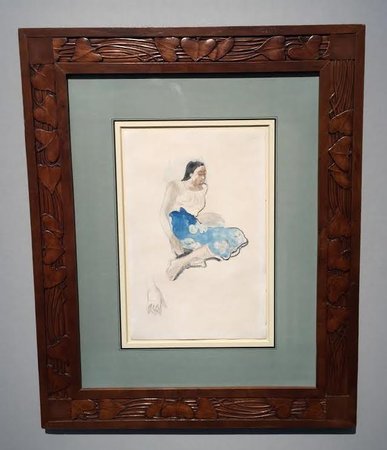 ARTIST: Gauguin
TITLE & DATE: Jeune Tahitienne Assise (1891)
PRICE: Undisclosed, but well under $1 million
GALLERY: Thomas Gibson Fine Art (London)
PROVENANCE: Gauguin is believed to have given this drawing to his friend the Spanish sculptor Paco Durrio after his first trip to Tahiti, who then sold it to one Charles Gillet, after which point it transferred to the ownership of Paris dealer Paul Prouté, who sold it to Marie Matisse, Henri Matisse's daughter-in-law. Thereupon, Thomas Gibson Fine Art facilitated the drawing's sale to Austin, Texas, philanthropists and art patrons Joe and Theresa Long.
WHY IT'S IMPORTANT: An early drawing from the most storied period of the artist's life, this portrait of a Tahitian girl was replicated by Gauguin—a serial re-user of favorite images—in his seminal woodcut travel journal Noa Noa (1893-94) and also in the 1896 painting Nave Nave Mahana, the first of his canvases to enter a public French collection (the Museum of Fine Arts of Lyon). Also, Paco Durrio was an important early Paris friend of Picasso while they both lived in the Bateau Lavoir, and his cache of Tahitian drawings and woodcuts by Gauguin—almost certainly including this one—had a tremendous influence on the painter.
WHY SELL IT NOW: When the Longs, who have been clients of Thomas Gibson Fine Art for 30 years, recently decided to sell off a selection of works from their holdings, they opted to consign them back to the gallery instead of putting them up at auction—a "rare case of loyalty," in the words of a gallery staffer.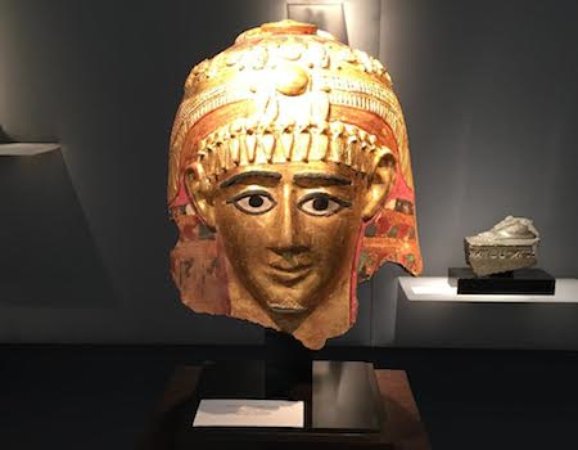 ARTIST: Unknown Egyptian
TITLE & DATE: Mummy mask of an elite matron (first century AD)
PRICE: $402,000
GALLERY: Ariadne Galleries (New York, London)
PROVENANCE: As with most ancient Egyptian artifacts, the provenance of this mask is murky, but it is first documented in a private Egyptian collection in 1910, whereupon it passed down in 1953 to an heir who sold it to Paris dealer Simone de Monbrison in 1965, accompanied by an all-important export license. From that point it went to an unknown private collection in Paris and last year was sent to auction, where Ariedne Galleries acquired it.
WHY IT'S IMPORTANT: A death mask in polychrome gilded cartonnage, this ornate portrait of an aristocratic Egyptian woman is marked by the striking maquillage around the eyes and eyebrows, the 13 rearing cobras ringing the fringe (an indication of both royalty and divinity), the multiple depictions of Anubis and Horus behind the cheeks, and the winged scarab embellished by an image of Horus as a falcon atop the crown. It's also a relic from ancient Egyptian that was entombed with someone for hundreds of years, which is, like, wow.
WHY SELL IT NOW: The gallery brought the mask to the fair because it has found that Frieze Masters is an excellent opportunity to find collectors interested in crossing over into new categories of art, with the understanding that pieces from across the centuries work extraordinarily well together. This year has been a success: the dealers have sold antiquities to contemporary-art collectors who have never bought them before, and this mask is on reserve.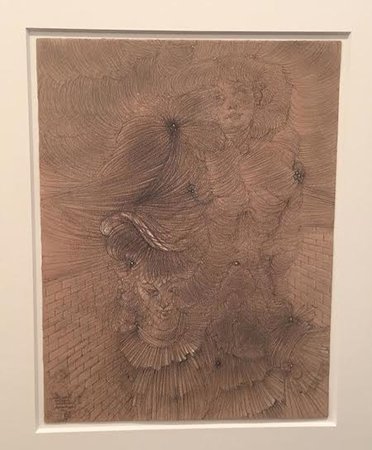 ARTIST: Hans Bellmer
TITLE & DATE: Untitled (1940)
PRICE: $210,000
GALLERY: Galerie Berinson (Berlin) and ubu Gallery (New York)
PROVENANCE: During World War II, Hans Bellmer was interned in the Camp des Milles in Aix-en-Provence, a brick and tile factory that was converted into a concentration camp, along other German artists and intellectuals including Max Ernst and Ferdinand Springer, and some years after his release he gave this drawing—with its prominent use of bricks, which became a recurrent motif in Bellmer's work—to Springer as a gift. It then transitioned into a private collection in Hamburg, from which the gallery obtained it.
WHY IT'S IMPORTANT: The drawing is part of a series of compositions on bright pink paper—long since faded—with highlights of white wash that today are rare and highly coveted by collectors. Also, the inscription to Springer is notable for more than just its wartime associations: Springer was the nephew of Rudolf Springer, who in 1953 gave Bellmer his first show at Berlin's Maison de France, at the opening of which the artist met Unika Zürn, who became his lover and muse and whom he encouraged to become an artist.
WHY SELL IT NOW: The gallery opted to bring a survey of works by Bellmer and Zürn to the fair, and the drawing's relevance to both his biography and their relationship led them to include it in the display.