Is painting about to take one of its periodic deathlike naps again? At this year's Frieze Art Fair in London's Regents Park, an unusually dominant percentage of the most exciting, boundary-pushing, perspective-shifting works on view were not paintings—which have had a terrifically energetic run for the past couple of years—but films, videos, multimedia works, or other pieces that drew on technology to arrest the viewer's attention. One high-flying young painter even more-or-less abjured the canvas in favor of a multichannel video presentation (although two paintings, a hedge, were on view as well). Performance, sometimes robot-aided, also made a splash at the fair as part of the new Live section of commissioned performative art. Here, below, is a selection of a few of the best works in the aisles.
ULRIKE MÜLLER
Spinner und Schwärmer (2014)
Callicoon Fine Arts (New York)
In the $10,000 range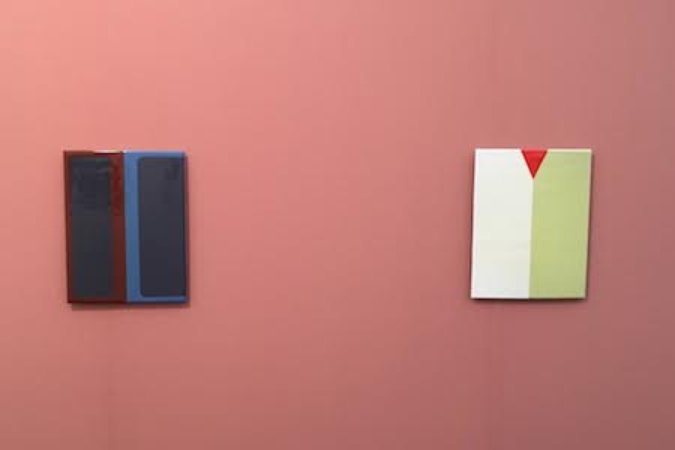 Working with a kiln she keeps on her studio tabletop, the artist Ulrike Müller coats metal plates with powdered glass in different colors and then fires them, one color at a time, to create extravagantly lush enamel pieces that lie somewhere between painting and sculpture. The enamel technique she uses is ancient, and has been used for centuries to create everything from jewelry to industrial surfaces to signage, but in Müller's hands the it can seem to tak on a lightly subversive twist—the abstract compositions often suggest bodily references, including erotic ones to cleavage and penises. One of the editors of the online journal LTTR ("Lesbians to the Rescue") and now Amy Sillman 's heir as co-chair of paintings at Bard College , Müller will receive a solo display as part of MoMA PS1's show "The Little Things Could Be Dearer," opening October 26.
MICHAEL SMITH
Government Approved Home Fallout Shelter Snack Bar (1983)
Dan Gunn Gallery (Berlin)
In the $150,000-200,000 range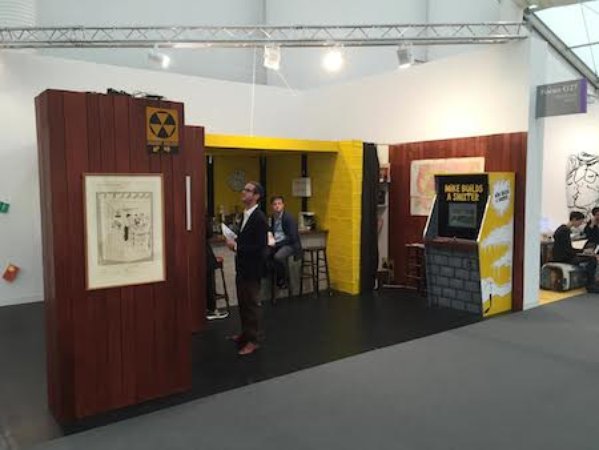 Someone give Michael Smith a retrospective! (In New York, preferably.) A sui generis hero of 1980s video art, Smith is under-known for his hilarious and truly weird burlesque of normality, typically playing an optimistic, happy-go-lucky, ordinary all-American guy who is haplessly confounded by everything modern life has to offer, from love to work to matters of mortality. (He has another character called Baby Ikki, but that's another story.) Frieze encouraged the dealer Dan Gunn to apply for its Focus section with a presentation by Smith, and he complied with a doozy: a snack bar ringed by seven drawings and a video, Mike Builds a Shelter , that chronicle the character's efforts to turn his basement rec room into a fallout shelter where he could take refuge from nuclear war.
The bar itself is made from concrete brezeblocks and contains tins labeled "survival ration crackers," assorted tchotchkes, copies of the Journal of Civilian Defense , VHS cassettes (including the movie Earthquake ), tools, board games, and bottles of Canadian Club, Jaegermeister, and other liquors popular in '80s suburbia. (The artist himself tended bar at the fair's opening.) Originally exhibited at Castelli Graphics in 1983 and then later that year in the New Museum 's show "The End of the World," the piece's presence at the fair hopefully betokens the beginning of an upswing for the artist, who will also have shows at the Tate, Greene Naftali, and South London Gallery next year.
IAN CHENG
Standard (Oslo) (Oslo)
Droning Like an Ur (2013)
$14,000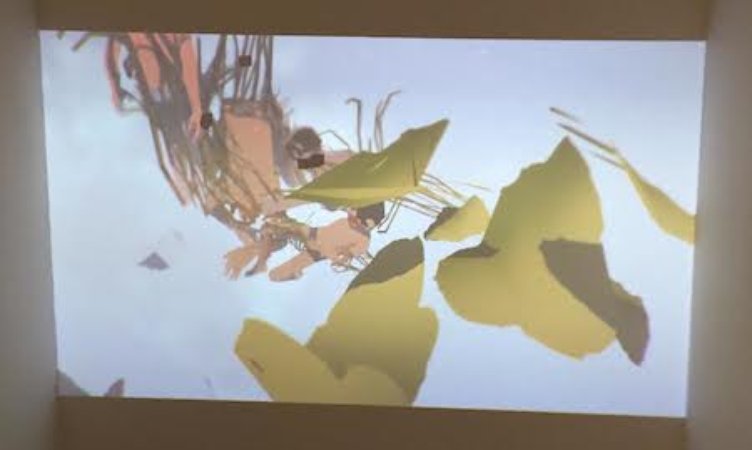 Want to be gripped? Try walking past a few booths of abstract paintings and stylish sculptures and then standing in front of Ian Cheng's animation at Standard (Oslo)'s booth. It's utterly insane, freakish, and unmissable. What you see are several crudely animated, herky-jerky characters wandering around an undersea setting and getting entangled in seaweed-like plants, which, whenever the characters come near, spring aggressively into life, yanking them like marionettes across the screen and appearing to either kill or fuse with them. A score that sounds like the twitchy clicking of insect mandibles (or something similarly abhorrent) plays in the background, and occasional an animated child walks onscreen and announces something ("This is called a cache portal").
What is this bizarre video? It's actually an app, which the 26-year-old artist Ian Cheng—who used to work as a 3-D animator for Hollywood movies like Transformers —constructed with video-game technology that allows for its cast of characters to interact with their feral vegetal surroundings in an infinite number of ways according to set rules: if a character touches a plant, it goes bananas on them; whatever the child looks at on-screen, it names. Inspired by the book Finite and Infinite Games by the NYU religion professor James Carse, the piece is the latest entrant to a very promising body of work that recently also included a sound piece consisting of a conversation between two female-voiced artificial intelligences who asked each other, and answered, random questions.
WILL BENEDICT
Twelve-Legged Chicken (2014)
Overduin & Co. (Los Angeles)
$22,000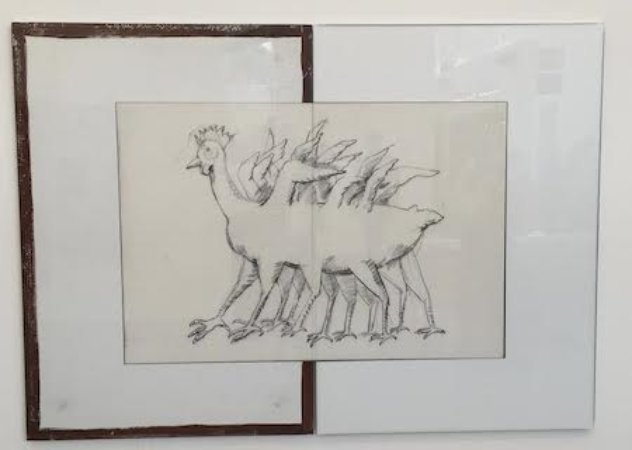 Born in Los Angeles, the artist Will Benedict studied at Pasedena's Art Center College of Design before decamping for cooler climes at Frankfurt's famously experimental Staedelschule, where he encountered a cohort of artists—Lucie Stahl and Jana Euler among them—who were searching out new ways of using the image in representational art. Benedict has since developed a sly, intriguing approach to painting that pays homage to the medium's grand tradition while tweaking its nose a bit: painting on canvas, he inserts these pieces into holes he cuts in large mat boards, which he often prints with photographs of one- or two-person dining room scenes, making it look as if his painting was a piece of décor in the background of their meal. The "frame" of the mat board becomes the mise-en-scène of the painting's reception. In this piece, Benedict is testing out a new approach, using two boards for the first time, to encircle a 12-legged chicken king, obviously. Now based in Paris, Benedict is also well known for Pro Choice, the curatorial space he started in Vienna with Stahl, and where he showed Euler's paintings early on, helping to fuel her starry rise.
ROBERT BREER
GB Agency (Paris)
Floats (1970)
Unpriced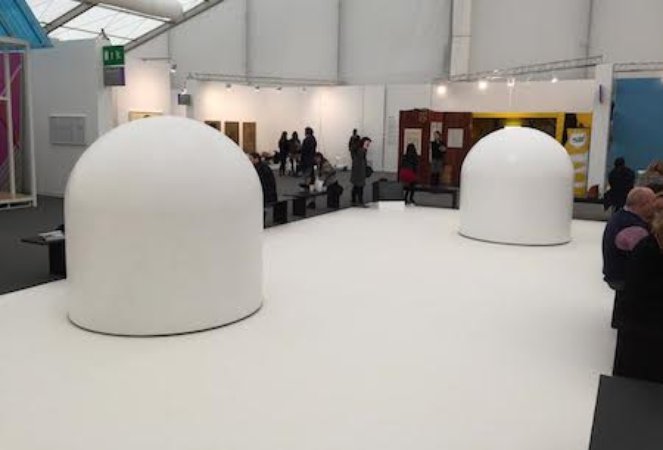 In the late 1960s, a Pepsi Cola executive approached his neighbor, the experimental animated filmmaker Robert Breer, for ideas for a pavilion the corporation was funding at the 1970 Osaka World Expo. Breer then introduced the executive to Billy Klüver, the legendary Bell Labs scientist a co-founder (with Robert Rauschenberg ) of Experiments in Art and Technology, who offered to curate a presentation of artists and technologists working side by side. Featuring a mirrored ceiling by Robert Whitman, music by David Tudor, a contribution by Rauschenberg, and work by over 70 other artists from America and Japan, the pavilion was fronted by a broad flat white space populated by large domed shapes that very slowly, almost imperceptibly, meandered around the space, powered by hidden motors and a rudimentary sensor that made it reverse direction whenever it encountered the slightest resistance. (The idea was to have visitors experience the site as a landscape that ever so slightly changed when they weren't paying attention, altering their environment in aleatory fashion.)
Pepsi was ahead of its time in initiating the project—it may have been the first-ever corporate-commissioned exhibition—but it proved tremendously shortsighted when it saw the finished pavilion: shocked, they had the whole thing destroyed after the Expo. While his films grew in acclaim, Breer lost his gallery and fell off the art map for nearly three decades, until MoMA paid tribute to Float in 2000, and the next year he was picked up by GB Agency, which in 2003 began working with the artist (who died in 2011) to create reconstructions of the pieces. Five of the original seven have been produced so far, and two of them were on display as part of Frieze's new Live section—a head-turning blast from the past at a moment when the fusion of art and tech is so uncontroversial as to almost be a given.
REENA SPAULINGS
Later Seascapes 5 (2014)
Campoli Presti (London)
$75,000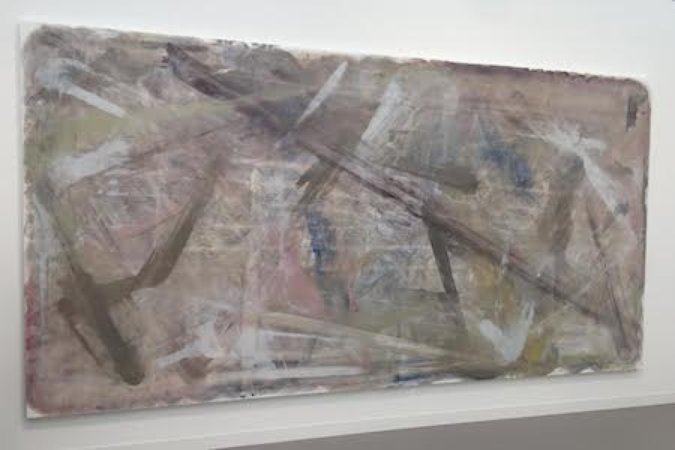 This might be a bit tricky to follow, but give it a shot. Reena Spaulings is a fictional artist , novelist, and art dealer—really Emily Sundblad and John Kelsey (himself also a part of the fictional artist/conglomerate the Bernadette Corporation)—that runs a real acclaimed art gallery in New York's Chinatown and was included in the 2006 Whitney Biennial. This very large painting was inspired by the storm-tossed J.M.W. Turner seascapes at the Tate, and created by swabbing a Roomba-style robotic vacuum cleaner with Farrow & Ball Estate© Emulsion finish ("suitable for use throughout the home on ceilings and walls") in the hues of Turner's canvases. A hugely ironic riff on both the technological sublime and the home-décor-ready status of abstract expressionistic painting, as well as its precedent in Turner's highly abstracted late works, this giant joke also happens to look pretty great.
OSCAR MURILLO
Jet Lag (2014)
David Zwirner (New York)
$100,000 for the video, $75,000 for the vases and tables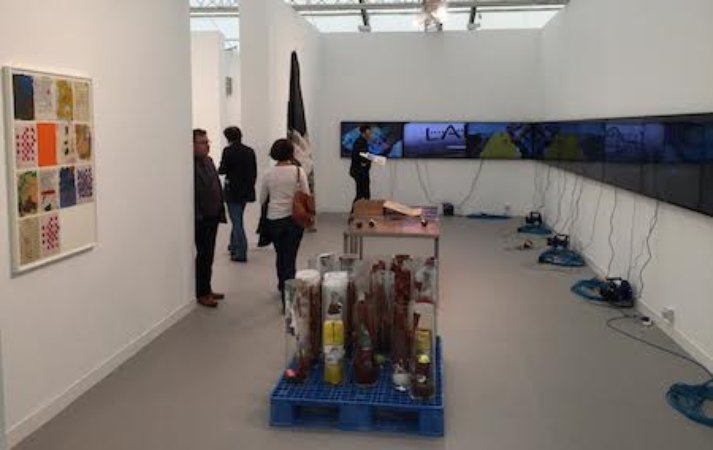 The biggest surprise of the fair may have been the sizable presentation of work by Oscar Murillo—much-hyped Basquiat-esque market-darling painter, yadda yadda yadda—at David Zwirner's booth. Whereas for the past two years every fair had to have a big Murillo painting for investment-conscious collectors to salivate over, knowing that whatever its asking price was it's auction earnings would be a multiple thereof, this time around you would barely recognize the artist's contribution: a room filled with 12 video screens, each playing a wildly disparate mixture of diaristic footage that Murillo shot over the past year of his life, starting at his April show at Zwirner where he brought the Colombian candy factory where his family works to produce Chocomelos in the New York gallery.
It turns out that after the show, Murillo traveled to an artist residency in Rio, where instead of going into the studio along with the other artists he joined the organization's janitorial team, making the beds and cleaning the rooms; in his off hours, he wandered through the streets, hanging out with members of the local community, living with them, and cooking for them. He was filming the whole time, as well as when he was later traveling between his home in London, New York, and his family's home in La Paella, Colombia, and the resulting 80 minutes of footage—showing behind-the-scenes banter at the Zwirner show, work at the residency, the artist goofing around—seems to be at least a distant relative of Sigmar Polke's extraordinary travelogue videos now on view in his survey at Tate Modern, or even, in its multichannel spread, to Dieter Roth 's filmic account of the last year of his life.
There are also expressionistically messy sculptural tables and vase-like assemblages relating to the period documented in the booth, but the videos are the real takeaway here—a glimpse into a socially attuned artistic approach only hinted at in the famous paintings, but which, as people who have been able to follow his early shows in Europe know, has always been present in his multimedia work. It was the artist himself who decided on the wise display choice
OLIVIA ERLANGER
From the Customizable series (2014)
Fluxia Gallery (Milan)
$6,000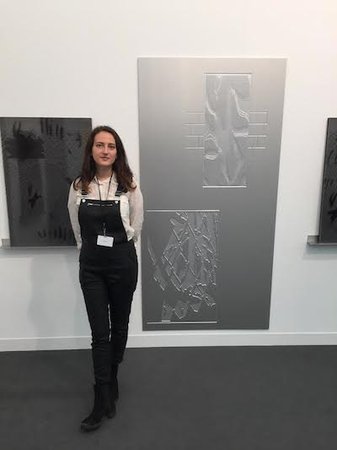 The 24-year-old artist Olivia Erlanger grew up the daughter of an inventor during an era of economic turmoil that made it clear, for the first time, that her generation would not be better off than her parents' generation. Her art combines those reference points with digital-era themes of tech-fetishization, privacy concerns, and modes of exchange: this piece, for instance, is a sheet of anodized aluminum machined by a CNC (computer numerical control) router in patterns that either allude to maze-like circuit boards or LCD screens, all riffing on the moment when the 2008 debut of the MacBook made the Apple product the ultimate in luxury technological aesthetics. (An expensive piece of work gear, the MacBook was immediately seized as an opportunity for self-expression by makers who used machine tooling to customize theirs.) Erlanger, a Parsons dropout who instead opted to go to school at Portland's nature-ensconced Lewis and Clark, where her classmates included Israel Lund and Darja Bajavic, also runs a project space in New York's Chinatown called Grand Century, which just got into this year's NADA as an exhibitor.
HARUN FAROCKI
Parallele II (2012-14)
Greene Naftali (New York)
Price undisclosed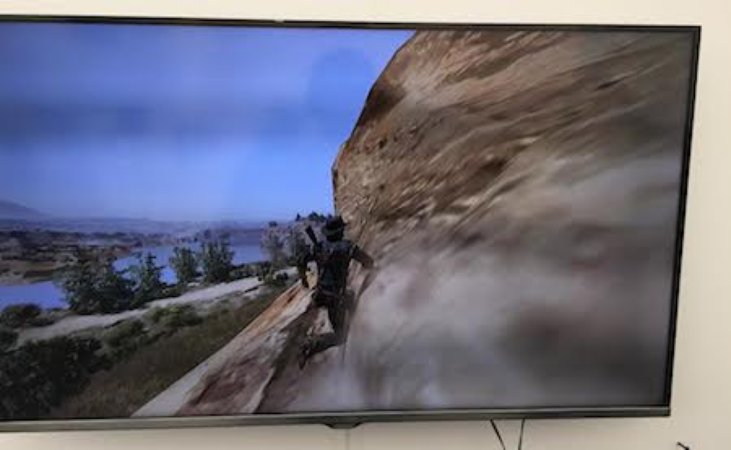 A German filmmaker who spent much of the 1970s and '80s in Berlin making politically invested films that were as much musings on the nature and potential of cinema as anything else, Harun Farocki was not adopted into an art context until the 1990s, whereupon he began accumulating increasing visibility and success—a MoMA show in 2001, representation by Greene Naftali the following year, and then an international explosion of screenings and exhibitions—until his death, at age 70, in July. This video, one of a suite of four that constituted Farocki's final work, is an exceptional summation of the way Farocki's concern with the navigation of a personal politics evolved over the course of his career.
Consisting of clips of video games from over the 30-year history of the medium, from 4-bit to today's high-tech hits like Grand Theft Auto and Assassin's Creed, the installment at the fair explored the expression of boundaries in video games as philosophically laden constructs—a cowboy runs hard against a cliff face, unable to pass through, or rides his horse into a river and dies; a fighter pilot jets into a no-fly zone and is promptly shot down; a cop crashes his car into a barricade. Farocki also includes footage of a series of hacks, one that makes visible invisible borders designed into the gameplay, and one that allows a skateboarder to break through a safety barrier and tumble out, free-falling, into a dark environment of unbounded space.
Over the length of the nine-minute video, an ominously clinical female voice provides narration ("this game is an expression of the earth in a pre-Hellenic view of the world") that collapses the spatial concerns of the video-game characters with our own indexical experiences of the world around us. On the first day of the fair, the four-video set was acquired for the Tate through the Outset/Frieze Art Fair fund as part of an all-together €170 gift that includes five other politically engaged works.
*BONUS*
CORY ARCANGEL
Performance (2014)
Lisson
Priceless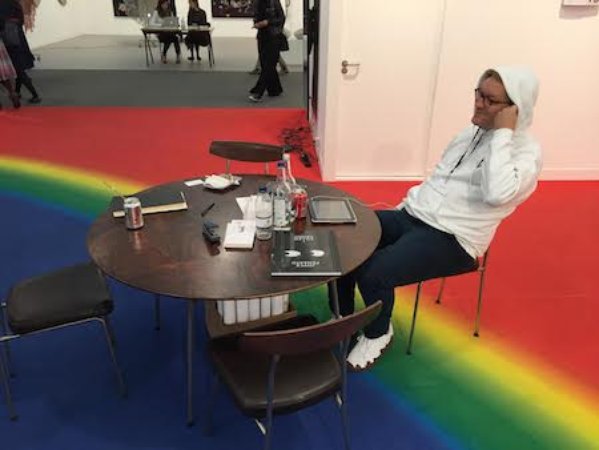 Some comic relief. At Lisson's booth, visitors to the fair on Wednesday may have spotted a bespectacled gentleman wearing jeans, sneakers, and a hooded sweatshirt sitting at the gallery's desk and watching Anchorman 2 . That was Ossian Ward, Lisson's head of content, and he was in the midst of a performance by Cory Arcangel, who instructed that, at all times during the fair's hours, a member of the gallery staff had to either be downloading or watching the actually quite media-acute Will Ferrell vehicle—"an exercise in futile consumerism that directly impedes the booth's commercial function," according to a gallery statement penned by Ward (who went the additional mile of wearing the sweatshirt, a piece from Arcangel's Surfware line of online-vegging garb . Was the work for sale? When asked by the gallery, the artist texted back, "Sure, lulz." A price had not been divined as of press time.