MICHELLE GRABNER
Untitled (2014) 
An artist who was also one of the three curators of the past Whitney Biennial, where she packed her floor of the museum with extraordinary women painters, Michelle Grabner creates worked-over canvases that use obsessively rendered geometric patterns—often lifted from home textiles and other distaff sources—to enormously powerful effect. This stunning work on paper, executed in silverpoint, is reminiscent, to a degree, of the paintings of minimalist artists like Agnes Martin and Frank Stella, but its phenomenal radiating effect recalls nothing so much as Jay DeFeo's The Rose.
A darling of the tech-industry collector set, Leo Villareal is probably best known for The Bay Lights, an $8 million installation of 25,000 LED lights illuminating the cables of the San Francisco-Oakland Bay Bridge. This exquisite sculpture puts those LEDs to a different and proudly patriotic use, composing a version of Old Glory that hearkens back to Jasper Johns's revolutionary 1954 encaustic portrait of the American flag. Wheel this showstopper out on the Fourth of July and your friends are sure to be impressed.
JON RAFMAN
O'Keeffe Antechamber (2013)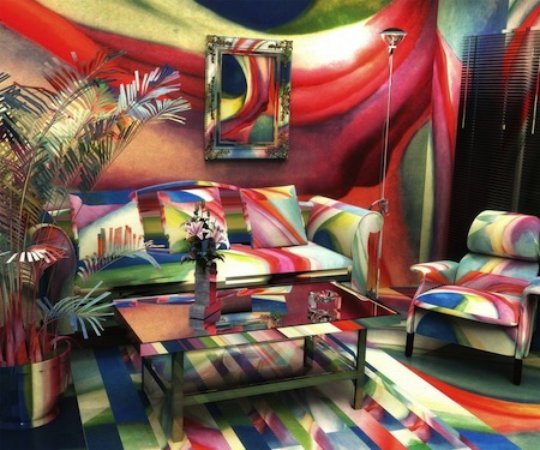 A Canadian-born Post-Internet artist who has gained attention for his unsettling artworks that employ found images from Google Street View, Jon Rafman uses his art to explore our "age in which the new is constantly sweeping away or destabilizing history and tradition at a faster and faster rate," as he has put it. This piece is from a popular and highly coveted series of doctored images that the artist made by taking interior settings—from banal living rooms to entire movie theaters—and wrapping them in 3-D "skins" made from paintings by art-historical figures like Mondrian and, in this case, Georgia O'Keeffe. 
BORIS MIKHAILOV
Case History (1998)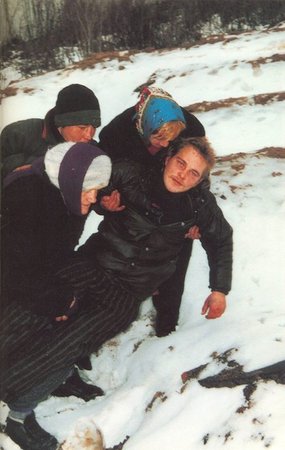 One of the most significant photographers working within the former USSR, as well as one of the most riveting chroniclers of the days following its collapse, the Ukrainian artist Boris Mikhailov has captured the world's attention by pointing his camera at the dispossessed and disaffected. This photograph is taken from one of his most famous bodies of work, the "Case History" series, in which he spent years documenting the masses of homeless people who were utterly lost in the gap between the former Soviet state and the era of rampant capitalism that immediately followed. The composition cannot help but rivet: saturated with color, it shows a trio of people as they carry a blank-looking man—injured, dead, or drunk, it's unclear—as if he were Christ deposed from the cross.
A legendary American artist widely considered the finest painter living today (take that, Gerhard), Jasper Johns also "ranks with Dürer, Rembrandt, Goya, Munch, and Picasso as one of the greatest printmakers of any era," in the words of the Metropolitan Museum of Art. This lithograph from 1992 is a testament to his mastery of the medium. Contained within this print, and economically packed into one plane, are a slew of Johns's signature motifs: a stencil of cartographical shapes alluding to his signature maps, a section of colorful splotches recalling masterpieces like False Start (which sold for $80 million in 2006), and trompe l'oeil touches like the tape and curling corners of the composition and the faux bois of the embedded frame. It's an extraordinary work that can stand up to, and reward, years of looking. 
MARIANNE VITALE
Shingle Painting 1 (2014)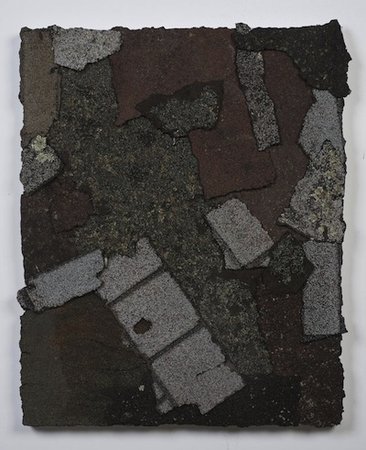 Lately, when Marianne Vitale makes a sculpture, she builds it out of wood that she reclaims from weather-battered barns across the great American hinterland. Similarly, when she makes a painting, she takes tar-splattered shingles and forms them into a canvas with "liquid nails." These artworks are part of her unique and intensely appealing approach to bringing the wilds of the historical American frontier into the gallery space, tapping into the myths of the country's rough-and-tumble Manifest Destiny and its up-by-the-bootstraps story of persevering in a forbidding place through sheer will. This shingle painting, hung on the wall, would give any home a dose of true grit—the hard-won legacy of our Declaration of Independence.