ALICIA MCCARTHY
Untitled (2013)
A leading figure in the so-called Mission School, the group of San Francisco artists (including Barry McGee and Chris Johanson) who fused the DIY aesthetic of street art with the painterliness of gallery work, Alicia McCarthy displays all the signs of a breakout star in the making: she's currently "having a moment," according to her dealer, Jack Hanley, who can't hold onto her work; she was included in the recent buzzy "White Columns Annual"; and her paintings, particularly her intricate rainbow compositions, are simply ravishing. This example of that trademark series, executed on a piece of found wood, is the equivalent of a visual Xanax—it's guaranteed to elevate your mood.
BERNARD BUFFET
Vanité au crâne (1985)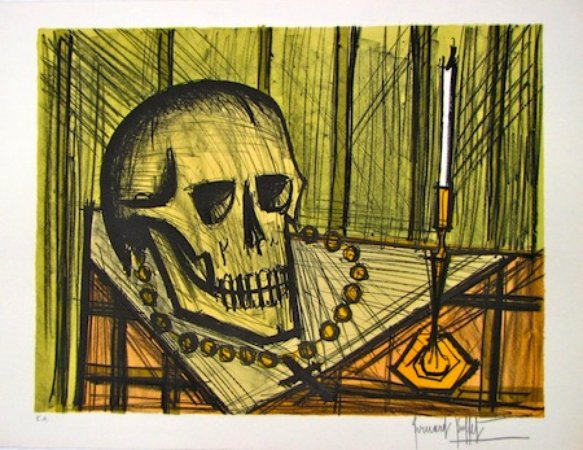 Do you know Bernard Buffet? If not, you may start hearing about him soon. In the early years of the postwar era, Buffet stood alongside Picasso as one of the two most famous and wildly successful artists working in France, garnering popular acclaim for his paintings that, while clearly indebted to Cubism's revolutionary influence, hewed closer to figuration than his Spanish-born rival's. Driven from the spotlight in the 1960s by the wholesale victory of abstraction—not to mention the vocal enmity of Picasso, who had a deep-seated dislike of him—Buffet was all but forgotten until a 2009 retrospective placed him within flattering context of his artistic peers. This energetic work, displaying a vanitas in a style reminiscent of Picasso's renditions of the classical motif (but created 11 years after Picasso's death), suggests that Buffet's reputation might also outlast his rival's scorn.
ROBERT HEINECKEN
From the series PP, #61 (1987)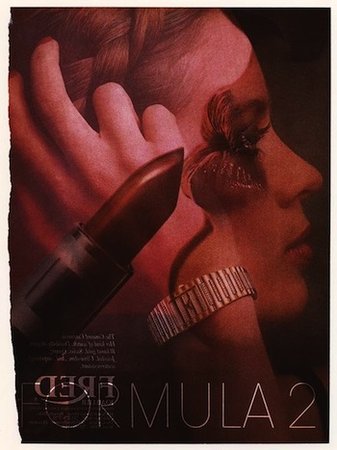 A long-unsung Los Angeles artist whose current posthumous survey at MoMA has transformed him "from outlier to prophet," in the words of the Wall Street Journal, Robert Heinecken carved out a  strange body of work that was as psychologically probing as it was frankly libidinal, as culturally critical as it was celebratory. This piece captures the essence of Heinecken's art exactly: composed of a lipstick ad superimposed upon a luxury watch ad, both suffused in carnal red, the images seem to combine into a single portrait of ideal beauty in a culture of fetishized commodities. It's all wrong, but at the same time it's just so.
DANIEL BUREN
Optical Fiber, White and Blue Triangle, Situated Work (2013)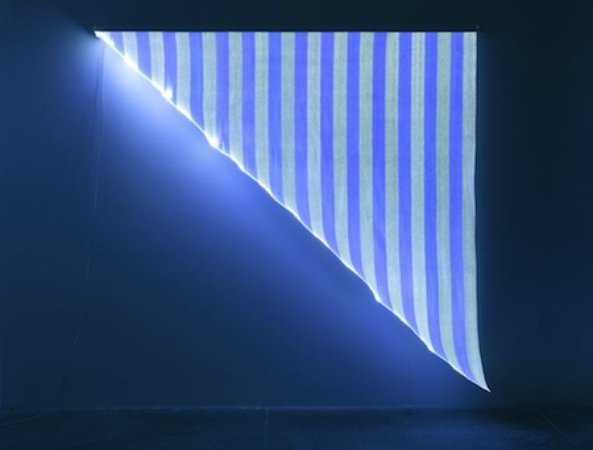 One of the namesake founders of the legendary if short-lived BMPT collective—named for its constituent members Daniel Buren, Olivier Mosset, Michel Parmentier, and Niele Toroni—Buren has since built his reputation on his instantly recognizable leitmotif that runs through his oeuvre: a set of vertical stripe, which serve to unite pictorial space with the surrounding architectural space, and meld composition with construction. Like Barnett Newman's zips, only multiplied—or else like the iconic beach furniture found on the French Riviera—these striped compositions have adorned everything from the artist's large-scale outdoor commissions (outside Paris's Palais Royal) to gallery-ready canvases. This electrifying piece updates Buren's trademark for the Internet era, with the white and blue bands rendered in fiber optics.
PAUL MCCARTHY
Mickey Mouse (2011)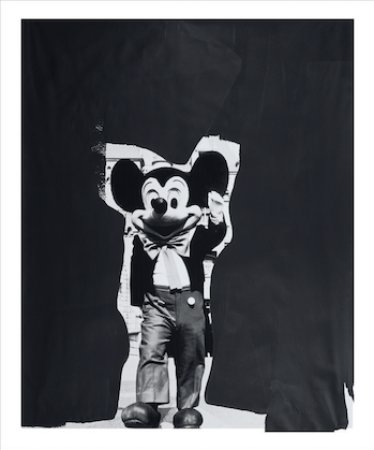 Paul McCarthy has a thing for Walt Disney, to say the least, and last year it came to a riotous, debaucherous, utterly depraved head in the form of White Snow, his gigantically scaled installation at the Park Avenue Armory that recreated the "Snow White" tale as one of origiastic death and destruction—with the artist himself playing Disney as a maniacal, pervy impresario. So, in this piece, when you see Mickey Mouse walking toward you, think not of the delight you experienced as a child at Disneyland but of the encroaching darkness that surrounds the smiling figure, and how its inky depths are outdone only by the blank eyes of the mouse itself.
ALLYSON VIEIRA
Site (40.7117'N, 74.0125'W, 05/03/2013, 15:14-15:39) (2012)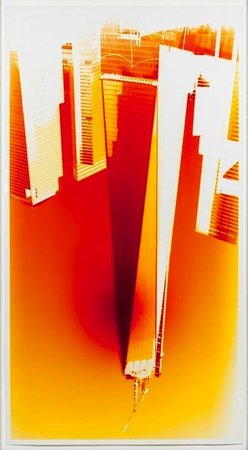 When the Swiss Institute presented Allyson Viera's first solo show in the United States last fall, the most resonant piece for many viewers was not the brilliant, towering installation in the main gallery that duetted with the architectural space but rather the piece stowed away in the basement: an arrangement of two rooms, back to back, in which a film of the Freedom Tower's construction in one room was reflected through a tiny aperture into a darkened second room, transforming it into a ghostly camera obscura in which the activity around the tower was only faintly visible, and upside-down. This limited-edition C-print arose from that critically acclaimed show's camera obscura process, creating a gorgeous, deep-orange photograph of the Daniel Liebeskind/David Childs building as it was going up, an imposing reminder of what the world looks (and feels) like when it gets turned on its head.