Some people complain about art fairs. Imagine that! This week, a respendant tent of contemporary art has materialized in the midst of the storm-chopped waters of the East River, bringing an incredible wealth of visual culture to Randall's Island. The best thing about Frieze New York? Even if you don't buy anything at the fair, you get to acquire all the art you want with your eyes. Here are a few of our favorite acquisitions.
ALICIA MCCARTHY
Untitled (2014)
Jack Hanley Gallery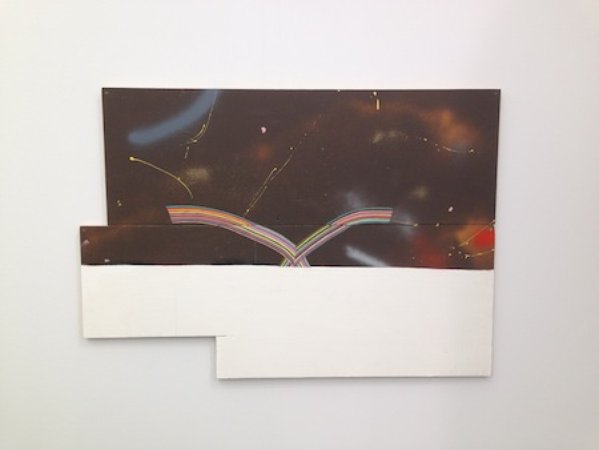 A member of the so-called Mission School in San Francisco together with such artists as Barry McGee and Chris Johanson, Alicia McCarthy makes paintings that blur the line between street art and gallery work, using found wood as canvases and often imprinting them with the same intricate rainbow motif that she graffitis on her city's walls. McCarthy is "a huge influence on younger artists in San Francisco," says Jack Hanley, but is lesser known outside of the city because of her infrequent pace of making paintings—she once dropped out of art altogether to work in a co-op grocery store, and can go for months without answering her emails.
Recently, however, she's been painting more frequently (she had a piece in the last "White Columns Annual"), and she's sent her gallery more pieces over the last year than ever before. "Alicia is having a moment because she's actually producing work," Hanley said. "We've sold to a bunch of museums." This gorgeous painting, which has the words "furry nuts" scrawled on its side, is being offered for $7,000.
OTTO MUEHL
Materialaktionen (1964-67)
Gallerie Krinzinger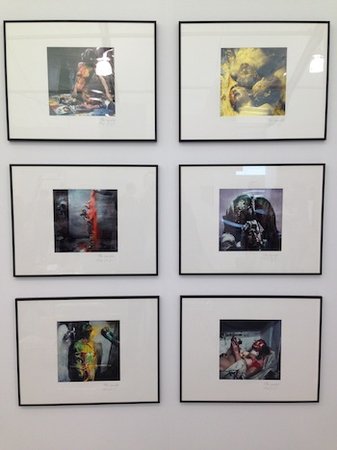 If you think of art fairs as emporiums of clean, appealing, and easy to digest trophy art, you may have been surprised to come across this suite of photographs by the artist Otto Muehl. One of the founders of Viennese Actionism alongside Hermann Nitsch, the Austrian-born Muehl served in the Wehrmacht during World War II and afterwards devoted himself to creating a brand of raw, unabashed, Dionysian art that fused with life and utterly scandalized his country. Performance was at the core of his work, and would often involve covering nude performers with foodstuffs, fresh animal organs, and human excreta while those performers were having sex, or at least writhing around together.

In 1972 he founded the Friedrichshof Commune outside of Vienna, creating a community premised on the disavowal of personal property and sexual inhibitions, where he was accused of establishing an authoritarian culture of personality; in 1991 he was arrested on voluminous charges of having sex with underage girls, and he spent seven years in prison. In 2010 he issued a public apology for his behavior in the commune, and three years later he died.
This very rare early portfolio of 25 cibochrome prints documenting his art performances is from an edition of five, with exceptionally crisp color unusual for work from the period. "You need to see it in the socio-political context at the time in the repressed Catholic society of Vienna," said a specialist at Gallerie Krinzinger. "After the war he wanted to get rid of all that with very extreme behavior. Even today it's very shocking." Krinzinger, a critical supporter of Viennese Actionism, is offering the suite for $220,000, and also has a painting by Muehl of a woman pleasuring herself for the same price.
REBECCA MORRIS
Untitled (2014)
Galerie Barbara Weiss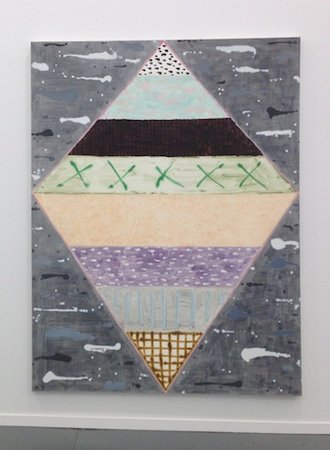 It's tempting to call the explosion of large and exceptional abstract paintings by women artists a vogue, but it's becoming apparent that it's more than that—it has the makings of an art-historical phenomenon. Just look at the sock-knocking-off room of abstractions in Michelle Grabner's floor of the Whitney Biennial, where two paintings by Rebecca Morris are hanging alongside pieces by Laura Owens, Jacqueline Humphries, and Amy Sillman, all of them nearly vibrating with painterly intelligence and invention.
At the fair, this piece by Morris—who frequently refers to the work of the late Belgian abstractionist Raoul De Keyser—towers over the viewer, broadcasting vague but palpable referents and ideas about pictorial space. (To achieve both scale and control, Morris paints her canvases flat on the floor, like Pollock but without the mess.) This piece was priced at $55,000, and it, like all of the artists other works in the booth, sold.
EDDIE PEAKE
Galleria Lorcan O'Neill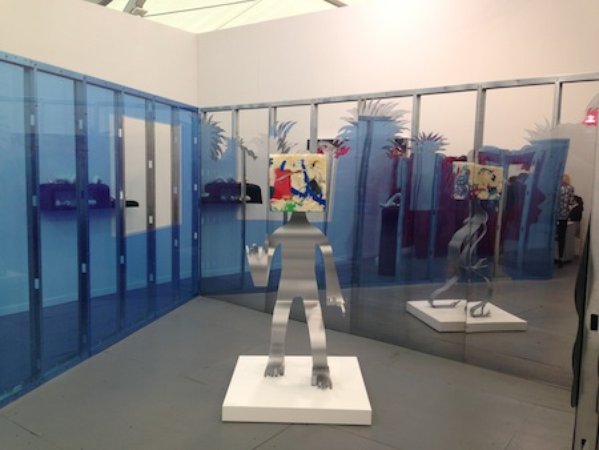 Move over Murillo. The 33-year-old artist Eddie Peake is the kind of rising star that it's fun to root for, making a diverse array of art that is both cognizant of precursors and flabbergastingly fresh. (As the son of the great sculptor and revered teacher Phyllida Barlow and the artist Fabian Benedict Peake, Peake clearly got an early start.) At the fair, Lorcan O'Neill—the Rome gallery that gave the artist his first show while he was studying at the ancient city's British School—has devoted its entire booth to his work, presenting the first major showing of Peake's art in America. It's post-Internet bananas.
There's a tropically colored architectural sculpture of steel and Plexi that has mirrored sections, giant outlines of faces, and assorted cutout apertures, like a cross between Dan Graham and Gordon Matta-Clark and Four Loko; there's a sculpture of a wavy steel figure making an obscure hand gesture (perhaps a papal blessing, or an Indian dance move) with a head composed of foam, various implements, and an iPhone encased in a box; there's a flat blue Plexi cut-out of a bear wearing a handmade scarf leaning nonchalantly against the wall; there's one of his super-hot mirrored text paintings that says "Gun Head"; there's a painting of the shirt that Stephen Lawrence was wearing when he was murdered by racist thugs in London that's also embellished with a neon hand gesture and a photo of a bird called the Black Redstart, which makes its home in derelict urban buildings.
Peake, who had an acclaimed piece in the last Performa and who in 2010 inaugurated the Tate Tanks with another performance, had a violinist and dancer come by the booth every so often to serenade the installation. Everything sold for between £15,000 to £55,000. The installation is titled "Psychosis."
SYLVIE FLEURY
Salon 94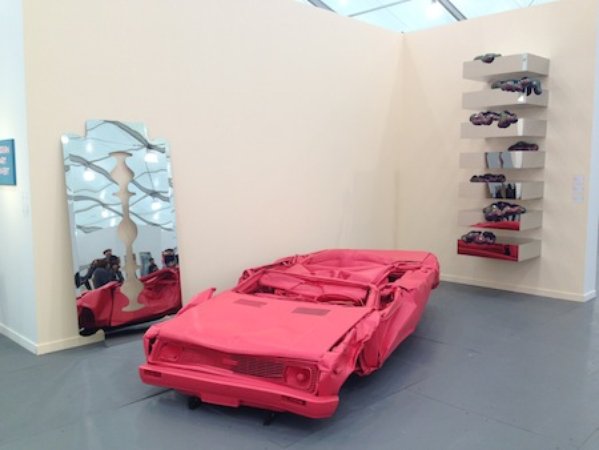 An appropriate name for a survey of work by Sylvie Fluery could be "Masculin Féminin," nodding to both the Goddard movie and to the Swiss artist's amused and infectious habit of gender-bending art. At Salon 94's booth, one could see Fleury turning her discombobulating ray gun on three icons of American artistic machismo.
Front and center there's a crushed Fiat that immediately calls to mind John Chamberlain, except that it's painted with pink nail varnish. Talk about a man-icure. Behind it is a giant razor blade, leaning against the wall like a John McCracken and satirizing Californian Finish Fetish art and playing up the distinctly yonic slit down its center. On the wall is a Donald Judd-like stack that Fleury has decorated with Lynda Benglis-like oozing feminist sculptures, as if it were being taken over by little colonial aliens.
Adding an extra and exceptionally subtle note of wit to the presentation, the artist has also painted the walls of the booth white not with paint but with makeup foundation. The pieces ranged between $50,000 and $200,000, and the car and the blade were sold on the first day.
AARON GARBER-MAIKOVSKA
Standard (Oslo)

The Los Angeles-based artist Aaron Garber-Maikovska used to root through the dumpsters outside convention centers after trade expos to find the gatorboard signs exhibitors used to hawk their offerings, and then he'd whitewash them and use them as canvases. Now he's come to like the material so much that he's buying the gatorboard directly, but he continues to use it as a found component, building his compositions within the dimensions dictated by the store. These four pieces, elegantly displayed at Standard (Oslo), are abstractions of crayons and pastels, so they're kind of drawings and kind of paintings. They look amazing.
On the opposite wall of the booth were a trio of videos showing the artist doing suburban things, like doing weird balancing acts in the parking lot of a strip mall and hanging out at a diner. The four drawing-paintings all sold to different collectors for $15,000 apiece. "Ever since we sold the first ones in Los Angeles there's been a lot of demand," said a gallery dealer. "The video works never sell."
TAKESHI MURATA
Melter 3-D (2014)
Ratio 3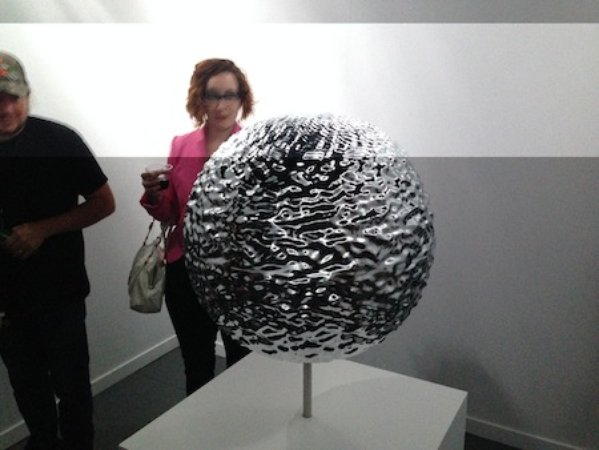 The Chicago-born artist Takeshi Murata has made a name for himself with dazzlingly psychedelic digital videos that meld hand drawings and computer animations to yield something totally new. (You can see them on YouTube.) Now, at Ratio 3's booth, the artist debuted his first sculpture, and it seems tailor-made to suit the discerning extraterrestrial collector. Walk into a darkened room and in the middle there's a plinth on which a cast epoxy ball with a chrome-foil outer layer is spinning at high velocity while a strobe light flickers disorientingly, giving the sculpture the uncanny appearance of being a globe of molten metal bubbling away before your eyes.
"Takeshi has been playing around for years with the idea of 3-D rendering, but the piece is still firmly in the animation world," said a gallery representative, noting that the sculpture was made through the same kind of computer modeling that the artist uses for his videos. Made in an edition of five and priced between $50,000 and $80,000, this work was snapped up by a private collector.
GOSHKA MACUGA
Of what is, that it is; of what is not, that it is not 2 (2012)
Andrew Kreps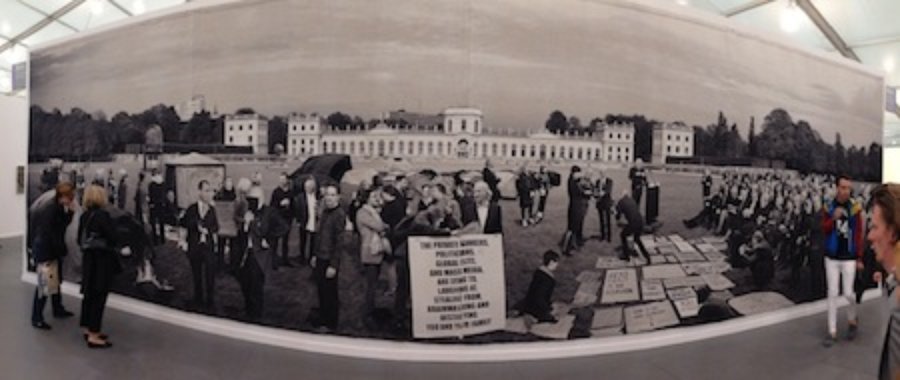 Thank you, art-fair gods. At Andrew Kreps, a single piece by Goshka Macuga provides a breathtaking introduction to the Polish artist—it's a world of its own—and the odds are that very, very few, if any, visitors to the fair have ever seen it before. That's because this machine-woven tapestry, which stretches across a long wall at a Nymphéas-scaled 11 by 38 feet, was previously displayed in the Queen's Palace in Bagh-e Babur, Kabul, as part of dOCUMENTA 13.
It's a history painting of a different sort: in it, Macuga has cut and pasted two photographs, one of herself receiving the Arnold Bode Prize (named after the founder of dOCUMENTA) and one of Noam Chomsky addressing a crowd of Occupy Wall Street protestors, so that Chomsky appears to actually be addressing the well-heeled art audience at her prize ceremony. In front of his podium lie cardboard signs that read "Democracy Is an Illusion," "Expose the Corrupt," and "No Such Thing as Too Big to Fail," while in the background sprawls a palace. (See a close-up below.)
"A lot of her work is about how protest art is moot and a lot of political artists are irrelevant," explained a gallery staffer. This piece went to a private American collector, who evidently has a lot of wallspace, for $240,000.