From an attitudinal portrait by a legendary chronicler of the Swiss counterculture to a delicate surfer by one of the stars of the Whitney Biennial, these are artworks that savvy collectors will want to snap up fast.
KARLHEINZ WEINBERGER
LONE STAR CAMP, GOSSAU (ZH) (1967/2011)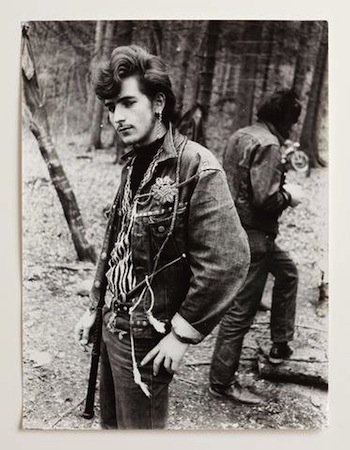 In the 1960s, as the American counterculture split into rival camps of hippies and harder-edged bikers, a certain slice of Switzerland's youth—the gay underground of Zürich in particular—found itself drawn irresistibly to the denim-festooned iconography of James Dean, Marlon Brando, and other avatars of tough. They found their ideal chronicler in Karlheinz Weinberger, a warehouse foreman at Siemens who in his spare time photographed these self-styled rebels, capturing them in their handmade clothes (or, frequently, out of them) and role-playing postures. This piece, showing a pompadoured Swiss teen striking an insouciant pose in the woods, a whip casually draped over his shoulders, is an exceptional example of the rock-n-roll style of this late photographer, who had a solo show at the Swiss Institute in 2011.
In 2006, the artist Amy Sillman began visiting the homes of couples she was friends with and faithfully drew them as they sat together on a couch, or lovingly embraced; she then went home and redrew the portrait from memory, and used that inexact sketch of the sitting as a launching point for a painting of pure abstraction that merely took formal cues from the drawing. This print, an exquisite piece derived from one of these sittings in 2007, is a signature example of the way Sillman—who is featured in the current Whitney Biennial, and who has a retrospective coming up at Bard CCS—gleefully transgresses the supposedly firm boundaries between abstraction and representation. Compared to her prestige among critics and curators, the artist is significantly undervalued. 
Another 2014 Whitney Biennial participant, the Canadian-born, Paris-based artist Paul P. has built a cult following for his delicately rendered and melancholically atmospheric portraits of young men, which he executes in a sumptuous Beaux-Arts style that masks the more recent source of his imagery: an archive of pre-AIDS pornographic magazines from the 1970s and '80s. This sketch of a lanky surfer, in a mode that recalls the art of Whistler or John Singer Sargent, is a wonderful evocation of the artist's exceptional draftsmanship, and comes from a small edition of six. While P.'s market remains young—though he has routinely exceeded his estimate at auction—his curatorial backing is strong, with his work shown at MoMA in 2009 and championed by such influential dealers as London's Maureen Paley, Paris's Thaddaeus Ropac, and the late Daniel Reich.
BEN SCHUMACHER
PLEATED SKIRT (2013)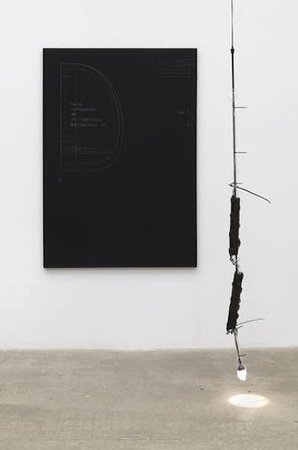 Trained as an architect, the 28-year-old artist Ben Schumacher has become something of a sensation among curators and collectors as a result of his spare, deeply intellectual work investigating the overlaps between technology, design, and art. This piece is an exceptional example of his approach, consisting of a cashmere "painting" digitally printed with the pattern of a skirt (the instructions are in multiple languages) paired with a single lightbulb hung from the ceiling by a leather-bound wire, one of the artist's aesthetic signatures. The result is an utterly contemporary presentation of the kind that has led influential curators like Alex Gartenfeld and Karen Archey to group Schumacher with the new generation of so-called "Post-Internet" artists, who are attracting enormous amounts of attention on the primary market. He is currently in the Ullens Center for Contemporary Art's "Art Post-Internet" show, and has an exhibition coming up in June at Lyon's Musée d'art contemporain.
LILIANA PORTER
UNTITLED (LINE II) (1973)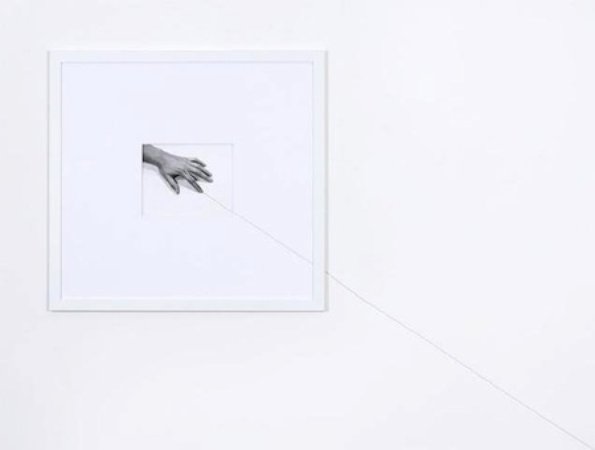 Born in Buenos Aires, Liliana Porter makes exceptionally elegant works that play with materials, space, and light in a way that recalls both the work of classic South American artists like Gego and the Arte Povera movement of Italy. This piece, in an edition of three, is an emblematic example of the artist's most famous series from the 1970s, in which a line seems to extend from the fingers of a hand onto the wall around it, piercing through the boundaries of photography. In an edition of three, this expertly crafted print—as a co-founder of the New York Graphic Workshop, the artist is a master of the medium—is an opportunity to collect work by Porter, whose art is in the collections of MoMA, Tate Modern, the Whitney, the Met, and other major institutions.
Ed Atkins has said "I want to make terrifying work," and he succeeds in the most thought-provoking way, creating videos that use HD technology and CGI capabilities to render hyperreal portraits that at once thrust the viewer deep into the Uncanny Valley and call attention to the fact that our bodies are encased in thin and vulnerable skin. This piece, a special limited-edition Giclee print, was created to accompany Atkin's 2012 solo show at Britain's Chisenhale Gallery (which spotlighted his video Us Dead Talk Love), and the artist currently has a solo show at the Kunsthalle Zürich—the latest in a spree of high-profile exhibitions in recent years that include solo shows at MoMA PS1 and Tate Britain, plus participation in the last Venice Beinnale and Lyon Biennial.