Half an island away from the Whitney Biennial , another diverse show is giving people a chance to oogle tons of new art, note the rise in certain artists' stars, and kibbitz endlessly about the state of contemporary art—all without the intrusion of pesky curators trying to teach you something. This magical show? The Armory Show of course, which has returned this year to Pier 94 with its pool of exhibitors from around the world, a focus on new Chinese art, and, to the delight of all, some seriously top-notch dining amenities courtesy of Mile End Deli and the Michelin-acknowledged tapas restaurant Boqueria . There's a delicious visual meal to be pieced together at the fair as well—here are a few notable works to look out for.
JOSEPH BEUYS AT SEAN KELLY GALLERY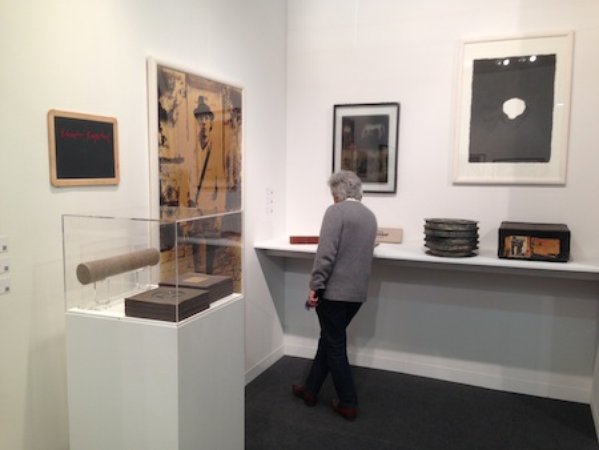 Over the course of his career, the "social sculptor" and arch-fabulist Joseph Beuys retained a commitment to creating multiples as a way to disseminate his aesthetic and political agenda around the world, producing manageably scaled objects in lead, felt, beeswax, copper, and his other symbolism-freighted materials. (Many of these derive from his central myth: that after his Luftwaffe plane crashed on the Crimean front, he was revived by Tatar nomads who swaddled him in felt and fat and fed him honey.) At Sean Kelly Gallery, a selection of these totemic works are on display in an action-packed room presenting a chunk of 130 multiples being sold by an anonymous collector who had built a comprehensive set of these multiples over the course of his life. Prices range from $1,000 to $100,000, with one of Beuys's famous felt suits (from an edition of 100) falling on the high end, and all of them had sold by the end of the fair's first day.
DAVID ADAMO'S UNTITLED (ERASERS) AT GALERIE RODOLPHE JANSSEN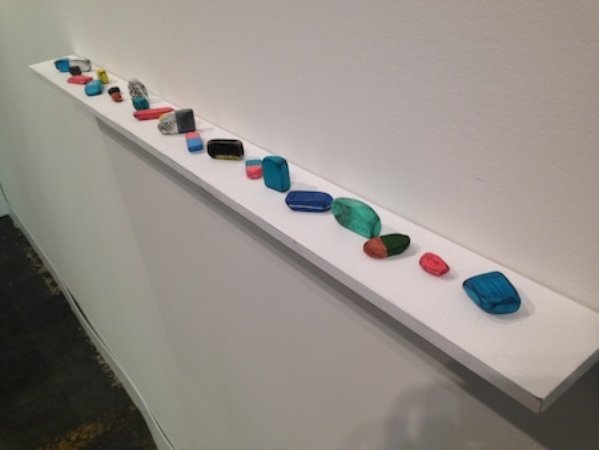 The Berlin-based American artist David Adamo is best known for his Giacomettian sculptures of baseball bats and axe handles whittled down to useless toothpicks of themselves, but lately he has been taking his surrealistic work in a fun new direction, painstakingly recreating banal, overlooked objects—styrofoam packing peanuts, half-eaten cookies, orange peels—in hand-painted porcelain. Partially inspired by his recent entry into dadhood, these erasers are a reflection back to the artist's schooldays, each of them worn down to nubs and containing bored little doodles and the names of girls ("Ruby" seems to have been a crush). This 2014 piece is priced at €10,000, and its buyer will be delighted by the way the artist ships these sculptures: individually wrapped and nestled in a gift box, like premo candies.
SERGE ALAIN NITEGEKA'S BARRICADE I AT MARIANNE BOESKY GALLERY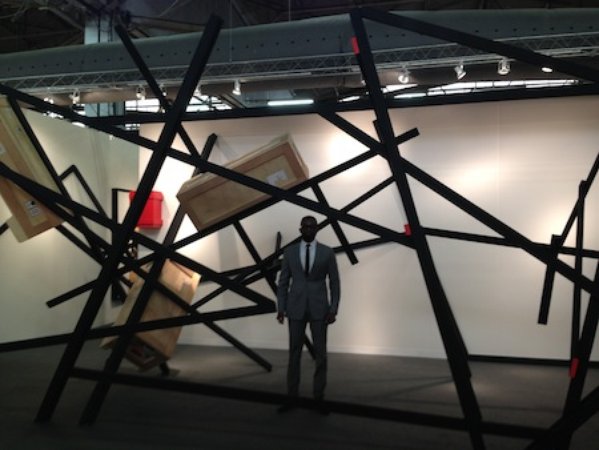 When he was 11 years old, Serge Alain Nitegeka and his family fled the murderous civil war between the Hutus and the Tutsis in Burundi, first finding refuge in Kenya and then in South Africa, where the 30-year-old artist lives today. Since then Nitegeka has built a strong body of work addressing the theme of forced migration through his own experience, beginning with life-size self-portraits that he drew on cargo boxes and lately massive installations of wooden beams that compel viewers to walk through their obstacle-course-like maze to experience the art, putting the focus on the participant's body and challenged movement. At the fair, Nitegeka—who last year showed at the Palais de Tokyo—is making his debut at Boesky with one of these installations, which spills dauntingly and dynamically out of the booth. Currently, the artist is finishing his MFA at South Africa's Wits University, a process that the artist, who was present in the booth, says has been unusually difficult because of the ugly chapters of his past he was been revisiting. "You hear people say that art is therapeutic," he said. "Well it is." The installation is priced around $30,000, and the paintings in the booth, made of the same materials, are $8,500-20,000.
JOHN HOUCK AT MAX WIGRAM GALLERY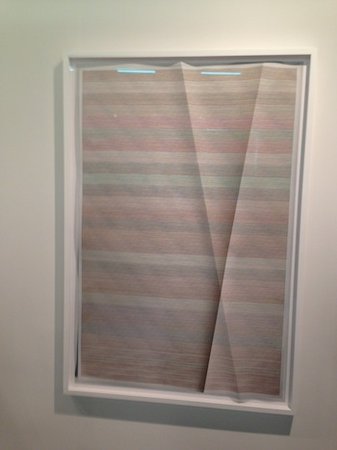 Everyone is going crazy over the post-Internet artist John Houck these days, and it's not hard to see why when looking at his masterful digital manipulations. In this piece at Max Wigram Gallery, Houck has coded a visual file with algorithms that generated an impeccably realistic trompe l'oeil image of a piece of photographic paper that has been sharply creased to one side; he then printed that out, took a photograph of it, and then created an actual sharp crease through the center to intersect with the delusive one. The result is an eye-boggling composition of real and fake shadows overlapping, digging into issues of reproduction as well as classical concerns about depth of field. Priced at $16,000, this work was snapped up at the opening by the Guggenheim Museum , and the dealers have their hands full trying to keep unabashed speculators at bay.
DAVID WOJNAROWICZ'S UNTITLED (MAN WITH RIFLE) AT P.P.O.W.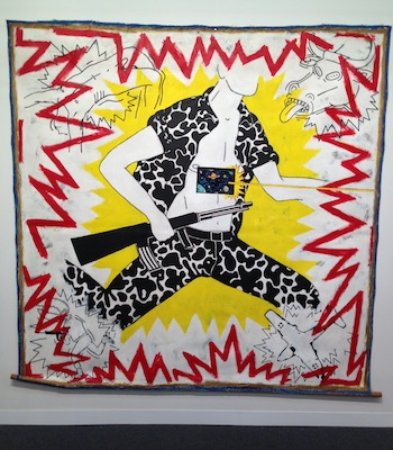 Many people know the late artist David Wojnarowicz from his poignant photographs and protest pieces documenting New York's gay community in the days of the AIDS crisis, and who can forget the asinine controversy over his film Fire in the Belly when it was included in the Smithsonian's 2010 show "Hide/Seek." But there's far more to the artist's work, including his diverse body of paintings, an unusual and gripping example of which is on view at P.P.O.W.'s booth. Created in 1983 on a theatrical backdrop, this large-scale work features a constellation of Wojnarowicz's trademark imagery, from the running gunman to the goofy cow heads to the cosmic scene he has implanted within the figure's chest. Last displayed in the 1993 show "The Boys Go Off to War" at the East Village's Gracie Mansion Gallery, this piece—which sold to a collector for $175,000—is only a preview of revelations to come when Wojnarowicz receives a planned career retrospective at the Whitney Museum in the next few years.
CHARLIE WHITE AT LOOCK GALERIE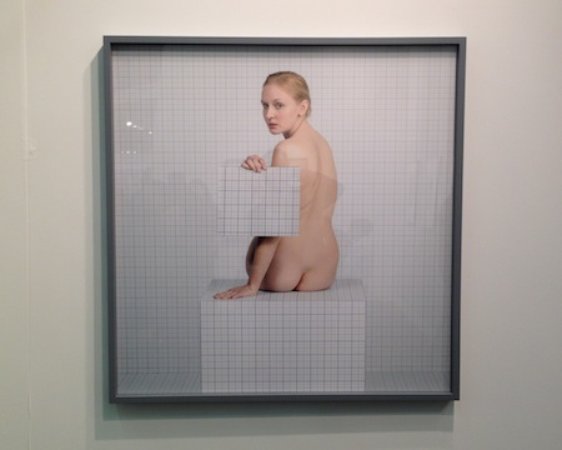 The director of the University of Southern California's MFA program, Charlie White creates stunning, densely layered photographs that pick apart the legacy of the medium and then deftly put them back together. He begins by building sets that he covers with white millimeter-spaced graph paper, in a reference to scientific and forensic photographs that provide the precise scale for the bodies in question, and then situates a model—who is chosen to match highly specific "looks"; this one looks Flemish, according to the artist, in the style of Van Eyck—in the set and has them hold of up sheet of paper. The sheet is a reference to a style of selfie photograph traded on sex sites, where the poser holds up a sign with the time and date or other information to prove that the photo is actually of them. The result is a composition that speaks to identity, art history, and a splendidly minimal aesthetic, and the larger pieces are priced at $12,000 out of an edition of five.
JEFFRY MITCHELL AT AMBACH & RICE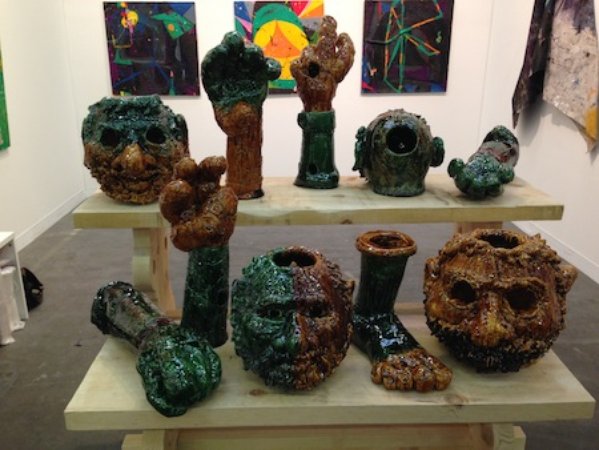 Pottery, with its attendant focus on craft, has been having a moment for a while now, as can be seen from the critical salivations over Sterling Ruby's baptismal basins at the Whitney Biennial. At the fair, the Seattle artist Jeffry Mitchell picks up the banner of the hand-made with a selection of gorgeous sculptures at Ambach & Rice, featuring a few portrait busts representing amalgamations of all the artist's former lovers that are shown alongside hands and feet. Fired in a refulgent lead glaze, the pieces speak to Mitchell's attempts to reconcile his Catholic upbringing with his gay identity (one of the hands is molded to give the benediction of Christ the Teacher), and they also recall Byzantine and Roman art—for instance, the fragments of a colossal sculpture of Constantine at the Capitoline Museum—and Southern vernacular face jugs. These pieces are priced at $5,000 to $7,500.
PETER HALLEY'S ALWAYS NIGHT AT GALERIE FORSBLOM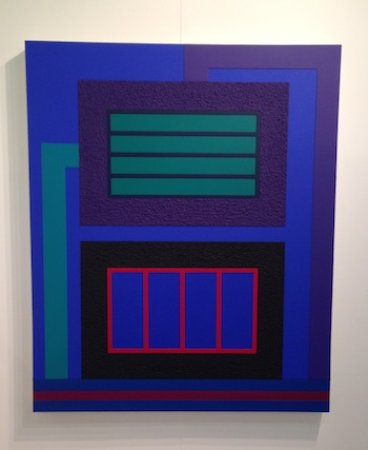 With all the buzz around post-Internet art, it's a good time to look back at the pre-Internet art of Peter Halley. A painter who emerged in the 1980s East Village as part of the Neo-Geo art current, Halley developed a distinctive visual style that employed Day-glo paints mixed with coarse Roll-a-Tex to create zippy compositions that he likened to "cells," both in the prison sense and also in that they resembled microchips and circuitry boards. They also recall the experiments of Josef Albers , who taught his color theories at Yale, where today Halley runs the hugely influential paintings department. That remains the case with this painting at Galerie Forsblom, executed in 2013. Expect curatorial attention to return to Halley soon—there's also a planned retrospective publication coming up of Index magazine, the in-depth interview journal the artist created with curator Bob Nickas, and which made waves most recently by commissioning the "Delusional Downtown Divas" web video series, which made Lena Dunham a star.
ROMUALD HAZOUMÈ AT OCTOBER GALLERY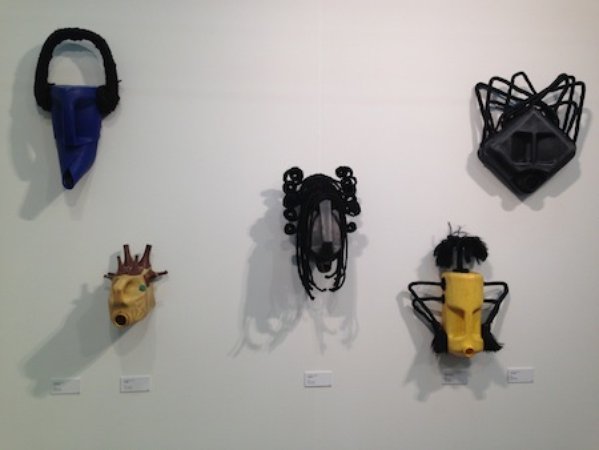 One of Africa's most celebrated living artists, Romuald Hazoumè has for years been making playful sculptures out of jerry cans that he embellishes to look like traditional tribal masks (the artist, from the Republic of Benin, is Yoruban). Each one is a tongue-in-cheek portrait, such as one of the current half-Beninese Miss France, with women's heels standing in for her fancy hairdo, but each arises out of a truly harrowing backstory: Hazoumè makes the sculptures as a commentary on Benin's underground industry of smuggling gasoline into the country from oil-rich Nigeria, with men riding jittery motorcycles that they strap with dozens of precious jerry cans filled with petrol. Often these smugglers, who transport the gasoline both to feed their families and to make the crucial fuel available at a low cost, are disabled, because having no legs means there is more room for jerry cans; often, if the motorcycles hit a bad bump, they explode. In October Gallery's booth, this dire profession is documented through photographs and a video chronicling the smugglers, and the artist, who won the Bodé Prize at dOCUMENTA 12 in 2007, is on hand to discuss the crisis. The sculptures themselves range from $19,500 to $25,000.
RAGNAR KJARTANSSON 'S S.S. HANGOVER (2013) AT I8 GALLERY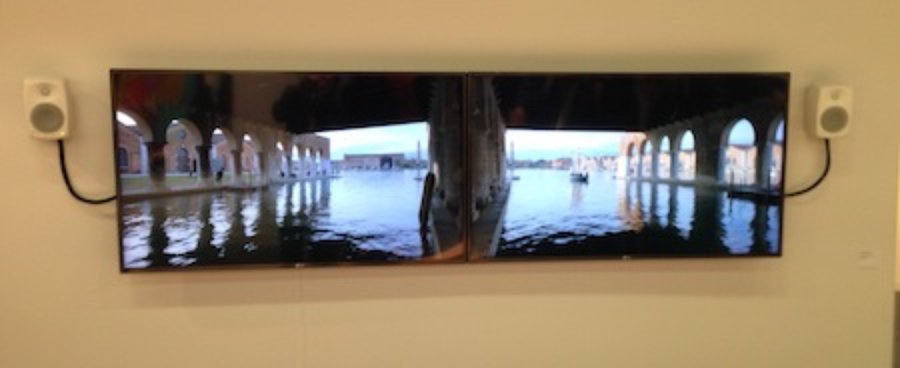 During the Venice Biennial, the Icelandic art star Ragnar Kjartansson charmed the crowds with his performance S.S. Hangover , which featured a Viking ship that three times every day toured the lagoon outside the Arsenale with a crew of musicians playing a somber melody composed by Sigur Ros's Kjartan Sveinsson. The ship itself had a funny backstory: it was a recreation of a prop boat that sailed into a cocktail party in the 1935 whodunit "Remember Last Night?" and which the artist spotted in a mixology recipe book (see photo below). At the fair, i8 Gallery is showing the world premiere of the two-channel video Kjartansson filmed of the performance, making yet another splash for the artist in a season full of them: he recently debuted a new performance with Sigur Rós in Berlin, will stage a month-long improvisatory play (with a cast of 20) at Francesca von Habsburg's TBA21 in Vienna this April, and has a survey of his work coming to the New Museum in May. This piece, complete with speakers that played its melancholy music to fairgoers, is in an edition of 10 for $50,000, and one had sold the first day.