PABLO BRONSTEIN
DESIGNS FOR CLOCKS DECORATED WITH FEATHERS IN THE INDIGENOUS TASTE (2012)
An indisputable rising star of the London art scene, the young Buenos Aires-born artist Pablo Bronstein has become a curatorial darling for his pastiches of 18th-century architectural designs, which he uses both as a tool to critique the overbuilt contemporary landscape and as unlikely backdrops for his ballet performances. Famous overnight after his 2011 ICA London solo show, he has staged exhibitions and performances everywhere from the Met and Tate Britain to White Columns and Frieze Projects. This lovely quartet of delicately etched works, hand-colored by the artist, is a particularly well-priced opportunity to collect his captivating art.
Highly regarded for her aggressively surreal, sexually knowing sculptures, Sarah Lucas broke out in the first wave of the Young British Artists in 1988 when she was included in the seminal "Freeze" exhibition organized by Damien Hirst, who has long championed her as being the strongest of the group. Though not as famous as some of her male YBA counterparts, Lucas is irresistible to curators and has been experiencing a recent surge of attention, in the last year having been included in the Venice Biennale and the Carnegie International and commanding a solo survey at the Whitechapel Gallery. This photograph shows one of Lucas's Nud sculptures, tangles of body-like protuberances that she makes with leggings; last year one of her photographic works set a new auction record for the artist at Christie's London in the fall, when it fetched nearly a half million dollars.
THOMAS BAYRLE
SLOPING LOAFERS/SMOOTH (2012)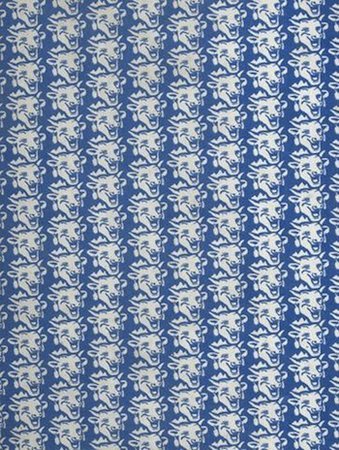 Now 77, the German artist Thomas Bayrle was for many years a revered professor at Frankfurt's Städelschule and he continues to be appreciated by European curators and critics for own art's radical acceleration of Warhol's serial appropriation of commercial culture. Over the last half decade, however, his fascinating work—often consisting of magic-eye-like compositions made from small images repeated in great number—has become far more visible at art fairs and on the international circuit generally, thanks in part to his fairly recent representation by Gavin Brown's Enterprise. This piece, a composition of the Laughing Cow cheese's mascot printed many times over in a sly reference to Warhol's own famous cow wallpaper, is a remarkably accessible opportunity to collect an artist who remains greatly undervalued.
MIRCEA CANTOR
ONE FOR ALL (2005)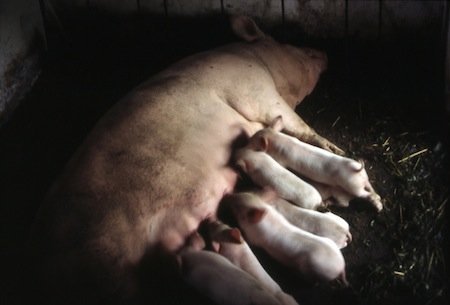 Mircea Cantor is often touted as one of the most important artists to emerge from Romania over the last decade. Rather than establishing an easily graspable signature style, he has inundated the art world with a protean output encompassing film, sculpture, drawing, performance, and photography that is largely united by his deeply sardonic wit and antipathy for convention. The winner of the prestigious Prix Marcel Duchamp in 2011 (a prize named in honor of one of Cantor's greatest influences), the artist has received solo shows at such diverse museums as the Hirschhorn in D.C., MACRO in Rome, Paris's Centre Pompidou, and the Tel Aviv Museum of Art. This photograph is a memorable example of his sense of humor, undercutting the Dumas-coined slogan of swashbuckling fraternity in its title by converting the protagonists to a sow and her piglets.  
MARINA ABRAMOVIC
THE LOVERS (TWO VESSELS) (1988)

In 1988, the artist Marina Abramovic and Ulay, her longtime lover and collaborator on many of her most important works, decided to conclude their increasingly conflicted relationship by setting out on foot from different ends of the Great Wall of China and meeting in the middle, at which point they would separate or go on together. After each walked 1550 miles over 90 days, they said good-bye. The relationship was dramatically revisited in 2010 when Ulay surprised the artist by sitting down across from her during her performance in MoMA's atrium as part of her career retrospective. This piece, chronicling the operatic meeting on the wall in juxtaposition with drawings of two jugs representing the lovers, presents a key moment in Abramovic's legend. Her photographs have commanded as much as $65,000 at auction.
Arguably Brazil's most famous contemporary artist, Vik Muniz is hotly pursued by collectors around the world for his spectacular artworks—often replicas of iconic images from art history—that he makes by photographing intricately compiled accumulations of objects, from trash to spaghetti to magazine clippings. In this piece, he has tackled the most American of images in a clear homage to Jasper Johns, composing Old Glory with stars and stripes made out of vegetation photographed from high above—creating a tableau that forces the viewer to shift focus, seeing either the image represented (the flag) or the material that produces it (plants), but never both. Muniz's work regularly overshoots its estimates at auction, with a current record of $266,500.