As the head of the Calder Foundation, Alexander S.C. Rower has a remarkable eye not only for the postwar sculpture his grandfather exemplified but also for the freshest work by today's artists—two categories that he fuses through his foundation's Calder Prize for contemporary talents as well as his own collecting, which he vigorously pursues privately and at auction. With the expansive and revelatory new exhibition "Calder and Abstraction: From Avant-Garde to Iconic" now open at LACMA, we asked Rower to share his favorite works at Art Basel Miami Beach.
Pat Steir's Black (2007) at Cheim & Read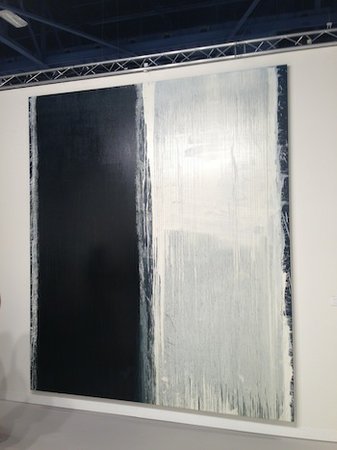 "This split-image painting, a signature work, evokes in me the momentary effluence of night to day. You can be sure to see a solid retrospective of Steir in the next few years, finally giving her work the much deserved attention she doesn't personally clamor for. I don't own one yet and have tried numerous times at auction to buy one, but the market has been rising ahead of me." 
Jean Arp's Dream Flower with Lips (1954) at Mnuchin Gallery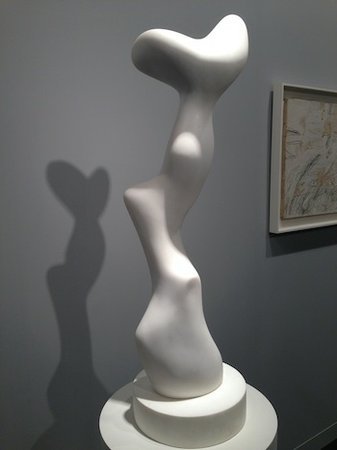 As the father of Surrealist form, Arp casts a big shadow, and this late work is no exception. A unique marble, it has surprising stamina and vitality, as well as Arp's incredible sensuality. Don't miss the Pompidou's excellent exhibition "Le Surréalisme et l'objet," currently on view, which juxtaposes historical works by the Surrealists with presentations by important contemporary artists. 
Robert Overby's Bricks, small corner, June 3 (1971) at Andrew Kreps Gallery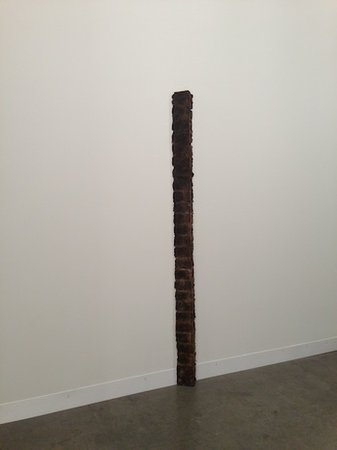 Subtle and soulful, this Overby deserves our attention and respect. The gallery also has some convincing drawings which are rubbed from the artist's studio floor. Overby's career as a highly successful graphic designer seems to contradict the imagery of his fragmentary borrowings in his fine art. Bricks, small corner has a quiet beauty and authenticity far too rare among works typically found in art fairs. 
Haegue Yang's Facilitating Pentagon Seating (2013) at Galerie Chantal Crousel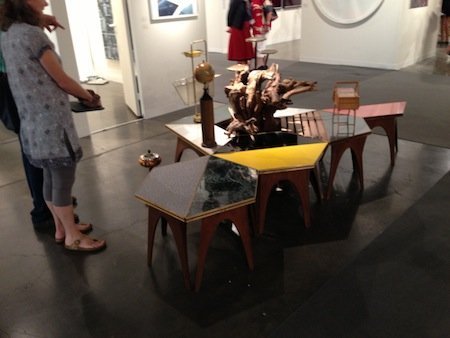 I walked by this work twice, each time in a rush to see something else, and was each time arrested by it, not realizing it was by Haegue Yang, an artist I have been watching for the last five years. Yang's discreet way of playing with our perception, the characteristic that has traditionally drawn me to her work, is strongly present in Facilitating Pentagon Seating. I am not surprised to have seen Yang in three booths at Art Basel Miami Beach, as her career really took off after she represented Korea in the Venice Biennale in 2009.  
Danh Vo's Lot 19. Test Ban Treaty Signing Pen, 5 August 1953 (2013) at Marian Goodman Gallery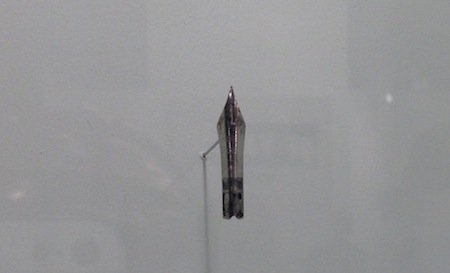 Danh Vo continues to surprise me—his brilliance is something that I am really starting to envy. This little nothing of a steel nib, the plume tip for the signing the nuclear ban treaty in 1953, makes you feel like you may become irradiated by it. It's an absurd notion, but the power of the nib, its false intrinsic nature, is a lasting force. I look forward to following this artist in the years to come.