ORI GERSHT
TIME AFTER TIME, UNTITLED 16 (2006)
$10,000
Ori Gersht's explosive photographs have the tendency to knock viewers back on their heels, which explains why so many collectors have begun vying for the artist's still-lifes, which combine placid classical Northern Renaissance displays with the violent tumult he experienced growing up in his native Israel. Captured with high-speed digital devices, these signature pieces were showcased in a major survey at ICA Boston last year, and, while rare-to-auction, they have overshot their high estimate by as much as fourfold every time they have hit the block.
NATALIE FRANK
SATAN'S BALL (2008)
$1,000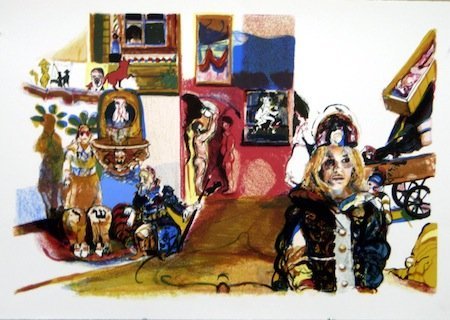 A young artist who in recent years has been working with such respected galleries as Chicago's Rhona Hoffman Gallery and New York's Fredericks & Freiser, Natalie Frank has a growing base of international collectors who are riveted by the way she applies her exceptional painterly technique to disturbing, often violent subject matter—always with an eye to feminist critique. Now new buzz is being generated around Frank's art, and with good reason: The Drawing Center has recently tapped her for a 2015 solo show of drawings based on classic fairy tales, which will be accompanied by a lavish book containing over 100 works from the series and essays by such figures as art historian Linda Nochlin and celebrated director Julie Taymor.
RINA BANERJEE
NO TITLE 1 (2011)
$1,000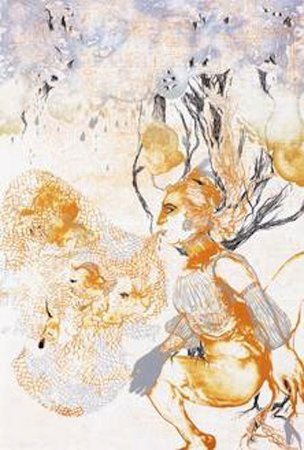 Rina Banerjee's path to art was as sinuous as the twisting forms in her work: born in Calcutta, she moved to London as a child and later to the United States, where she studied engineering at Case Western and then worked in the plastics industry before switching directions and earning an MFA at Yale. The work she has made since then has been notable for its concentrated power and mythic atmosphere, garnering curatorial support—she has exhibited at the Whitney, and currently has a solo show at the Smithsonian's Sackler Gallery consisting of a giant installation based on Asia's rivers—as well as market enthusiasm. This spring, one of her works on paper sold for $27,500 at Sotheby's this spring, almost doubling its low estimate.
ROBERT GOBER
UNTITLED (2000)
$4,000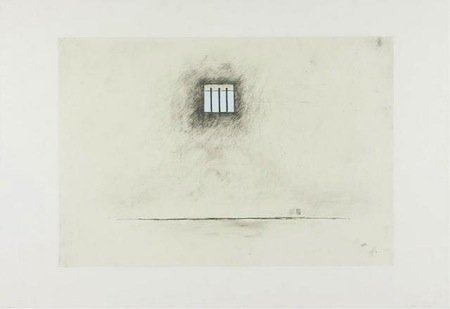 Known as one of today's most brilliantly imaginative living sculptors, Robert Gober is revered by collectors and younger artists for his works that put a decidedly American spin on the legacy of Surrealism, from the hairy limns that jut out from walls to his sink pieces that update Duchamp's urinal in an inexplicably unsettling way. The subject of countless museum surveys and the U.S. representative at the 2001 Venice Biennale, Gober's market is only recently catching up with his art-historical standing, as when one of his signature prison window sculptures from Peter Norton's collection sold for an estimate-tripling $3.4 million at Christie's in 2011. Another print from this exact edition recalling that sculpture, meanwhile, sold at Christie's London this spring for $5,042… so it's actually a steal.
MERLIN JAMES
SIGNAL BOX (2007)
$153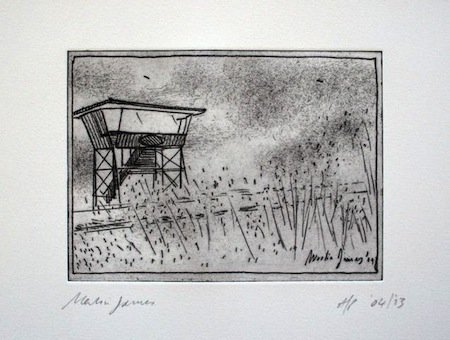 Swiftly rising in profile after representing Wales in the 2007 Venice Biennale, Merlin James is a Glasgow-born artist—he'd have to be British with a name like that—who for over his 30-year career has thoughtfully engaged with the work of some of art history's greatest stylists, using elements of their technique to depict the quotidian vistas of the industrialized world around him. This etching, irresistibly priced and from a small-batch edition of 40, displays the telltale marks of that master etcher Rembrandt (or is it van Gogh?) to sparely describe a railway observation tower, and was created this year on the occasion of his survey Parasol Unit, his first-ever show at a London institution.
TARA DONOVAN
UNTITLED (RUBBER BANDS) (2006)
$6,000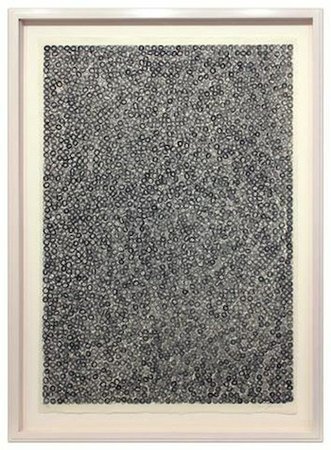 Razor-sharp intelligence and sheer fun rarely dovetail so perfectly as in the work of Tara Donovan, who concocts improbable ways to MacGyver ordinary household materials—paper plates, pins, styrofoam cups, what have you—into beautiful abstract sculptures and other artworks that make it all but impossible for the viewer to believe what they're made of. This lovely, finely detailed print is a case in point, created by tightly rolling up hundreds of rubber bands in uneven rows, covering them in ink, and running them through a printing press. It's vintage Donovan, and—considering the length of her waiting list—a rare chance to acquire a work by this 2008 MacArthur "Genius" Grant winner.
JAYSON MUSSON
ART THOUGHTZ: HOW TO BE A SUCCESSFUL ARTIST (2010)
$1,500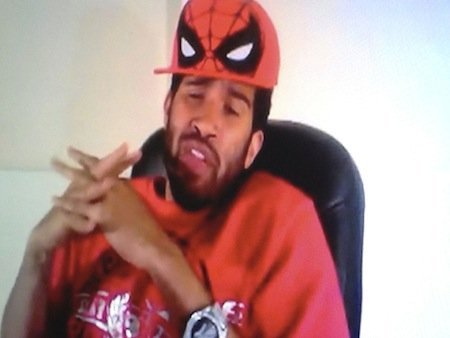 Perhaps this thought has crossed your mind: "Hmm, rap culture has arguably become the lingua Franca of the American pop experience as a whole, so why doesn't the art world acknowledge it exists?" Well, a few artists do, and rarely with more acuity and wit than Jayson Musson, who, using the sobriquet Hennessy Youngman, created a YouTube sensation with his videos lampooning the art establishment from the perspective of a drawling hip-hop head. Since his breakout, Musson has gone on to show at Postmasters in New York and Galerie Perrotin in Paris (and gain representation at the elite Salon 94 gallery), but this video—one of his funniest and most eviscerating—might remain his masterpiece.