Growing up in a family of contemporary art collectors, Adam Fields has been in and around the arts from a young age. As the vice president of artists and institutions for Artspace, Fields plays a critical role in shaping the supply strategy for the platform, developing and managing Artspace's relationships with more than 300 galleries, museums, and artists, along with overseeing logistics and Artspace's print publishing operation. These are his favorite works from Sotheby's "Contemporary Curated" auction on September 25.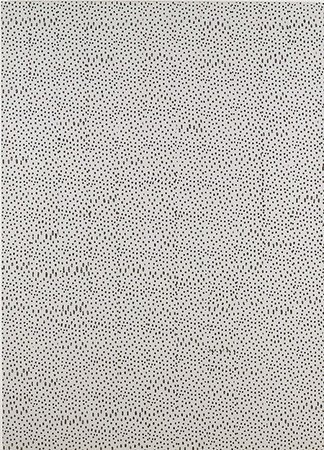 1. 
Lot 11
Christopher Wool
Untitled (P63)
signed, titled and dated 1988 on the reverse
alkyd and flashe on aluminum
84 by 60 in. 213.4 by 152.4 cm. 
Est. $1,200,000 - 1,800,000
I was first introduced to the work of Christopher Wool by a few poignant words: "IF YOU DON'T LIKE IT YOU CAN GET THE FUCK OUT OF MY HOUSE." It was the catalyst that sparked my interest in his work, from the humor—it stood right inside the front door of my parents' apartment—to the simplicity and rawness. Learning more about his process soon followed and I've had a deep appreciation of and infatuation with his work ever since. As a young art enthusiast and collector, I think these types of "catalysts" are necessary when deciphering your tastes and interests in art as a means to get beyond the surface and aesthetic.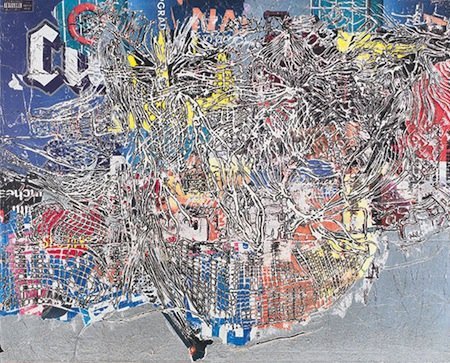 2. 
Lot 7
Mark Bradford
Curtis
signed, titled and dated 2007 on the reverse 
acrylic, felt-tip pen, silver coated paper and
printed paper collage on canvas
48 1/8 by 60 1/4 in. 122.2 by 153 cm.
Est. $500,000 - 700,000
I was always fascinated by the reign of the older L.A. artists such as Ruscha, Baldessari, Mike Kelley, Lari Pittman, etc. To me, Mark Bradford represented the next generation of L.A. artists and one that I felt an instant connection to as a younger art enthusiast trying to find my way. I love his use of materials and texture, which is in line with my fasciation on an artist's process. Sometimes you just click with an artist, and Bradford is the perfect example. I'm excited to see what the future holds for him.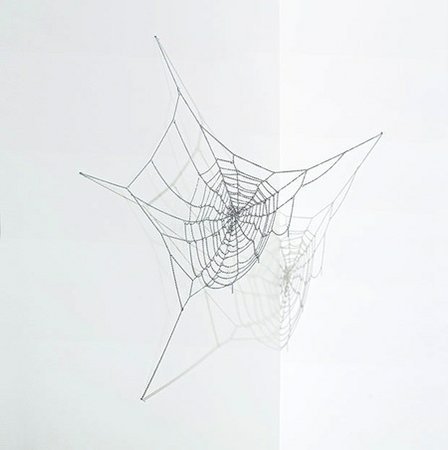 3.
Lot 3
Jim Hodges
Not for Long
silver plated chain with pins
16 1/2 by 21 in. 41.9 by 53.3 cm.
Executed in 1996, this work is accompanied by a
certificate of authenticity signed by the artist.
Est. $250,000 - 350,000
It's always fun to enjoy an artist's work and then meet him or her personally to see if it changes your perception of the artist. I met him briefly before his last show at Gladstone and he immediately left a fantastic impression, and a calming feeling, which mirrors his work. I've always loved his art—particularly his prints, which are perfect for younger collectors—but meeting him has definitely raised my appreciation for all he does.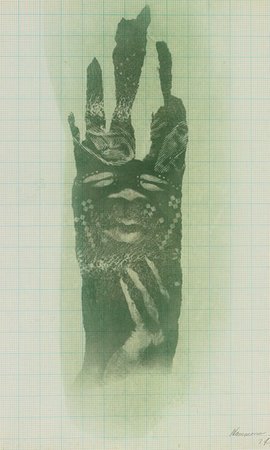 4. 
Lot 120
David Hammons
Untitled (Body Print)
signed and dated 74 
pigment on graph paper
21 by 13 in. 33 by 53.3 cm.
Est. $40,000 - 60,000
I vividly remember being introduced to David's Kool-Aid works at a young age and was instantly infatuated with his work and practice. Conceptual art inherently requires the viewer to take a step back to think and reflect, yet the satirical use, and subsequent translation, of Japanese text together with the simplicity of the Kool-Aid immediately resonated with me and prompted me to investigate further. This led to my discovery of the African-American Flag and Body Print series, which are among my favorites. Learning more about his mystery and refusal to conform to the standard gallery system only added to my intrigue and fascination with the work.
This article was originally posted on Sotheby's website.