Nan Goldin's Odalisque (2011) at Matthew Marks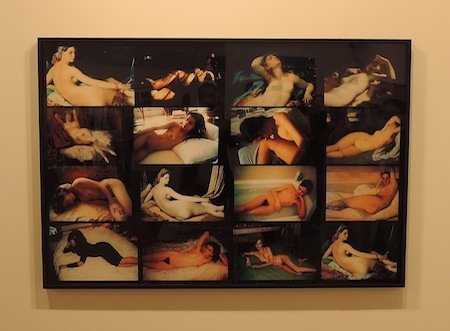 A few years ago, photographer Nan Goldin was granted an extraordinary opportunity that, for someone who is obsessed with looking, must have seemed like a wish granted by a genie: for eight months she was allowed to wander unimpeded through the Louvre's galleries and storerooms with her camera every Tuesday (when the museum is closed to the public). In installations, she juxtaposed the resulting pictures she took of art-historical masterpieces with photographs from over the span of her own long career that are in some way analogous in theme or content. In this stunning piece she matches odalisques—the Orientalist 19th-century portraits of elegantly contorted harem concubines—with portraits she had taken of her friends and lovers in reclining poses. From an edition of three, it was priced at $60,000.
Keith Sonnier's Neon Wrapping Incandescent (1969) at Pace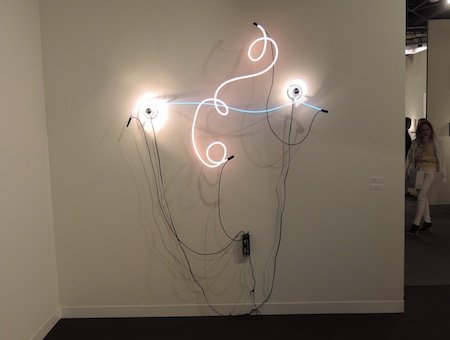 Keith Sonnier is a bit of an outlier in recent art history. He began working with neons in the 1960s around the same time as Dan Flavin took up fluorescents and for a while they were both repped by Leo Castelli, yet Sonnier hasn't had a major New York exhibition since his 1983 PS1 survey. Though it can be hard to see how he neatly fits in with current art, his work operates in dialogue with the neons in Tracey Emin's new MoCA North Miami show, the work of Jason Rhoades, and the wall pieces of Bruce Nauman—but from a unique and eccentric angle. This vintage piece, priced at $175,000, heralds Pace's upcoming show of neons, Sonnier's first created in his new Bridgehampton studio.
Deborah Kass's Joy (2013) at Paul Kasmin Gallery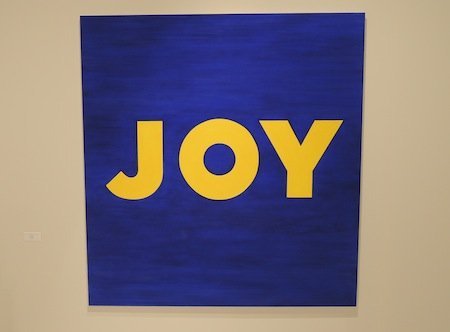 If you think brainy conceptual art can't be hilarious, think again. Over the span of her career, Deborah Kass has made a point of infiltrating the male-dominated art conversation (and market) by creating feminist riffs on classic pieces of man-made art, inserting herself into Warhol's fright-wig self-portraits, for instance. This piece, in fact, is a riff on a riff. In 1962, Ed Ruscha painted his famous and revolutionary OOF in these yellow block letters on a blue background; in 2009, Kass added a bit of Yiddishkeit, updating it to OY; here she adds an extra letter, entirely reversing the original meaning. It's $90,000.
Isaac Julien's THE ABYSS (Playtime) (2013) at Metro Pictures

Isaac Julien is hot. His MoMA show is a hit, and his new video at Metro Pictures, Playtime, is utterly mesmerizing. That work creates a fugue from three narratives chronicling the effects of the global economic crash: one about a successful photographer in Iceland who loses everything in the downturn, one about a hedge-fund art collector in London who doesn't have much to worry about, and one about a housekeeper in Dubai who is trapped in an immaculate apartment in the middle of the desert. This still depicts a scene from that last and most affecting one, which is based on the true story of Julien's real-life housekeeper, a Filipino woman who went to Dubai in search of work, became suffocated by her isolation, and escaped to London where she found a job with the artist. The piece, of an edition of five, costs $55,000.
Math Bass at Overduin and Kite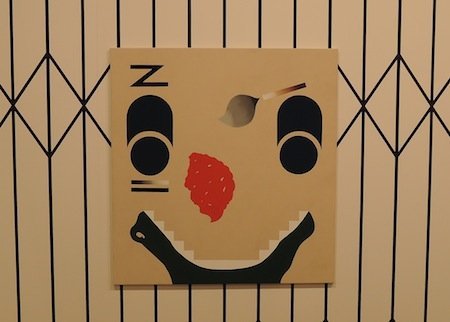 In the emerging-artist Projects section, 31-year-old Math Bass's suite of captivating paintings announce an intriguing new talent. Bass rearranges icons from a proprietary symbolic vocabulary—a fireball, an alligator, blue cans, the letter "z," an equals sign, and a cigarette—in different configurations on her canvases to create compositions that seem almost as linguistic as they are visual. They're odd works, graphically strong, and partly inspired by the late French text artist Guy de Cointet. The works sold for $5,000 apiece. 
Jose Dávila at Max Wigram Gallery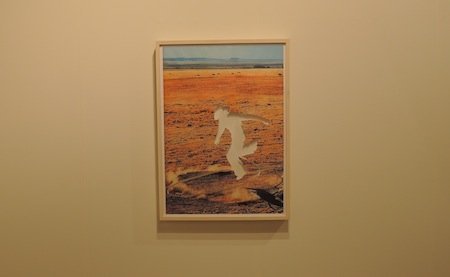 In this brand-new body of work, the Guadalajara-based artist Jose Dávila appropriates the appropriator, Richard Prince, by taking images from his cigarette-ad cowboy series and excising the rugged Western figure using a surrealistic technique lifted from John Baldessari. Already highly successful in South America—he has a show coming up in 2015 with the Museo Tamayo—Dávila is only now beginning to be embraced by European collectors, who appreciate the way he is able to encapsulate complex conceptual ideas in clean, simple packaging. On the opening day of the fair this booth was almost sold out, with works ranging from $25,000 to $45,000.
Loretta Fahrenholz's Ditch Plains (2013) at Reena Spaulings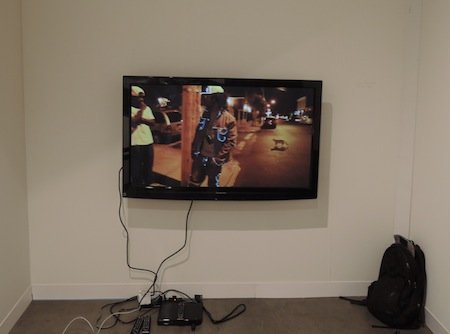 In 2012, the artist Loretta Fahrenholz convened with a dance crew on the streets of the Rockaways and East New York to improvise a film collaboration, and they hit upon the idea of an apocalyptic disaster movie. Later, as they started to film, Hurricane Sandy struck, furnishing the group with an eerily ideal backdrop. The narrative that they came up with—semi-crazed breakdancers with LED lights threaded through their clothing make their way through urban desolation after electricity has disappeared—combines aspects of movies like "28 Days Later" with first-rate documentary reportage of the havoc the storm rent on the urban landscape. The Berlin-based artist's film was debuted at Reena Spaulings in September, and the example on offer here, from an edition of five, is $10,000.
Shannon Ebner at Sadie Coles HQ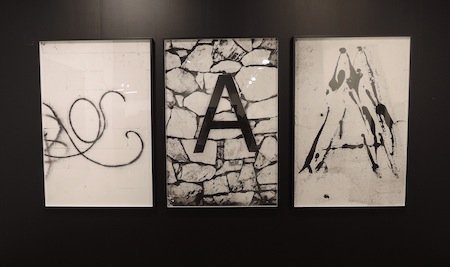 The artist Shannon Ebner uses language as a bridge between seeing and reading, exploring the different ways that words and images act on the mind and fusing them to create gripping amalgams. In the past she created sculptures of her letters—sometimes using "A"s and "X"s, because of the way that they can be replicated with the human body, posing YMCA-singalong-style—but lately she has been focusing on taking photographs of crumbling signage she comes across in the California landscape. Included in the 2008 Whitney Biennial, Ebner  has a show at Rome's Palazzo Memmo opening in March. These pieces are $15,000 apiece, each from an edition of five.
Jeff Koon's Elephant (2003) at David Zwirner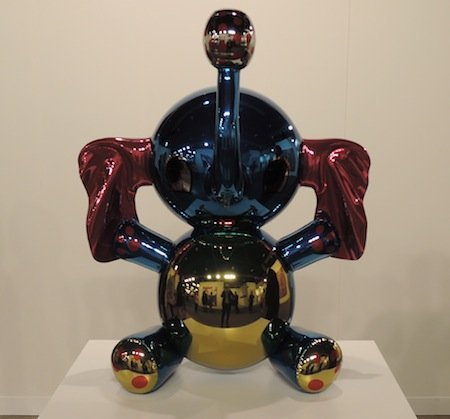 One thing's for certain about Jeff Koons's mirror-polished sculptures: it's easy to geek out over the preposterously high refinement of their fabrication. This piece, a multi-colored version of a inflatable child's toy, is especially impressive—it required a proprietary process of forging polychromatic steel that was recently developed by a single manufacturer in Germany. The result is pretty darn cute. Sitting on the fence between his "Celebration" series (the hearts, etc.) and his "Statuary" series (the bunnies, etc.), this tabletop piece is priced at a whopping $20 million.
Sturtevant at Gavin Brown's Enterprise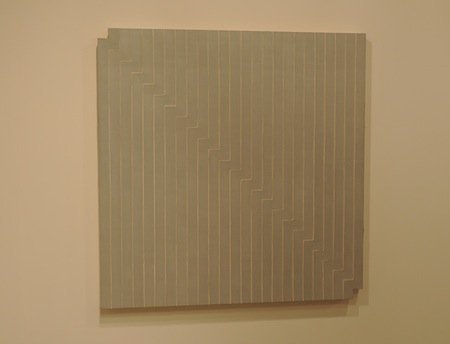 The third artist in this list to hitch their wagon to appropriation is Elaine Sturtevant, who is arguably the grandmaster of the tactic (next to Warhol, her frequent target). An conceptualist who came up in the New York art scene alongside Jasper Johns, Warhol, Roy Lichtenstein, and the rest, Sturtevant moved to Paris around 1970 and took a decade-long sabbatical from making art; when she re-emerged, she found herself often lumped in with an entirely new generation of artists, giving her work a strange out-of-time quality. Over the years she has made faithful yet wholly irreverent copies of works by artists from Johns and Lichtenstein to Joseph Beuys and Felix Gonzalez-Torres to Paul McCarthy (she re-enacts his videos) and Keith Haring. This piece, a version of one of Frank Stella's legendary early minimalist paintings, is priced at $600,000—a price that might take your breath away unless you know that her work has topped out at auction at an impressive $710,000.