After nearly 30 years collecting contemporary art, Michael and Susan Hort have developed the confidence to know what they like—usually at first glance. It is a well-honed skill that can be particularly useful at art fairs, where they are often on the hunt for new talents. Once they have committed to an artist, they like to collect the work in depth over many years. The strategy has led them to assemble a contemporary art collection numbering more than 3,000 pieces, including significant work by significant artists like Marlene Dumas , Adrian Ghenie , Karen Kilimnik , and Chris Ofili .
The couple's commitment to emerging artists is also one of the guiding principals behind the Rema Hort Mann Foundation , named in honor of their daughter, who died of cancer at age 30. The foundation provides support for the family's of people undergoing cancer treatment, as well as unrestricted grants to artists getting started. Past recipients include Dana Schutz and Gedi Sibony .
While roaming aisles at Art Basel Miami Beach and NADA in Miami last week, the Horts brought along a camera so as to share with us some of their favorite finds, seen below along with their initial impressions of the work.
Armin Boehm at Meyer Riegger (ABMB)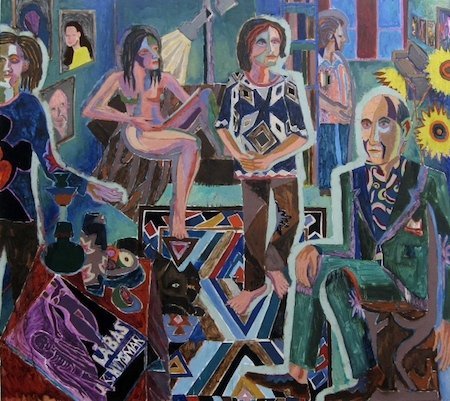 "We have a lot of work by Boehm. We visited his studio in Berlin last year. We didn't know that he had painted this sort of family portrait of us—maybe he took some pictures one time when he was at our house. I am seated and Susan is standing just beside me. The portrait to the left side is of Rema by Andy Hope, who also has quite a few pieces in our collections, but one time when he came to the house nothing of his was hanging so he painted this portrait of her for us. And sunflowers, seen on the right side, were Rema's favorite flowers. The only thing is, I have no idea who the nude is supposed to be."
Sean Kennedy at Thomas Duncan (NADA)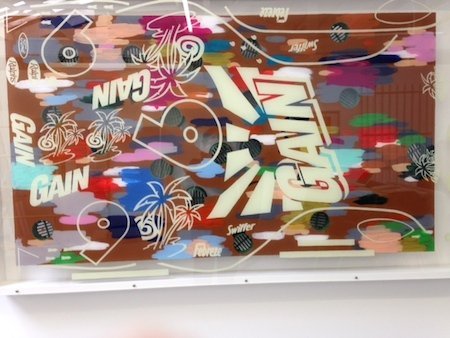 "We have other work of Kennedy's. He makes these amazing dioramas with painted backgrounds or he paints around decals. They are always very colorful. In this case he took decals from sports cars and they are mounted on plexi in front of the painting. We made a studio visit maybe a month ago out in Los Angeles, where Thomas Duncan is based."
Anke Weyer at Canada (NADA)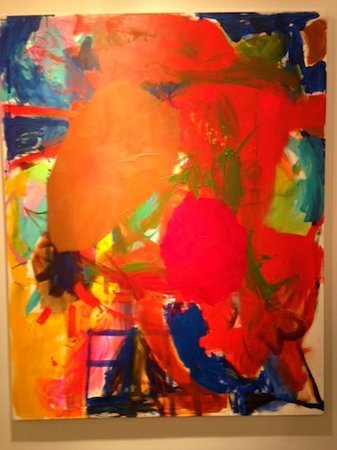 "We had never heard of her or seen her work before coming upon the Canada booth the first day at NADA. The paintings are bright, strong, well painted. We liked both paintings they had by her. If you only like one, maybe you should wait, but we liked both, so we bought one. We asked how old she is, but the truth is we buy what we love. If you like it and the price is right, if it is a good painting it doesn't matter where the artist learned how to paint."
Nicole Eisenman at Koenig & Clinton (ABMB)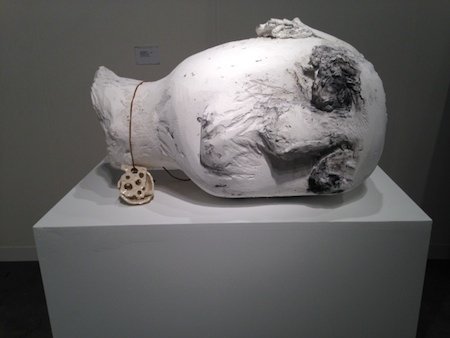 "We have known Nicole Eisenman a long long time. She was in the last Whitney Biennial , and she just won the Carnegie Prize . In fact for the Carnegie International we loaned three paintings: one we bought 20 years ago from Jack Tilton, one from 8 or 9 years ago from Leo Koenig, and one from a couple years back bought from Susanne Vielmetter out in L.A. She is better known for paintings and drawings. The first time we saw like this was in London at Studio Voltaire , where she did a residency last year. At the Carnegie, there were paintings around a balcony and her sculptures were one top of a sort of balustrade where they blended in with other classical sculptures. They are kind of a joke on those classical works but they looked so great next to them."
David Renggil at Wentrup Gallery (ABMB)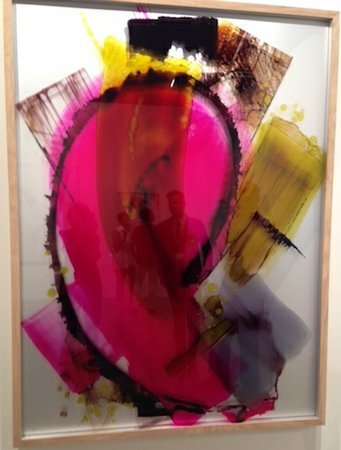 "These are really quite beautiful. It is painted on the reverse side of the glass. We didn't know the artist, but has the current show at the gallery in London and we have bought from them before. We have maybe ten pieces by Axel Geis. When we get home, we will get more information and learn about him."
Nathan Hylden at Johann Koenig (ABMB)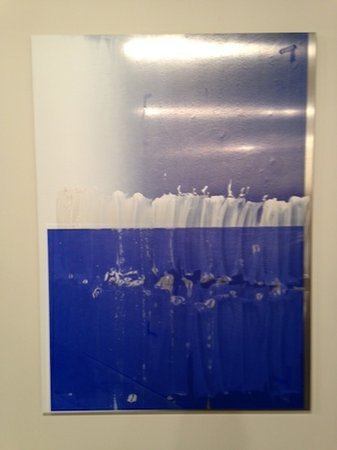 "Hylden is a guy we like a lot. He was showing paintings on aluminum here, but he paints on a lot of surfaces to create very striking works. We have a sculpture and another painting by him. Based in Berlin, Johann is the half brother of Leo Koenig of Koenig & Clinton here in New York."
Marina Simão at Mendes Wood (ABMB)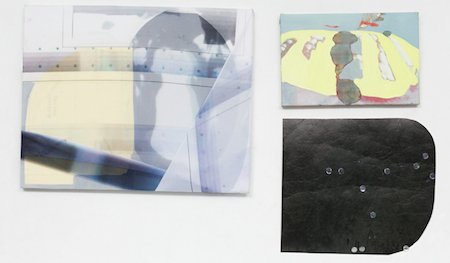 "Marty Eisenberg, a friend and a really great collector, saw us in line waiting for the preview to open and said, 'You have to go to Mendes Wood.' The gallery is from São Paolo and we didn't know it before, but we liked both artists they were showing. We bought a show wall, eight pieces, by Marina Simão. They are very subtle and pretty small, so if you have just one it might disappear. It really helps to be able to see several together. They have a dialogue with each other. If we like an artist we collect in depth."