Today, the term "photography" is so broadly applied that, like the term "sculpture," it comes to refer to an artist's discursive intentions rather than to what the work is simply made from.
While this year's edition of the AIPAD Photography Show New York, at the Park Avenue Armory until April 13, illustrates this point, displaying everything from 19th-century hand-colored Japanese prints to digital images on iPads, it, happily, also includes works treating the distinguishing features of the medium—after all, there's a reason the event is called New York's premier photo fair.
Among these enduring values are photography's tie to history, intrinsic link to scientific and journalistic documentation, and its unique ability to make reality seem, somehow, more real. Below, we've selected our favorite works from the fair that exemplify the medium's lasting dexterity.
RAPHAËL DALLAPORTA AT L. PARKER STEPHENSON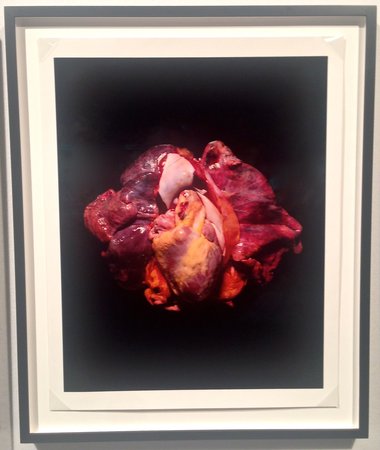 Raphaël Dallaporta photographs parts of the human body extracted during autopsies. Because of oxidation, as soon as organs meet the open air, they lose the vivid coloring that they have inside the body. Dallaporta can capture the natural vibrancy by photographing the innards the instant they are removed. The results look like the plates from an anatomy encyclopedia, and the natural process of de-colorization oddly mirrors the analogue printing of a color photograph. The works' titles, which reference the ways Dallaporta's subjects died ("Murder, Cardiopulmonary"), add another layer of macabre intrigue.
WEEGEE AT HENRY FEINSTEIN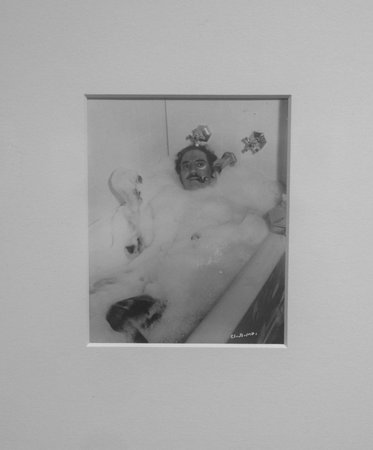 Weegee (née Arthur Fellig) is the famous photojournalist from the 1930s and '40s who specialized in blunt photographs of urban crime scenes and accidents, including grotesque scenes of injury and death—an oeuvre he achieved by right of being the only New York newspaper reporter permitted to possess a police radio. Later in his career, he worked in Hollywood as an actor and consultant. This, presumably, is how he came to snap this photo of a fully-clothed Groucho Marx smoking a cigar in a bathtub.
ZHANG WEI AT 798 PHOTO GALLERY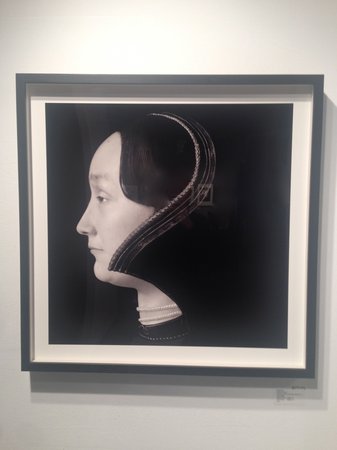 In case you don't know, "giclée" (pronounced "zhee-clay") is the fancy terminology for a super-high-resolution inkjet print of a digital image. Zhang Wei has a whole series of beautiful examples; his series Artificial Theater: Profile Portraits of Unknown Women digitally combines art-historical portraits from the likes of Da Vinci with physical features from real Chinese and Western actors in mash-up combinations. The impeccable black-and-white prints that result have the effect of a Renaissance portrait in HD: you can see all the moles, hairs, and wrinkles on the composite sitters' faces. They're mask-like, but also hyper-real.
SAMEER MAKARIUS AT GALERÍA VASARI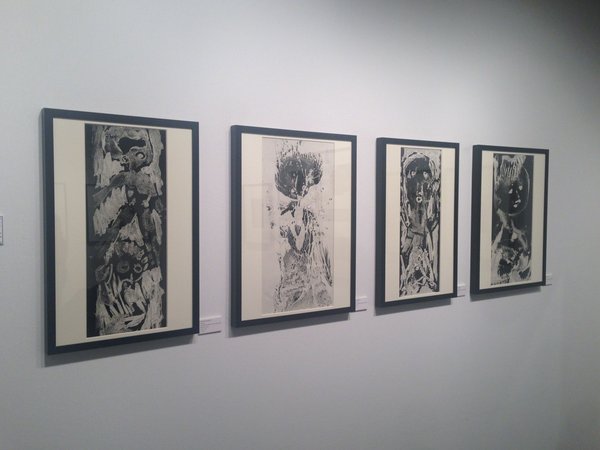 Makarius was an Argentinian artist documenting his native home Buenos Aires. This series of black and white photographs originally was shown in the 1961 exhibition "Otra Figuración" at that city's Galería Peuser , which is credited with birthing the Argentinian Neo-Figurative movement. They almost look like photographic reproductions of neo-primitivist paintings by Paul Klee , and smartly showcase the dramatic graphic effect that was, perhaps, lost with the advent of color photographic processing.
ROBERT HEINECKEN AT ROBERT KOCH GALLERY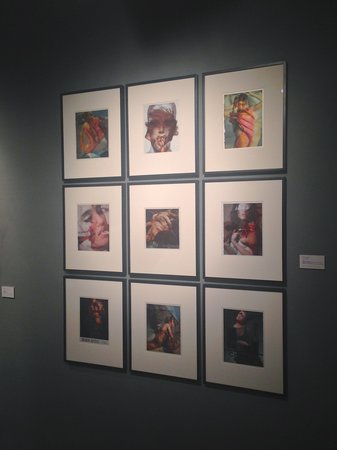 These are examples of Heinecken's "paraphotography," the artist's term to describe work that he saw fitting somewhere beside or even beyond traditional notions of the medium. Heinecken made these collages from cut-out images taken from magazines, laying the clippings on light tables to expose both sides of the printed pages. They're similar to our favorites from the artist's current retrospective at New York's Museum of Modern Art—simple and seductive, they exemplify the cool effortlessness of the Pictures Generation.
JEFFREY WOLIN AT EDELMAN GALLERY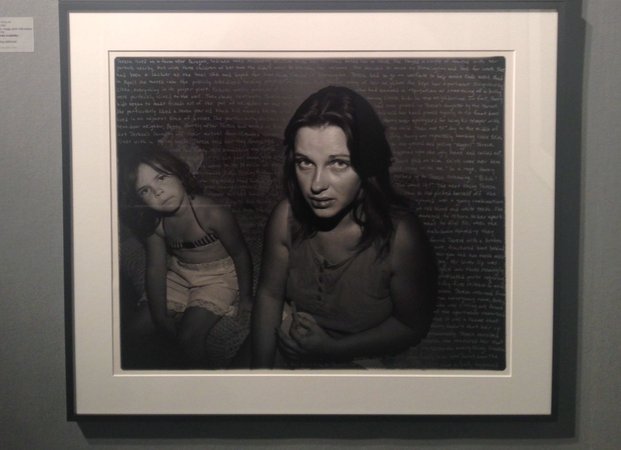 The photographs in Wolin's Pigeon Hill series document the lives of the residents of a low-income area in Bloomington, Indiana. Some of the diptychs include photos of the same subject taken years apart, with their reflections of earlier images hand-written on top of the prints. It's written in silver pen, which means you have to move quite a bit around the photos—scrupulously examining them—in order to read them in full; an action that leads to the sudden and visceral realization of the vulnerability and honesty of Wolin's subjects.
KEITH SMITH AT BRUCE SILVERSTEIN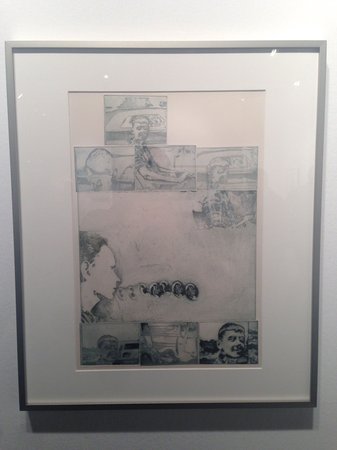 Smith's works from the 1960s to '80s combine drawing, painting, collage, and sewn stitching on top of source photographs that the artists reuses again and again. This includes obsessive re-workings of images of men with whom he's been romantically infatuated. While his works diverge quite plainly from "pure" photography, you'd be hard pressed to say exactly what else they could be. To compound the confusion, one of Smith's primary ways of working is in artists' books, a de facto favored medium of the traditional photographer.
MARK POWER AT JAMES HYMAN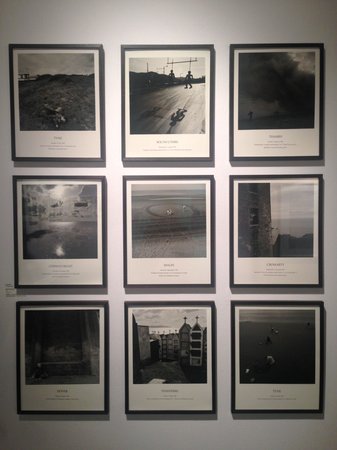 The shipping forecast is broadcast four times a day on British radio station BBC Radio 4 so those at sea can prepare themselves for inclement weather. Though Power is not a sailor (he fits into the category of what he calls "landlubbing radio listeners" who enjoys the broadcasts as a reminder of Britain's old-time island culture), he captions his photos with the shipping forecasts marking the morning they were taken. Moodily romantic on their own, his photographs are made into mysterious hybrids, like inscrutable advertisements, by the inclusion of these weather reports.
AYANO SUDO AT PICTURE PHOTO SPACE, INC.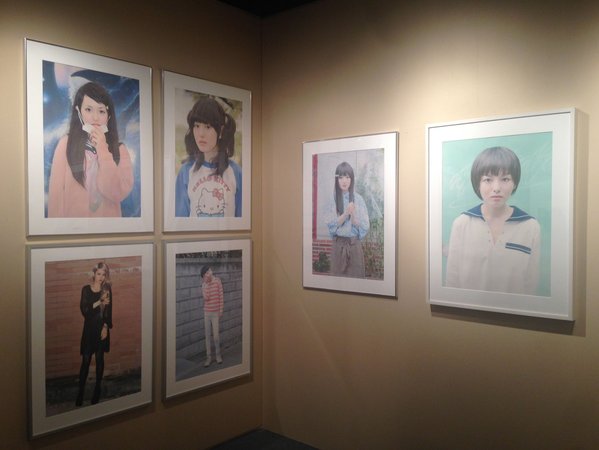 Sudo's self-portraits are based on descriptions of girls from local missing persons announcements. According to the artist, in the old days in Japan, such missing girls were thought to have been spirited away to the land of the gods; accordingly, her portraits have an otherworldly quality. They're printed on thick, matte paper, and many of them have glitter adhered to their surfaces, presenting an uncanny corollary to the American picture-on-the-side-of-the-milk-carton. Their ethereal quality saves them from falling into the popular category of Cindy Sherman -esque character self-portaiture that has proliferated of late.
CONSEQUENCES: PHOTOGRAPHIC SEQUENCE AT DANIEL BLAU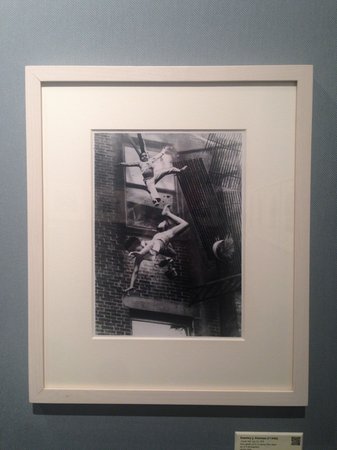 The only booth to present a coherent mini-exhibition at the fair belongs to Daniel Blau. "Consequence: Photographic Sequence" is a series serving varying purposes: scientific, journalistic, documentary. Equally inclusive of images by well-known photographers like Stanley Forman and those by unknown photographers, the mini-show includes the scene of John F. Kennedy's assassination, a fire escape collapse during a rescue attempt in 1975, and atomic bomb test blasts in the Nevada desert, among others. These sets of images foreground photography's shifting role in the post-video media age, as well as lay out its unique potential, despite advances in documentary technology, to freeze not just a moment, but a series of moments, facilitating a kind of visual remembrance that is not only retrospective, but actually spans and dictates time.