The following is written by Hannah Flegelman, Artspace's trusted art advisor. She describes her personal collecting wishlist. Feel free to contact advisor@artspace.com to speak with Hannah about sourcing works from your collecting wishlist.
This past fall, I wrote about some artworks in my cart. To recap: my recommendation to budding collectors is to acquire an artwork first and foremost because you love it. That said, you can also find artworks that speak to you and still have investment potential if you consider some key market indicators such as exhibition history, gallery representation, auction results, and recent press or publications.
With the new year comes some new art that I have my eye on. To view the complete list, visit my collecting wishlist.
MARIAH ROBERTSON
247, 2015
$15,000 - $20,000

Mariah Robertson has been on my list for some time, mostly because I love learning about the process behind a work of art, and her process is unparalleled. Robertson creates her vibrant, energetic works by exposing light-sensitive photo paper to a variety of chemical baths, pushing us to rethink what makes a photograph a photograph. (These works are by definition photographs, yet unlike a snapshot, they aren't photographs of anything.) 247 is more controlled and ethereal than some of her earlier works, and it relates to the new body of work she exhibited in her solo show at M+B Los Angeles, which opened last week. Robertson earned her MFA from Yale (a launch pad for many successful artists), her works have been shown regularly at major art fairs, and both the Museum of Modern Art in New York, and Los Angeles County Museum of Art have her work in their collections.
PETER DOIG
Untitled, 2006
$4,000 or as low as $352/month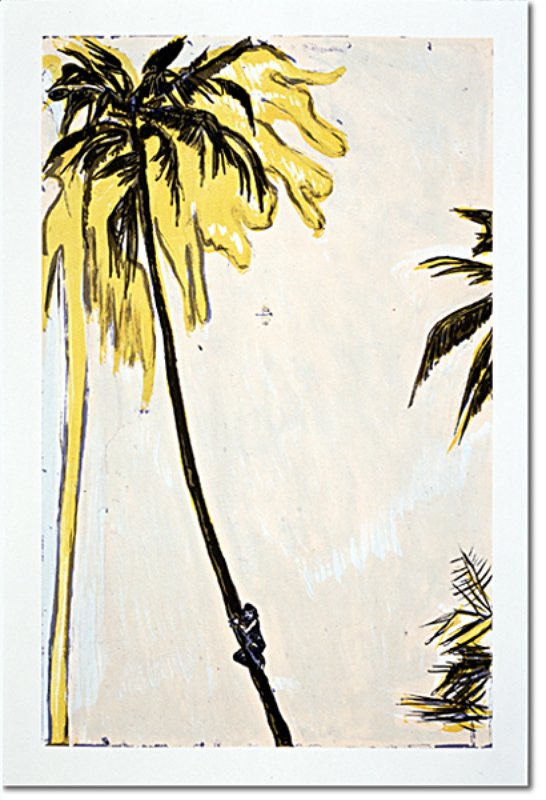 Scottish, Trinidad-based painter Peter Doig emerged in the 1980s when Charles Saatchi discovered his work hung in pubs throughout England. From rags to riches (or pubs to auction houses), Doig's career soared. His paintings now sell for seven figures at auction, and just last month beloved art critic Calvin Tompkins wrote a profile on the artist for The New Yorker. Currently on view at Michael Werner is Doig's first exhibition of new work in London since 2012. While his practice has remained consistent throughout the years, with the re-emerging prominence of figurative painting around him, his work feels timely (and timeless). This work from 2006 is characteristic of Doig's dreamlike scenes captured in electric colors.
JENNY HOLZER
Here Is No Work, 1999
$2,450 or as low as $216/month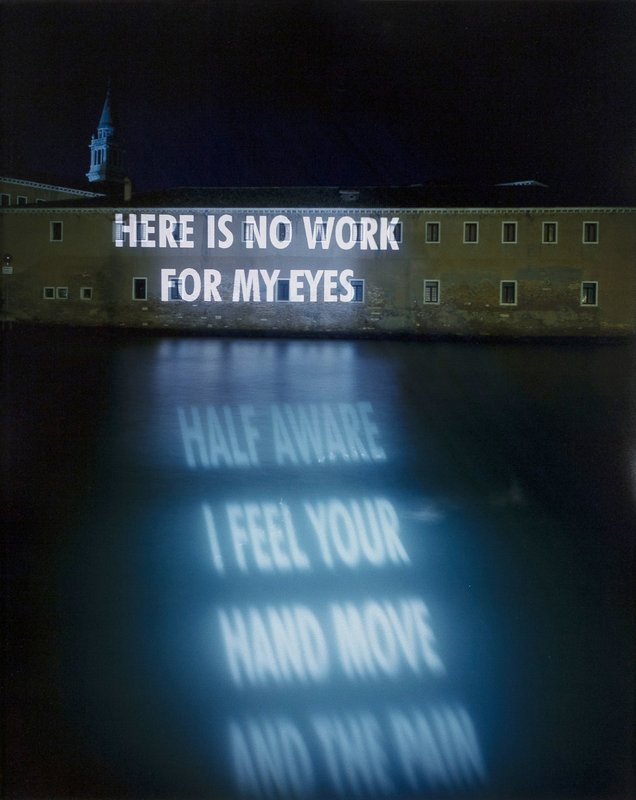 Jenny Holzer has been on my mind a lot this past year. First, her truism, Abuse of Power Comes as No Surprise has been popping up on social media feeds, protest posters, and tote bags alike as a slogan for the #metoo movement and for resistance against injustice in general. This year she also unveiled the completed New York City Aids Memorial in the West Village, and was the first woman to exhibit at Blenheim Palace in the UK. The exhibition at Blenheim featured her legendary light projections, which she started making in the late 1990s. Here is No Work, one of nine images from her Xenon portfolio, features one of her earliest projections on the Fondazione Cini in Venice that took place over five days in June 1999. In the succeeding years these poems/texts of have been projected in public spaces in over 40 countries. Since not all admirers of Jenny's work can afford the light projection itself, this (small edition) C-print is a very accessible way to collect her work.
TED GAHL
The House In My Head, 2016
$7,000 or as low as $616/month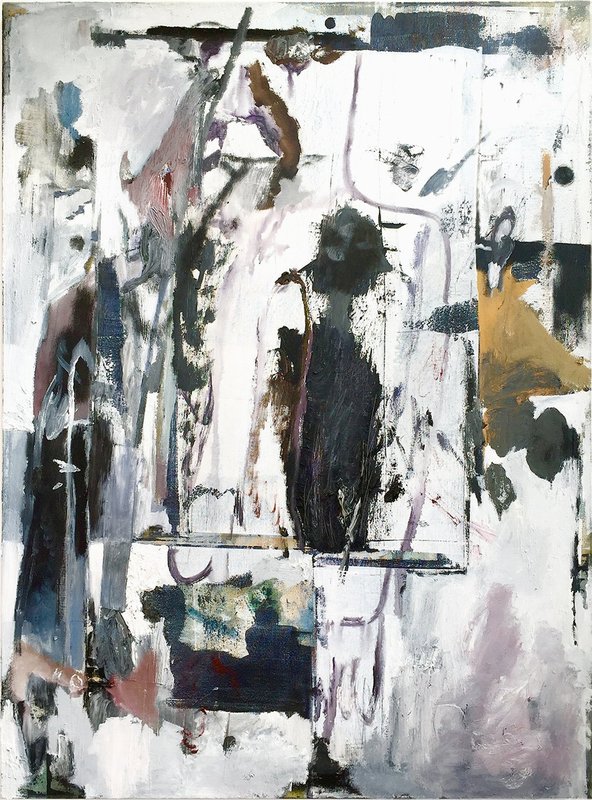 Ted Gahl masterfully shows us what paint can do. His work tests one's perception of what is abstraction and representation; whenever you think you can detect a recognizable object or figure, it is immediately absorbed by an abstract element. This work, The House In My Head, feels very personal, conveying the contemplative, even dark mood one feels at night, which is when he often paints. I first saw Gahl's work in person at NADA New York in 2015 (I know, late to the game), and have been following it ever since. He is often included in group exhibitions and has had two solo exhibitions in 2017 at Halsey McKay in New York and Romer Young in San Francisco.

JULIE MEHRETU
Haka, 2012
$3,800 or as low as $335/month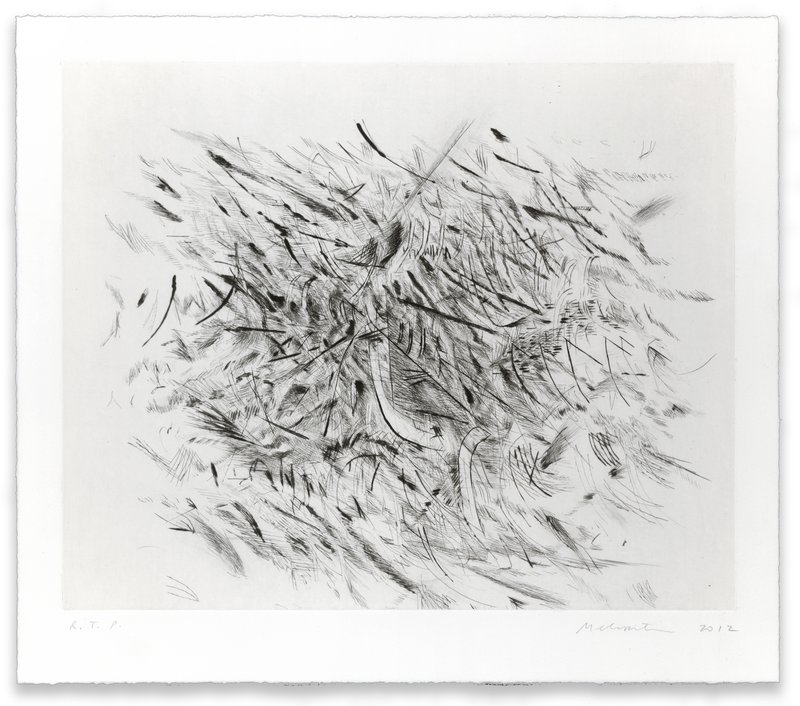 I just returned from FOG and Untitled Art Fair in San Francisco and was really impressed by Mehretu's new monumental commission for SF MOMA involving two enormous canvases that flank the staircase in the museum's atrium. (The works are an "expansive exploration of the American West—its transcendent landscapes and violent colonial history," according to SF MOMA's website.) When one thinks of Mehretu's practice, scale, force, and (geo-political) landscape immediately come to mind. Yet much of the dynamism in her work also comes from her expressive, nuanced, and explosive mark making, which is clearly emphasized in Haka (the title is a New Zealander term for an indigenous battle dance). This work is intimate in a way that is often absent when viewing her public installations, and gives viewers deeper insight into the gestural layers of her practice. (It's also worth noting that the work is part of a portfolio made to raise funds for Barak Obama's presidential campaign in 2012.) Mehretu's credentials are clearly established: she's a MacArthur Genius, her paintings have sold for over $4 million at auction, her works have been exhibited in museums around the world, and she was tapped by Goldman Sachs to create a massive mural for the lobby of its prominent New York City headquarters. If it's not clear already, this piece is a steal.
RELATED COLLECTION:
What I'd Buy
RELATED ARTICLE:
"Why I'd Buy This": Artspace Advisor Hannah Flegelman Describes the Artworks in Her Cart