We've waited all year and it's finally here: Miami's annual art week, where art world denizens of all stripes descend upon the city for a champagne-and-sales fueled bacchanalia centered around the plethora of fairs, private collection showings, and museum openings happening this week. It's all too easy to forget about food in this overstimulating maelstrom—to help avoid such an unfortunate state of affairs, we've excerpted these five fine-dining hotspots from Phaidon'sWallpaper* City Guide: Miami for your culinary pleasure.
DRUNKEN DRAGON
1424 Alton Road, T 305 397 8556, www.drunkendragon.com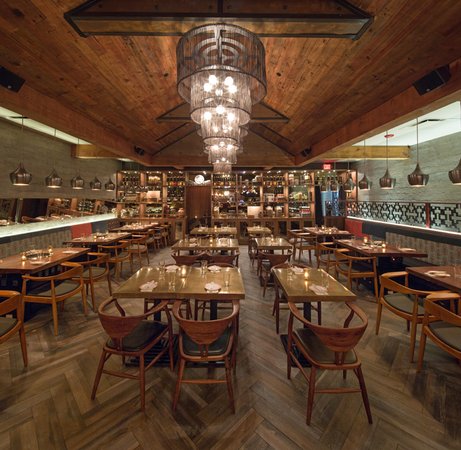 Who knows how foodies discover a place like this, since it's in a strip mall and the only sign outside says "Market" in red neon, but it has been insanely popular since its launch in 2014. The interior is all salvaged Douglas fir and rope, with wooden booths and a suspended communal table, but it's the attractive clientele—often in cocktail dresses and sipping drinks from delicate ceramic tiki beakers—who provide the decoration. Drunken Dragon comprises an English-style pub in front and Korean BBQ out back; some tables have built-in grills. The menu offers fusion fare such as lobster rolls on brioche buns, which come with a sriracha aioli, kimchi carbonara, a Vietnamese-Cuban sandwich, and great wings, all at reasonable prices. Dinner only.
MIGNONETTE
210 NE 18th Street, T 305 374 4635, www.mignonettemiami.com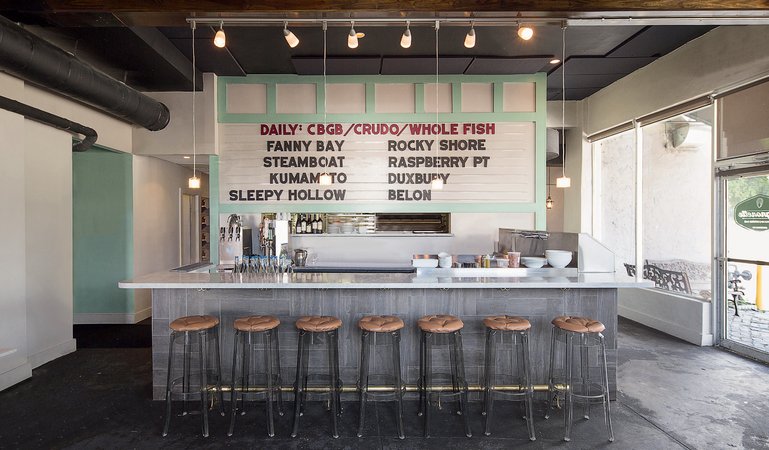 The owner of this oyster bar in a 1930s gas station, Daniel Serfer, won acclaim for
his comfort food at Blue Collar (T 305 756 0366) in the MiMo area. Here, he invades Edgewater, another part of town lacking good eateries, apart from the nearby S&S Diner (T 305 373 4291), which has hardly changed since 1938. Oyster varieties are listed on a cinema letter board and paired with the namesake sauce; throwbacks include shrimp cocktail and clams casino; and there's a lobster roll, naturally, a daily chowder, a seafood tower, a prime rib, and an Osetra caviar plate. Copper mobiles and globe pendants hang from the ceiling, while caramel banquettes skirting the brick wall look out to the cemetery, which gives green respite along this industrial stretch.
SEAGRAPE
4041 Collins Avenue, T 786 605 4043,www.seagrapemiamibeach.com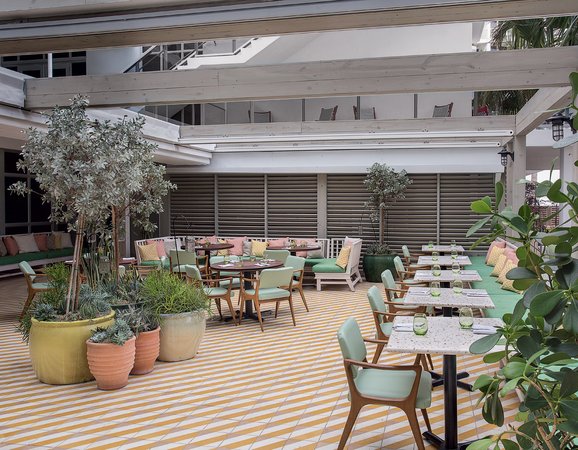 Chef Michelle Bernstein is a Miami darling thanks to bistro Cena By Michy (T 305 759 2001) and bakery Crumb on Parchment (T 305 572 9444). At her seafood palace in the Thompson hotel, done out in retro pastels with a suntrap terrace, the menu features ceviche and octopus a la plancha, in addition to her renowned short ribs and lemon-ricotta pancakes. Vegetables such as forest mushrooms, squash and black kale are sourced from local farms.
MC KITCHEN
4141 NE 2nd Avenue, T 305 456 9948, www.mckitchenmiami.com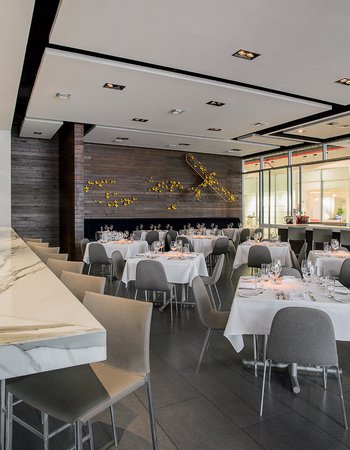 The 4141 building in the Design District is home to prestige brands including Vitra, Flos, Moroso, and Alessi, as well as this restrained Italian restaurant turning out truffle fries, pear and four cheese fiocchi, and pan-seared corvina. The subtle beige- and grey-toned interiors are enlivened by the whimsical sunflower-yellow wall sculpture (above) that takes flight from the wood paneling. Don't be disappointed if the only space available is at the marble counter that surrounds the open kitchen. It's a fine place to eavesdrop on designers talking shop, enjoy an affogato—served in a champagne glass with a scoop of caramel gelato and homemade biscotti—and grab a few words with chef Dena Marino.
CYPRESS TAVERN
3620 NE 2nd Avenue, T 305 520 5197, www.thecypressroom.com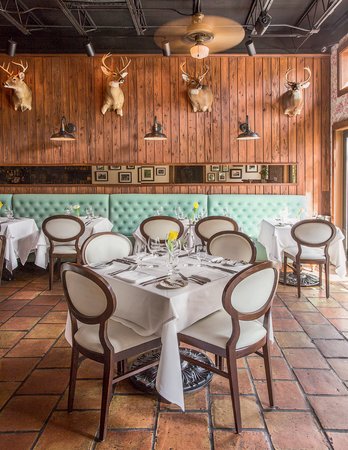 In 2007, chef Michael Schwartz opened Michael's Genuine (T 305 573 5550), a casual Design District hangout that startled locals with gourmet devilled eggs and chocolate cremoso with sea salt. As luxury brands invaded the area, Schwartz launched this elegant restaurant nearby. Cypress-wood panelling, toile wallpaper, and a mounted wild boar head evoke a 1920s hunting lodge in a Florida swamp; and it does serve plenty of meat, as well as vegetables sourced from community group Verde Farm. A refined cocktail list is based on small-batch spirits such as Miami Club Rum, which is mixed with a syrup of kaffir lime leaves picked from the kitchen garden. The ambience has "special night" written all over it.