The meteoric rise of Qatar and the United Arab Emirates from Bedouin cultures to global art hubs has been the fruit of elaborate social and political strategies, orchestrated through astonishing buying sprees at auction, the creation of Art Dubai as one of the most glamorous of all art fairs, and plans for a multitude of first-rate museums. This endeavor by two small Persian Gulf states to become a major art-world nucleus has been bankrolled by their oil-rich governments, which have made it their mission to pave unprecedented cultural ground—quite literally.
With resources and space to spare, Qatar and the UAE are currently in the full swing of royally ambitious campaigns to build encyclopedic art collections and cutting-edge institutions to house them, typically with the help of preeminent Western museums and art specialists. Not since the birth of the Guggenheim Bilbao has there been this much excitement over the proliferation of satellites museum.

In the emirate of Abu Dhabi, construction on the luxurious $27 billion Saadiyat Island includes a new Cultural District, ripe with outposts of some of the West's most venerable institutions—most notably the Guggenheim and the Louvre—as well as architectural blueprints by an ensemble of Pritzker Prize-winning architects. Meanwhile, in Doha, the Qatar Museums Authority (headed by former Christie's CEO Edward Dolman) is leading an equally bold cultural development plan to which the establishment of new museums (also designed by the likes of Western "starchitects") is pivotal.
Though these various undertakings have been riddled with postponements and recurring controversies—from infringements of workers' rights to the worrying prospect that cultural institutions are being overly commercialized—the projects are on course for a steady stream of openings between now and 2020. Here's our guide to the Gulf region's weightiest ventures.
GUGGENHEIM ABU DHABI


Location: Saadiyat Island, Abu Dhabi, UAE
Starchitect: Frank Gehry
Expected Date of Completion: 2017

Architectural Concept: Gehry's plans for the Guggenheim's Middle Eastern outpost are titanic, projecting an institution 12 times the size of its New York sister. The plot for this behemoth is a new man-made island just off Saadiyat Island's coastline, and Gehry's deliberately "messy" concept consists of colossal blue glass cones and building-block formations that will encircle the structure, seemingly colliding at its apex—an echo of Ottoman architecture and treasured structures such as the Suleymaniye Mosque in Istanbul, Turkey.

Collections and Exhibitions: A squad of New York-based curators is amassing an extensive collection of modern and contemporary art from the 1960s to the present. Exhibitions will contextualize Emeriti art and that of the surrounding region within the history and development of the global art world.
LOUVRE ABU DHABI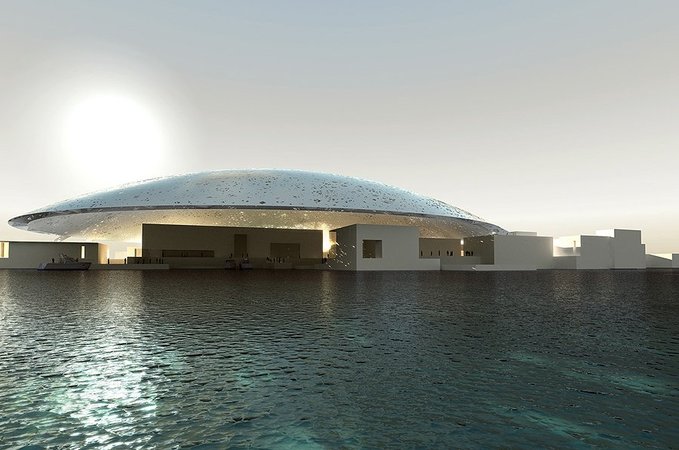 Location: Saadiyat Island, Abu Dhabi, UAE
Starchitect: Jean Nouvel
Expected Date of Completion: 2015
Architectural Concept: Drawing inspiration from classic Middle Eastern imagery—mosques, trees in an oasis, and light filtering into a souq (a covered bazaar)—Nouvel's plans for the Louvre Abu Dhabi feature a gigantic overlying and perforated dome. Under it, Nouvel intends to offer a public space, wherein light will stream through the dome's canopy and create what he calls "a sort of microclimate protected by a big umbrella."
Collections and Exhibitions: In addition to establishing its own Abu Dhabi Louvre collection, the emirate has entered into a historic contract with the French government and secured lending privileges from three of Paris's most esteemed institutions: in addition to the Musée du Louvre, the world-class collections of the Musée d'Orsay and Centre Pompidou will be accessible to Abu Dhabi curators. As such, the Louvre Abu Dhabi is being billed as the "first universal museum in the Arab world" and is expected to exhibit art and objects from cultures and civilizations throughout the globe, from antiquity to the present.
ZAYED NATIONAL MUSEUM, ABU DHABI

Location: Saadiyat Island, Abu Dhabi, UAE
Starchitect: Foster + Partners
Date of Completion: Expected 2016

Architectural Concept: In preparation for this project, architect Norman Foster extensively studied the Arab world's rich architectural history, deeply rooted cultural traditions, and harsh geographical terrain. The museum's namesake, Sheikh Zayed bin Sultan Al Nahyan, is credited with "greening the desert;" Foster's blueprints therefore incorporate a lush mound, upon which a flock of slanted "wind towers"—which suggest flight and aerial movement—serve as a nod to the region's (and the royals') traditional practice of falconry.

Collections and Exhibitions: The Zayed National Museum's programming will emphasize the life and achievements of Sheikh Zayed bin Sultan Al Nahyan, as well as the history, traditions, and culture of the UAE. The British Museum in London is aiding in the launch of the museum and has furthermore been tapped as primary partner, chief consultant, and occasional lender.
THE PERFORMING ARTS CENTER, ABU DHABI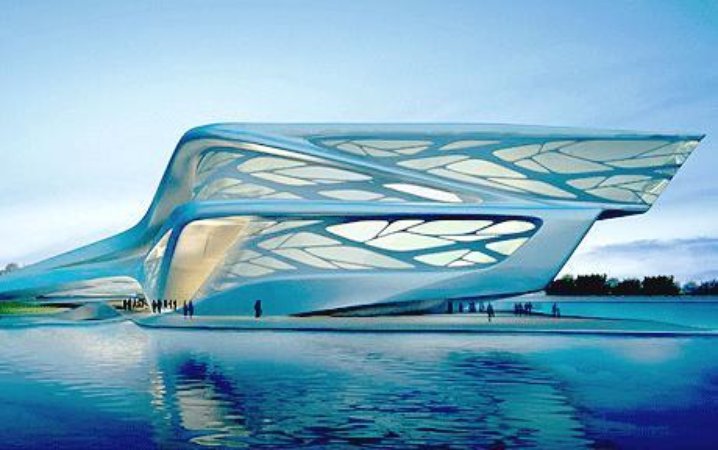 Location: Saadiyat Island, Abu Dhabi, UAE
Starchitect: Zaha Hadid
Expected Date of Completion: Part of Saadiyat Island's second phase of development; a completion date has not been confirmed.
Architectural Concept: Home to five theaters, a music hall, a concert hall, and an opera house, the Performance Art Center building is conceived as a fluid and organic form. Drawing from the Cultural District's planned sidewalks, Hadid's design incorporate ramps that naturally extend from the area's pathways and direct visitors to various performance spaces, chambers that the architect considers as "fruits on the vine" of the larger structure.

Programming: The Performing Arts Center will be a multipurpose space in which all forms of music, dance, and theater—from different cultures and traditions from across the globe—will be highlighted. The structure will also house an academy of performing arts, intended to support and develop the Gulf region's budding talents.
MARITIME MUSEUM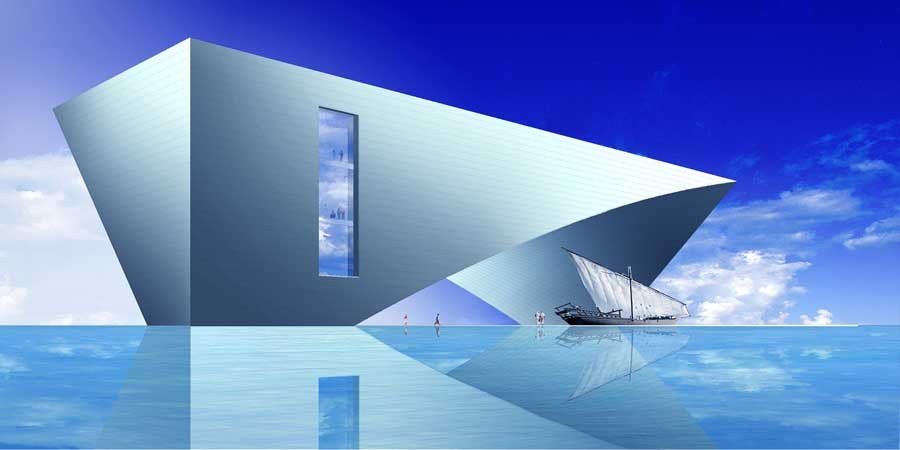 Location: Saadiyat Island, Abu Dhabi, UAE
Starchitect: Tadao Ando
Expected Date of Completion: Unconfirmed

Architectural Concept: The simple, gate-like curvature of the Maritime Museum's design is intended to evoke a sail full of wind and shelters a vast "water court." Ando's plans directly engage the Persian Gulf, and this multilevel structure will both rise above and extend below the water line: while a traditional dhow will float underneath the gate, the reception hall, complete with an enormous aquarium, will be erected underwater.

Collections/Exhibitions: Exhibitions will center on the Emiratis' relationship with the Persian Gulf and the region's impressive seafaring history. Programing will accordingly explore common vocations such as dhow making, pearl diving, and fishing—the sources of living for many of the region's communities—as well as the Emirates' important geographical location at the crossroads of numerous trade routes.
THE MUSEUM OF ISLAMIC ART

Location: Doha, Qatar
Starchitect: I.M. Pei
Date of Completion: 2008

Architectural Concept: Located on a manmade island just off the Qatari capital's shores, Pei's museum is composed of stacked, unadorned, and Cubist-inspired geometric forms (concerned about future building around the museum, Pei proposed this stand-alone location). For inspiration, Pei looked to traditional Islamic architecture—defense and fortress designs, as well as Cairo's Ibn Tulun Mosque—and sought to create a cream-colored limestone building that would reflect changes in sunlight.

Collections/Exhibitions: Since the 1980s, the Qatari ruling family, the Al Thanis, has been amassing the institution's extensive collection of Islamic art. Including ceramics, glass works, manuscripts, metalwork, textiles, and jewelry, the objects in the collection together tell the story of the Islamic world, as it spans from Spain and Egypt to Iraq, Iran, Turkey, Central Asia, and, of course, the Gulf region.
MATHAF: ARAB MUSEUM OF MODERN ART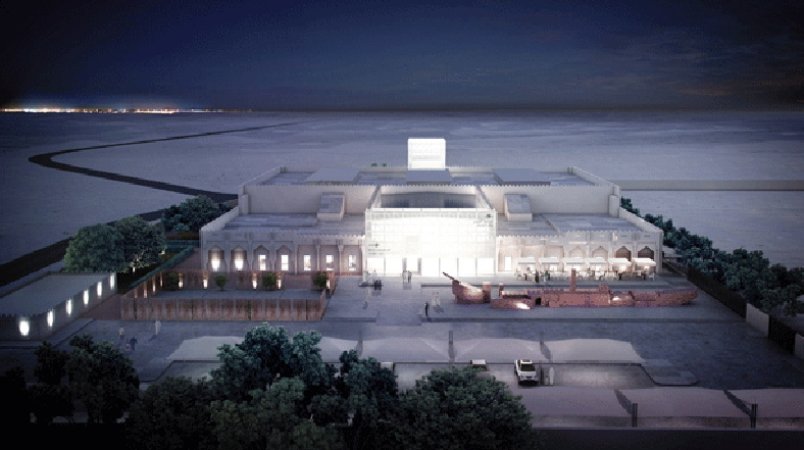 Location: Doha, Qatar
Starchitect: Jean-François Bodin
Date of Completion: 2010

Architectural Concept: The Mathaf is housed in a former school near Doha's Education City, which Bodin redesigned in the late aughts. In addition to extensive gallery space, the building houses an education wing and a large research library.

Collection/Exhibition: Patron and founder H.E. Sheikh Hassan bin Mohamed bin Ali Al Thani built a vast collection of modern Arab art (from every Arab country) that dates from the mid-19th century to the present and bridges mediums like painting, sculpture, and works on paper. Today, the museum explores and celebrates modern and contemporary art with a particular Arab perspective on global art.
NATIONAL MUSEUM OF QATAR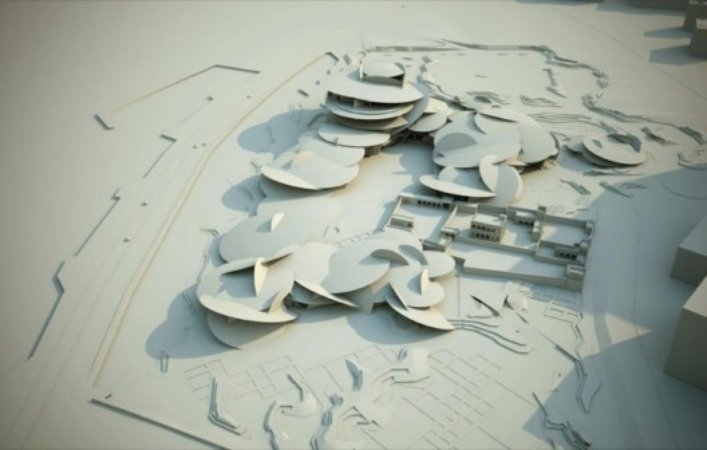 Location: Doha, Qatar
Starchitect: Jean Nouvel
Date of Completion: Expected December 2014

Architectural Concept: For this monumental museum, Nouvel found inspiration in both Bedouin culture and a microscopic phenomenon: sand crystallization. His tan-colored, intersecting disks and interlocking pavilions therefore embraced the color and shape of so-called "desert roses", as they seemingly crystalize outward from the museum's original building—a restored early 20th-century palace—at its center.

Collection/Exhibition: A showcase of Qatari culture, the museum's collections and exhibitions narrate the story of the Qatari people through Bedouin artifacts, narratives of tribal conflict, and the history of the establishment of the Qatari state. It's rumored Paul Cézanne's 1895 masterpiece The Card Players, for which Sheikha Al-Mayass paid some $250 million at auction, will be displayed at the National Museum of Qatar.