For Catherine Opie, the personal is often political. Throughout her career this acclaimed fine art photographer has patched together an insightful, detailed portrait of the United States, via her own carefully studied, exquisitely executed portrait and landscape images of the country's diverse communities.
Opie's images include surfers and high school football players, strip malls, ice fishing huts, swamps and national parks, as well as individuals and locations on the edges of American society, such as trans men and women, S&M enthusiasts, and protest marches. In each case, Opie's images seem to simultaneously advocate and document, appearing to remain impartial, while clearly making a stand on one side of the political divide.

In this interview, the LA-based photographer discusses her moving, beautiful 2017 photograph of the Women's March in Los Angeles.This limited edition photograph is available to buy now at Artspace. Read on to learn about how Opie went about taking this shot, how her attitude to marches is changing, as well as why she hopes to document police coercion at big, public protests, and the circumstances under which she met the seminal Californian activist Angela Davis.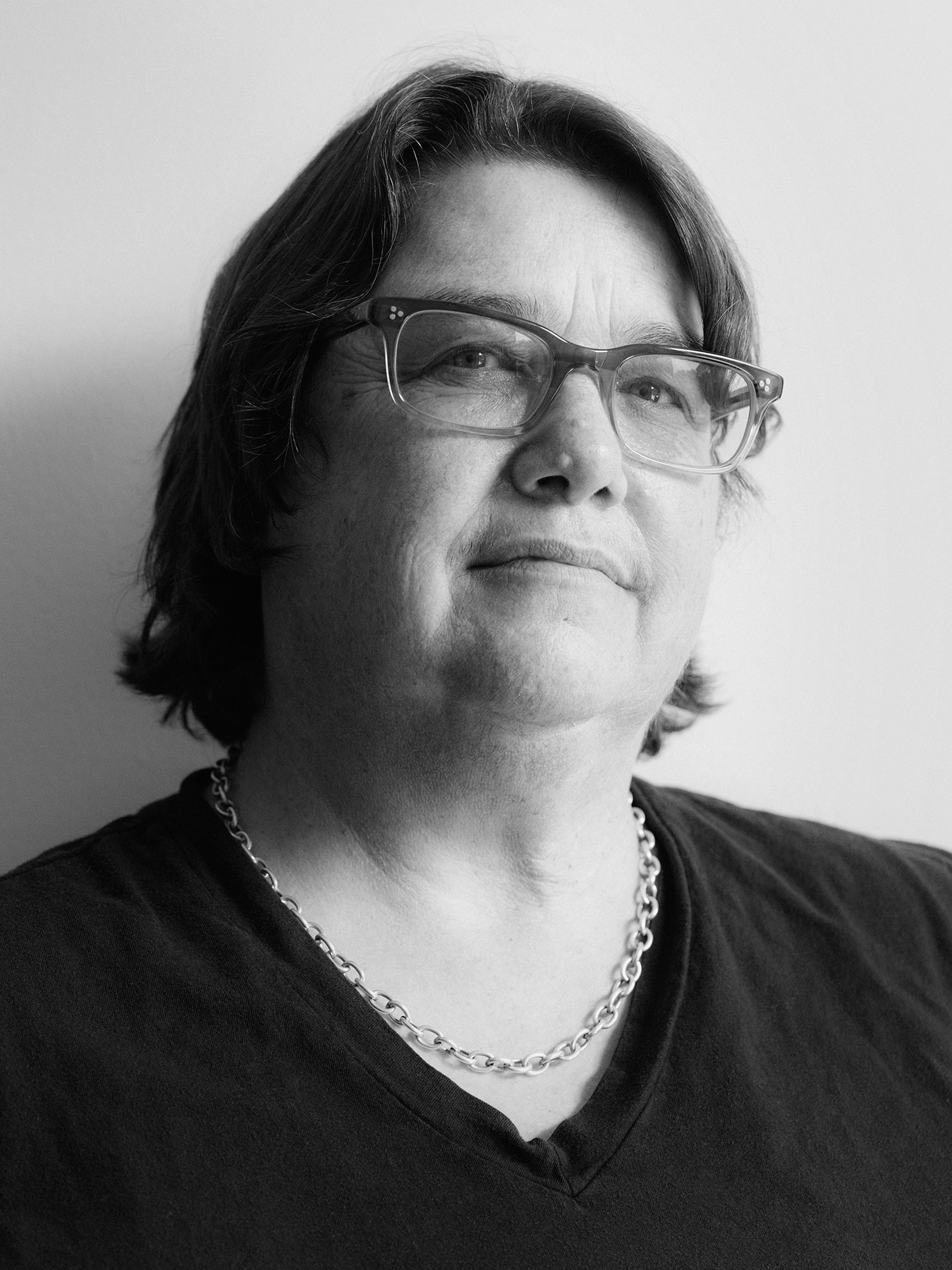 Catherine Opie photographed by Dustin Aksland
What do you remember of the day you made this photograph? It was the first women's march after Trump was elected. All through America, women took to the streets in protest and it was massive. The light was incredible that morning. It was one of those crisp January skies - an LA winter morning - and light was refracting everywhere. I don't know how many people turned up but it was an incredible sight. And it wasn't just the US, it was throughout the world.
How do you tend to shoot events like this? I always end up at these marches at the front, because I like to photograph the marchers as they pass me, and make a kind of sequence with that. But this day I ended up being the person who was helping the march go on. Because everyone was discombobulated. I've done a lot of Gay Pride parades in terms of organising, so somehow I ended up with a safety vest. After a while I was like, no! I can't do this; I've got to make my work!
Is it hard to keep your documentarian head on while you're juggling the emotions such a day throws up? Yeah, this was obviously such a personal march, in terms of being a woman, but all marches in my mind are personal - except for when I'm maybe photographing a Tea Party rally! I remember thinking, wow there are so many people I don't know how to look at this. So I just shot the sequence of the marchers passing me, which I included in the Berkley Art Museum show. I think it was 4 to 5 marches that I did in that format and that was shown this past year during the election.
When you get that movement of people passing you, you want to look at all aspects of it and how it spills out into the city. I love it when [the people in] a city takes over their streets. It was the same with the Black Lives Matter protests. I wouldn't have started the last body of work in 2020 that I'm finishing up in the studio now, without beginning to attend in protest, as well as photograph, Black Lives Matter.
What made you hit the shutter button at that exact moment? The march at this point had finished and everyone was gathering round to hear the speakers on the federal courthouse steps – actually, I had just installed a huge piece in that courthouse. And the steps and the way that the light was reflecting off the building across the street you just turn and you're like OK there's this amazing person holding this sign. I was reacting to what she was holding up. It was just a beautiful moment. And because the edition was to accompany Great Women Artists, a Phaidon book of women artists I thought it was really, really appropriate to propose this image with the woman holding up the sign. Believe it or not my early philosophy teacher in art school in the Eighties was Angela Davis. So I very aware of what it means to hold up a sign with that quote.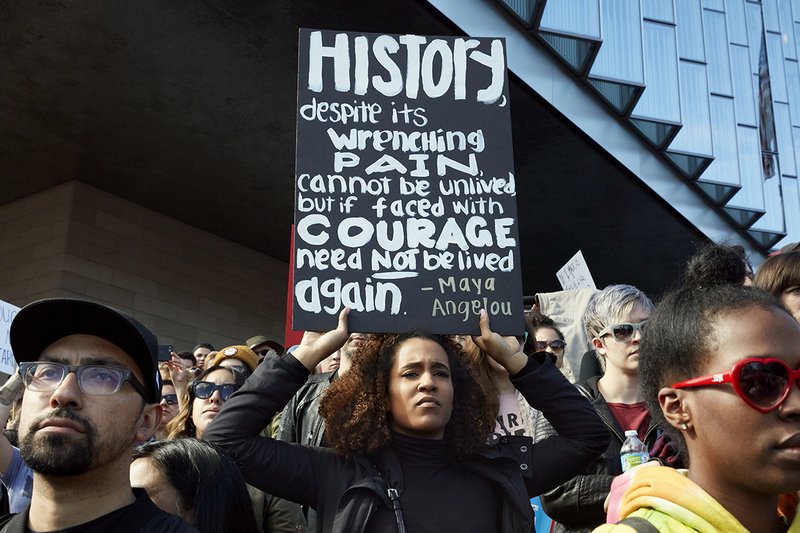 Catherine Opie - Herstory, Women's March, 2017 - This limited edition photograph is available to buy now at Artspace
Where would you say this particular photo fits in your practice? I kind of started out as a street photographer in San Francisco and I think when I started going back and photographing marches in the latter part of the nineties I didn't need to empty out American cities any more. I had done that and that really a city needs to show this relationship to democracy in terms of citizenship and our rights and how we fight for democracy. So I went back into my street photographer mode. This kind of roaming, looking, capturing and editing – you make a lot of pictures and then you edit.
Are you conscious that people might amplify their actions when they spot a camera? I don't necessarily want people to play up to the camera but I don't want them to be offended by the camera in their face. I think that fact that I was wearing a safety vest they thought that I was press. I kept the safety vest on and I'll be honest with you, and this is horrible to admit in an interview, I have made myself fake press badges for these kinds of situations. If I look like I'm part of the media in some ways it's not about getting them to perform for me it's about getting them to feel safer in the situation of street photography. And to let them know that I'm not there to abuse the image in some way. I'm there to celebrate what's taking place.
You're probably more in danger with a press badge than without! Exactly! I saw that happen at the Black Lives Matter rally – it was incredible to watch how the police blocked us in. I literally saw the structure of how they set it up in order for it to become violent. They plant empty police cars in the street without police officers in them and then they surround you so you have nowhere to go and then they start firing tear gas and rubber bullets upon you and then people start vandalising the police cars and that then creates more ability for their use of excessive force. I really think that it's staged in this way. One day maybe I'll stop photographing people protesting and look at the structure of what the police do to lock us in to create civil disobedience to then control the right to protest.
Catherine Opie's limited edition Herstory, Women's March, 2017 full color digital archival print on photo lustre 260 is available to buy now at Artspace.