Few of us can claim to have had as productive a lockdown as Klaus Biesenbach, Director of the Museum of Contemporary Art LA.
After a stellar career at the Museum of Modern Art in New York, the German-born curator took up his position at LA's MOCA in 2018. Under Biesenbach's guidance, the West Coast museum has established its performance art program, Wonmi's Warehouse; installed billboard-sized panels on the Geffen Contemporary, displaying works by Barbara Kruger; and removed MOCA's admission charges, allowing free access to art lovers from across the world.
With a scheduled reopening date of 3 June, there are also plans for an expanded sculpture park outside the Geffen's entrance; a Pipilotti Rist exhibition this coming autumn (the first West Coast retrospective for the artist who Biesenbach championed as part of a series of groundbreaking exhibitions while at MoMA); as well as a summer 2021 show by the acclaimed New York painter, Jennifer Packer.
Yet this doesn't quite describe the limits of his achievements. During the pandemic, Biesenbach also found time to host a huge number of entertaining and revealing Zoom studio visits and interviews with artists from his home in Los Angeles where he lives with no art, little furniture and his pet goose Cupcakes.
This week, Artspace is pleased to announce a series of limited edition prints with such prominent contemporary artists as Huma Bhabha and Camille Henrot, created with MOCA LA and borne out of the online studio visits Biesenbach hosted.
"As I did each studio visit on Zoom, it reminded me of the visits I had had in person with the artist," Biesenbach told Artspace. "For example, I remember visiting Huma Bhabha in Poughkeepsie, in upstate New York, and I looked at how she was drawing, and watercoloring onto photographs. And I remembered being with Camille Henrot in New York and looking at her watercolors too.
"So I felt that, along the lines of the Zoom studio visits – in which we had these moments of conversation with the artists that were shared with a larger audience, making them accessible, we could maybe do something similar with an edition.
"I thought it would be really great if there could be a piece from each artist that's accessible, like the studio visits are accessible. So we started talking, and both Huma and Camille were incredibly open and generous to think about what could actually be a piece, that, like the studio visits, could be out there in the world, more than just once.
"We had a few virtual meetings, there were a few proposals, and a dialogue resulted. There were definitely a couple of different directions we explored, but with every art project this is all part of the process that ends with an incredible selection. And I'm very excited about the editions that have resulted."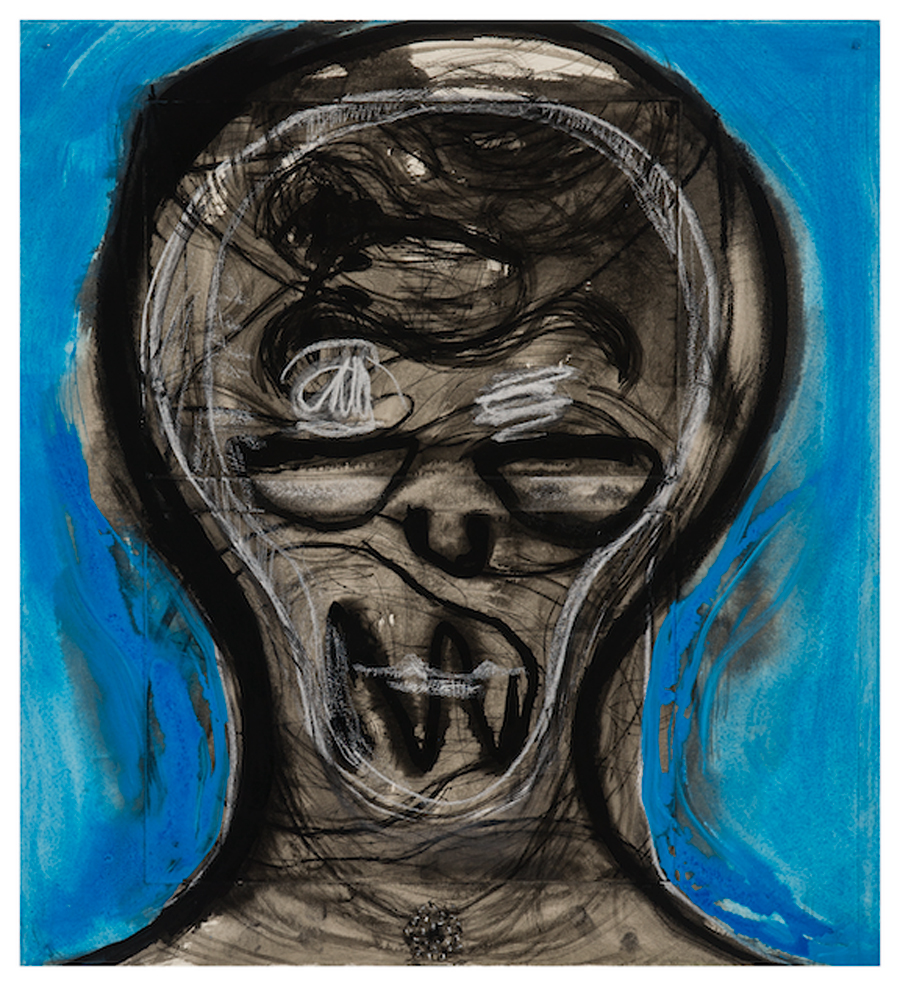 Huma Bhabha - Untitled , 2021. Digital archival print on Epson Hot Press Natural 330g/m2 paper 20.88 x 19.00 in 53.0 x 48.3 cm Edition of 50 Signed and numbered by the Artist on front
You pulled in around 26 of these interviews, incredible in such a short space of time, had you had the idea for a while? I literally had never thought about doing Zoom before the pandemic! I didn't know Zoom existed. I was that person who wouldn't do Skype and Facetime! I think the first thing I did when the pandemic kept us at home was to get a telephone conference line. I began contacting artists, basically just to ask them how they were and how they were dealing with the pandemic. You know, they're as much your role models as they are your friends and your peers. And then Zoom popped up and I think, within a couple of days, it was clear to me that Zoom could be a great tool for studio visits. I wanted something that was focused on works of art, and you can really have a detail of the work or one work over the whole screen which I felt was actually a bit like the experience of when you are in a studio and you are up close to the work.
The visits were a little like a retrospective, where you brought together pieces from different periods of an artist's career. . . Yes. They were a bit of a pre-career glimpse of what an artist did before being a professional artist, then early work leading to a career survey - and then a glance looking into the future - and then like a visit in person where you can focus on a specific work or practice, and ask the artist lots of questions, and then you have the artist's thoughts coming through.
"The artists basically spent two hours speaking in a direct, unfiltered way about their thoughts, motivations, challenges, goals; where they're going and what the work means for them. I'm very grateful and feel privileged that I was in and could share this position and that these artists were willing to do this.
"I think we did 26 studio visits in a year which, if you think about it, is two a month and they were very intensely prepared. It's definitely a chapter in my way of getting to get to know artists, sharing their practice with a small group of people who came on Zoom but always thinking and having in mind that it has to be understandable for a larger audience on YouTube.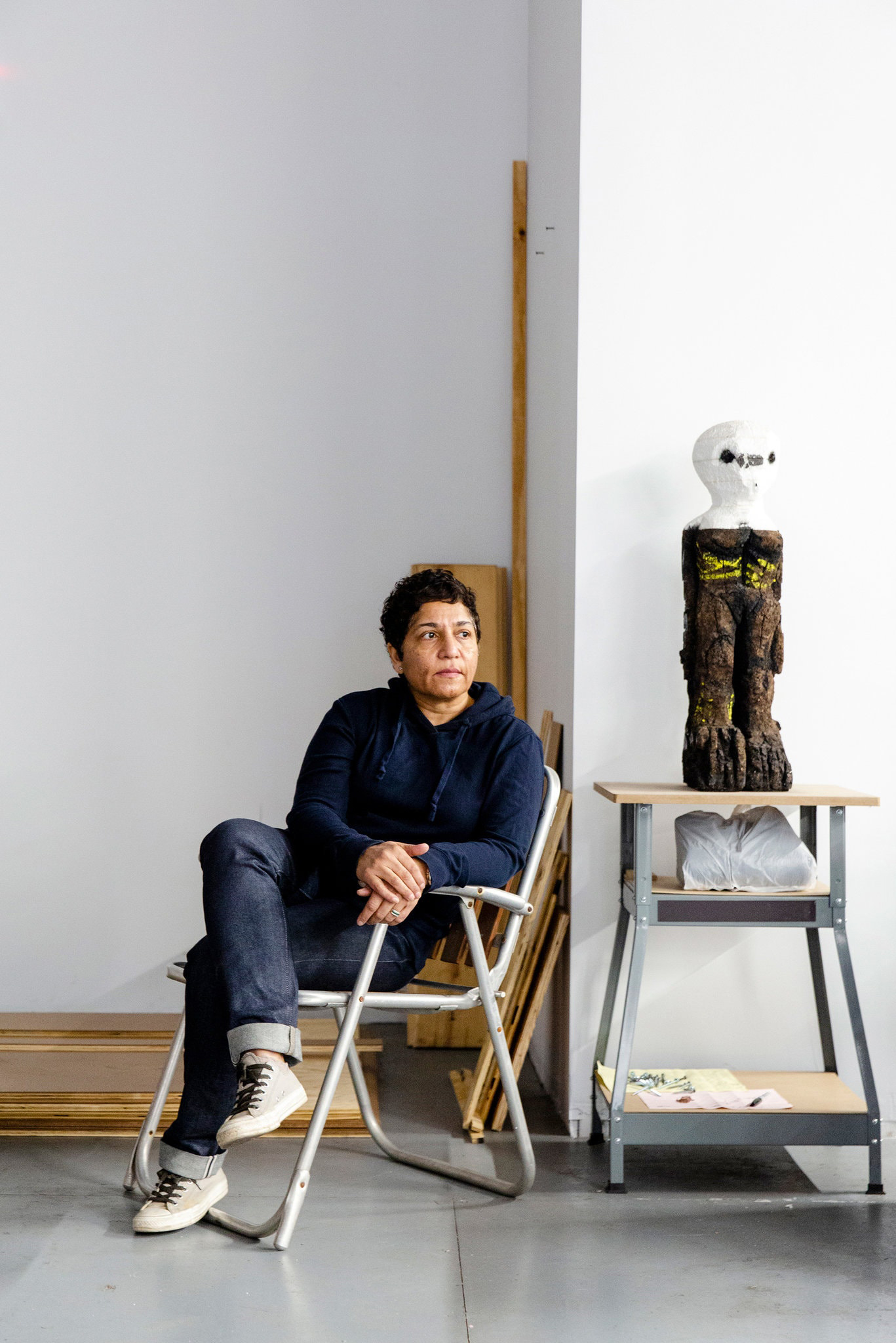 And you brought a curatorial eye as much as a a journalistic inquisitiveness? "I think as a curator you always try to enable what the artist is dreaming of. Art is anticipating but it's also creating what is yet to come. I think art is also about faith and hope. Art is investing a strong belief in that we are all working together, all creating together. I think it has been a huge lifeline."
Did you ever buy artist editions yourself? I don't buy any editions and I don't acquire or collect any art. I made a decision decades ago to be free in my decisions and not think about what I have bought and what the value might be. I want to be very independent in my choices and very independent from the material aspect of art. If you start this as a principle early on then you can actually follow through with it. However, when I think about getting older it might have been a really big mistake! But it was a decision I think I made on principle and I have followed it.
What initially fired your love of art? For me there were no art museums, no art galleries. I lived in the countryside in Kürten, 40 miles from Düsseldorf where Joseph Beuys taught his master-classes. I had a great art teacher who, when he was teaching us kids, was at the same time a masterclass student of Joseph Beuys. So I grew up thinking that art is political, art is ecological, art is civil disobedience, art is Utopian and art is the responsibility to create the world we live in.
So while I didn't grow up around art, and while there were no art museums or art galleries, I had a great and interesting art education. And the ecological, the political, the performative, are definitely very important ideas for me in understanding art today.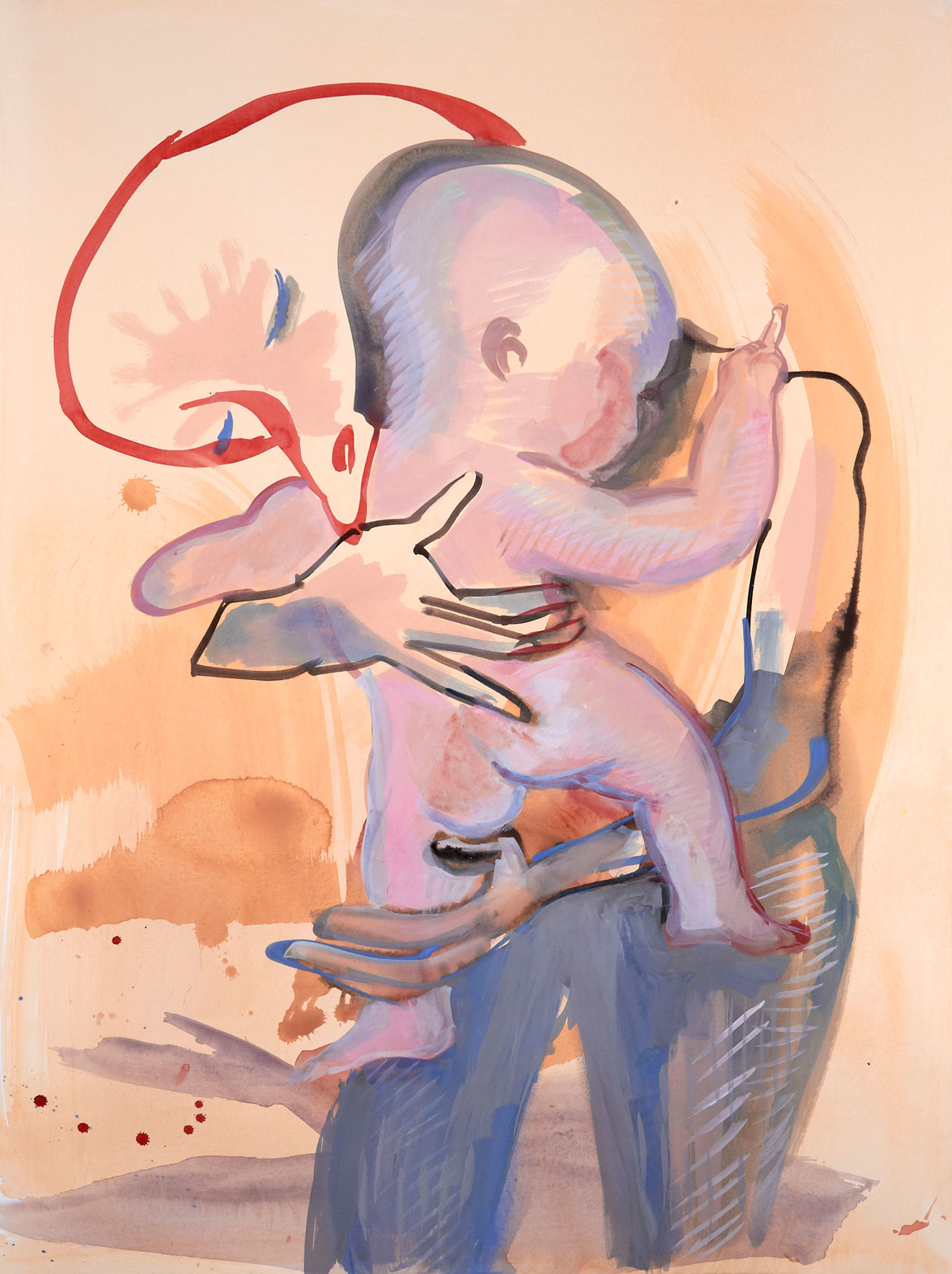 Camille Henrot - Mother Tongue, 2020 - Watercolor on paper / Aquarelle sur papier 24 x 18 inches Courtesy of the artist
But you originally studied medicine, yes? Yes, I studied medicine and I thought that was the way to go. Then basically, in 1989, the Berlin Wall fell and, at that time, I was in New York and I saw on the television the protests in Prague and Budapest and Leipzig and I thought I had to go back. I tried to work as an intern in a gallery in Berlin and I tried to find an apartment but you couldn't find anything in West Berlin because everybody was there at that moment. I declared myself as an intern at the Eastern cultural government and that was the beginning of KW (an experiment in communal working and living in a former factory that became the Kunst-Werke Institute for Contemporary Art) and the Berlin Biennale.
And so I did medical school during the day for income - for quite a while - and I did KW and the Berlin Biennale as a labor of love and a vocation.
The last year has been tough on the artworld but that Beuysian outlook on art has seemed to inform and carry you through. Do you see it as a sort of salvation in a way? I do think very much of Joseph Beuys in a way that Art is anticipating while it is also creating what is yet to come.
Who are the artists you see around you in LA you think are part of this Utopian approach? In LA Lauren Halsey is not only a great sculptor and visual artist in general, but she is also doing this large project titled Summaeverythang which is intended to be a social space and a community center, and is distributing food in response to the pandemic and the social inequality of resources. I think her work is incredible. I think Anicka Yi is also a very groundbreaking artist, connecting art and science and the empirical, the aesthetic and spiritual level of our being - both our existence in society and our being as a body, organism, mind and individual. These are two artists who I think are really breaking ground right now.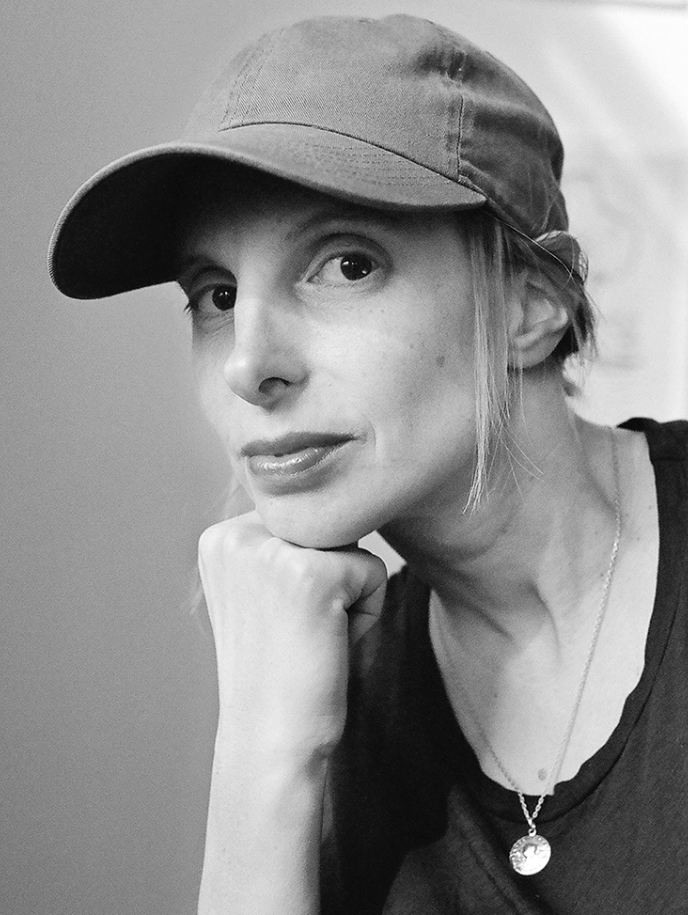 Camille Henrot - photo by Maria Fonti
Finally, how is Cupcakes doing? She is doing really well and she never had so much time with me and the same for me! Maybe you heard her possibly when I walked with the computer from one room to the other. She just turned four-years-old. She had both her third and her fourth birthdays during the pandemic.
How did you celebrate? She got special food, she got kale. She loves kale. I incubated her out of an egg that I bought online. It was in bubble wrap in the package when it arrived, then the incubator, and then she hatched on April 1, 2017.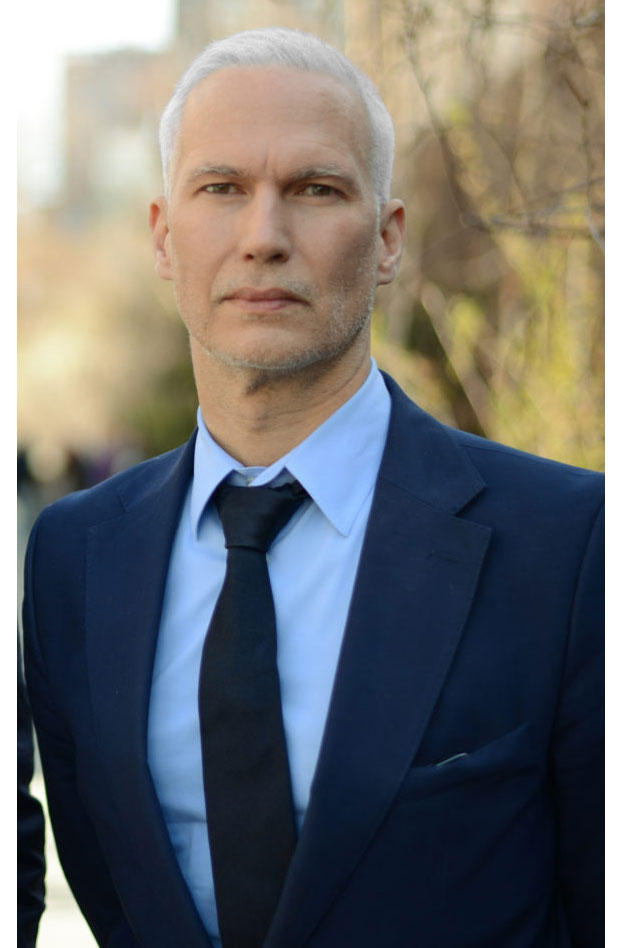 MOCA Director Klaus Biesenbach
Camille Henrot's new Artspace edition in association with MOCA LA, entitled Mother Tongue , upsets the traditional motherhood tropes, in a terrifying, yet toothsome image. You can buy Henrot's new print here , and view many more of her works here ; Camille Henrot's show Mother Tongue at Kestnergesellschaft in Hanover, Germany , opened last month and runs through August.
Untitled, 2021, Bhabha's new Artspace & Phaidon edition in association with MOCA LA, is an example of the haunted human figures, dominant in her work,  that hover between abstraction and figuration, monumentality and entropy. Created exclusively to benefit MOCA through a unique Artspace editions initiative, proceeds from the sale of Untitled, 2021 will support programming at the museum for the coming year. You can buy Huma Bhabha's new print here and view more of her works here .