Liz Hopfan has experienced the positive power of early exposure to art first-hand. The Founder and Executive Director of the youth arts mentoring and education charity, Free Arts NYC, grew up close to New York City, and would visit Manhattan's galleries, museums and theaters with her parents as a child. She also understands how the patient tutoring in arts and culture can change people's lives, not only via her work at Free Arts NYC, but also in her earlier role, as a second-grade teacher.

Now, in her current capacity, Hopfan empowers underserved youth through Free Arts NYC's successful arts and mentoring programs, to develop their creativity, confidence, and skills to succeed. In this interview, published to coincide with Devin Troy Strother's Grateful Dead Afro Cat Show, 2021, Artspace's new fund-raising edition with Free Arts, Hopfan describes her charity's work, her own fine-art tastes and predilections, and how Covid has widened income gaps among the youth of the city.
Collaboration is a big part of what Free Arts NYC does but has that changed over the last year? Collaboration has always been a huge part of Free Arts NYC, although I sometimes think the artist is doing something and Free Arts is benefitting from it! In response to the crisis and uncertainty of this year, our creative community uniquely stepped up in significant ways to support our programs. We're committed to being the creative resource for thousands of youth every year, and couldn't succeed in this goal without the support of our partners. Artists, small businesses, and companies such as Marc Jacobs, Mike Perry, KAWS and Julia Chiang, Modernica, and Futura created initiatives to raise awareness of Free Arts NYC, funding for our programs, and supplies for our youth.
What was the moment for you when your realised art can make a big difference? I grew up right outside of New York City, and as a family we came here all of the time to go to museums, Broadway shows, and ballets at Lincoln Center. It was always a part of my life. I guess I took it for granted. I don't think I realized how important art can be in your life until I saw kids who didn't have access to it. I wanted to level the playing field and create opportunities for young people to make art a part of their life too.
Talk us through the Artspace collaboration with Devin Troy Strother.We're really excited about it! Devin is an incredible artist whose work is admired by the youth in our program and so we're honored that he is doing this print release in support of Free Arts NYC.
He's been working on a series of cat paintings and this print is from that body of work. I like the sarcasm in it, I like the colors, I really like his hand touching. I'm going to find a place in my new place for it! I think it's totally cool. And the timing ended up working really well. If people reading this are in NYC they should absolutely go see Devin's solo show (which features works from his cat series) at Broadway Gallery which opened on May 22nd! In terms of other artists that I'm happy to see featured on Artspace - We are thrilled to be among one of Artspace's non-profit partners, among other amazing organizations and artists like RxART, Marcel Dzama and Public Art Fund and Rob Pruitt, both of whom have supported Free Arts as well.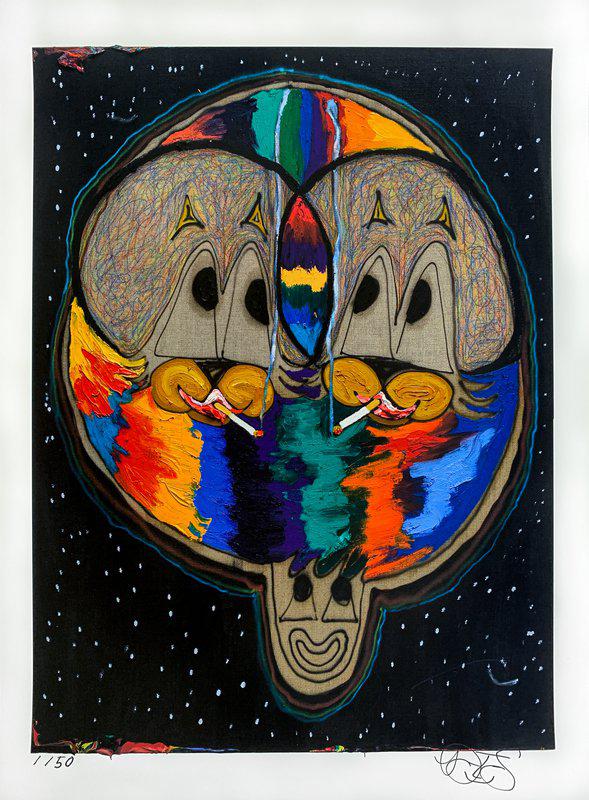 Devin Troy Strother. Grateful Dead Afro Cat Show, 2021. Digital archival print and paint marker on Epson Hot Press Natural 330g/m2 paper. 24 x 18 inches. Edition of 50 plus 5 APs. Hand-embellished, signed and numbered on front. $1,000 unframed / $1,250 framed
What is the most important aspect of Free Arts NYC's work? There are so many things that are important to me about Free Arts. I started this 23 years ago because as a teacher, I saw that art and mentorship were missing in so many kids' lives. Over the years, Free Arts NYC has evolved to not only supply art materials, education, classes, and mentorship, but also champion access and opportunity to help kids understand that their love of art, creativity, and talent can result in a professional career and acceptances to schools like Laguardia, High School of Art and Design, Pratt, SVA, and Princeton. Throughout COVID-19 we were able to maintain our programming with the Department of Homeless Services as their only consistent recreational partner. We believe in the power of creativity and understand how valuable it can be as a coping mechanism.
Your background is in teaching – what did it teach you about the art world and how to prepare for it? That is a really interesting question, and one I have never been asked! I taught 2nd grade for 5 years. I think it taught me how important it was to incorporate art and creativity into every lesson plan - even if it was something like math or science. Creative thinking is crucial for so many other areas of life, and art is an incredible vehicle to teach that skill for young people.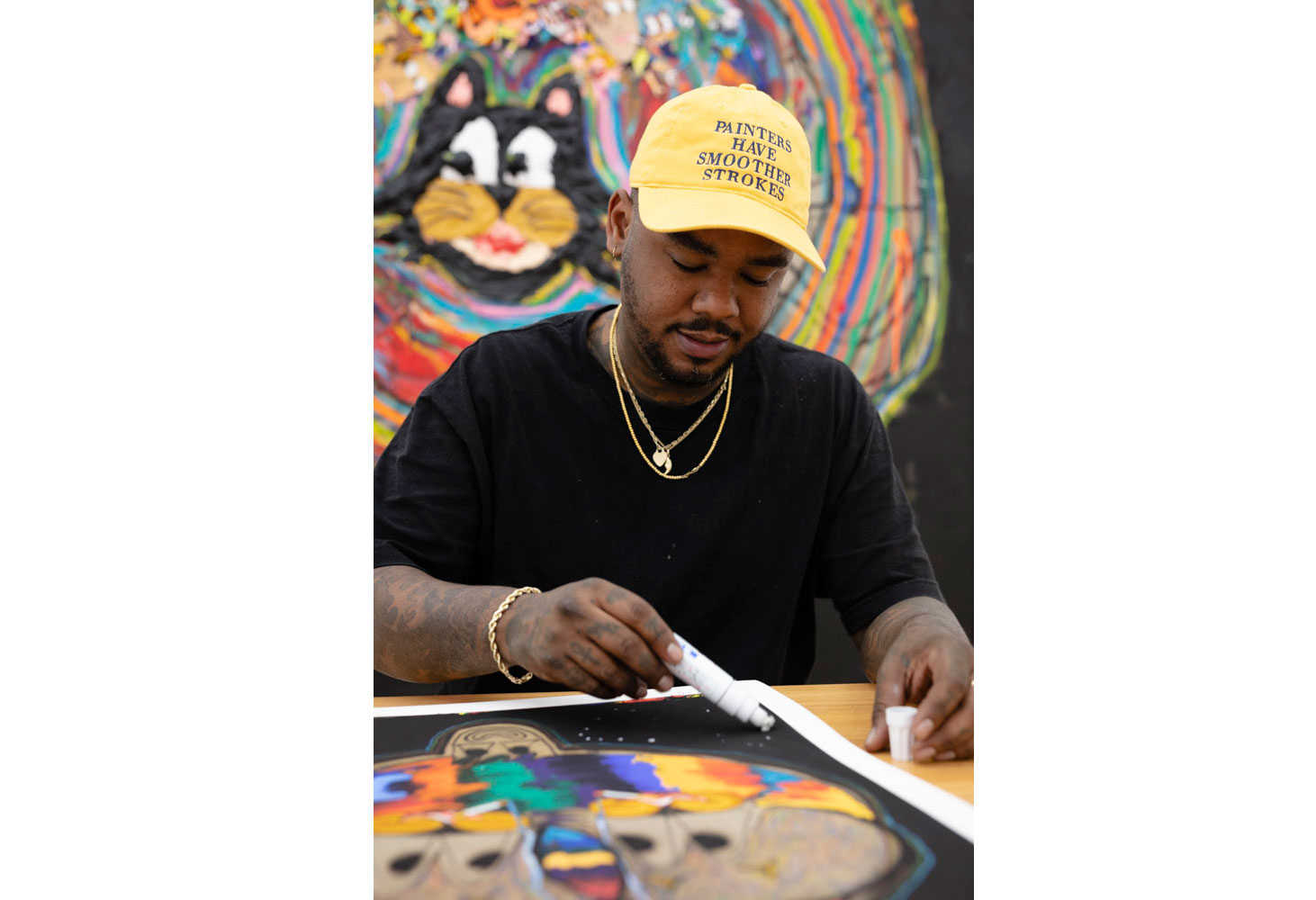 Devin Troy Strother hand embellishing his Artspace & Free Arts NYC edition - photo by Lance Brewer
What are your own art tastes like? I love that I have had the opportunity to meet and collect many of the artists who have been so generous and supportive of our mission. Some of my favorite works in my collection include a 20" x 24" Polaroid photograph by Alex Katz, work by Nate Lowman, Eric Haze, and Friends With You. More so than ever, I am excited to focus on supporting the teens in our programs and the next generation. I just bought a photograph and painting from two of our teens.
Do you see a longterm pandemic impact on the kids you work with? The pandemic and everything that is happening right now has highlighted the disparities that exist for so many young people throughout NYC. I think the biggest disparity we noticed was the digital divide, the lack of access to technology, a sound wi-fi that's consistent. Here in New York City we work with about 17 different shelters from the department of homeless services. We had a lot of companies who would pay to put wi-fi in the shelter and you can't do it because it's a public building. A year on they still haven't wired up these shelters.
Budget cuts to arts education loom as questions remain over what the next school year will look like, and many children continue to be disadvantaged by the digital divide. I'm proud of our COVID-19 response; we thought on our feet but with an eye toward longterm success and stability for our students. We've worked with dozens of partners to rethink our work together and we've remained committed to our students and programs.
What can Artspace readers do to help? As a nonprofit, we are always grateful for additional support. We hope collectors buy Devin's print Grateful Dead Afro Cat Show, 2021 and show their support for his work and what we do! We just launched our monthly giving program, which is an easy way to consistently make an impact. Readers can visit our website www.freeartsnyc.org, sign up for our mailing list, or follow us on Instagram @freeartsnyc to learn more about our programs and how you can get involved.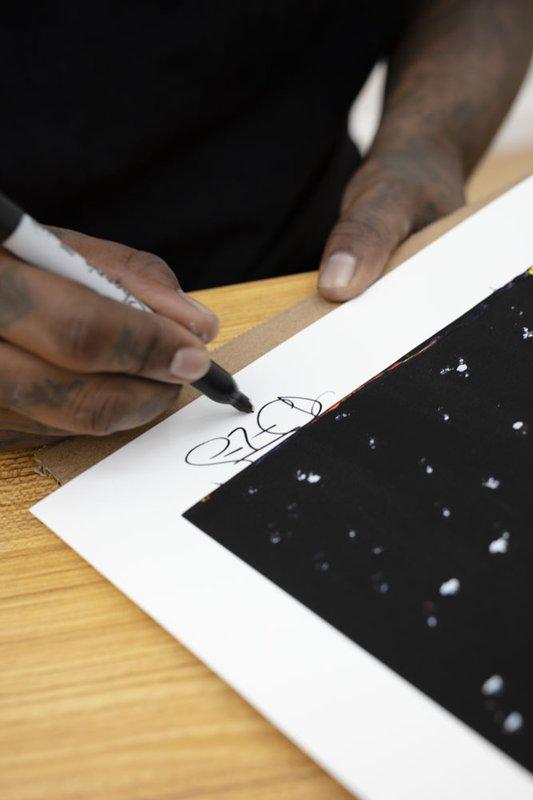 Devin Troy Strother signing his Artspace & Free Arts NYC edition - photo by Lance Brewer
You can learn more about the important work of Free Arts NYC here. Meanwhile, read the interview with Devin Troy Strother here and take a closer look at Devin Troy Strother's Grateful Dead Afro Cat Show, 2021 here. It's an edition of 50 plus 5 APs. Hand-embellished, signed and numbered on front. $1,000 unframed / $1,250 framed.