As part of a generation of young Chinese artists coming to terms with the many paradoxes of China in the 21st century, Cao Fei has turned to pop culture and mass media as the basis for her wide-ranging, interdisciplinary approach. The results speak for themselves; her videos and multimedia projects have been shown everywhere from her native Guangzhou to the Tate Modern and the Guggenheim, and she's become one of the most coveted contemporary Chinese artists in the international auction circuit.
In anticipation of her upcoming solo show at MoMA PS1 (the Chinese artist's first in the U.S., opening Friday, April 3), we turn to an essay by Hans Ulrich Obrist from Phaidon'sDefining Contemporary Art, in which the curatorial superstar points to Cao's fantastical 2004 series COSPlayers as a prime example of her groundbreaking "postmedium" practice.
Born in Guangzhou in 1978, Cao Fei is among a number of vibrant young artists to have come of age in a China where everyday life has been steadily infiltrated by electronic advertising and imported culture and media. In the midst of these developments, and prompted by the ready availability of new digital technologies, she—along with artists such as Yang Fudong and Kan Xuan—has chosen to build an expansive "postmedium" practice at home rather than in the established Western art-world centers.
Indeed, the rapidly changing landscape of Guangzhou itself has been a continual backdrop—a nexus even—for Cao's work. As the urban fabric undergoes dynamic structural changes, she uses the city itself as a device for organizing her interdisciplinary activities. Of the artist's video works, the eight-minute long COSPlayers has performed perhaps the most effective and wide-ranging synthesis of her concerns. Together with a related series of photographs, the work presents both a critical and spectacular picture of contemporary reality, using pop culture as a bridge rather than as a simple reference point in the orgy of appropriation and revival that characterizes our historical moment.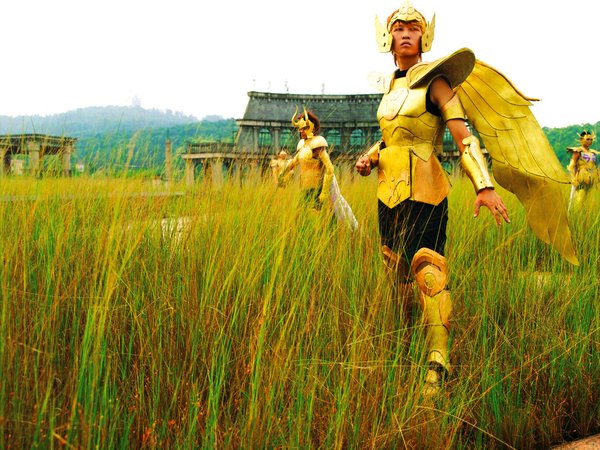 Cao Fei, Golden Fighter's Despair, 2004
The title refers to the subculture of costume play, or "cosplay," in which young men and women dress as video-game characters and behave as their chosen avatars. Cloaked in black capes and metallic suits and wielding menacing weapons that supposedly give them magical powers, Cao's cosplayers chase each other across the fields outside Guangzhou and stride through anonymous urban spaces, including an empty upscale restaurant and a desolate parking garage. Along the way, the camera takes in enormous construction sites and herds of livestock, in an attempt to grasp the marvellous and strange contrasts in the heart of the real city. Characterized by a compression of time borrowed from the theater, the disjointed narrative is left suspended, and the film ends with the unlikely heroes returned to their homes, where, like ordinary teenagers, they eat and nap in the vicinity of their distracted parents. With COSPlayers, the fairy-tale finds an ultra-contemporary aesthetic in Cao's experimental cinema, a world where video-game flâneurs roam a fascinating and alienating environment of urban mutation.
Though rooted in daily life, Cao's work evokes countless possibilities for social transformation. Since the production of COSPlayers, the artist's activities have ranged from her continuing co-organization of the Da Zha Lan Project—a research initiative undertaken by a loose artistic collective that documents the encroachments of modernity on residents of one of Beijing's poorest areas—to her more recent turn, in the ongoing project RMB City, inaugurated in 2008, towards the online world of Second Life and its possibilities for creating and inhabiting a virtual reality. This invented metropolis continues to spawn new districts (and side projects such as the film she made about its making, 2009's The Birth of RMB City). Extending the concerns of COSPlayers, and especially its collision of documentary and fantasy, RMB City's picture of accelerated transformation in China imagines not only the future of urban change but also the future of art in a world increasingly mediated by virtual experience.