In the anything-goes context of contemporary art, there's a premium put on asking the tough questions at the risk of offending—or even outraging—audiences along the way. These works, excerpted from Phaidon's The 21st-Century Art Book, are some of the most controversial artistic statements of the new millennium. Ranging from ostentatious displays of wealth to what could be called animal (and even human) abuse, these pieces push the envelope of artistic practice while also highlighting the sometimes-strained relationship between ethics and aesthetics.
WORK NO. 227 THE LIGHTS GOING ON AND OFF
Martin Creed
2000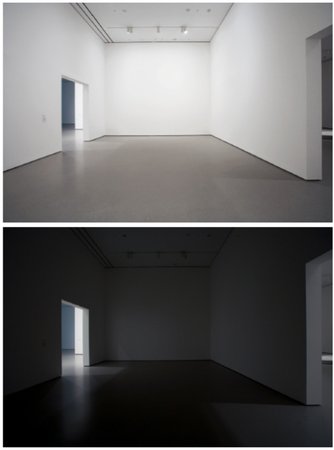 This work consists of an empty room in which the lights go on and then off again at five second intervals. It was originally created for the 2001 Turner Prize exhibition at Tate Britain in London. Creed won the prize, but Work No. 227 caused a furor in the media, with many journalists questioning whether such a gesture could be considered an artwork. It is in keeping with other works by Creed, who has also exhibited a crumpled up piece of paper, a piece of Blu-Tack, and live runners in gallery spaces. All of these works accentuate the act of looking at and experiencing art, asking audiences to consider these everyday objects or activities in new ways. By manipulating the light in the gallery, Work No. 227 encourages visitors to think about the room itself, bringing a space that is usually a backdrop to other artworks into the center stage.
10 INCH LINE SHAVED ON THE HEADS OF TWO JUNKIES WHO RECEIVED A SHOT OF HEROIN AS PAYMENT
Santiago Sierra
2000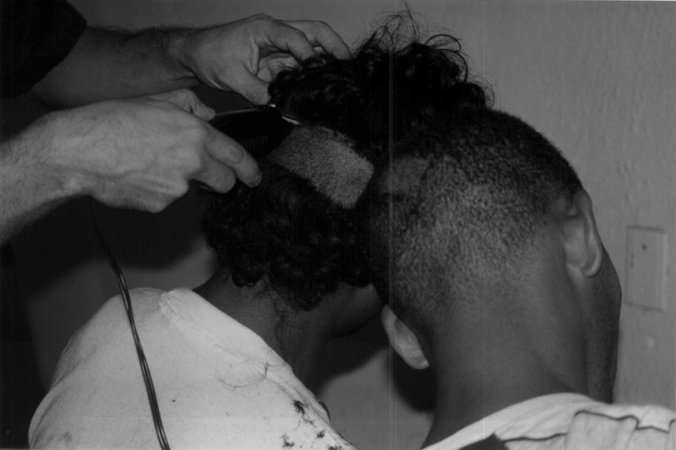 This work forms part of a highly provocative series by Sierra that explores the economic and social structures within capitalist societies. The artist paid two heroin addicts from a disadvantaged neighbourhood in Puerto Rico to take part in an artwork by each having a section of their head shaved, while the event was filmed and photographed. For other works, Sierra has hired a homeless man to clean shoes at an art opening, paid a group of people to have a line tattooed across their backs, and hired Iraqi immigrants to be sprayed with polyurethane foam to create a sculpture. Deliberately controversial, Sierra's art examines the impact of capitalism on those on the margins of society, such as immigrants, drug addicts, and manual labourers. Usually invisible to those in power, they are brought into the spotlight in his work in challenging style, presented as objects to entertain—and outrage—art audiences.
THE CHAPMAN FAMILY COLLECTION
Jake & Dinos Chapman
2002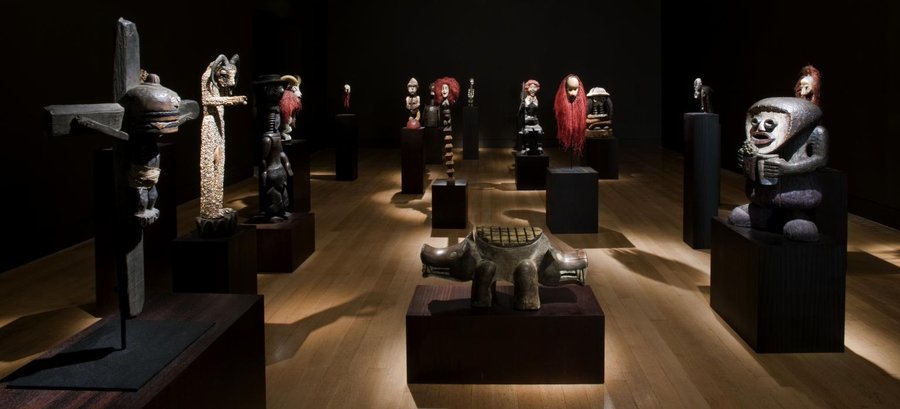 When first exhibited at White Cube in London, this installation of thirty-four wooden carvings was described by the gallery as a collection of rare ethnographic and reliquary fetish objects that had been amassed by the Chapman family over seventy years. On close examination, however, some unexpected elements become evident, suggesting that the objects are not what they first appear to be. One sculpture is actually a portrait of Ronald McDonald, while another is shaped like a packet of McDonald's fries. Several also reference works by Modernist artists such as Constantin Brancusi, indicating that the installation is a comment both on the appropriation of the "tribal art" style by European artists and on how fetish objects have themselves become commodified over time. The cheeky provocation of this piece is typical of the Chapman Brothers, who have worked together since 1991, creating sculptures and paintings exploring themes of war, religion, and sexuality.
MY MUMMY WAS BEAUTIFUL
Yoko Ono
2004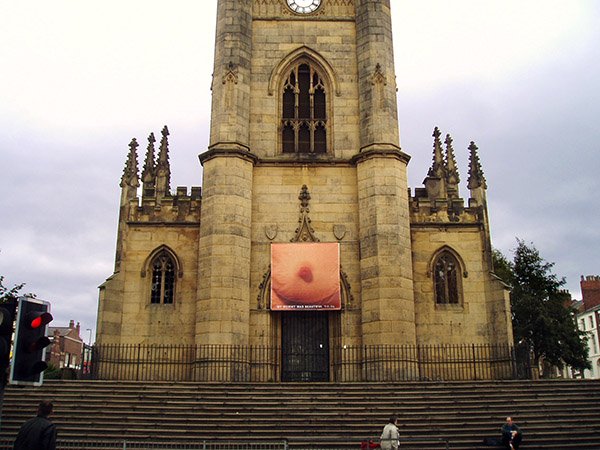 For this public artwork Ono distributed images of a woman's breast and crotch throughout the UK city of Liverpool. Inspired by the childhood memories of her late husband, John Lennon, whose own mother died during his adolescence, the work was intended as a homage to motherhood more broadly. While some viewers were offended at Ono's banners, the artist defended her imagery by noting that, as children, our very first encounters with the world are with the female body. The project recalls a number of Ono's earlier works involving dislocated views of the human form, such as Film No. 4 (Bottoms) (1966), which features close-up views of naked buttocks. In the 1960s Ono was an important figure in both the Fluxus and Conceptual art movements, which reacted against traditional art forms, emphasizing ideas over skill. She continues to make provocative new work and has greatly influenced younger generations of artists.
SYLVIE
Wim Delvoye
2006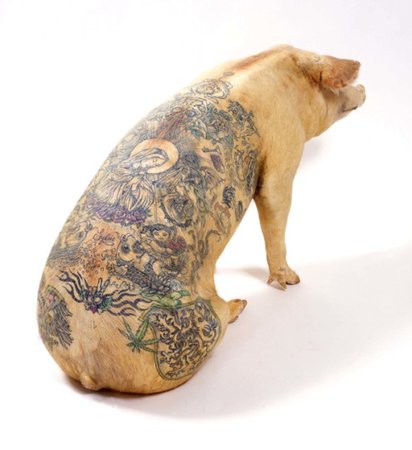 Cartoon characters, religious iconography, and a host of other designs are tattooed onto the back of this stuffed pig. Controversially, Delvoye had the tattoos inked onto the skin while the animal was still alive. His projects are deliberately provocative, testing the boundaries of art and ethics. He began tattooing dead pigs in the early 1990s, but in 1997 he started working on live animals, intending to challenge the art market by creating living works of art. In 2004 Delvoye relocated to China where he reared pigs on his Art Farm near Beijing; the farm was closed in 2010. The tattooed pigs can be owned by collectors while alive, but only physically possessed after their deaths. Less contentious are Delvoye's gothic sculptures and his Cloaca machines that replicate the human digestive system.
FOR THE LOVE OF GOD
Damien Hirst
2007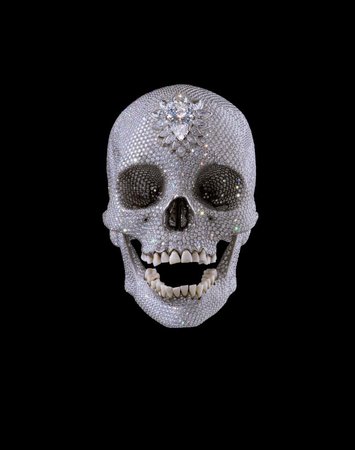 A human skull encrusted with 8,601 flawless pavé-set diamonds, For the Love of God cost £14 million to create and weighs 1,106.18 carats. Its title comes from an expression regularly uttered by Hirst's mother on hearing his early ideas for artworks. The work was first exhibited at the White Cube gallery in London in 2007, amid heavy security, and attracted queues of visitors. The skull is likely to belong to an eighteenth-century man of European/Mediterranean ancestry and was bought by Hirst from a London taxidermist. Its teeth are real and belong to the skull. The piece acts as a memento mori, a reminder of the inevitability of death: in making it, Hirst drew inspiration from Aztec representations of skulls as well as Mexican rituals of honoring the dead. Death has been a recurring theme in Hirst's art, stretching back to his very earliest works.
THE HUGO BOSS PRIZE
Hans-Peter Feldmann
2010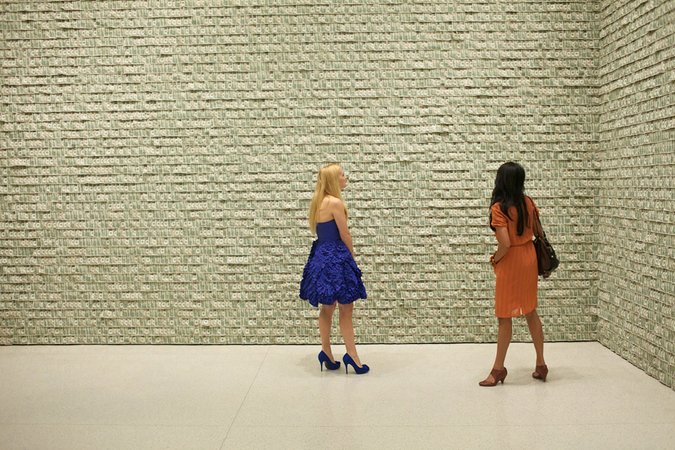 As winner of the 2010 Hugo Boss Prize, Feldmann was invited to exhibit at the Guggenheim Museum in New York. For his installation The Hugo Boss Prize he cashed the $100,000 honorarium and pinned it to the walls of the gallery in neat rows of single United States dollar bills. Aside from the instantly recognizable smell, the viewer's attention was drawn to the differences between the serially produced paper money. Some were folded, creased or defaced, and all, of course, were uniquely numbered. When the exhibition was over, the artist removed the banknotes and put them back into normal circulation. Since the late 1960s Feldmann has been exposing the unstable, human qualities of serialized imagery through books, photographic installations and sculptures. 100 Years (2001) comprises sequential photographs of people from 0 to 100 years old; 9/12 Front Page (2001) gathers front pages from newspapers around the world on the day after the terrorist attacks on America.