In recent years, some serious architects and designers have begun to take on very different species of client: canine, feline, and avian. Radically rethinking the archetypal dog bed and cat tree, pet architecture plays with new materials and configurations while advocating for issues like sustainability, ecological-friendliness, and animal protection through smart design. These ten works, excerpted from Phaidon's new compendium Nanotecture, are our favorite examples of critter-centric architecture created for your beloved feathered and furry friends.
BIRDHOUSE ROOFTILE
Klaas Kuiken
2009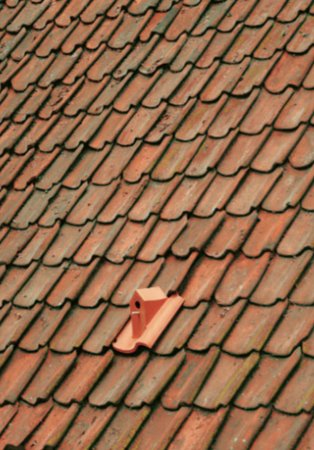 Looking to find a solution to counteract the shrinking bird population in urban areas, craftsman Klass Kuiken consulted with the Vogelbescherming (Dutch Bird Association) to design the Birdhouse Rooftile. Birds often create nesting areas within the roofs of houses, and the Dutch designer took this into consideration, adapting a standard roof tile to include an archetypal bird box on top of it. Birds access the house through an opening that leads to a basket for sheltered nesting below. A comb-like barrier placed directly beneath the roof tile ensures that birds are unable to access the main roof space and makes the house easy to clean once breeding season is over.
ATTIC
Studio Chad Wright
2011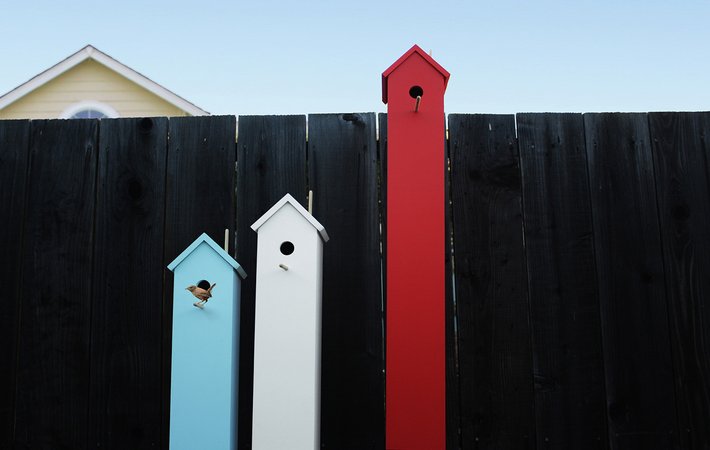 Establishing a different sort of pecking order, these elongated archetypal birdhouses by Chad Wright offer a playful alternative to traditional wooden nesting boxes. The brightly painted timber pillars of tomato red, robin's egg blue, and cloud white are available in various heights from 1.4 meters (4 3⁄4 ft) to 1.8 meters (5 3⁄4 ft) tall. Each of the slender columns is stabilized by a stake screwed into its concrete base, which allows them to stand securely on tiles or lawns. A simple dowel perch and faux chimney complete the ensemble for these avian penthouses.
D-TUNNEL
Kenya Hara
2012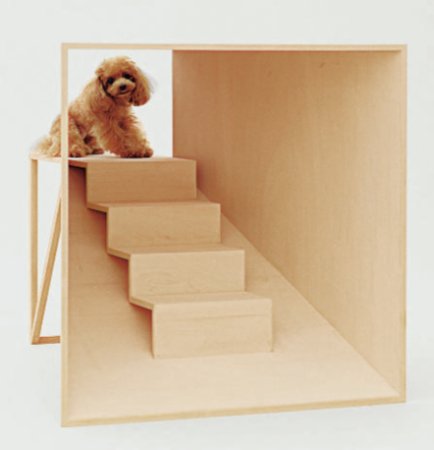 The D-Tunnel was designed by Kenya Hara and is one of thirteen works of dog architecture—a playful initiative led by the Hara Design Institute and Nippon Design Center that commissioned leading architects and designers to create dog-sized architecture. Cut from two sheets of plywood, the D-Tunnel's twelve panels and three timber struts are simply screwed together and act as a "scale modifier"—an architectural apparatus that is intended to redress the imbalance in size between humans and animals. In this case, the tunnel is specifically designed for a tiny teacup poodle and allows the dog to ascend four small steps sheltered within it to meet its human at eye-level.
BEAGLE HOUSE
MVRDV
2012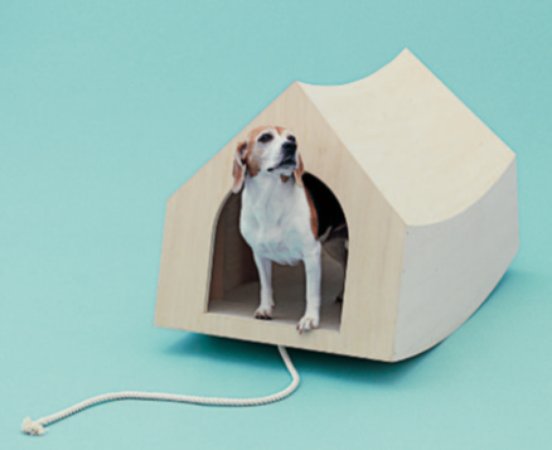 Revising the archetypal form of a dog kennel, this interactive version by MVRDV is one of thirteen works of Architecture for Dogs that were conceived and commissioned by the Hara Design Institute with the Nippon Design Center for Design Miami. Rather than trotting out a typical straight-sided dog house, the curved walls, floor, and ceiling of the Beagle House accommodate the playful and intelligent nature of this breed of dog. Each time he steps into or out of the kennel, it responds in kind with a gentle rocking motion. Unlike other works commissioned for this series, the Beagle House can be used independently from its owner's house. Weighing only 5 kilograms (11 lbs), the Beagle House has a robust rope attached to its base that makes it easy to relocate to wherever dog and owner prefer.
CASA LAPIZ
Productora
2013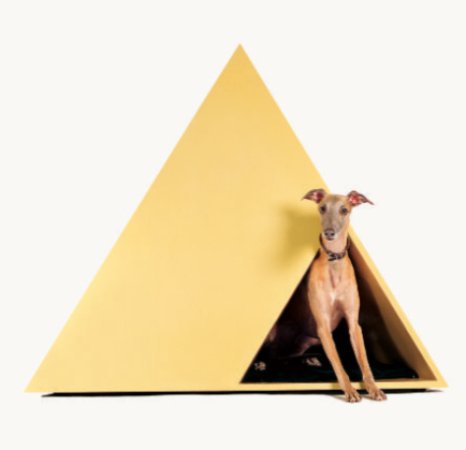 Inspired by Kenya Hara's project "Architecture for Dogs" this kennel by Productora was one of ten homes for dogs designed by Mexican offices for Dogchitecture, each of which reinterpreted the basic animal shelter. Productora's four-sided pyramidal home combines the practice's interest in pure geometric forms with the necessary requirements to protect a dog from the sun and rain, and provide a warm bed. Made from MDF board and painted with water-resistant gold colored polyester, the doghouse not only provides a canine sanctuary but is also intended to be a sculptural form in a garden.
NESTBOX
JAM Furniture
2014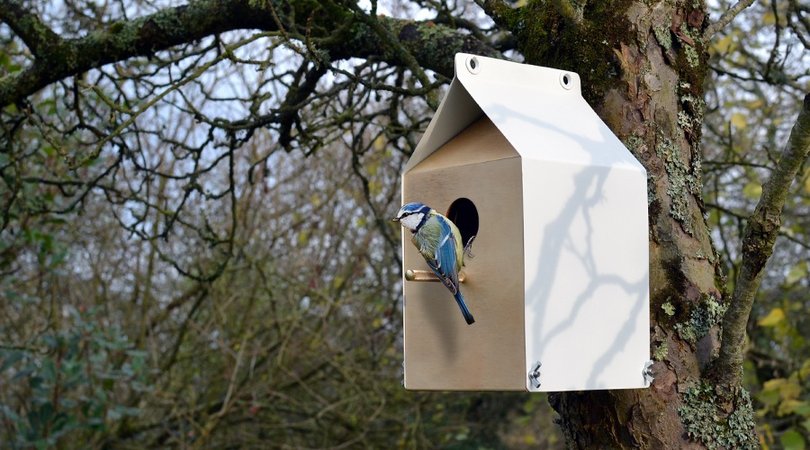 Recalling a humble milk carton, the sustainable and ecologically responsible designers at JAM have created a chic birdhouse that is predominantly made from recycled materials. Off-cuts from local manufacturers form the front and rear of the house, which are wrapped by riveted sheets of re-painted metal sourced from discarded washing machine and dishwasher bodies. To accommodate various different species of birds, the entry holes of the Nestboxes are cut to four variable sizes and all roosts are made of knurled brass rods that allow birds to grip their perch easily.
BLOCKS
Poopy Cat
2014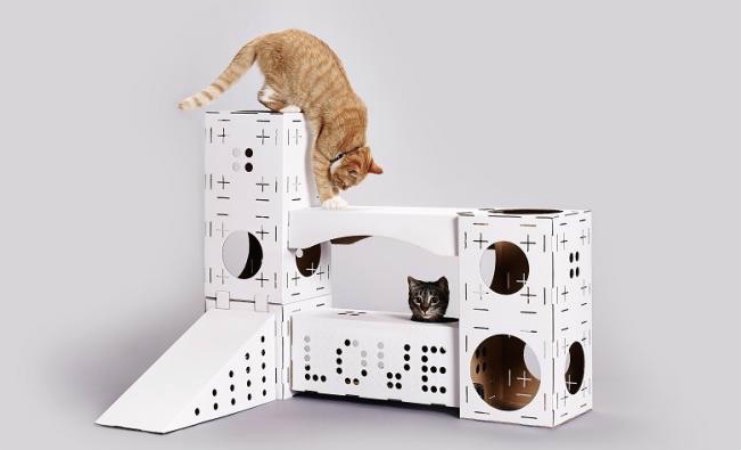 Borrowing from children's playful approach to building blocks, this modular set of cardboard beams, cubes, tunnels, bridges, and ramps is designed as a transformable playhouse for cats. Made from white-coated recycled card and punched with decorative graphics and cat-sized holes, each of the playhouse elements can be simply slotted together with card tabs, which also secure the stacked blocks. The set of blocks can be flat-packed and is light enough to be carried in a large portfolio case yet strong enough to bear the weight of several cats.
CAT CHALET
Space International
2014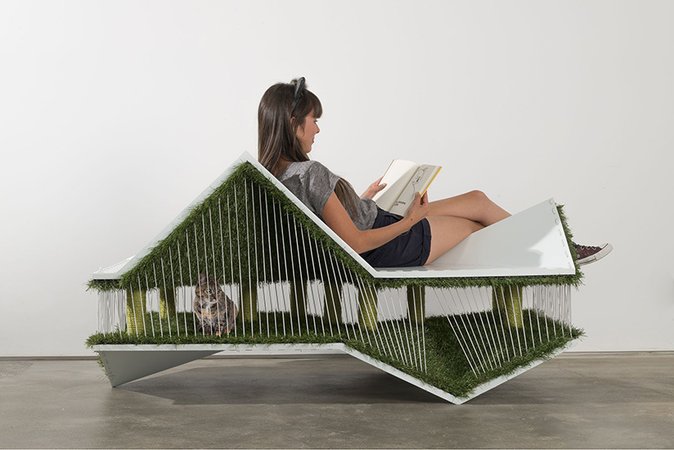 Part of a fundraising event for Fix Nation, a charity that spays and neuters homeless cats, the Cat Chalet by Space International was imagined as a domestic retreat for feral cats. Subverting and rescaling the familiar iconography of a gabled house, the cathouse is formed of an angular lacquered wooden "roof," which becomes a slanted chaise longue for humans to recline on, paired by a platform beneath it for cats. The internal surface of roof and platform are lined with synthetic grass and supported by vertical columns wrapped with sisal rope. Enclosed by reflective elastic cord, which creates a protected, playful feline landscape, the Cat Chalet is also intended to evoke mid-century outdoor furniture.
CAT CUBE
Standard Architecture and Design
2014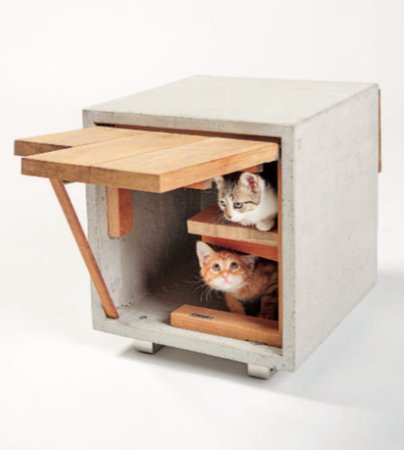 A series of cat houses designed by Los Angeles-based architects were created for the "Giving Shelter" fundraiser organized by Architects for the Animals. More than twelve local architecture practices created structures for a one-night-only exhibition and cocktail event that raised money for the animal charity FixNation. This Californian organization is dedicated to humanely controlling feline populations by catching, neutering, and returning the animals to where they were found. The Cat Shelter by Standard Architecture and Design is mainly formed of cast concrete, which frames a cube housing timber platforms and a protruding timber viewing platform at the rear.

NIDIN
Fabbricabois
2015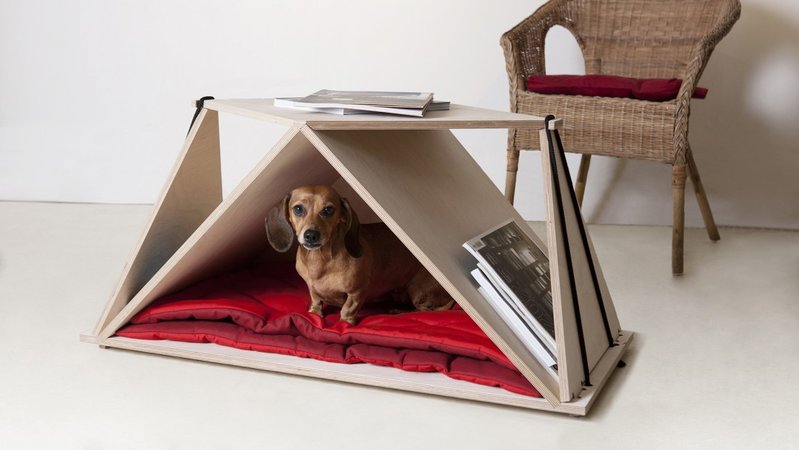 Combining an animal shelter, magazine rack, and low table, the Nidin is designed by French studio, Fabbricabois and fulfills all three needs with a single piece of furniture. Made from triangular, square, and, rectangular sheets of birch plywood, the multifunctional piece is based on the Japanese concept of origami. In this instance, the folded paper sheets were revised to become cut and chamfered niches that allow the six components to fit together without nails, screws or glue. Careful incisions in the table top and base are angled to accept the walls of the animal shelter and magazine rack while large elastic bands mounted into the base fit over the lateral sides of the table top and secure the assemblage.