Rudolf Stingel 's paintings and installations take the defaced canvases of Arte Povera into friendly, D.I.Y. territory, enticing visitors into acts that would elsewhere be considered vandalism. Stingel hit on a particularly ingenious way to solicit viewer participation when, at the Venice Biennale in 2003, he lined the walls of a gallery with foil-coated insulation board and invited visitors to incise these silvery surfaces as they would a bar-room table. Below, in a text from , the New Museum 's Associate Director and Director of Exhibitions Massimiliano Gioni recalls the impact of this signature installation (related works from 2000-2003 are at Nahmad Gallery in New York, through January 23).
For twenty years now, Rudolf Stingel has probed and subverted the rules 
of traditional painting, investigating 
its boundaries, surfaces, and materials. From Instructions , his 1989 guide to painting do-it-yourself "Stingels"—perhaps a satirical reaction to ego-fuelled 1980s painting—to his orange carpets that, from 1991 to the present day, have stretched over the floors and walls of viewing spaces like an industrial version of color field painting, Stingel has sought to strike a balance between conceptual rigor and the retinal sensuality of painting, between detachment and participation, even between decorativeness and mental purity. His art embodies the paradox of loving painting but wanting to destroy it—or, in any case, to bend it 
to serve new and unexpected purposes.
Perhaps that is why, in all his work, one can glimpse a conflicted relationship with the figure of the artist, which goes hand-in-hand with his attempt to build a new alliance with the public. In many cases, Stingel has borrowed techniques and materials that are industrial, or at least not directly associated with fine art; enamels, varnishes, acids, and airbrushes are just some of the formal solutions he has employed, almost as
 if he wanted to free painting from any excessive personalizing or sentimentality. In other instances he has forced himself to paint with icy detachment, seeming to conceal every trace of his hand.
 On yet other occasions he has allowed chance to determine the final result, 
as when he wanders across sheets of Styrofoam while wearing boots dipped in acid. In a recent series of works, he has filtered painting through the lens 
of photography, creating majestic, hyper-realistic portraits that have the austerity of giant religious images. His recent inlays and bas-reliefs also appear to draw on the tradition of the baroque but to criticize painting from the inside, turning the pictures into sculptures.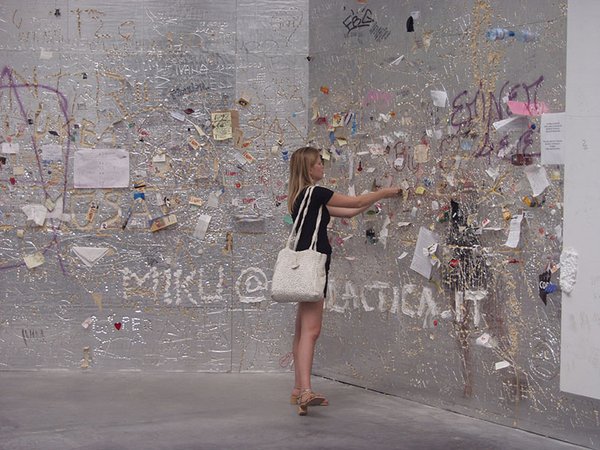 Most radical of all are his works
 that involve active viewer participation. The big rugs hung on the walls could be touched and transformed by visitors, but it was with Untitled that Stingel invented a new form of interactive painting. Presented in various versions, including one at the Venice Biennale 
in 2003, Untitled is a room clad in aluminum-foil-coated insulation 
that visitors can modify as they see 
fit, writing on the material, scratching it or perforating it. Like a new form
 of cave painting, this installation seems to encourage group vandalism, which turns the work into a breeding ground for words, images and objects. Upon its presentation in Venice­­—and later
 in Stingel's 2007 touring retrospective at the Museum of Contemporary Art 
in Chicago and the Whitney Museum in New York —the piece triggered 
a chain reaction, with the walls accumulating souvenirs, diary entries, messages of love, and found objects. 
At first glance it recalled the spontaneous monuments that sprang up on New York street corners after 9/11: a compendium of stories and traces 
of life combined in a way that suggests the feverish energy of a makeshift altar. Like all of Stingel's paintings, Untitled finds an almost sacred dimension in the most prosaic materials, an effect that is even more unique considering that the work emerged and evolved through 
an almost random process of collective participation.