Video art has been with us for nearly half a century, a fertile ground for artists to experiment with new modes of aesthetic experience. As media culture expanded to nearly every corner of our society over the course of the 20th century, artists in turn refined and emboldened their approaches to the medium. The following works, each excerpted from Phaidon'sBody of Art, represent just a few of the high points of recent video art.
Click here to learn more about Phaidon's Body of Artand buy the book.
TOUCHING THE WALLS WITH BOTH HANDS SIMULTANEOUSLY
Rebecca Horn
1974–1975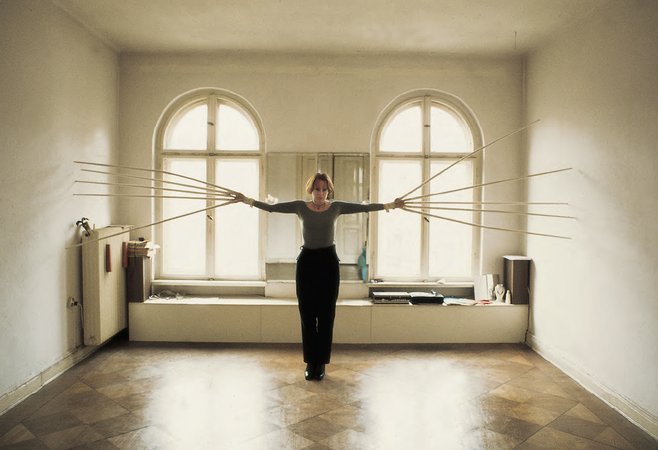 Rebecca Horn's (b.1944) early sculptures and performances are about sensing the world in a new way. Around 1970, during a long convalescence from a serious illness, Horn began making objects that extended the body physically in space. Her experiences of being confined to bed and suffering isolation, pain, and physical vulnerability inspired a series of prosthetic body sculptures made from materials reminiscent of bandages and medical devices such as splints. These masks, horned headpieces, antenna-like projections and artificial extensions to fingers and arms featured in performances that were documented on film. Harnessed with these appendages, which made the wearer move and behave in strange ways, the performers experienced a heightened awareness of their bodies and the environment around them. For Touching the Walls, an action performed in her newly rented Berlin apartment in 1974, she constructed enormously long finger extensions that enabled the wearer to reach out and scratch both sides of the room at once. This and the other performances that comprise the series "Berlin Exercises: Dreaming Under Water" were territorial rites: "Somehow, because it was an empty space, I did an exercise every day so that the space would become my own; I had filled it with my ideas, my body, my longing."
HYPNOTIC SUGGESTION 505
Jane and Louise Wilson
1993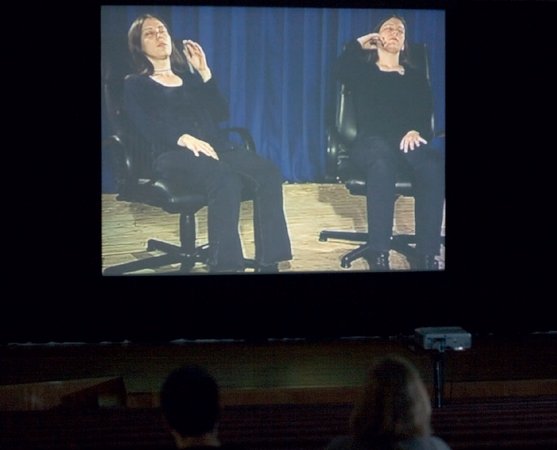 Jane and Louise Wilson (b.1967) are twins who have worked collaboratively since their matching undergraduate degree shows at two different art schools. Their early films often depicted the pair experiencing extreme psychological states, one such generated by the taking of LSD. Hypnotic Suggestion 505 sees them jointly undergoing hypnosis and intentionally bringing about an altered consciousness that is characterized by an enhanced capacity for response to suggestion. The work was inspired by a quote from Jean Cocteau about all cinema being a form of mass hypnosis. As film-makers, the artists were curious to test whether, as twins, their bodily responses would be identical. The artists sit side-by-side while a calm male voice lulls them from normal awareness into a state of relaxation and sleepiness. To test their involuntary responsiveness, he tells the girls to raise their hands towards their faces; while one twin moves quickly into position, the other holds her hand at a strange angle before raising it upwards. The viewer is left to decide whether a hypnotic state was genuinely induced in both participants, or indeed whether the whole film was choreographed and scripted to cast doubt on the whole practice.
PAINTER
Paul McCarthy
1995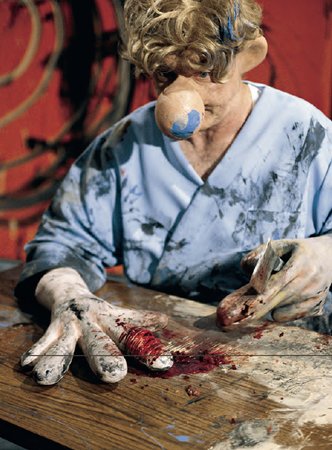 Paul McCarthy's video performances oscillate between the comic and the grotesque. Ketchup bottles stand in for blood in this low-budget show of violence. In Painter, a perverse mimicry of a children's art instruction television program, McCarthy (b.1945) wore a blond wig, bulbous nose and swollen latex hands. Using brushes as tall as himself—oversized phalluses pivoted against his crotch—he smeared paint and condiments on giant canvases. He was surrounded by even larger puff paint tubes labeled "RED," "BLUE," "BLACK," and "SHIT." Pointing one finger of his cartoon glove out from under his smock to suggest a penis, he dipped its tip in red paint to simulate the glans. Later he hacked the penis-finger with a butcher's knife for several minutes until finally pulling of the remains, all the while whimpering, then laughing, then staring in fascination. McCarthy uses this self-emasculation and the film's gory splatter to parody art-world figures such as Willem de Kooning and Mark Rothko (mentioned in the performance), reducing high art to scatological play, corporeally abject and puerile. This critique is pulled into sharp focus by the film's conclusion, in which collectors with bulging noses sniff the artist's bared rear end.
RAW MATERIAL WASHING HANDS, NORMAL (A OF A/B) RAW MATERIAL WASHING HANDS, NORMAL (B OF A/B)
Bruce Nauman
1996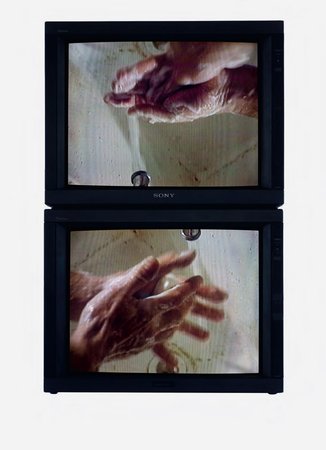 Two televisions, stacked one atop the other, show the same repetitive action of the artist washing his hands vigorously in a dirty sink. The double footage becomes what the cognitive scientist Douglas Hofstadter calls a "strange loop," in which, as in M.C. Escher's Drawing Hands (1948), our eye can only move upwards and downwards as we arrive, continuously, back where we started. But what kind of mess has called for such obsessive and vigorous cleaning? Bruce Nauman (b.1941) was perhaps responding to Richard Serra's first film, Hand Catching Lead (1968), in which a grimy hand attempts to catch chunks of the metal as it falls from above. However, the compulsive gesture here also suggests an incident has occurred, a calamity that necessitated the action. Nauman's interest in the body has long been focused on how everyday, bodily habits and activities—such as walking, speaking, or cleaning – can take on psychological and even pathological significance. "If you can manipulate clay and end up with art," Nauman once said, "you can manipulate yourself in it as well. It has to do with using the body as a tool, an object to manipulate."
LOOKING, LOOKING, LOOKING FOR …
Kan Xuan
2001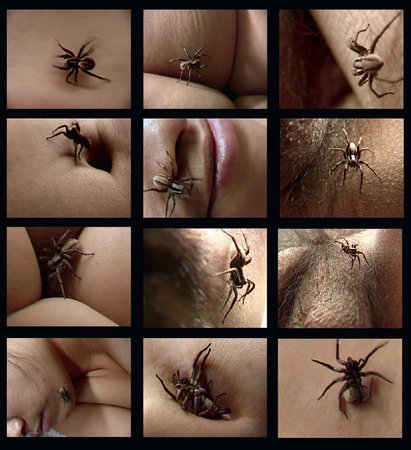 A small spider scuttles across the naked bodies of a man and a woman, exploring every crevice and orifice. As if searching for something, the inquisitive arachnid visits belly buttons, nostrils, genitalia, and pubic hair, among other more public areas of the body. The spider is shown in close-up throughout, ensuring that the participants' bodies are ever only partially visible. A playful soundtrack accompanies the short video in which adults sing a Chinese children's song. The song tells the story of a boy searching for his mother, but Kan Xuan (b.1972) altered the lyrics so that the object of the search is now love. Much of Xuan's work deals with the social and emotional dynamics of contemporary life in China, and this piece is intended as a metaphor for the extreme loneliness of the night-shift worker, who finds herself working unsociable hours with little human interaction. For Xuan, an important figure in Chinese video art, the spider represents the hard-working laborer who spends most of his life hidden from sight. The camera transforms the human bodies into a wildernesses of longing, in which any form of meaningful relationship remains improbable.
A DIVIDED SELF I AND A DIVIDED SELF II
Douglas Gordon
1996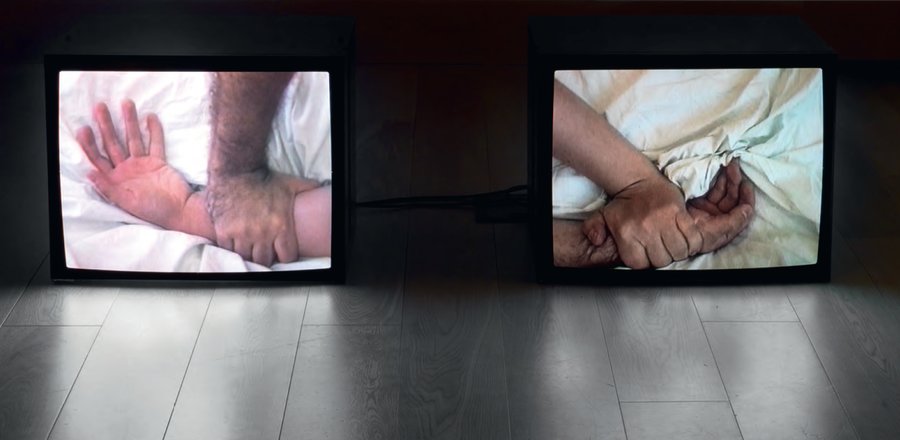 The early videos of Douglas Gordon (b.1966) play hide and seek with dualities such as trust and guilt, good and evil, confession and deception. His works display a fascination with doubling, mirroring and refection, and the complexities of the human psyche. In A Divided Self I and A Divided Self II, a video work shown on two monitors, Gordon makes explicit reference to the Glaswegian psychiatrist R. D. Laing's radical exploration of the nature of mental illness. In his ground-breaking book, The Divided Self, Laing argued that psychosis is the result of the tension between the individual's conflicting private and public personas, their true and false selves. This chimed with two other Scottish books that had a powerful effect on Gordon's work: Robert Louis Stevenson's Strange Case of Dr. Jekyll and Mr. Hyde and its forebear, James Hogg's Private Memoirs and Confessions of a Justified Sinner, which feature split personalities and demonic possession. In Gordon's A Divided Self videos two arms—one hairy and the other clean-shaven—wrestle desperately with each other. Since both arms belong to the same person, the split-screen film appears to embody an internal psychological struggle, as he artist literally fights with himself.
WORRY WILL VANISH HORIZON
Pipilotti Rist
2014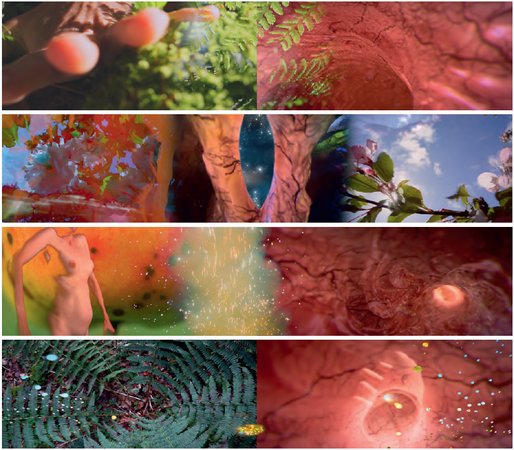 Worry Will Vanish Horizon is a kaleidoscopic and disorienting journey inside the human body, presented on two large-scale screens. At one moment the camera is exploring a body's surface—skin folds and eyeballs—or entering its orifices in extreme close-up; the next minute, full-length figures are seen floating as if in water. These images are juxtaposed with aspects of the natural world—fluffy clouds, verdant foliage and glistening spider webs—suggesting relationships between human beings and the world at large. Viewers are prompted to remove their shoes before entering the installation and are encouraged to experience the work from a variety of perspectives—sitting or lying on the floor, for example—which further enhances the sense of being immersed in the vibrant visual imagery. A soundtrack of specially composed ambient music accompanies the film. The sounds add to the soothing mood, and even the work's title has a calming effect, lulling viewers into a positive mind-set with a reassuring promise. In this work, Rist (b.1962) draws on principles of "autogenic training," a technique developed by a German psychiatrist in the 1930s to facilitate relaxation. It involves repeating a set of visualizations while holding recommended postures (including lying down) in a practice that claims to alleviate stress.
Click here to learn more about Phaidon's Body of Artand buy the book.