When Sou Fujimoto moved from the pastoral vistas of his home in Hokkaido, Japan to the futuristic madness of Tokyo's urban center, something shifted inside him. The young man who left home to study physics at the University of Tokyo soon found a new passion in the form of architecture, although his love for nature and the subtle, sometimes almost invisible order that governs it remained as acute as ever. It's the fusion of these two interests—the built environment and its natural counterpart—coupled with an uncanny ability to submit forward-thinking (and successful) proposals to clients and competitions alike that have come to characterize his output.
These ten examples of some of his most iconic projects are selected from Phaidon'snew book Sou Fujimoto, the first comprehensive monograph of the visionary 21st-century architect's work.
PRIMITIVE FUTURE HOUSE
2001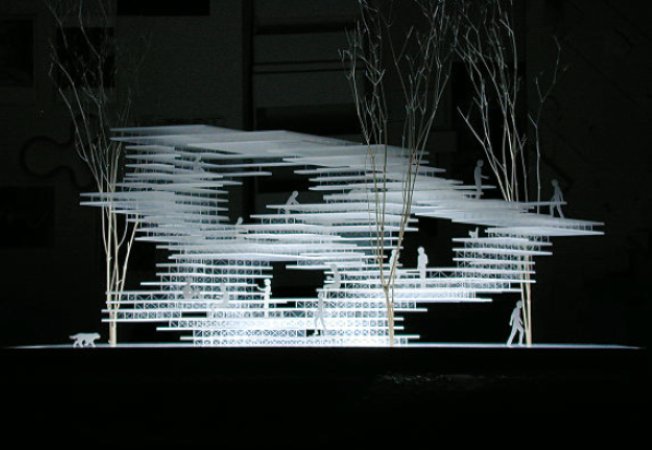 A mash-up of Toyo Ito's Mediatheque library and information center in the Japanese city of Sendai and Ludwig Mies Van der Rohe's 1950s Farnsworth House in Plano, Illinois, Primitive Future House derived from the works of two architects who profoundly influenced Sou Fujimoto early on in his career. Developed as a conceptual treatise, the scheme consisted of a single element—the slab—reconfigured and repurposed. Inspired by Ito's reinvention of the column and Mies's sequential floor plates, Fujimoto stacked evenly spaced slabs that act as stairs, furniture, and architecture. Both recalling the primal notion of found space and looking ahead to a new way of making architecture, this model emerges repeatedly in Fujimoto's building projects—first in the unrealized Atelier in Hokkaido and later on in the Final Wooden House, House NA, and the Serpentine Gallery Pavilion.
HOUSE BEFORE HOUSE
Tochigi, Japan
2008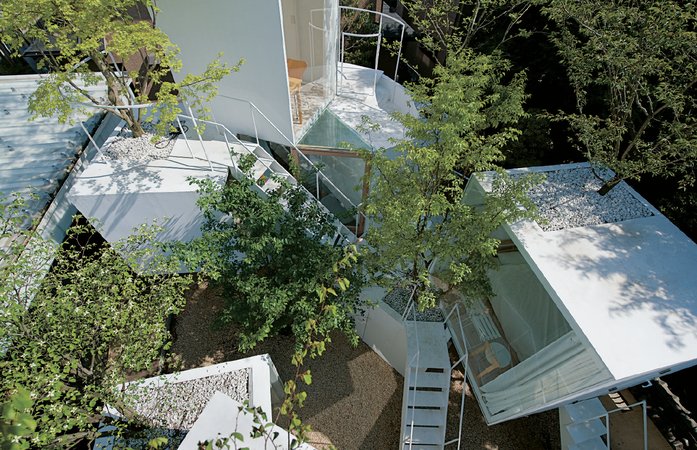 A collection of stacked, steel boxes topped with trees, the House Before House began as one of four speculative buildings commissioned by Tokyo Gas Co. Ltd. in connection with their Sumika Project. Occupying a long, narrow site in Utsunomiya, a city of 512,000 inhabitants some 128 km (80 mi) from Tokyo, it was intended to showcase the utility company's latest technology. Yet Fujimoto's building is conceptually rooted in the past. "I was thinking about the beginning of houses," explains the architect, adding, "At that time, the house was not an isolated object but part of a living environment." By dividing the program among ten separate building blocks and interspersing them with outdoor space, Fujimoto transposed that idea to the here and now.
FINAL WOODEN HOUSE
Kumamoto, Japan
2008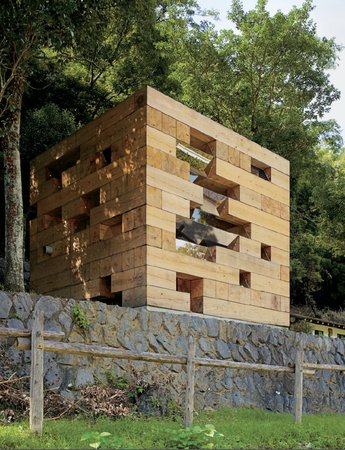 Perched on a terraced plot alongside Kumamoto Prefecture's Kuma River, Final Wooden House was built for weekend getaways. Yet this is no ordinary country cottage. From the outside it reads as a simple cube made of stacked wooden beams. But inside, that clean geometry turns into a complex, 3D composition and those ordered beams into an artfully stepped arrangement. Jutting here and receding there, the simple timber elements form not just walls but also floors, steps and even furniture, generating nooks to discover and crannies to cozy up in.
TAIWAN TOWER
Taichung, Taiwan
2011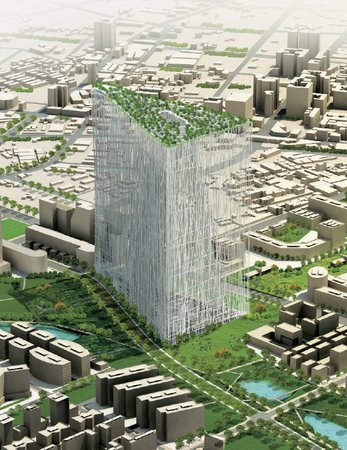 Both airy and massive, the proposed Taiwan Tower may seem to be a study in contrasts. Yet this unlikely pair of traits turns an established building type into something entirely fresh—as befits the transformation of Taichung City's former airport into a public park. A partially enclosed plaza capped by a rooftop garden, the eye-popping steel structure could become an instant landmark. But, above all, Sou Fujimoto intends it to be a place for the people.
MUSEUM IN THE FOREST
Taoyuan, Taiwan
2012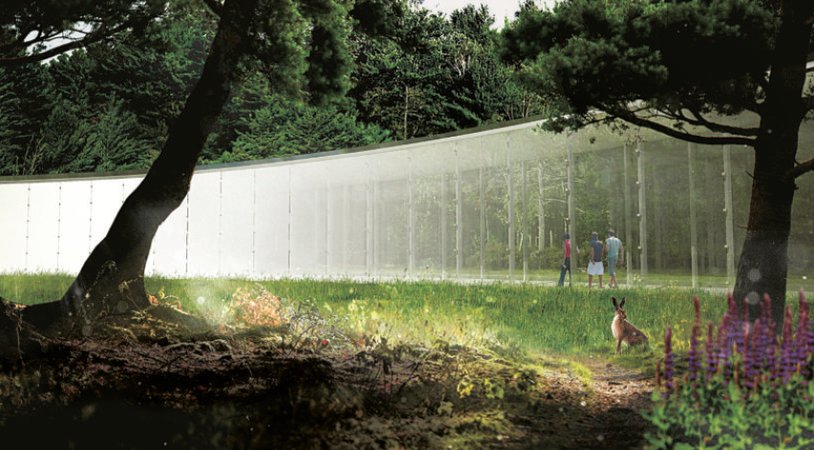 Measuring 120 m (394 ft) end to end, the Museum in the Forest is an exhibition and event space housed in a horn-shaped structure. Commissioned by Lavender Cottage, a Taichung City-based maker of lavender flower goods, the project was Sou Fujimoto's first Taiwanese commission. Inspired by the landscape, he responded with a building that gradates from small to large and opaque to clear. Beginning as a solid concrete block at one end, it culminates in a giant sheet of glass overlooking the Shimen Reservoir at the other.
TOILET IN NATURE
Chiba, Japan
2012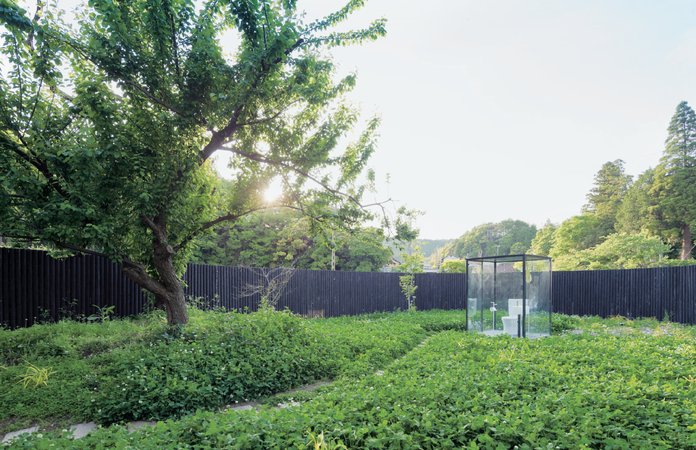 A single, glass-encased stall enclosed by a wooden fence, the Toilet in Nature is among the most private, as well as public, lavatories anywhere. But nowhere is this a more fitting solution than next to Ichihara town's Itabu Station, a quaint, unmanned depot out in countrified Chiba Prefecture. Each spring, the railway station welcomes visitors who travel from far and wide to view the glorious cherry blossoms that dot the hilly landscape nearby. In the hope of making their journey more pleasant, local officials decided to replace the dilapidated toilet facilities and invited Sou Fujimoto to take on the job.
MEDIA FOREST – AXEL SPRINGER CAMPUS
Berlin, Germany
2013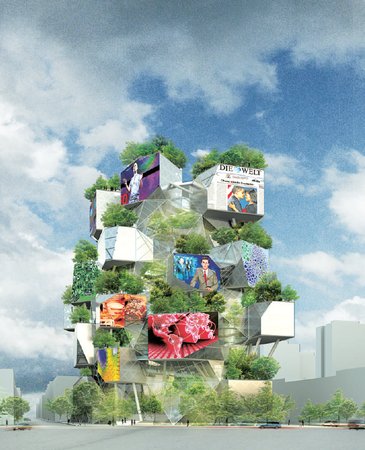 An eye-popping conglomeration of multi-storey boxes topped with trees and fronted with full-height LED screens, Sou Fujimoto's visionary scheme for the Axel Springer Campus could possibly stop traffic. But that is exactly what the client, one of Europe's most forward-thinking media giants, wanted for their site adjacent to the former Berlin Wall. Befitting their cutting-edge business, the German company invited twenty architects—ten local and ten foreign—to participate in a competition. Their task? To create a building the likes of which had never been seen before. Though Fujimoto did not land the commission, the competition was a chance for him to think outside the proverbial box.
SERPENTINE GALLERY PAVILION 2013
London, United Kingdom
2013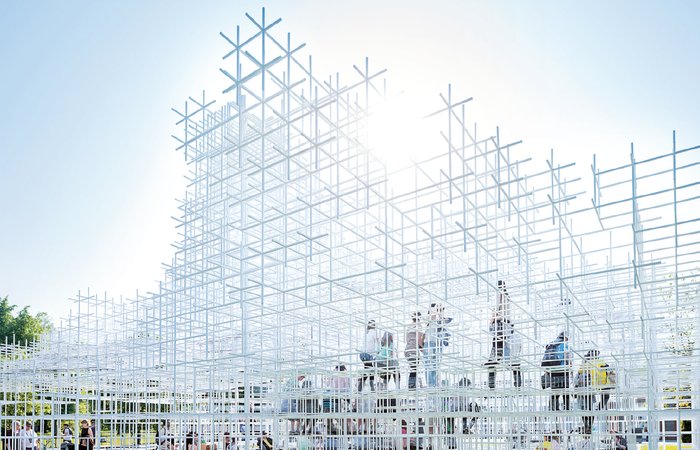 In 2000, London's Serpentine Gallery began commissioning an architect annually to author a temporary pavilion. The youngest in a lineage of illustrious, international designers, Sou Fujimoto was selected by the museum to create the 2013 edition. For the customary five months, Fujimoto's pavilion, a delicate matrix made of pure steel, graced the lawn next to the museum's Neo-classical building. Cloud-like and ethereal, this scaffolding seemed to grow out of the ground organically, reach up towards the sky but then thin out at the edges until, finally, dissipating into the atmosphere.
SOUK MIRAGE
Middle East
2013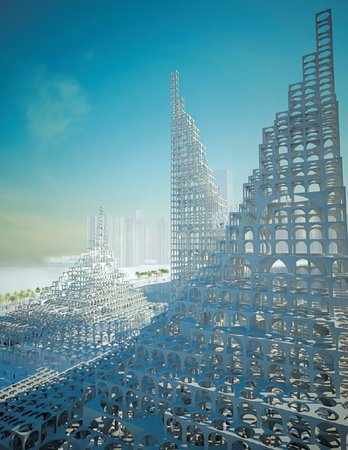 Designed for a client in the Middle East, Souk Mirage, followed by Outlook Tower, was an unbuilt project that took Sou Fujimoto's frame structures to new heights. Designed in sequence for different sites, these two works were defined by gargantuan 3D grids, each one a studied composition of arched elements of various sizes. Soaring up from street level, each scheme combined urban, architectural, and human scales in a single work—one of the architect's goals. While the sheer magnitude of these two projects set them apart from other Fujimoto frame structures, the decorative expression of their repetitive arches acknowledged the intricate, Islamic vernacular.
OMOTESANDO BRANCHES
Tokyo, Japan
2015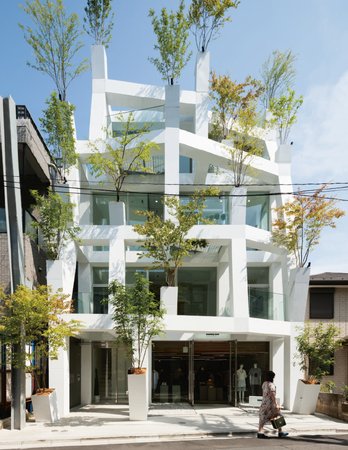 On the surface, Sou Fujimoto's Omotesando Branches seems like a typical Tokyo commercial building: retail at ground floor level with two stories of office space topped by an apartment. But thanks to its unique facade, this building is far from conventional. Stepping back from the street, it is fronted by a wiggly, white frame with live trees growing from its "limbs." Though a first for Fujimoto, the unusual building fits right in with Omotesando, a style-setting neighborhood teeming with trendy boutiques and attention-grabbing specialty shops.