The tradition of representing animals is as old as art itself; from the earliest cave paintings to today's cutting-edgeinstallation art, artists have long struggled to depict our furred and feathered friends. Colored by the scientific trends and aesthetic goals of their historical contexts, these seven paintings (each chosen and excerpted from The Art Book, out now via Phaidon Press) are indications of various ways of looking at and relating to animals, from supposedly "natural" depictions to more abstracted forms. 
JACQUES-LAURENT AGASSE
The Nubian Giraffe (c. 1827)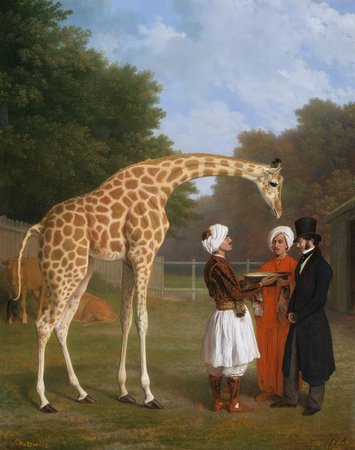 A giraffe leans its long, slender neck to reach the bowl held by its Arab keepers. Two Egyptian cows can be seen in the background. With the development of communication links, traders of the early nineteenth century were able to travel farther and farther afield and return with increasingly exotic gifts. Giraffes, lions and leopards were given to wealthy landowners and Agasse, being renowned for his acute attention to detail, was often commissioned to paint them. King George IV paid Agasse £200 for "a picture of the Giraffe and Keepers." The gentleman depicted wearing a top hat is Edward Cross, a well-known importer of foreign birds and animals for the royal menagerie. Born in Switzerland, Agasse lived in England from 1800 where he achieved considerable success painting sporting scenes and exotic animals. He also painted a number of portraits of noblemen on horseback.
UMBERTO BOCCIONI
Elasticity (1912)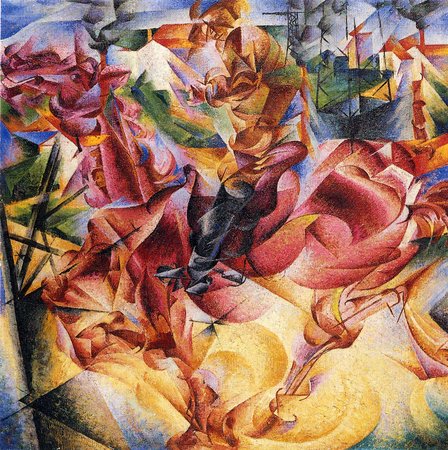 The dynamic movement of a horse and rider is captured in a mass of bright colors and swirling, fragmented forms. The man and animal appear machine-like as they speed through a landscape of factories and electricity pylons. A co-founder in 1910 of the Italian Futurist group, Boccioni was fascinated with the depiction of motion through time and space. With great bravado the Futurists rejected the conventions of Western art since the Renaissance, instead looking towards science, technology and the city for inspiration. With a pictorial style that owed a certain debt to Cubism, Boccioni aimed to present simultaneously the new impressions and sensations of the modern world. Boccioni was a sculptor as well as a painter. In line with the militarism of the Futurists, in 1915 Boccioni volunteered to fight in the First World War. He was killed falling from a speeding horse.
GEORGE CATLIN
Ambush for Flamingoes (1856)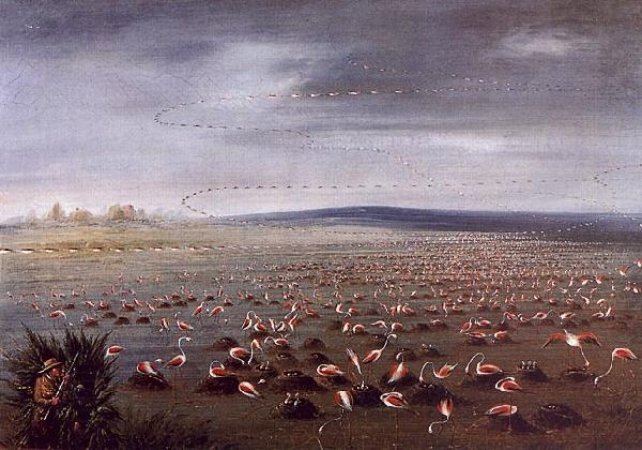 Creating a pretty red-and-white pattern along a plain stretching out to the horizon, a flock of flamingoes attend to their nests. Overhead a group of birds fly in a looping formation across the sky. A hunter and his servant lurk behind a bush, waiting for the perfect moment to shoot. The hunter is meant as a reminder of how the beauty of nature can so swiftly be destroyed by man. Catlin has taken great care in presenting the flamingoes in different poses, so as to express variety and movement and to create rhythm in a painting that is otherwise fairly rigid. A lawyer by training, Catlin turned to portrait painting and spent many years studying and living among the Indians of North and South America. He painted many portraits of native American Indians, and was an early campaigner for the preservation of Indian tribes. In 1841 he published Manners...of the North American Indians, illustrated with some 300 of his engravings.
EDWARD HICKS
The Peaceable Kingdom (1826)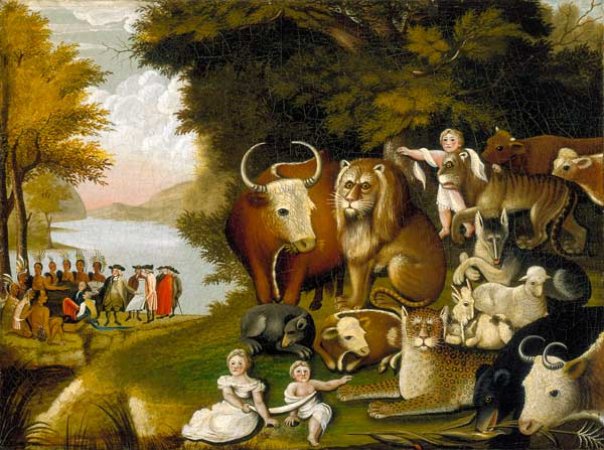 Wide-eyed animals, cherubic children and an idealized landscape give this painting a sense of natural order. In the background, William Penn, the founder of the US state of Pennsylvania, concludes a treaty with the Indians, further emphasizing goodwill and harmony. The naïve style and basic color scheme reinforce the work's simple message. For Hicks, the Peaceable Kingdom represented the eleventh chapter of the book of Isaiah, which praises peace between men and animals. It was a subject that Hicks returned to again and again, and scores of versions exist, each with minor variations. Hicks, an active Quaker preacher, began as an apprentice to a coachmaker, painting decorative panels for coaches, and went on to paint tavern signs. His landscapes reflected the Christian values he preached and he sold them to finance his missionary travels. His honest approach is typical of early American painting.
WILLEM KALF
Still Life with Lobster, Drinking Horn, and Glasses (c. 1653)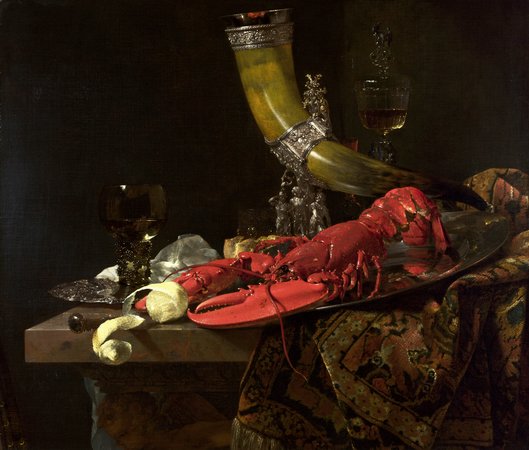 A collection of exotic and opulent objects laid out on the table is here painted with great brilliance and depth of color. A lobster, a drinking horn with its glittering mount of silver filigree work, crystal goblets, a lemon and a Turkish carpet are painted with such fine attention to detail that Kalf creates the illusion that they are real and could be touched. Each object has been carefully placed so that the group forms a harmony of colour, shape and texture. The warm light enveloping the objects gives them a luxurious, jewel-like quality and their rarity, sumptuousness and extravagance reflect the reknned tastes of Dutch seventeenth-century collectors, in a period when still lifes were immensely popular. Kalf lived and worked mainly in Amsterdam. The deep, rich colours of the paintings of this still-life painter may have been influenced by the work of his contemporary, Jan Vermeer.
HENRI ROUSSEAU
The Merry Jesters (1906)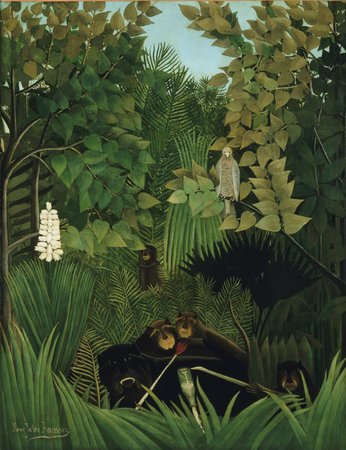 Three monkeys peer out from behind the thick foliage of the jungle, while an unusual bird perches on a delicate branch laden with heavy leaves. The uninhibited imaginativeness of the scene is typical of Rousseau's view of the world. The intense colors, crisply painted shapes and meticulous attention to detail demonstrate his naïve style. This imaginary jungle derives its inspiration from Rousseau's numerous visits to the Parisian botanical garden, the Jardin des Plantes. Rousseau was an amateur painter who attracted the attention of the Parisian avant-garde when he exhibited at the Salon des Indépendants in 1885. He became widely admired by Pablo Picasso and his circle for his fresh, direct vision, so obviously untrammelled by academic training. Rousseau's nickname Le Douanier ("the customs agent") stems from his profession in the French Customs service.
DAVID ALFARO SIQUEIROS
Death and Funeral of Cain (1947)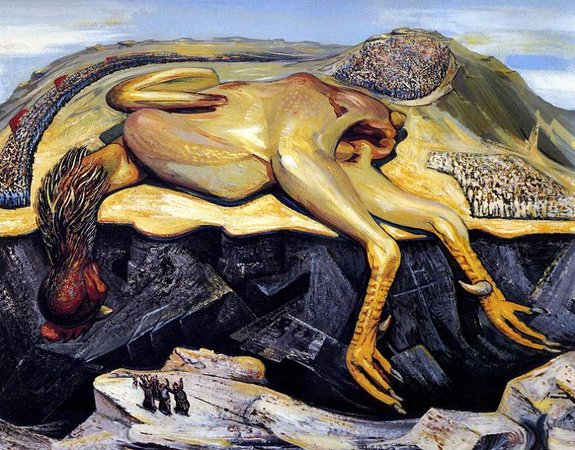 Crowds of people have congregated as if in anticipation of experiencing a miraculous religious vision – but instead a grotesque dead chicken lies slumped across the cliff-top in front of them. The crowd's inability to recognize the inanity of the object they are venerating emphasizes the futility of their mission. Siqueiros was one of the founders (with Diego Rivera and José Clemente Orozco) of the school of mural painting which developed in Mexico after the Revolution. The bold composition of this painting, its striking use of color and free mixture of reality and fantasy, influenced by the Surrealists and Mexican folk art, is reminiscent of the artist's work in murals. A political activist and revolutionary, Siqueiros was imprisoned and exiled many times throughout his life. His impassioned style of painting has immense power and vitality and is ripe with dynamic and provocative suggestions and ideological meaning.