What does your newsfeed and the history of Western art have in common? They're both full of selfies! Humans have struggled to realize themselves visually (and in the best possible light) since time immemorial, and some of the results have been spectacular. But, as these masterpieces from the past 400 years of art-making suggest, the best self-portraits evoke far more than just the visage of their creator. Read through our primers on the genre here (excerpted from latest edition of Phaidon's The Art Book), and don't be afraid to try some of these time-tested techniques for your next Instagram self-portrait.
GILBERT AND GEORGE
Thumbing (1991)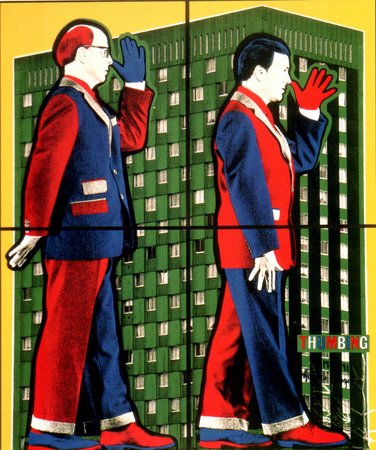 Two figures in alternating blue, red, and white clothing appear in what seems to be a window. A tall building in the distance dominates the background. With mock-serious expressions, the figures seem to be posing in a deliberately prankish manner. Perhaps they are 'thumbing' their noses at the conventions of traditional art. Gilbert and George have lived and worked together since 1967. As self-styled 'living sculptures,' they portray themselves to the public in a variety of ways and media. Whatever they do or however they use themselves, it is usually with humor and deliberate bad taste. With their narcissistic pretensions they make themselves into objects of ridicule. Their work almost defies categorization, although with its gaudy colors and large scale, and in the way it debunks traditional art-historical values, it has affinities with the American Pop Art movement. 
VINCENT VAN GOGH
Self-Portrait (1853)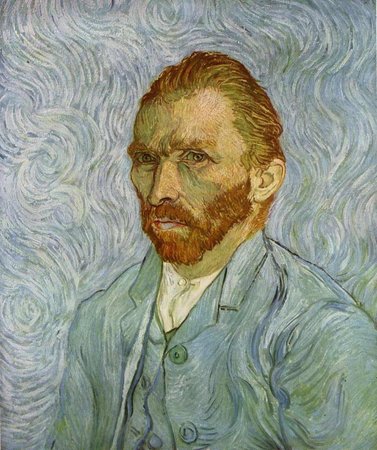 The artist stares with intense blue eyes that seem to ask questions he cannot answer. And yet this portrait, painted while van Gogh was a voluntary patient in the asylum at Saint-Rémy, near Arles in the south of France, captures his psychological state of mind more by means of its colors and dynamic background textures than by any physical verisimilitude. The eddying waves of blue-grey pigment that turn greener in his jacket and waistcoat suggest a tumultuous mentality, and the contrasting colors of his face, neck, and beard, immobile among the roiling brushstrokes, act as a spot-lit frame for those piercing eyes. He would be dead a year later. Van Gogh's influences ranged from Dutch Baroque genre scenes and the realistic depictions of peasants by Barbizon artists such as Jean-François Millet, to the Impressionists and Post-Impressionists whose work he saw in Paris. He combined them all into a uniquely expressive gestural style of painting in which emotional communication took precedence over naturalism.
PHILIP GUSTON
Sleeping (1977)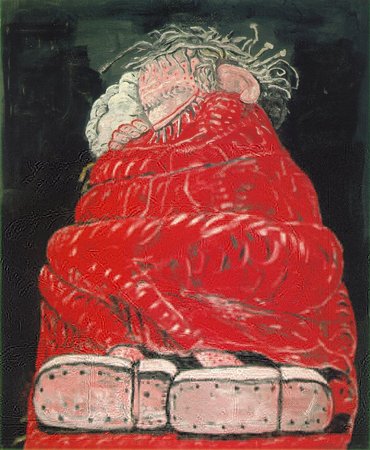 A tramp-like figure, possibly the artist himself, lies in a dark and gloomy place. The cartoon character has been portrayed with deliberate clumsiness, the paint applied in bold, forceful strokes with a limited palette of reds, pinks, black, and white. Painted in the last phase of the artist's career, this work is an ironic comment on low-life urban society. Although Guston was closely associated with the Abstract Expressionists in his earlier period, in 1970 he publicly abandoned this style for a rather raucous form of figuration with the explanation, "I got sick and tired of that purity, wanted to tell stories." Using a comic-strip technique and harsh discordant colors, his paintings comment on such social topics as the homeless and the Ku Klux Klan. Guston taught painting until the late 1950s when he was awarded a Ford Foundation grant and his international reputation was swiftly established with a major retrospective at the Guggenheim Museum in 1962. 
JUDITH LEYSTER
Self-Portrait (c.1630)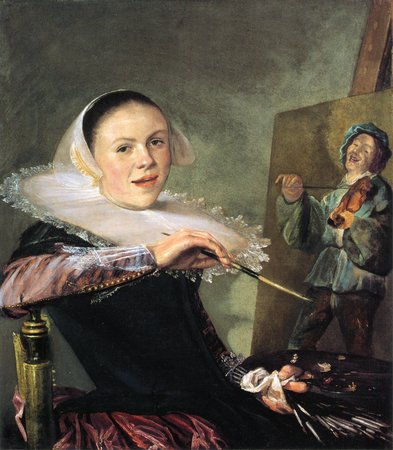 The artist, dressed in her best and leaning back casually, one arm propped on the arm of her chair, is around 19 or 20 years old. She looks directly at the viewer, smiling as if about to speak, holding the tools of her trade. On the easel is a laughing fiddler, but infrared examination reveals that Leyster originally painted the head and shoulders of a young woman here—whether this was a portrait or self-portrait is unknown. The reworking of this area with a fiddler may be a deliberate advertisement of her skills as a genre painter, a popular and marketable specialty in the 17th century; others have suggested that it personifies the joy of artistic creation. Leyster was one of the very few professional female painters of the Dutch golden age. She was a member of the painters' guild, and was possibly a student of Frans Hals. Her compositions, usually comprising few figures and only minimal settings, dramatically lit, are intimate and assured.
RAPHAEL ANTON MENGS
Self-Portrait (c.1774)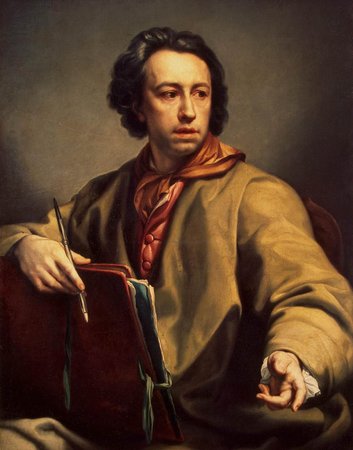 Dressed in a simple brown cloak with a red underjacket, Mengs presents us with a completely informal, unpretentious image of himself. His rather shabby clothing, unkempt hair, and drained features with tired, swollen eyes are an honest depiction of an exhausted man, worn out with hard work and inner struggle. Many painters have made self-portraits, the best known being those of Vincent van Gogh and Rembrandt. These searching introspections, plumbed into the inner psyche, give a penetrating insight into the character of the artist. Often, as in this painting, all concrete details apart from a brush and a folder of sketches are excluded. A German by birth who worked mostly in Rome and Spain, Mengs was a painter of religious and historical subjects in the restrained emotions and heroic style of the Neo-Classical era, yet here he has let us have a glimpse of his real personality.
REMBRANDT
Self-Portrait at the Age of Sixty-Three (1669)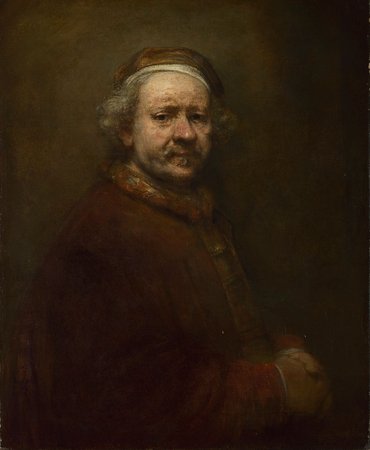 Painted the year he died, this portrait shows the artist as an old man in a velvet cap and a doublet with fur collar. Rembrandt successively darkened the painting with layers of overpainted details until only the face—with its bulbous nose, weary eyes and worried brow—remains highlighted, circled by a hazy aura. Thick impasto in the beard and collar make them stand out from the background, and the hands are only just illuminated. A master of light and shadow, Rembrandt used his technique to enhance the drama of scenes such as his famous Night Watch. His numerous self-portraits, painted over some 40 years, contain narrative alongside representation, not only documenting his appearance but telling the story of his life, from humble beginnings to happy marriage and professional success, then personal tragedy and poverty. Some canvases appear to have been painted not as portraits per se, but as tronie, a type of Dutch genre painting that showed a stock character in exotic or historical costume. 
CINDY SHERMAN
Untitled No. 96 (1981)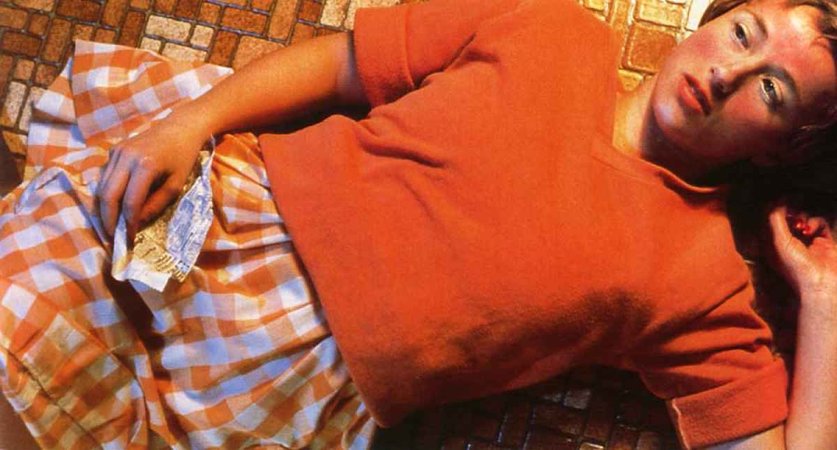 This photograph is reminiscent of Victorian art in its romantic portrayal of a meditative young woman. The symbolic motifs of the Pre-Raphaelites, however, are replaced with the brash surfaces of modernity; the young woman becomes a teenager; the 'letter' she holds is a section of the lonely hearts column; and the framing is cinematic. Untitled No. 96 is one of an ongoing series of photographic tableaux which Sherman stages, acts in and directs. Sherman is the 'star' of all her works where, heavily disguised, she acts out a series of narratives often drawn from cinema or the history of great art. Her increasingly baroque works of the late 1980s have moved into grand guignol. The female body is dismembered or replaced with pornographic prosthetics in a violent evocation of the image as a corpse and woman as victim. But Sherman's disrespect for traditional values combines with grim humor to form a powerful and original artistic approach.
DIEGO DE SILVA Y VELÁZQUEZ
Las Meninas (1656)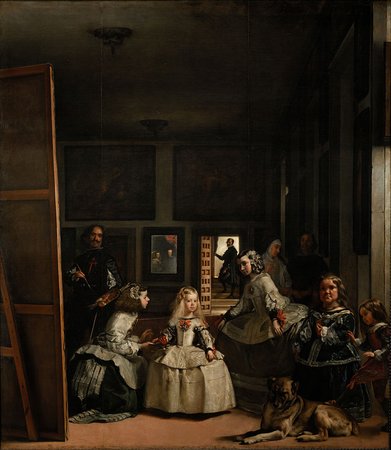 The five-year-old daughter of King Philip IV of Spain, the Infanta Margareta-Teresa, stands in the centre of the canvas surrounded by her retinue of maids and dwarfs. Velázquez has depicted himself on the left of the canvas, painting a huge portrait of the King and Queen who can be seen reflected in the mirror directly behind the Infanta's head. Velázquez is one of the greatest portraitists of all time and this work is considered the masterpiece of his final years. He was little influenced by other artists although in 1623 he was appointed Court Painter in Madrid and became aware of Titian's work in the Spanish Royal Collection. He also met Peter Paul Rubens, who shared his studio for a short while and is believed to have inspired Velázquez to visit Italy. Velázquez had a deeply sensitive appreciation of character. His painting is characterized by freely painted harmonies of color and tone and a unique blend of realism with atmosphere.