Earlier this month, Banksy stenciled a rat on the exterior clock of a former bank building on 14th Street in Manhattan. Though the entire building is slated for demolition (a developer filed plans to replace it with a 13-story condo building with ground-floor retail space), Banksy's piece would never see its demise. Less than a week after he painted it, the piece was removed on behalf of the developer, Gemini Rosemont, who is "in the process of examining all of our options before making a decision about next steps," according to Curbed. It's probably safe to assume that these "options" involve selling the clock for a bunch of money—none of which the artist will ever see.
Art dealers and property owners have been criticized endlessly for tearing apart walls to remove and sell Banksy works, not only because they profit off of an uncompensated and non-consenting artist, but also for preventing the public from seeing and enjoying the artist's work in the context it was intended to be seen. The truth is, a lot of people profit off of Banksy—from dealers who sell his art ripped from the streets to photographers who sell photos of his street art to artists who knock of his style to sell work of their own. Just search "Banksy" on Ebay and you'll see over 100k results of knock offs. In fact, so many people knock off his work that Banksy had to create Pest Control: a website/office that authenticates works that are indeed by Banksy, so collectors and would-be collectors don't become the victims of fraud. So… if everyone else makes a buck off of Banksy, how does Banksy make money of his own?
Considering that Banksy is anonymous, there is no way to answer exactly how he makes money off his art, or how much Banksy makes (many online sources estimate a whopping $20 million per year—though none cite sources to back up this valuation), but we're going to take some educated guesses. Banksy probably makes his money the same way most well-off artists do: by selling art.
Though Banksy may have climbed to fame from the public-facing, unsanctioned street art he's most known for, his bread and butter initially came from selling editioned artworks made for the wall. These stencil works, silkscreens, and lithographs are rendered in the same style as his wall pieces, and in many cases, use the same imagery. From the late '90s/early 2000s to 2008, British dealer Steve Lazarides acted as Banksy's agent. (Lazarides is often credited with helping elevate street art to the realm of fine art by representing and promoting street artists and finding markets for their work.) He along with a group of street artists and technicians started Pictures On Walls (POW), a printshop and website that produced affordable prints by street artists and sold them online.
So, Banksy would make money from the prints he sold through Pictures on Walls. How much money? Lougher Contemporary's Huw Lougher, a Bristol-based dealer who sells Banksy among many other artists, tells Artspace that most signed prints by Banksy, released in varying edition sizes, typically sell in the $20,000-40,000 range. "Then there are his open editions, which are a more affordable entry point and which can be collected for $500-1,500 typically for an offset poster (not signed or numbered) or the new so-called 'Box Sets' from Banksy's hotel in Bethlehem, the Walled Off Hotel." On the other end of the spectrum is something like Girl With Balloon (2004), the most sought-after print, according to Lougher. "The unsigned edition of 600 will typically command a price in the region of $50,000 today and the signed edition of 150 as much as $165,000 (with artist proofs higher still). Last year it was voted the UK's most favorite work of art!"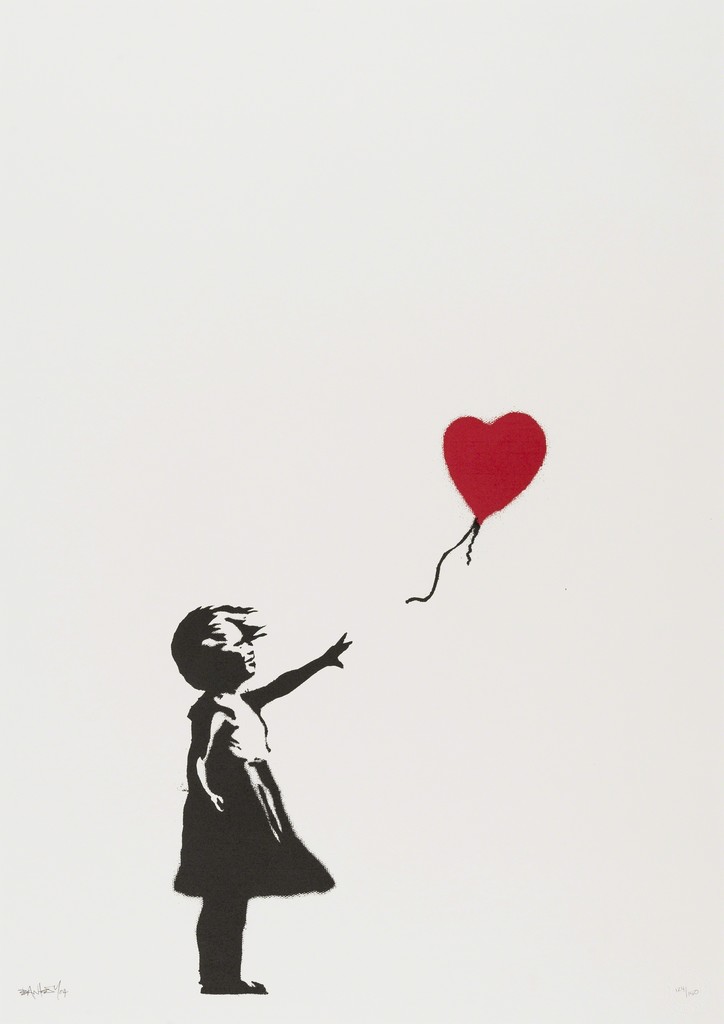 Girl With Balloon (2004)
But here's the thing… while Banksy makes money when these prints are brought directly from POW, on what's called the "primary market," the majority of sales happen on the "secondary market," meaning that dealers source the works from auction houses, collectors, or other dealers, rather than directly from the artist (or in this case, POW). To put this another way, someone might buy a print from POW for a certain price (of which Banksy takes a cut), but then down the road, that person might sell that same print to someone else on the secondary market for much more money to turn a profit. Banksy doesn't profit from those sales.
And get this: as of January, Pictures on Walls no longer exists. On their website they posted a statement describing their decision to call it quits, and it gets at a paradox that may at be the crux of this "How does Banksy make money?" question: Most street artists claim that they make art on the street to avoid the market-driven, institutionalized, mainstream economy of the gallery system. Street art, fundamentally, isn't supposed to make money. Here's an excerpt from POW's statement:
"Inevitably disaster struck—and many of our artists became successful. Street Art was welcomed into mainstream culture with a benign shrug and the art we produced became another tradeable commodity. Despite attempts at price fixing regrettably some POW prints have become worth tens of thousands of pounds. Either unable or unwilling to become part of the art market we once so self-righteously denounced—we called it quits."
Sure, not all street artists feel their work shouldn't be a "tradeable commodity." As a branding mechanism, street art can be quite lucrative for those who have a signature style that is ubiquitous and recognizable enough. Big corporate brands looking to access consumers who share an interest in street art have the incentive to collaborate or hire street artists to help build their own brands. For example, KAWS has offered his cartoonish style to Comme des Garçons Parfums to outfit their Girl unisex fragrance bottle, Mr. Brainwash collaborated with Nike to produce a paint splattered limited edition of Air Force Ones, Brooklyn-based street artist BÄST teamed up with Marc Jacobs to design canvas hi-top sneakers.
Contrarily, and to Banksy's credit, Banksy has been pretty consistent in backing up his anti-elitist rhetoric with some real to-the-people action. When he does release new, signed editions (which by the way, doesn't happen very often—according to Lougher, Banksy didn't publically release any new print editions from 2010 to 2017), he sells them for considerably less than market value. Any other New Yorkers out there remember kicking themselves for not buying his work when, in 2013, he sold his stencilled canvases for 60 bucks a pop out of a street vendor stall in Central Park? (Only three people bought work, totaling $420 in sales—but $225,000 in market value.) Granted the sale was more of a commentary from Banksy than an actual scheme to sell art (Banks deliberately didn't tell anyone what he was doing, and hired an unsuspecting man to attend the stall), but still. And last October, Banksy released $500 prints called Sale Ends via a lottery. Those prints are "now changing hands in excess of $25,000," says Lougher. "Banksy does not operate as a traditional artist, or like any other artist operating today or in the past for that matter. He does not sell through galleries, he doesn't have solo or group shows in the traditional sense, but will sell privately, behind closed doors through Pest Control, the proceeds from which are used to realize his projects, which are significant in scale and ambition, such as TheNew York Residency (2013), Dismaland (2015), The Walled Off Hotel in Bethlehem (2017-)," Lougher continues.
This last comment gets to the meat of Banksy's income: the private sale of unique artworks to select clients through Pest Control. "If you consider that significant unique works are now comfortably worth $500-plus on the secondary market, Banksy only really needs to sell 10 to 20 pieces a year to select clients to make asufficient amount to fund the projects... and draw a decent salary!" says Lougher. And remember, Banksy doesn't give half of the sale to third parties—unlike artists who sell through galleries typically do. "It's very clever and he's in a privileged position. Most artist only get a cut of all sales; what he and his team have created over the past 20 years now means that when he does sell, he will typically get the full whack."
And, selling art isn't the only way Banksy can bank it. He's self-published a handful of books that contain photographs of his work (both on the street, and on canvas), along with some of his own writing. In 2005, Random House published Wall and Piece, which was a best seller in the arts category for several years. He directed Exit Through the Gift Shop, a documentary nominated for the Academy Award for Best Documentary Feature. It grossed $5,308,618 at the box office.
Banksy is probably doing just fine financially. But if you want to own his work and feel ethically opposed to buying it unless the money is directly supporting the artist, you're pretty much out of luck. When we reached out to Pest Control about where we could buy Banksy works directly from him, on the primary market, they told us this: "Pest Control Office is the sole agent selling primary Banksy artworks which support the artist, all other galleries only sell secondary market Banksy works. Banksy does not sell works through any other gallery or institution." The thing is, Pest Control isn't actively selling art. On their site they say, "there is currently something/nothing available." But like Lougher says, "Given the demand, [Banksy] has never had to use third parties to sell his work. Once they sell out, which they do instantly as demand significantly outweighs supply (due to his huge and still increasing popularity, the low price point relative to the market value and the investment potential), then a buyer's only option is to source on the secondary market."
Should we feel bad for Banksy for not making money off of every single print that exchanges hands on the market? Sure, as long as we recognize that there are much less fortunate artists out there who suffer greater from the reality that the art market typically serves the best interests of the artist last. Though the law in the EU states artists must get four percent the resale value when their work is resold, secondary market sales in the US and elsewhere never financially benefit the artist, and in a lot of cases, they devalue the artist's work on the primary market since they increase the supply of available works. The sad truth is that Banksy is certainly not the only artist who gets taken advantage of by dealers, collectors, and auctioneers. But let's put it this way: if you're looking to get rich, don't bet on becoming a street artist.