Outside the Seattle Art Museum (SAM), at all hours of the day, is a very long line. " Yayoi Kusama : Infinity Rooms" has been bringing record-breaking numbers to the museum, and after seeing the show in person, we'll tell you, it's worth the wait. First exhibited (and organized by) the Hirshhorn Museum and Sculpture Garden in Washington D.C., the highly sought-after traveling exhibition has made its second stop at SAM, which marks a homecoming of sorts—Seattle was where the artist first lived when she came to the United States in 1957.
"Initially, she thought she wanted to go to Paris because up until World War II, Paris was the center of the art world," SAM's curator Catharina Manchada tells Artspace. But then, Kusama stumbled upon a painting by Georgia O'Keeffe—and everything changed. She went to the U.S. embassy in Tokyo, got a mailing address for O'Keeffe, and sent the artist a stack of drawings with a letter asking for advice on how to get to the United States. "At the same time, she also wrote to Kenneth Callahan, a member of the school of Northwest Modernists in Seattle," says Manchada. "Luckily, Callahan wrote her back a welcoming letter and introduced her to Zoë Dusanne, an art dealer in Seattle who offered her an exhibition." So, Kusama moved to Seattle, and the rest is art history.
For some locals, the exhibition holds some sentimental significance. "In Seattle, there are some people who have lived here for a long time, some of whom may still remember the history of Kusama and the connection she has to the Pacific Northwest," says Manchada. The museum itself has a strong relationship to its geography, too. "There is something very unusual about the Seattle Art Museum—and it pertains to Kusama as a matter of fact." The museum started in 1922 with a collection of Asian art (made possible by a large donation from Richard E. Fuller's private collection.) As a result, the Northwest Modernists—like Callahan, the artist who helped bring Kusama to the region—were looking at Asian art when they were developing strategies for abstraction. "I think Kenneth Callahan was particularly receptive when Kusama wrote to him because there was this particular love and interest in Japanese art in Seattle at the time."
What else makes the Seattle Art Museum's presentation of the Kusama exhibition unique? Despite the logistical constraints and opportunities set forth by the museum's architecture (the SAM is smaller and more condensed than the Hirshhorn's sprawling, donut-shaped layout), the curators decided to present Kusama's most recent work at the exhibition's entrance. "I wanted to introduce Kusama as a contemporary artist, so we are opening the exhibition with her most recent works—her dazzling and very colorful paintings and sculptures—to remind people that she remains extremely vital as an artist working today, in addition to being a historical figure."
Though the exhibition presents a wide range of the artist's oeuvre—including her recent sculptures and paintings, some of her earliest drawings on paper, her infinity net paintings, and her obliteration assemblages—the infinity rooms are certainly what draws the largest crowds. So, without further ado, here we offer you a sneak peak into each room on view.


RELATED ARTICLE: "It Feels Good to Be an Outsider": Yayoi Kusama on Avoiding Labels, Organizing Orgies and Battling Hardships
Aftermath of Obliteration of Eternity (2009)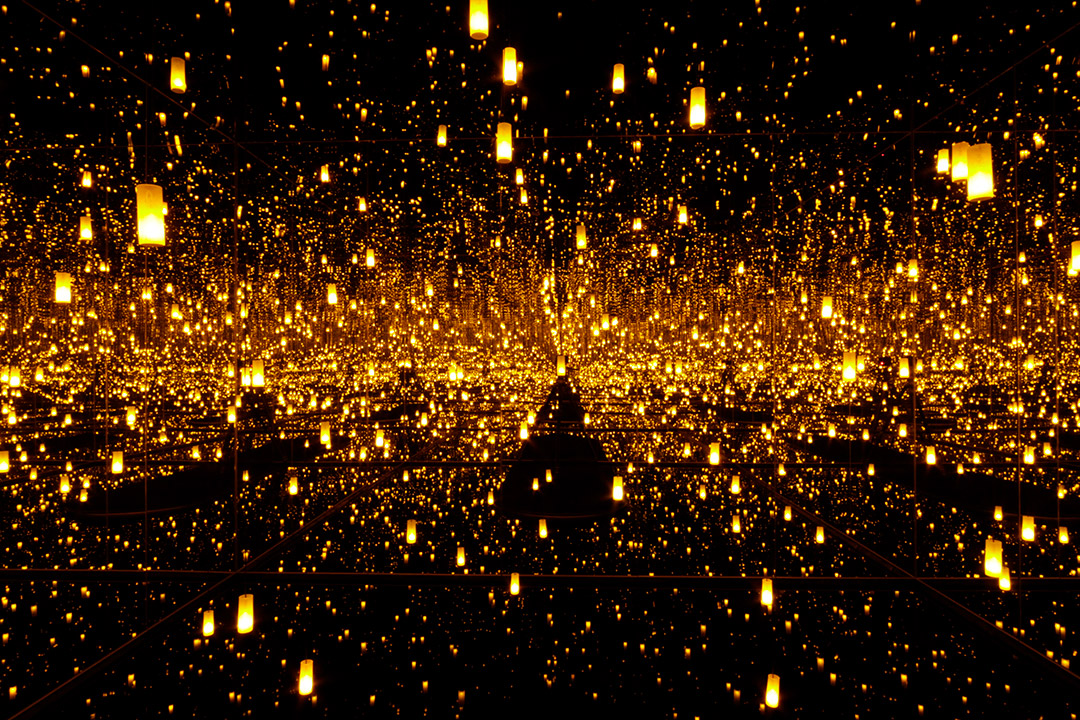 Collection of the artist, Courtesy of Ota Fine Arts, Tokyo/Singapore; Victoria Miro, London; David Zwirner, New York, © YAYOI KUSAMA
Walking into Aftermath of Obliteration of Eternity , one must be careful to not hit their head on the low-hanging lanterns, which although there are few, are infinitely multiplied by the mirrored walls, ceiling, and floor. The lanterns flicker, dim, and brighten, making this infinity room the only room where your own reflection isn't always visible. According to the wall text, "For Kusama, obliteration is a reflection on the experience of death and the potential of the afterlife." In this case, Kusama was inspired by the tradition of toro nagashi, a ceremony to guide ancestral spirits back to their resting places on the last night of summer by floating paper lanterns down a river. As the lights fade and you find yourself surrounded by darkness, it's not hard to relate to the artist's spiritual vision.
All the Eternal Love I have for the Pumpkins (2016)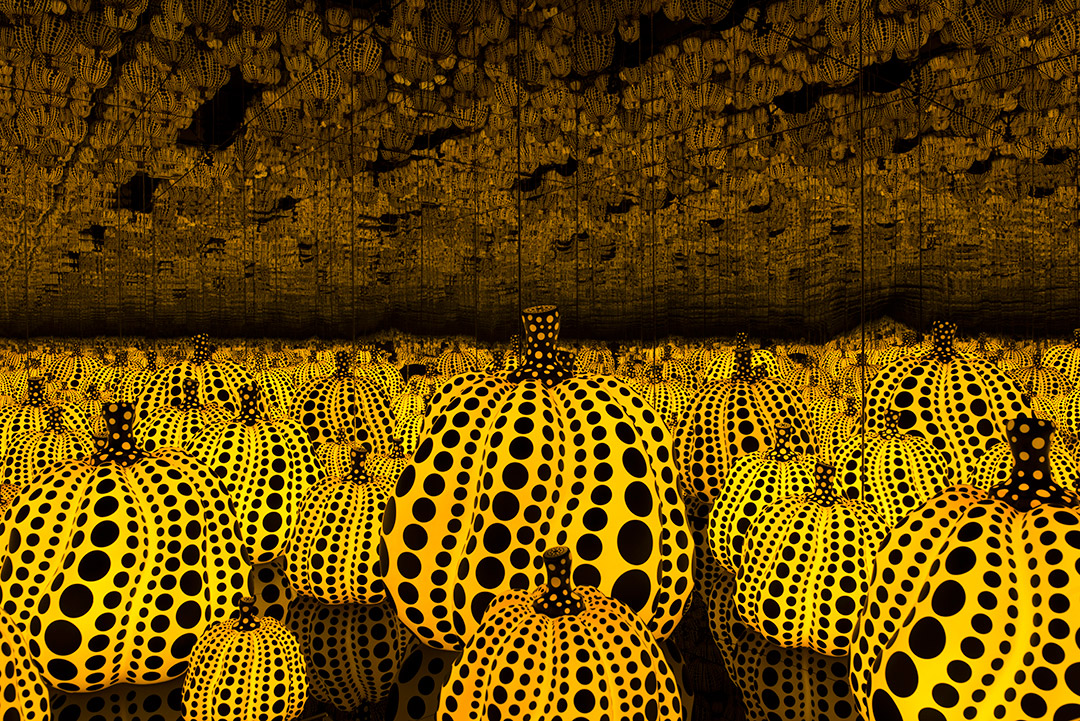 Collection of the artist, Courtesy of Ota Fine Arts, Tokyo/Singapore and Victoria Miro, London, © YAYOI KUSAMA

Kusama has had an affinity for pumpkins ever since she was a kid. A child of parents who sold plant seeds for a living, Kusama vividly remembers seeing the odd-shaped gourd for the first time while visiting a seed-harvesting farm with her grandfather. The fruits have appeared in the artist's work repeatedly throughout her career—sometimes in drawings or paintings, sometimes as sculptures, and sometimes within installations. In this case, glowing pumpkins decorated with Kusama's signature polkadots rest on the floor, creating the surreal illusion of a never-ending, radioactive pumpkin patch.
Love Forever (1966/1994)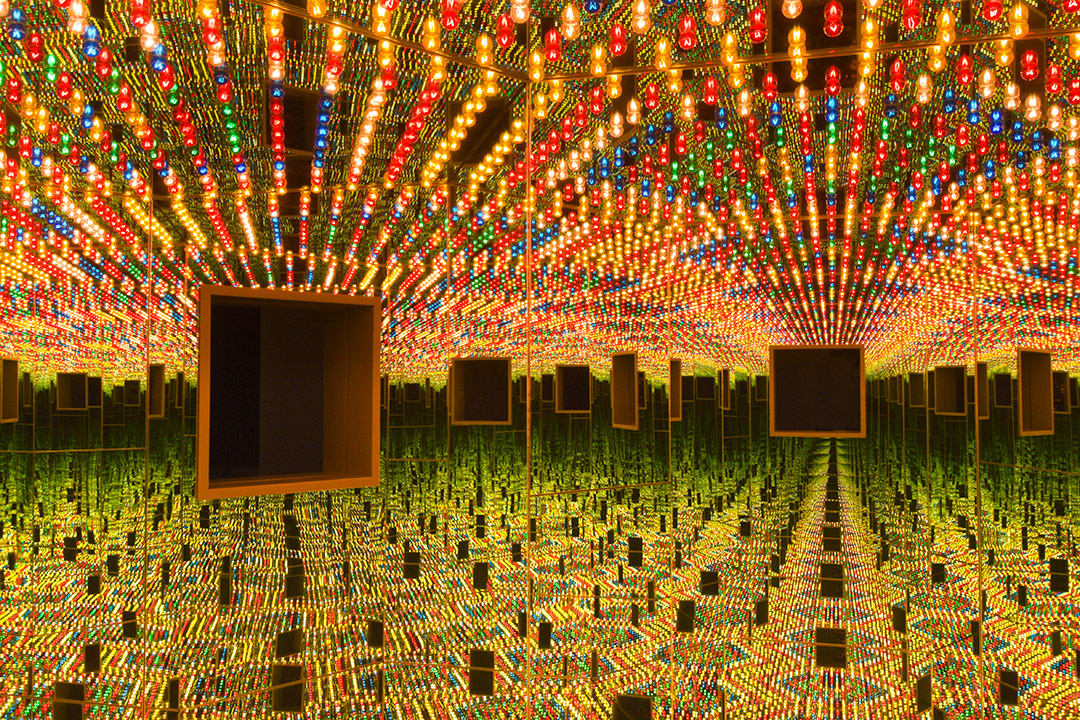 Collection of Ota Fine Arts, Tokyo/Singapore
A slight departure from the other rooms in the exhibition, Love Forever is not a room you can enter. Instead, two peepholes on the outside of a mirrored hexagonal shape invites viewers to look inside. In the interior, lights of different colors flicker on and off in geometrically arranged patterns, which Kusama conceived of as a "machine for animation." When the artist first exhibited the piece in 1966, she handed out buttons that said "Love Forever" at the opening—a phrase that for Kusama represented civil rights, sexual liberation, the anti-war movement, and the activist spirit of the 1960s.
Dots Obsession—Love Transformed Into Dots (2007, installed in 2017)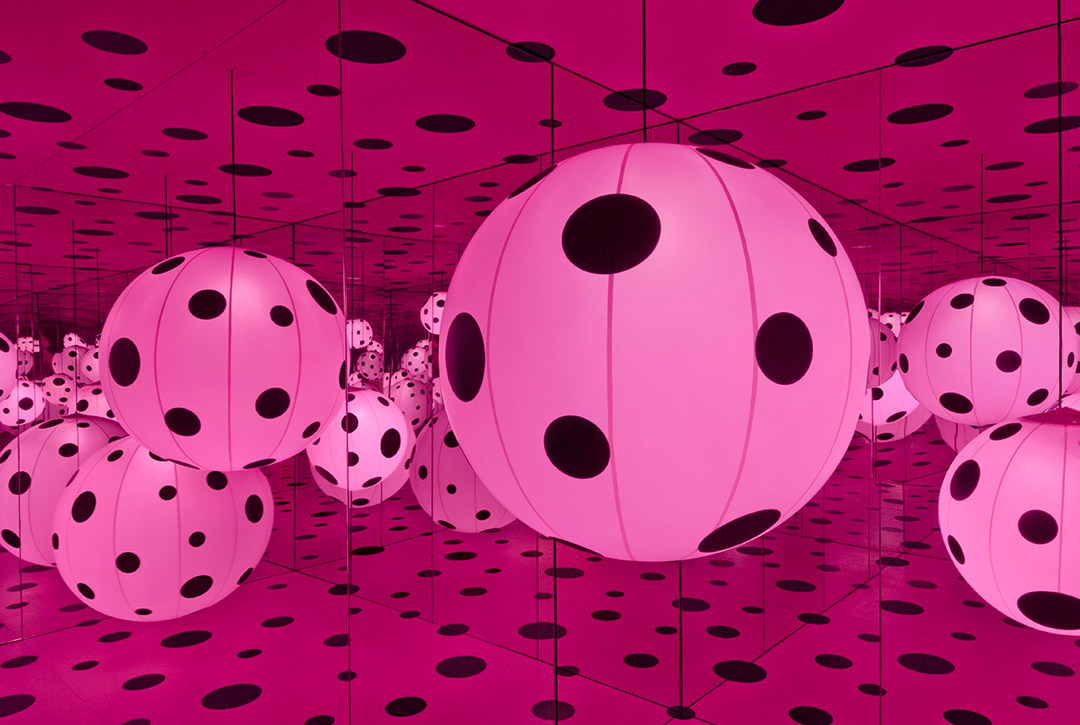 Courtesy of Ota Fine Arts, Tokyo/Singapore; Victoria Miro, London; David Zwirner, New York, © YAYOI KUSAMA, Photo: Cathy Carver

In Dots Obsession—Love Transformed Into Dots , Kusama not only makes a room, she makes an entire environment filled with pink polka-dotted balloons, some of which are infinity rooms in themselves. The biggest balloon beckons the viewer to enter. Another balloon on the other side of the room is impenetrable save for a single peep hole that allows you to peer inside. "The work engages visitors on contrasting scales: the tiny microspace seen through a peephole and the macro, life-size space that envelops the viewer within the installation." In addition to the balloons, a video monitor hangs from the ceiling, allowing Kusama herself in video-form to peer down on the viewers while reciting one of her song-poems, "Song of a Manhattan Suicide Addict."
The Obliteration Room (2002-present, installed 2017)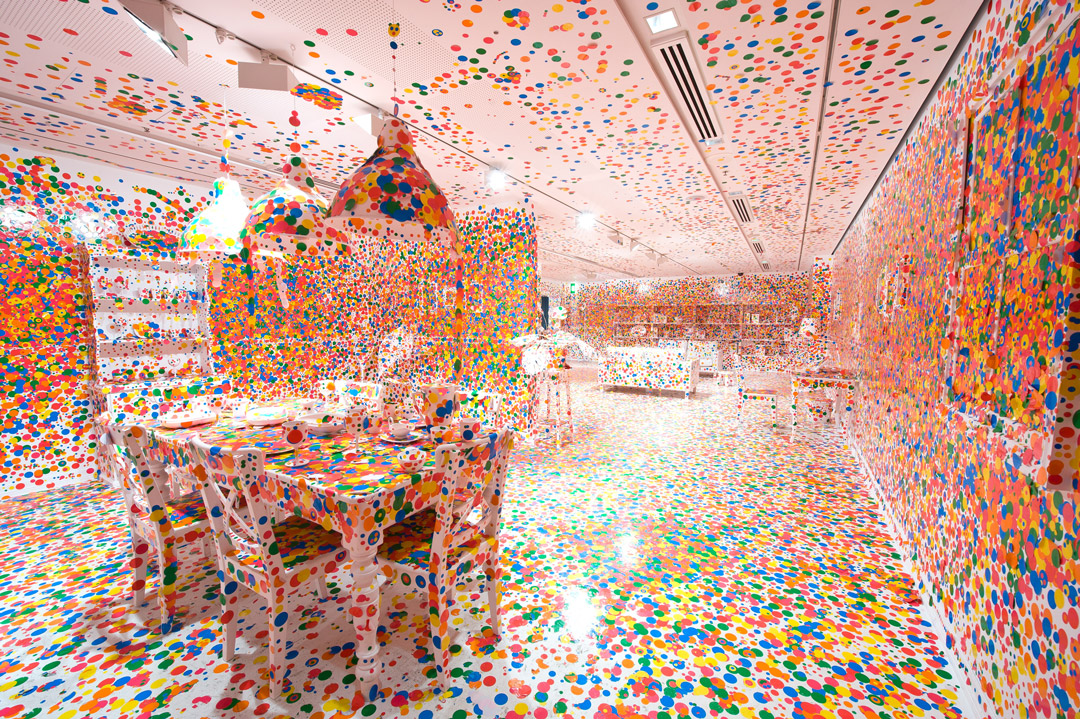 Collaboration between Yayoi Kusama and Queensland Art Gallery, Commissioned Queensland Art Gallery, Australia, Gift of the artist through the Queensland Art Gallery Foundation 2012, Collection: Queensland Art Gallery, Brisbane, Australia, © YAYOI KUSAMA, Photo: QAGOMA Photography

Before entering The Obliteration Room , visitors are given polka dot stickers, giving them the opportunity to participate in the work by helping eliminate any evidence of the original white surfaces—Kusama calls this communal obliteration. "Recalling Kusama's earlier polk-dotted environments and her performances that activated bodies through participation, this installation demonstrates her utopian desire for radical connectivity, which she has described as 'a way to free each individual and simultaneously reconnect them in mutual obligation,'" explains the wall text.
Though Kusama may be best known for her mesmerizing Infinity Rooms, the artist continues to make arresting work into her late eighties. Some of her newest paintings were on view and for sale at the Seattle Art Fair this year. For more highlights from the event, see our favorite works from the third annual fair Seattle Art Fair.
[related-works-module]