Immediately following the publication of his first book, Dave Eggers was hailed as one of the premiere writers of contemporary American literature, a reputation that has grown over the past 17 years with recognition from PEN, the International Dublin Literary Awards, the Pulitzer Prize committee, and more. On April 28, The Circle (2013) will become Eggers's second novel adapted to film (starring Tom Hanks and Emma Watson ) after last year's A Hologram for the King. But despite Eggers's apparent overnight success, his rise to literary fame was never inevitable. And despite his literary fame, Eggers has never been solely a literary artist.
A Heartbreaking Work of Staggering Genius (2000)—Eggers's semi-fictionalized memoir and a finalist for the Pulitzer Prize in non-fiction—details the author's struggles running a literary magazine . Despite publishing heavyweights like David Foster Fallace, the magazine shuttered in 1997. (One year later, Eggers founded McSweeney's , which has since grown into a much-respected publishing organization.) The memoir also details his practice as a graphic designer in California, which was often ignored in favor of Eggers's written work, despite Eggers's aspirations to be a painter. In 2010, Eggers exhibited new drawings at San Francisco's Electric Works gallery, and in 2015 was the subject of a solo exhibition at the Nevada Museum of Art. Like the artist Raymond Pettibon —whose drawings share structural similarities to Eggers's in their juxtaposition of drawings and idiosyncratic text—Eggers has also created album art for several bands.
Films and Adaptations
Trailer for The Circle (2017)
Most people who are familiar with Eggers's visual work likely know his films. Apart from The Circle , which was adapted by James Ponsoldt from Eggers's 2013 novel, one other Eggers novel has made the transition to the silver screen. In 2016, A Hologram for the King was adapted by Tom Tykwer from Eggers's 2012 novel, which was a finalist for the National Book Award. The film stars Tom Hanks as an American salesman who, in the midst of a mid-life crisis, travels to Saudi Arabia in effort to sell a holographic communications system to the country's king, who is building a mega-city in the desert.
Apart from adaptions of his novels, Eggers was a creative force behind three more films. In 2009, Eggers and his wife, novelist Vendela Vida , co-wrote the screenplay for Away We Go , a film directed by Academy Award-winning Sam Mendes ( American Beauty ) and starring John Krasinski and Maya Rudolph . A dark comedy, the film follows a husband and wife as they learn to accept their nascent pregnancy by searching across the country for a place to raise their daughter.
RELATED: Marcel Dzama on Being a "Trickster" Artist, and Why He's a Devotee of Duchamp
Also in 2009, Spike Jonze and Eggers collaborated on an adaptation of Maurice Sendak 's classic children's book, Where the Wild Things Are (1963). In Jonze and Eggers's version of the tale, the creatures bicker and moan among each other in ways that suggest the existential dread of Hanks's salesman or the lost couple in Away We Go more so than a child's dreamy escape. Much as in Eggers's drawings, the youthful visions of wild creatures are weighted with an adult-ish melancholy that belies the childish whimsy of the picture book.
Three years later, Eggers and Krasinski worked together again on Promised Land (2012), a film written by Krasinski and Matt Damon , directed by Gus Van Sant , and based on a story by Eggers. The least well-received of Eggers's three films, Promised Land pits Damon as a representative of an energy company against Krasinski, an environmental activist who organizes a resistance to the company's plan to set up fracking rigs in a small Pennsylvania town.
It Is Right to Draw Their Fur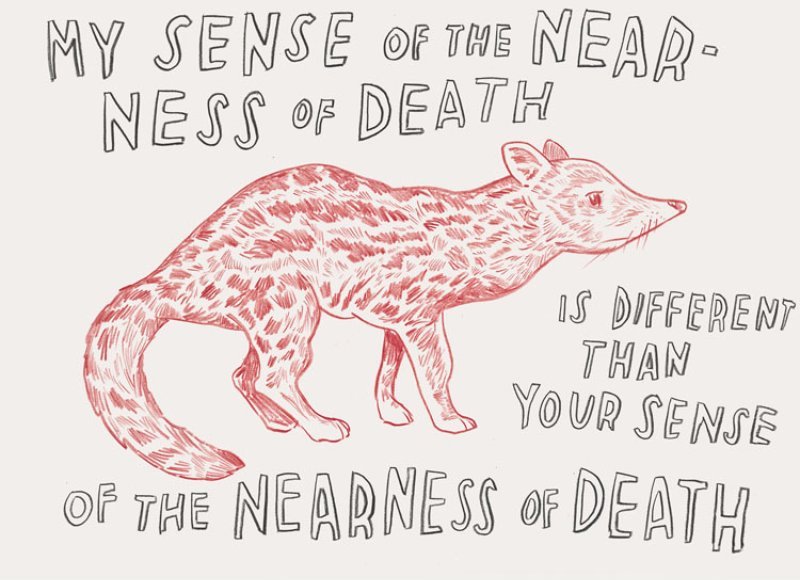 Dave Eggers's Untitled (My Sense of Death...) (2015) is available on Artspace for $600
In between Eggers's two films in 2009 and Away We Go three years later, Eggers saw his first exhibition of visual art at San Francisco's Electric Works gallery, despite having maintained interest in painting since childhood and studying art in college. The solo exhibition, "It Is Right to Draw Their Fur," featured over two dozen drawings of animals done in grease pencil and captioned with pithy "slogans with ancient, heroic, or just plain odd overtones."
According to Eggers, the drawings are responses to questions he posed in McSweeney's Issue 27: "What is the line between a doodle, a cartoon, a gag, and a work of fine art? Does it seem, sometimes, that the artist is defacing his or her own work by adding text? Is loose draftsmanship appealing, in that it's intimate and disarming? Is absurdity more appealing when it comes across as humble?"
Insufferable Throne of God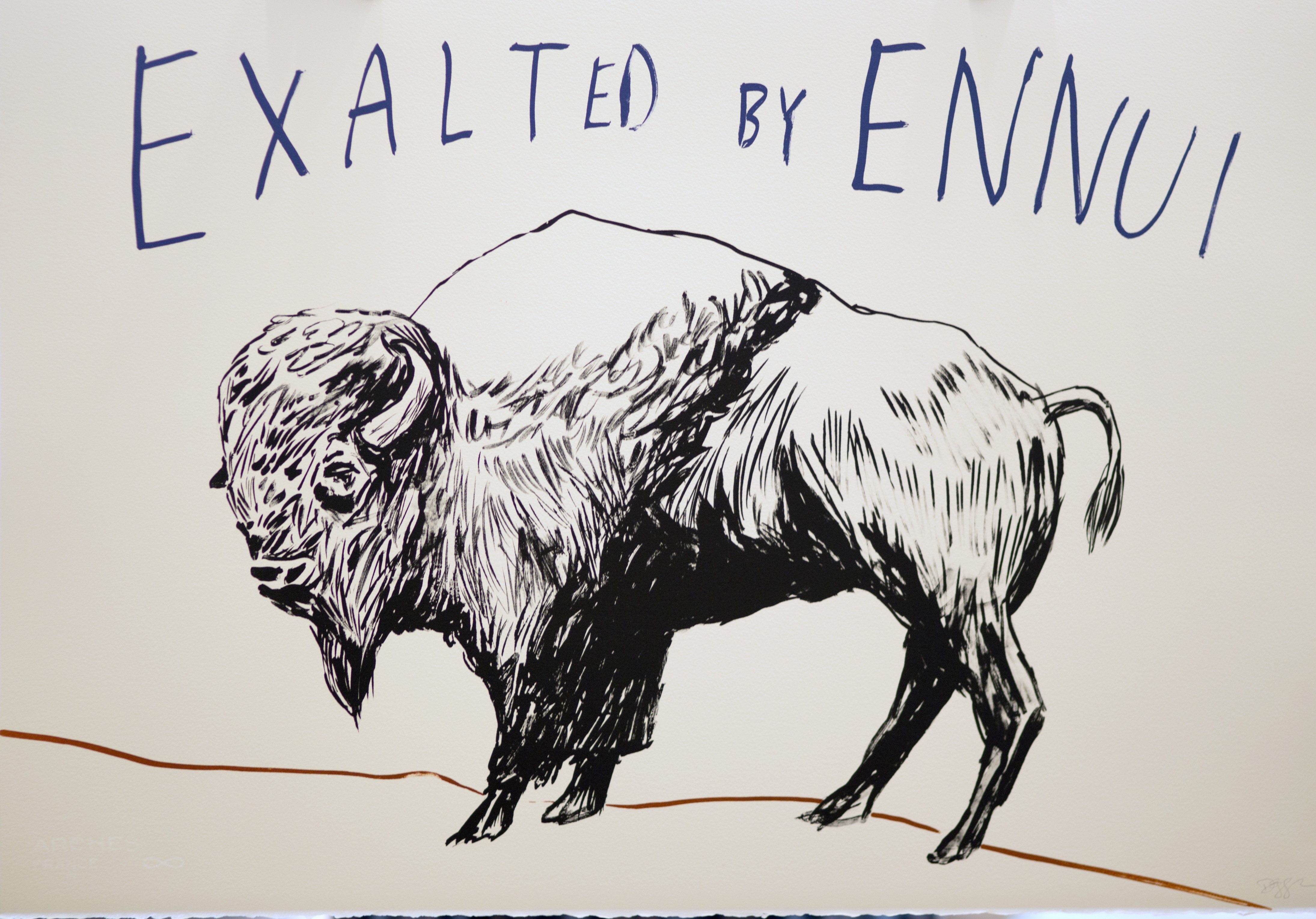 Dave Eggers, Exalted by Ennui (2015)
Eggers's first museum exhibition came in 2015 with a solo show of new drawings at the Nevada Museum of Art, titled Insufferable Throne of God . As with It Is Right to Draw Their Fur , Eggers's recent work continues to combine detailed grease drawings with plaintive text, drawn increasingly from the Old Testament.
According to the Nevada Museum of Art, Eggers said, "I think of what that animal might be thinking—if that animal had an antagonistic relationship with humans and was vying with those humans for the favor of a Catholic God."
Moreover, as in Eggers's Wild Things , the drawings of both It Is Right to Draw Their Fur and Insufferable Throne of God imbue whimsical figures with an idiosyncratic wit, a line of questioning that alternates between solemn inquisition and playful prodding.
[related-works-module]