Gossip Girl , the off-air teen television series that followed "the scandalous lives of Manhattan's elite," turned ten this month. And while this writer is having a bit of a mid-life crisis over it, it's an anniversary worth celebrating. Any show that revolves around New York, innumerable wealth, and high-society is bound to cross paths with the art world—and boy did Gossip Girl ever! Below, we take a look back at some of the show's most OMFG art world moments and judge how accurately they characterize the real, non-televised art world. Surprisingly (and a bit unnervingly), the scandalous television show managed to get it right more than it got it wrong.
RIGHT: Season 1, Episode 4: Rufus Humphrey, rock star-turned-art dealer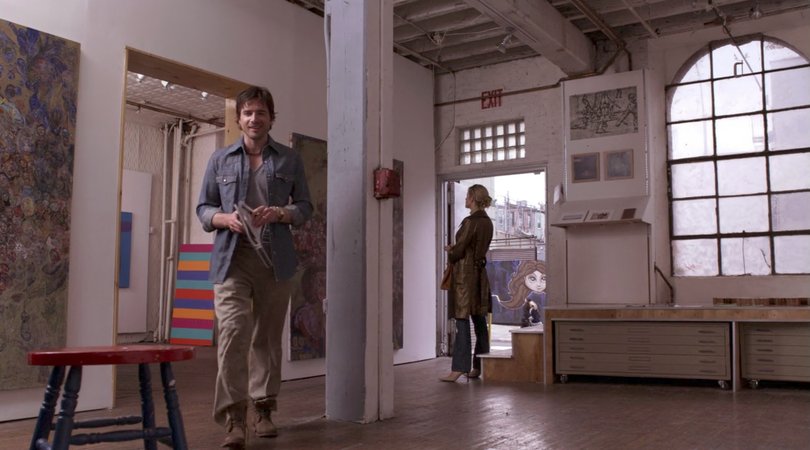 In the pilot episode, we learn that Rufus Humphrey owns and operates a gallery in Brooklyn—and the setting is eerie in its accuracy. He's set up shop in a ground floor industrial space, with ratty windowpanes, exposed ceiling beams, and white painted pipes in places that look like there shouldn't be plumbing. By the time episode four comes around, however, Rufus has stepped it up. Goodbye exposed anything and hello white walls that meet the ceiling. Rufus clearly took some cues from his Chelsea forefathers and transformed the place into a legit white cube. There's even some sleek vinyl on the wall welcoming us to "Bedford Avenue Gallery." While the name is terribly generic, it's not too far off; most galleries are named after either its dealer or its address, no matter how ambiguous or dull it may sound. For those who are crying fowl about the location, remember, this aired ten years ago—rents were different back then! Williamsburg gallery spaces like Rufus' were the norm, not the anomaly, for galleries first starting out. If Gossip Girl started today, Rufus would probably name his space the "Morgan Avenue Gallery" and be in the famous Bogart building with THEODORE:Art and Robert Henry Contemporary—but who knows.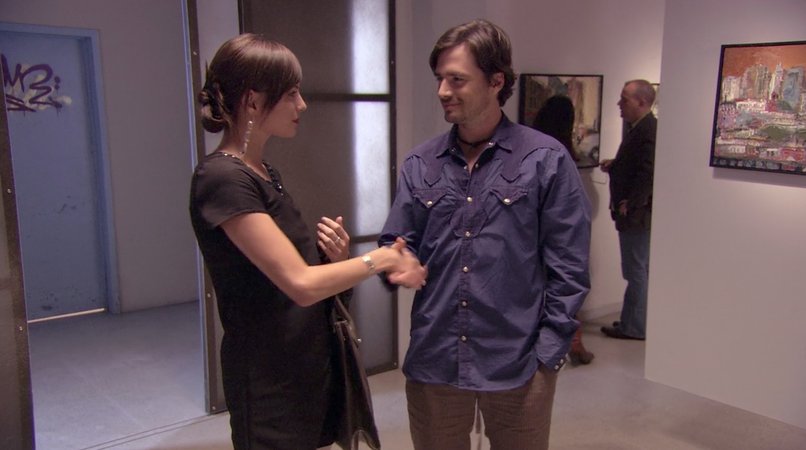 Also in episode four, we're introduced to Bex Simon—a fashionable art advisor who knows her talking points. When she sees a stellar painting by Alison Humphrey, Rufus' ex-wife "who lives in Hudson" (TOO accurate!), Bex tells Rufus, "It's difficult work. I mean that in the best way—it's enigmatic. Reminds me of an early Bacon or Schnabel ." Zing! I'm sold. Rufus, draft up an invoice!
WRONG: Season 2, Episode 2: The Café Conversion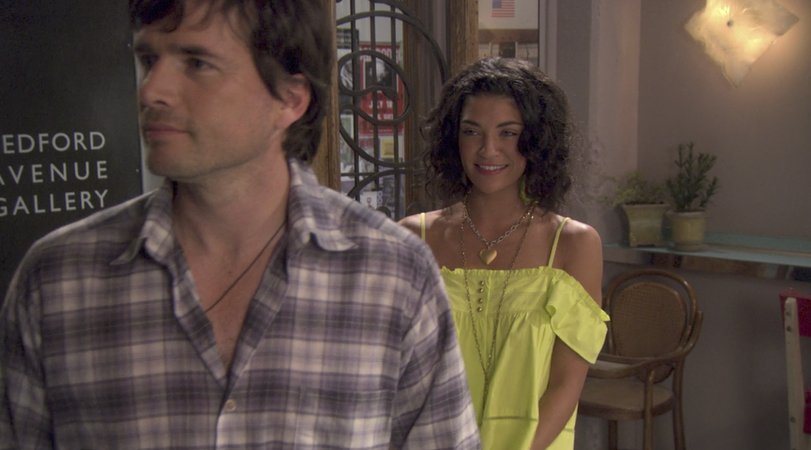 There's more to Gossip Girl than just Rufus's gallery, but I'd be remiss if I didn't mention the atrocity that happened to the "Bedford Avenue Gallery" in season two. Before heading to the Hamptons for summer vacation, Rufus mentioned that he wanted to convert the gallery's on-site storage space into a café. Vanessa, best friends with Rufus's son Dan, decided to take on the task and spent her summer vacation sprucing up the place. There is a lot wrong with this scenario, so time to whip out the bullet points:
• Aren't museums the only ones with cafés inside of them? Because of the long lines and high admission fees, you're essentially stuck in these fortresses. That's why you will pay exorbitant money for anything that reminds you of the outside world—like $5 for a lukewarm cup of coffee. Also, once again, the gallery is on Bedford Avenue, a coffee haven! Don't flood the market Rufus, the latte wave is already cresting.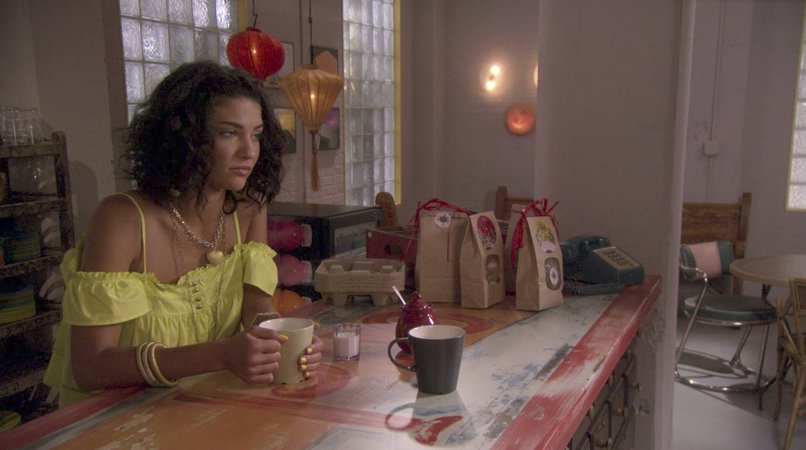 • I like Vanessa; she's sweet, she's creative, and she isn't totally hypnotized by the glitz and glamour of the Upper East Side… but, girl ! Come on! The café's décor is tacky and abrasive, and not in like a chic, ironic way. Did she rummage through an abandoned diner and then spend too long scrolling through Craigslist's "Free" section? It looks like someone asked a broke teenager to furnish a coffee shop in her spare time, all by herself and… oh wait, that's exactly what Rufus did! Sigh. Okay, I'll rephrase: I like Rufus; he's sweet, he's creative, and he ends up dating my favorite musician of all time (Lisa Loeb)…but, boy ! Come on!
• Rufus, if you need some supplemental income, just do what's normal and open up a satellite space in the Hamptons. Hel- lo , you're spending your summer there anyway! You could also snag a booth at an art fair or two, but be careful…soon you won't be able to get off the dizzying carousel of a full-year fair schedule.
RIGHT: Season 2, Episode 5: "Elm & Drag Pulling You In…"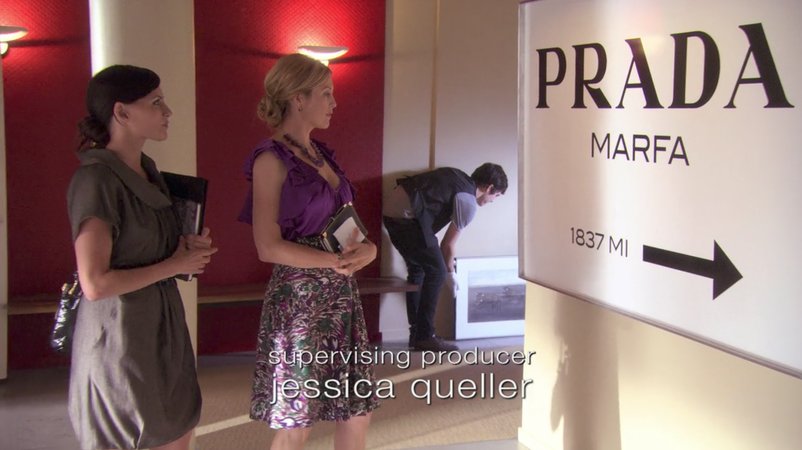 In the second season, Lily Van Der Woodsen (Rufus' ex-girlfriend and Serena's mom) moves into her newly-remodeled penthouse and we finally get a peek at her burgeoning art collection. Art advisor extraordinaire Bex returns and gives us a quick walkthrough of the collection that "any museum would be thrilled" to own. This declaration, while a bit boisterous, isn't too far off. In the second season, Gossip Girl teamed up with the Art Production Fund (APF), a non-profit that works to bring contemporary art to new audiences. APF handpicked choice works for Lily's collection, and they did not disappoint! There's a print by Kiki Smith , whose imaginative sculptures and prints act as meditations on mortality and spirituality. Ryan McGinley , the acclaimed downtown photographer known for his dreamy and raucous nudes, has a piece sitting near Lily's fireplace that's just waiting to be hung on the wall.
"Pulling you in" to the front room, as Bex says, is a custom piece by Elmgreen & Dragset . The duo is most known for their sculpture Prada Marfa, a well-stocked (but never open) Prada store located on a desert road in Marfa, Texas. A cute critique of consumerism, Prada Marfa has become well known in and out of art world circles. Beyoncé famously visited the "store" a few years ago, and Vogue referred to the sculpture as the "fashion girl's Statue of Liberty." For the piece in Lily's apartment, Elmgreen & Dragset created a light box advertisement for the "shop" that also tells us just how far Prada Marfa is from the heart of New York City. Maybe Lily will use that information when booking a trip on her private jet…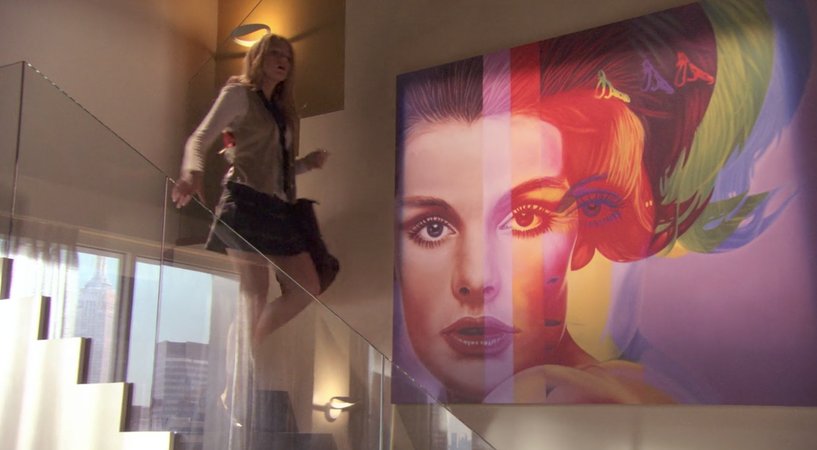 Richard Phillips , the superstar artist represented by major-league gallery Gagosian, has a painting in the living room's stairwell, and this work somehow makes its way into every single shot of Lily's apartment—rendering the work a Gossip Girl icon. Phillips also makes an appearance in the show's final season, which I will comment on soon enough.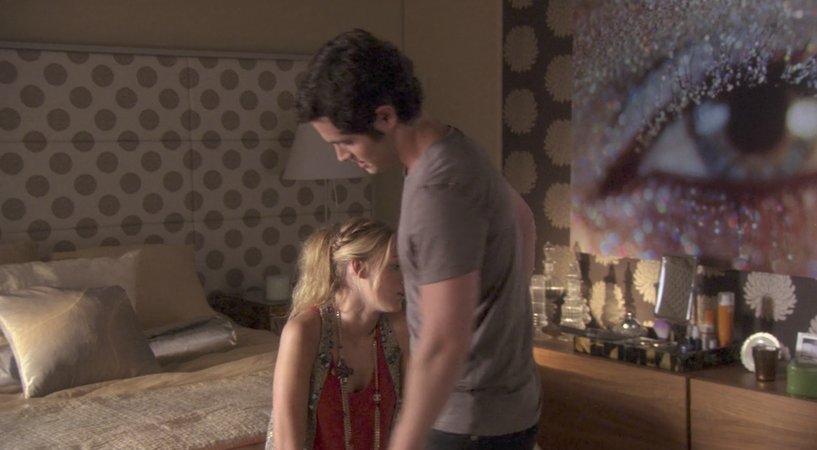 In addition to the pieces in the foyer, Serena has a Marilyn Minter hanging in her BEDROOM! Minter's work revolves around the commodity of the female body, and her photographs are especially critical of the fashion industry's "sex sells" mentality. Serena is often rebelling against high society's stifling standards, so Minter is, like, a perfect match! In Gossip Girl , life imitates art!
WRONG: Season 3, Episode 3: Win it and walk out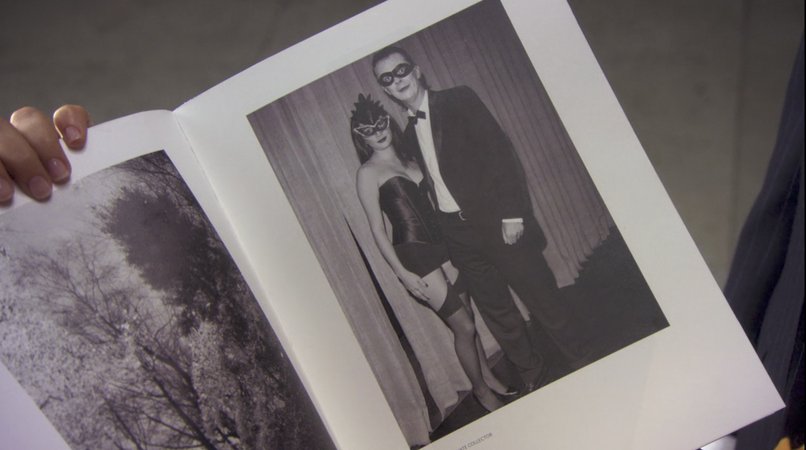 In this episode, Serena's friends Chuck and Blair go head to head at a Sotheby's auction; both of them need a rare Patrick McMullan photograph for their own (trivial) reasons. McMullan often shoots New York nightlife and A-List celebrities, making his inclusion in the show a solid and believable choice. The entire Gossip Girl crew treats the evening auction as the social event of the season, and weirdly, Sotheby's does too—behind the rows of auction chairs is a cluster of tables, with guests socializing and bickering during the night's bidding! Unreal. During a popular auction, there's hardly enough room to stand… and definitely no room for cocktails and chitchat!
The most glaring inaccuracy comes after the auction. Distracted by one another, Chuck and Blair both lose the auction—to SERENA! (Gasp!) Moments later, Serena is standing at one of those high-top tables holding the rare photograph like it's a borrowed textbook! It's not even wrapped in bubble wrap! Auctions may be cutthroat in the moment, but there's a lot of paperwork to go over after a sale is finalized. You'd never just be able to walk off with the piece immediately after the bidding has ended.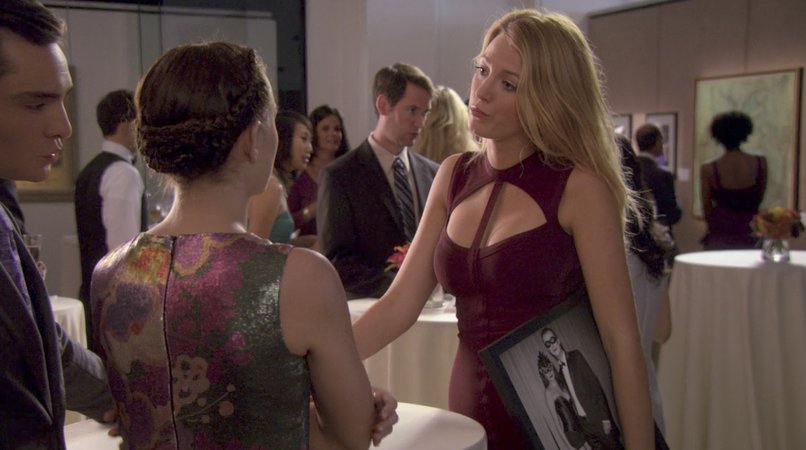 But, you know what, I'll let this one slide. I came to this show to gawk at messy drama and unattainable opulence. Serena dangling a $7500 photograph like it's an evening clutch while delivering the best I told you so face is exactly why I watch this show!
RIGHT: (Almost) All of the Artist Cameos!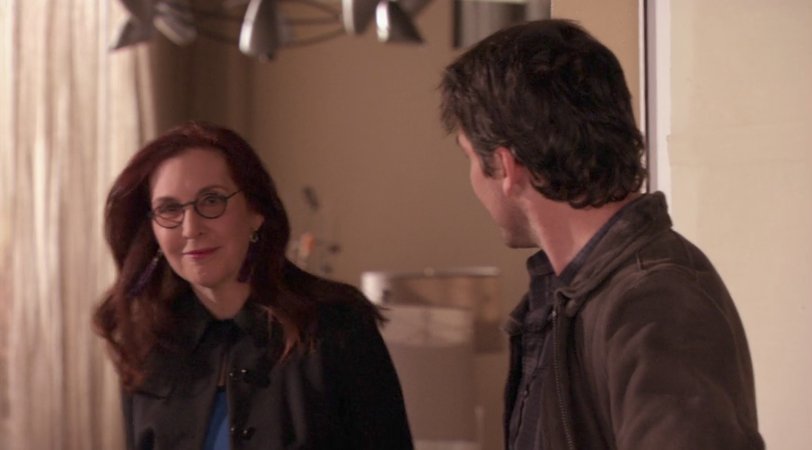 Being one of the hottest shows on television and partnering with the Art Production Fund gave Gossip Girl mounds of credibility—and the chance for some walk-on cameos from a star-studded group of artists. In season three, Serena goes on a job interview with artist Todd DiCiurcio which begs the question… in the real art world, would Serena's lack of qualifications hold her back? Or would her role as beautiful "It" girl with a large trust fund make her the perfect candidate for the often-underpaid role of gallery assistant?
Later, in season four, the Van Der Woodsens are getting ready to be photographed for the upcoming book Modern Royalty . However, at the last minute (drama!), the publishers pull Lily and company from the compendium. Rufus, determined to lift Lily's spirits however he can, hires another photographer to shoot them in their Sunday best. In walks renowned photographer and filmmaker Laurie Simmons . Ahh! A Pictures Generation pioneer, Simmons is known for photographing dolls and domestic interiors that question society's stale gender roles and mass media's objectifying depictions of women. Also, she's Lena Dunham's mother and played herself in Dunham's debut feature Tiny Furniture. I'm telling you, she's a legend! Lily knows it too! Look at Lily's FACE when Rufus says LAURIE SIMMONS is taking their family portrait!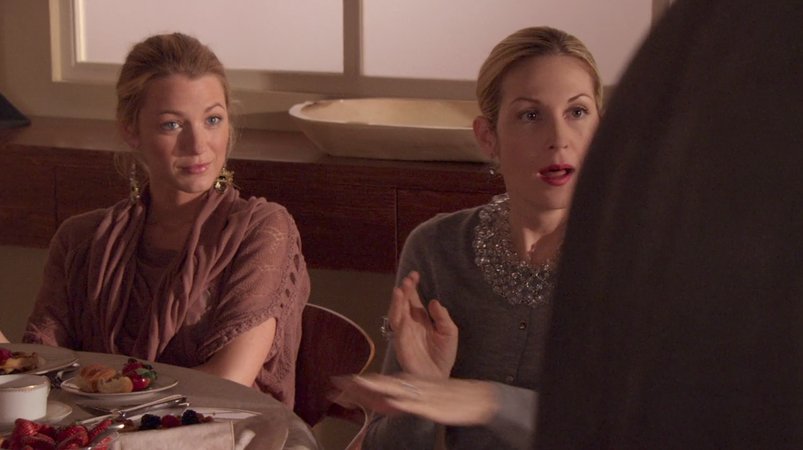 Lily, same here.
In the final season, the Art Production Fund holds a benefit in tandem with Rufus's gallery (which is now appropriately called "Rufus Humphrey Gallery"—maybe he moved to Tribeca?). Patrick McMullan , Spencer Sweeney , and Fab 5 Freddy all make an appearance! The most memorable artist, however, is Richard Phillips… told you I'd come back to him! Which brings us to our next and final judgement.
WRONG, but also so right : Season 6, Episode 6: Richard Phillips pines for the 1940s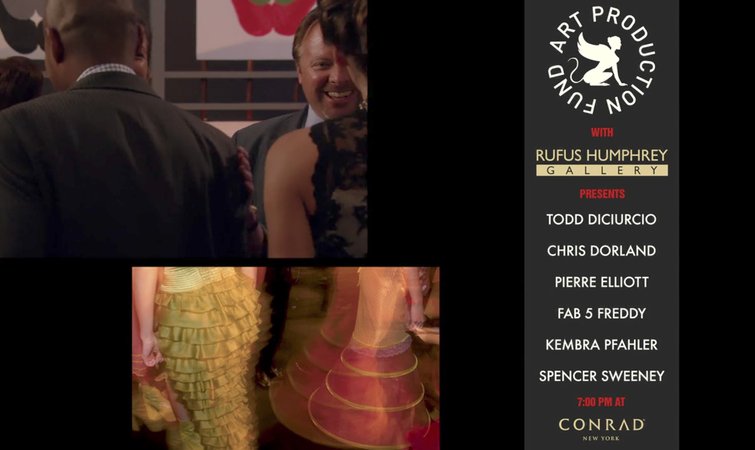 Honestly, it's like too much to get into, but the Phillips painting that hangs above Lily's stairwell (titled Spectrum ) is up for auction at the APF/Humphrey Benefit. Rufus, early in the evening, walks over to the bar to socialize with the big wigs—APF co-founder Doreen Remen and Richard Phillips himself. Their cringe-worthy conversation goes down like this:
Remen: I like that your artists reflect the same socially relevant projects we commission at Art Production Fund.
Rufus: And I like that you can see the street art influence. I'm not talking about the '80s, but the '40s. Dubuffet , Pollock , Ray Johnson…
Phillips: …when artists were the stars of New York, instead of celebutantes.
Excuse me? Ok Phillips. We get it. You're one of those "why are the Kardashians famous?" types. That's not the bone I wanted to pick, though. Syntax-wise, Phillip's quip doesn't even make sense. Like in the '40s, when artists were the stars of New York? He obviously means the '80s, when artists like Basquiat , Haring , and Warhol were at the epicenter of pop culture. Come on.
So, it's technically wrong. But you know what? Honestly? It's so right . Phillips, or actually his characterization on the show, represents the worst art world types—the ones whose large egos are as fragile as a Fabergé egg. I've met them, and I'm sure you have too. You don't impress this person, no matter what you do or how much you know. In fact, they're usually not even listening to you; they're just waiting to insert their wisecrack into the conversation and take you down a peg. Of course the conversation's syntax doesn't match up. It doesn't have to. We're thrown off by his "read" about Rufus' social circle—and that was always the point anyway.
Also, for Rufus to namedrop the late great Ray Johnson on a television show made for teenagers (and twenty-something art writers)? Amazing. So right. If Rufus wanted to curate a show of "1940's street art aesthetics" at his gallery (maybe by now it would be named Humphrey Projects?), I will be there in a New York minute.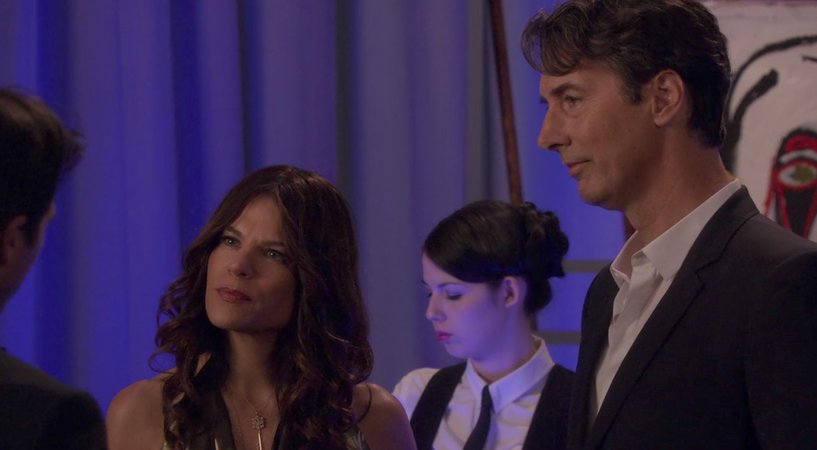 So, what have we learned? Well, Gossip Girl scored pretty high on my card. Other shows, films, and plays could learn from Gossip Girl 's portrayal of the high-stakes, big-money New York City art world. However, don't look too hard for the right answers; like a classic Seurat, the closer you get, the more of a mess it all becomes. Until next time, Upper East Siders... xoxo, Gossip Girl.