In keeping with the New Museum's devotion to all culture that is, well… new, this year's triennial features twenty-six artists between the ages of 25 to 38, most of whom are exhibiting in the United States for the very first time. Though their experiences span 19 different countries, what unites the artists in "Songs of Sabotage" is a collective willingness to reveal the built systems that construct our reality, images, and truths—in other words, Morpheus knocked, and all of them chose the red pill. Presented as a call for action in an era of global precarity and tumult, "Songs for Sabotage" proposes a kind of propaganda, offering models for dismantling and replacing the political and economic networks that envelop today's global youth. According to Alex Gartenfeld, co-curator of this year's exhibition, "'Songs for Sabotage' highlights artists whose interventions into the mechanics of culture and daily life are re establishing common ground, and powerfully, poignantly advocate for systemic changes in global culture."

Here is a sneak peek of some of the provocative works that will be on view from February 13th through May 27th, giving you more than enough time to decide—Will you take the red pill, or the blue pill?
MANOLIS D. LEMOS
dusk and dawn look just the same (riot tourism) (2017)
Single channel video, color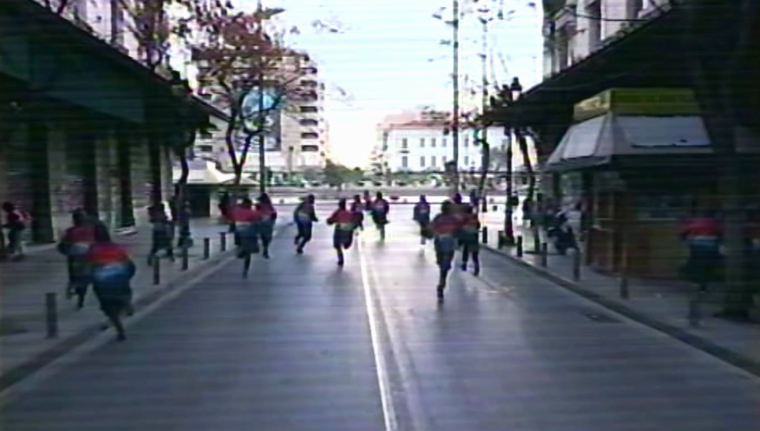 In Greek artist Manolis D. Lemos's single channel video, drone footage follows a group of protesters running through the streets of Athens from behind, capturing the backs of their matching jackets, all emblazoned with a sun that is either setting or rising against a horizon. As the movement of the group weaves, reconvenes, and disperses, the united horizon line created by their backs ebbs in undulating formation, sometimes broken, sometimes united, offering a poetic metaphor for the precarity of Greece's neoliberalism and the dangers of collective idealism.


CIAN DAYRIT
Mapa de lo que ahora se como Las Islas Pilipinas (2018)
Mixed mediums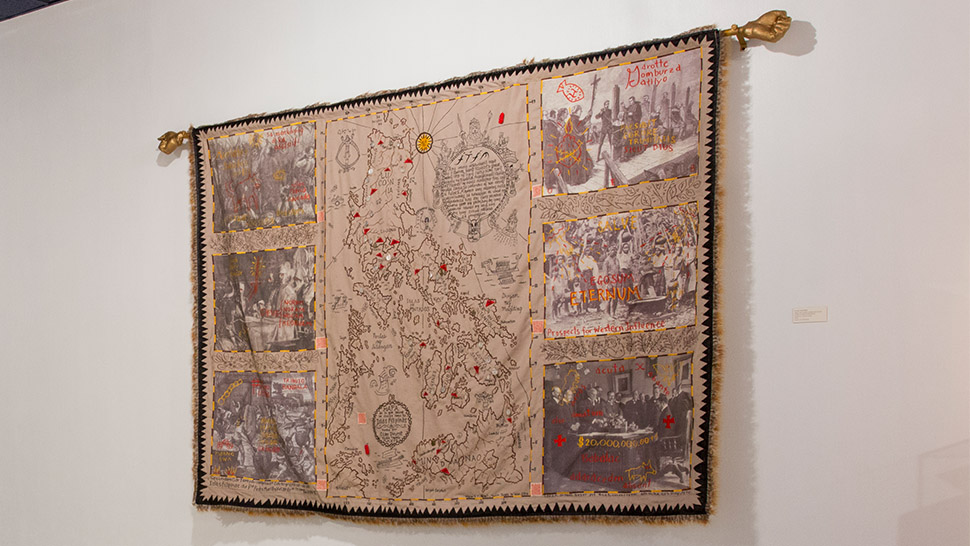 Using a practice he calls "counter-mapping," Filipino artist Cian Dayrit seeks to disrupt and unlink colonial power from his country's heritage by re-appropriating administrative and official imagery in order to describe the realities of everyday life. In one of the works, custom QR codes are sewn into a tapestry of an antique map, leading viewers to readings related to the country's complex history of colonization, adaptation, and multitudes.



ZHENYA MACHNEVA
CHP-14 (2016)
Cotton, linen, and synthetics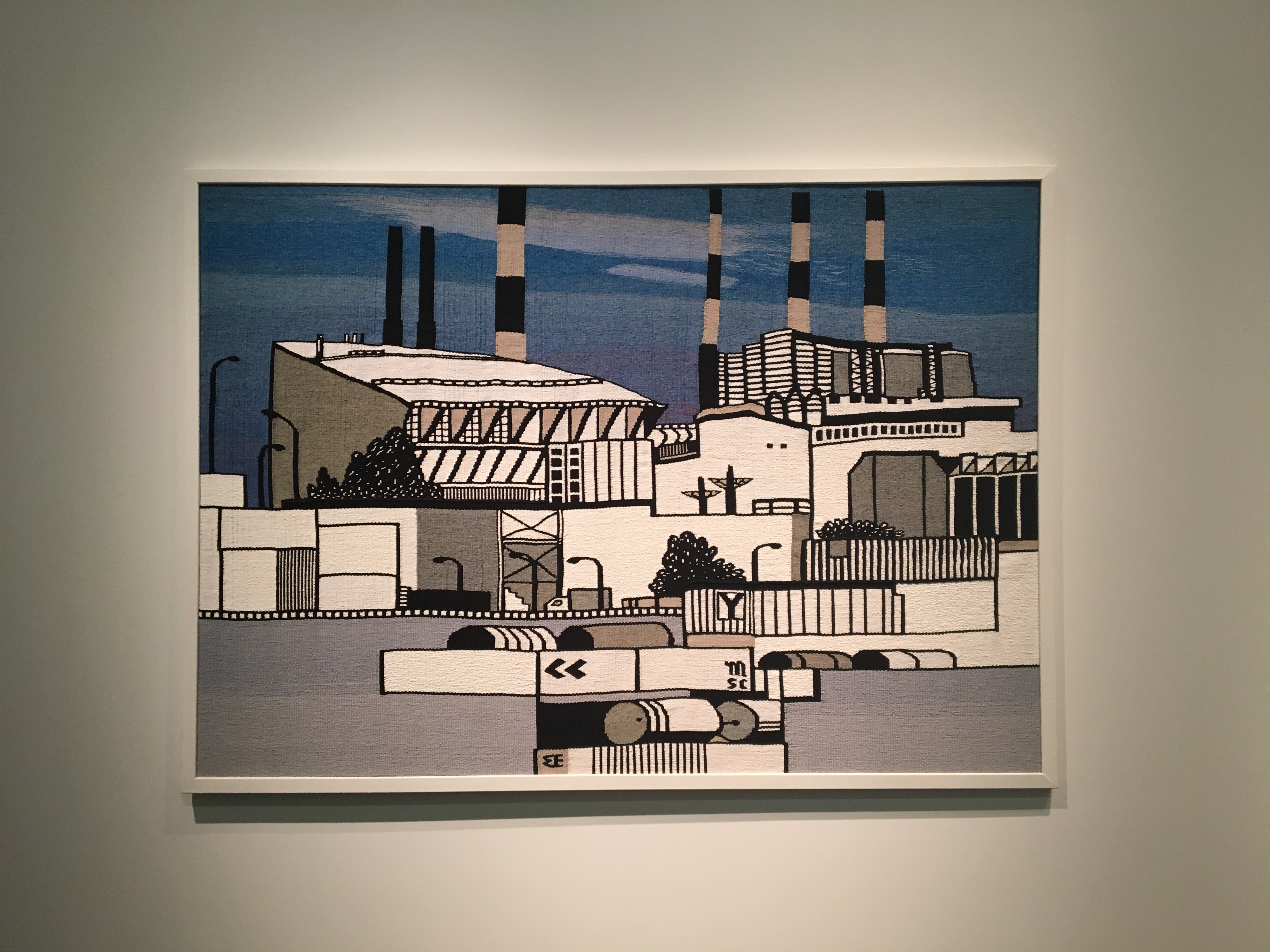 Like Dayrit, Machneva uses the historical form of tapestry to reclaim and reauthor an image. In Machneva's case, her woven tapestries depict post-Soviet era machinery, using the domestic, time consuming, and feminine labor of the craft to subvert and reject the promise of liberation through industry and the machine.


WONG PING
Wong Ping's Fables 1 (2018)
Single-channel animation, sound, color
Wong Ping's psychedelic animated shorts depict the absurd, surreal fantasies of everyday life in Hong Kong, a city undergoing rapid political and cultural transformation. Through anthropomorphized animals and plants (an elephant nun, an inspector chicken, and a bus-riding, cockroach-phobic tree), Ping presents a trilogy of adult parables that question the authority of patriarchy, social media, and sex. Unlike the classic fables of Grimm or Aesop, Ping's surreal allegories don't do much to advance a moral agenda, but instead highlight the instability of such standards.

CLAUDIA MARTÍNEZ GARAY
Cannon Fodder (2018)
Acrylic on wood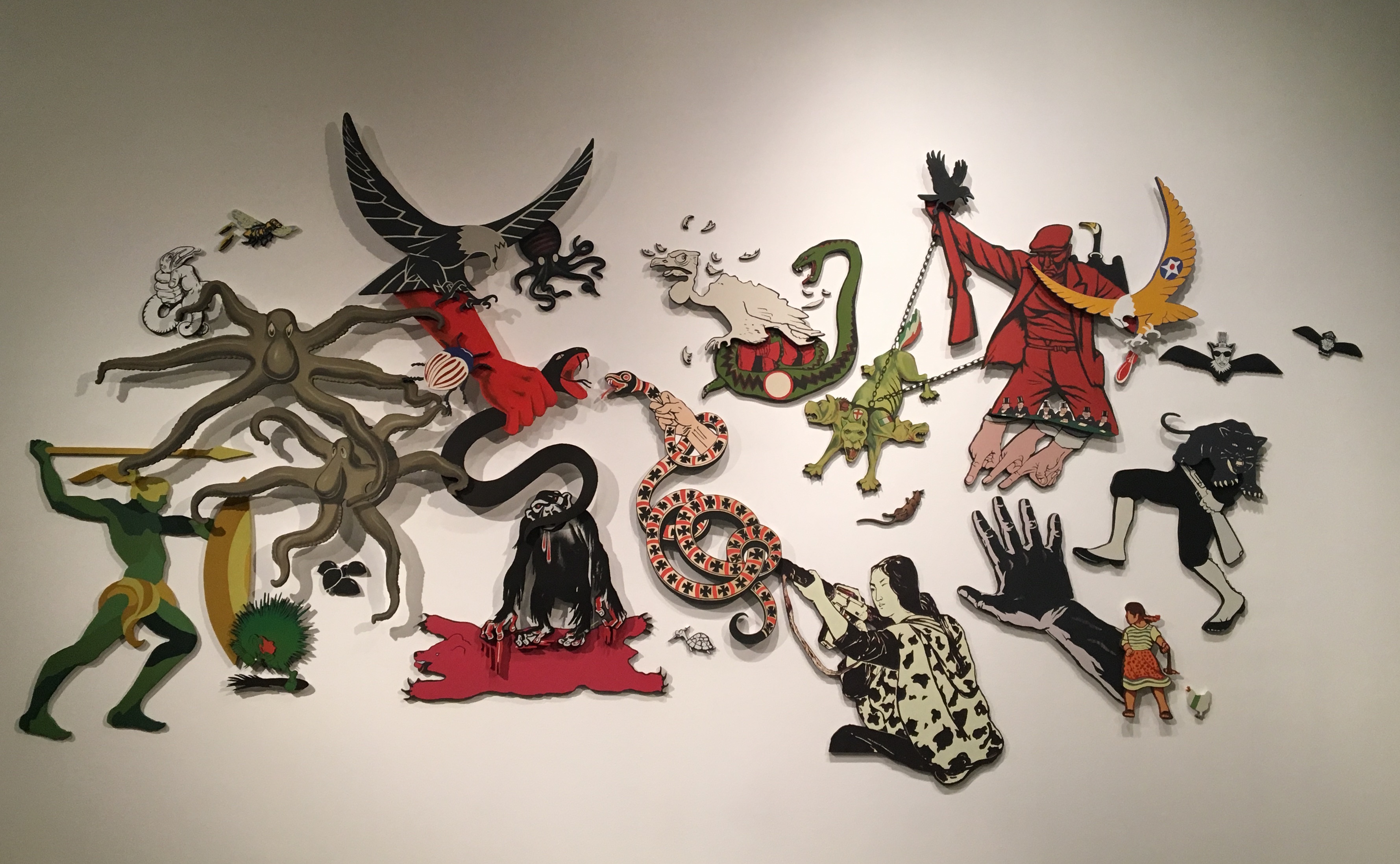 Fascinated with the way similar images and image types have been used by ideologies on every side of the spectrum, Peruvian artist Claudia Martínez Garay deconstructs aspects of visual propaganda in order to understand the broader question of power and authority. In Cannon Fodder, these icons are reproduced as painted wooden cutouts and arranged in a tableau, attacking one another for their rightful place as the dominant historical narrative. In Garay's words, "it's like watching a cock fight."


SHEN XIN
Provocation of the Nightingale (2017-18)
Two-channel video installation, sound, color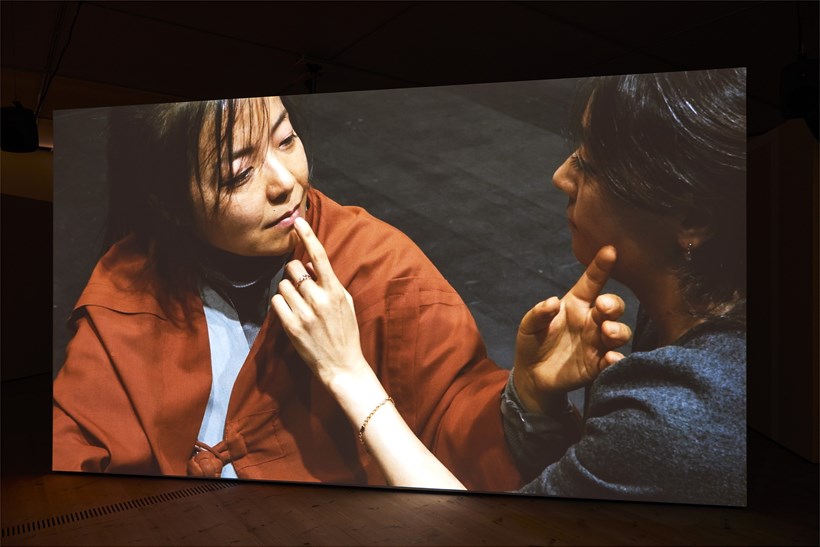 In Shen Xin's disorienting two-channel video installation, the viewer is caught between two narratives of identity—one that asserts that identity is performative, and another that posits it as an intrinsic given. On one screen, Youtube videos of people discussing how the results of their AncestryDNA genetic tests shattered, or affirmed, their self-images. The screen opposite shows an intimate, dramatic, and very heavy conversation between two female lovers—a Buddhist monk and her new apprentice who was formerly a geneticist—on religious assimilation, the ethics of DNA testing, abuse of power, and rape.



KERNEL
(Pegy Zali, Petros Moris, and Theodoros Giannakis)
As you said, things resist and things are resistant (2018)
Mixed media installation with aluminum pallets, copper-plated acrylic resin, foam cable-jackets, steel, and robotic mechanism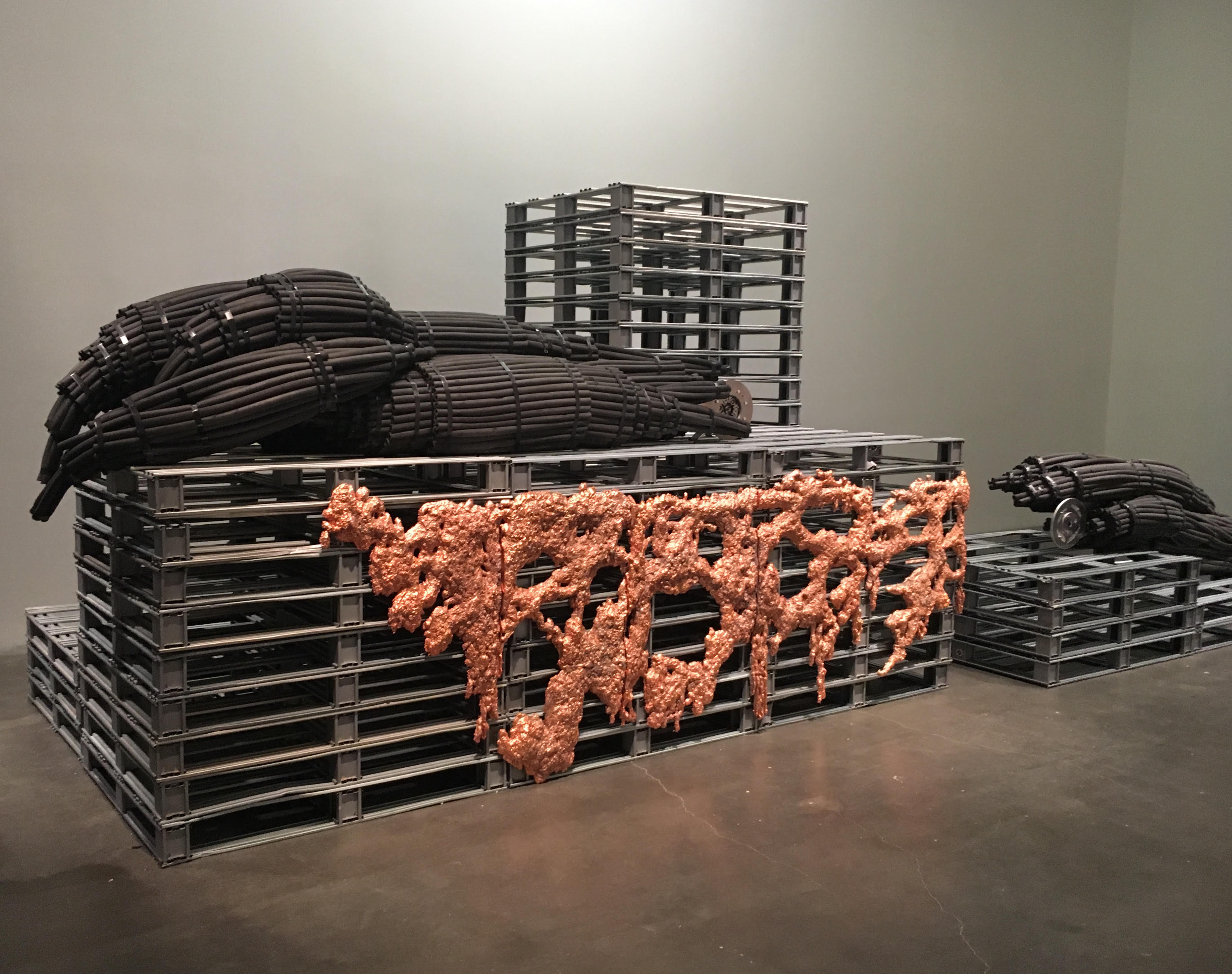 Examining the ways in which globalized economies have transformed the infrastructures and landscapes of Athens during the country's decade-long financial crisis, the artist collective KERNEL focuses on China's privatization of Greek ports, canals, railways, and bridges in their newest mixed media installation. Comparing China's present consolidation initiatives with their past strategies like the Silk Road, the group created a structure made out of attributes of seaports, train depots, and construction sites, uncontrolled by human authority and autonomous in its purpose and logic.

JANIVA ELLIS
Thrill Issues, 2017
Oil on canvas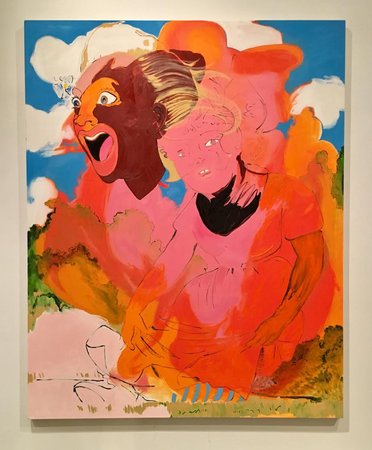 Using the visual lexicon of cartoons, Janiva Ellis creates narrative works which address the structural violence of representation; specifically addressing the hyperbolic racialized features historically associated with cartoon renderings of black individuals. Ellis was raised in Kauai, and has felt isolated from the experiences of other Black Americans all her life. Her vibrant works are her way of navigating this, and unpacking the relationship between experience and identity.


WILMER WILSON IV
His 2, 2017
Staples and pigment print on wood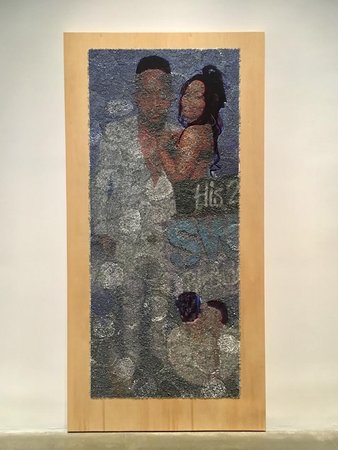 Disclaimer: photos do not do justice to the multi-media artist's latest series of large-scale works on wood; you really have to see them in person to witness their breadth of complexity. Here Wilmer investigates the ways that black bodies are marginalized in the United States through the making of durational works; each requiring 25-30 hours of grueling labor. The artist collects and enlarges imagery sourced from promotional pamphlets and flyers for such events as church services, and community gatherings, and then staples over the image (with somewhere between 150,000-200,000 industrial staples), covering the entire work save for an abstracted body part or accessory with a veil of dynamic movement and noise. The act of the artist oscillates between destruction and preservation; while Wilmer essentially mutilates the original image, he is also protecting the bodies depicted in the images from the realm of hyper-surveillance present in contemporary culture.
MANUEL SOLANO
I Don't Know Love, 2017
Acrylic on canvas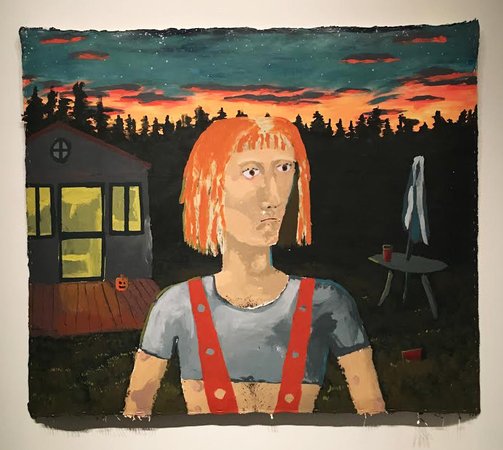 Manuel Solano's works conjure imagery from mainstream pop culture before they became legally blind in 2014; incorporating both personal and cultural memories that reside within the artist's "mind's eye." Solano's large-scale paintings challenge the notion that painting is inextricable from sight; and depicts moments of heightened emotion, highlighting dissonant thematic elements such as loneliness, alienation, sensuality, and inspiration.



VIOLET DENNISON
M.O.O.P., 2018
Seagrass, resin, and electrical metallic tubing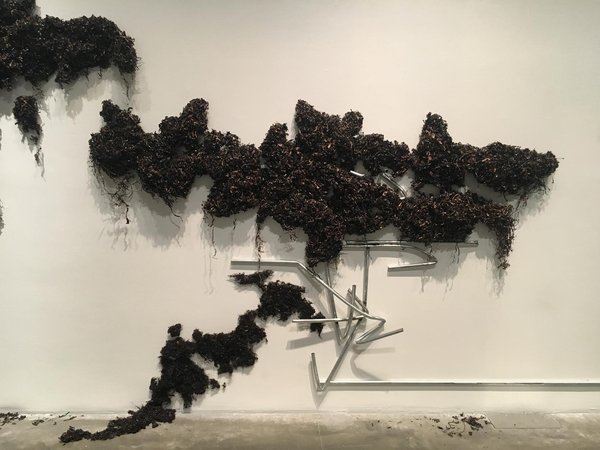 Violet Dennison's M.O.O.P. presents an iteration on a theme, exploring the role of objects in our presently ecologically and technologically unstable world. Dennison evaluates the ways that localized environmental issues such as climate change and pollution pose a threat to prehistoric plant matter and bacterias (in this case, seagrass harvested from the Florida Keys). Seagrass, which provides food, shelter, and nursery areas to the marine ecosystem, is disappearing at an alarming rate due to the overgrowth of algae; a side effect of climate change. To highlight the imbalances in the ecosystem and the long-term effects of man-made systems on the environment, Dennison preserves the dead material in resin and situates it as an extinct material in the context of the gallery space.


JULIA PHILLIPS
Intruder Study, 2017
Partially salted glazed ceramics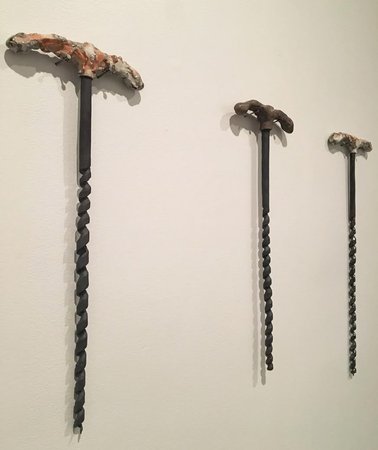 Phillips's ceramic, steel, and concrete sculptural works are intimate casts of her own body. They appear as tools to be used to probe and penetrate the human body; inciting the dichotomies of pain and pleasure, and submission and domination. The works address power relations within and between bodies, with elucidating titles such as Observer, Fixator, and Intruder. The Intruder Studies utilizes phallic imagery, and elicits an exploration of the relationship between the penetrator and the penetrated.


GRESHAM TAPIWA NYAUDE
The Red General, 2018
Oil on canvas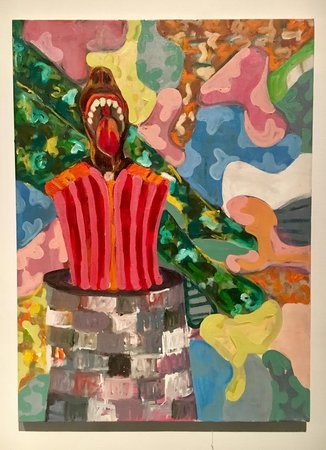 In his latest series, Zimbabwean artist Gresham Tapiwa Nyaude explores the ways in which the state-run media of his home country has altered society at a rapid rate, both on a personal and cultural level. Informed primarily by the resignation of President Robert Mugabe, Nyaude's cartoonish paintings address the disparities between the ways that Zimbabwe natives experience a political event, and the way that the rest of the world perceives and dramatizes it.

HAROON GUNN-SALLE
Senzenina, 2018
Mixed media installation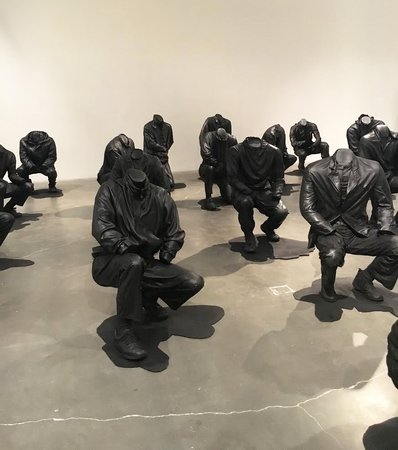 Known for his collaborations with individuals who have suffered from state and corporate violence, South African artist Haroon Gunn-Salle challenges the clean classification of his home country's post-apartheid state. Senzenina is a haunting installation featuring seventeen hunched, ghost-like figures which draw reference to the Marikana massacre, the most lethal attack by South African security forces against its civilians since the 1960s. The figures represent the unionized miners who had demanded a wage increase before they were shot by police, resulting in thirty-four deaths, seventy-eight injuries, and two hundred and fifty arrests. For the piece, Gunn-Salle used police footage of protesters at the exact moment that police opened fire, in order to memorialize the fallen workers. The accompanying soundscape preserves the palpability of the ephemeral historical event.


ANUPAM ROY
Surfaces of the Irreal, 2018
Mixed mediums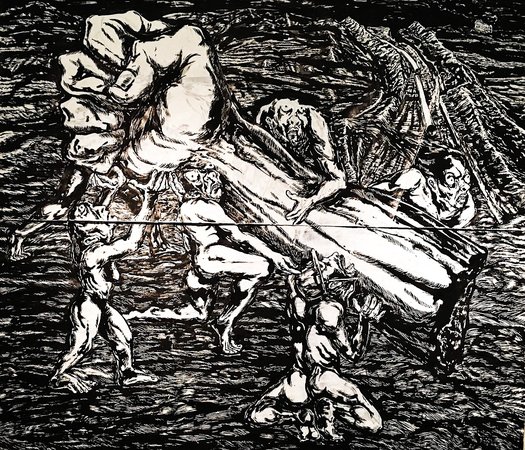 The artist/activist creates multi-media works that express the beliefs of the Communist Party of India (Marxist-Leninist) Liberation, a movement which has brought to light class, race, and gender struggles in India, specifically since the election of far-right, Islamophobic prime minister Narendra Modi in 2014. In his series of works that mimic the lexicon of propaganda, Roy hypothesizes a new political and social order in India in which equality is a central focus.