'Tis the season to stress out about what to get your family and friends for holiday presents. But don't fret! Artspace has you covered. Here are 11 gifts for your art-curious loved ones.
AFTER ANDY WARHOL
Colored Campbell's Soup Blood, 2015
+ a free copy of Phaidon's monograph, Andy Warhol Portraits (for a limited time)
$200 or as low as $18/month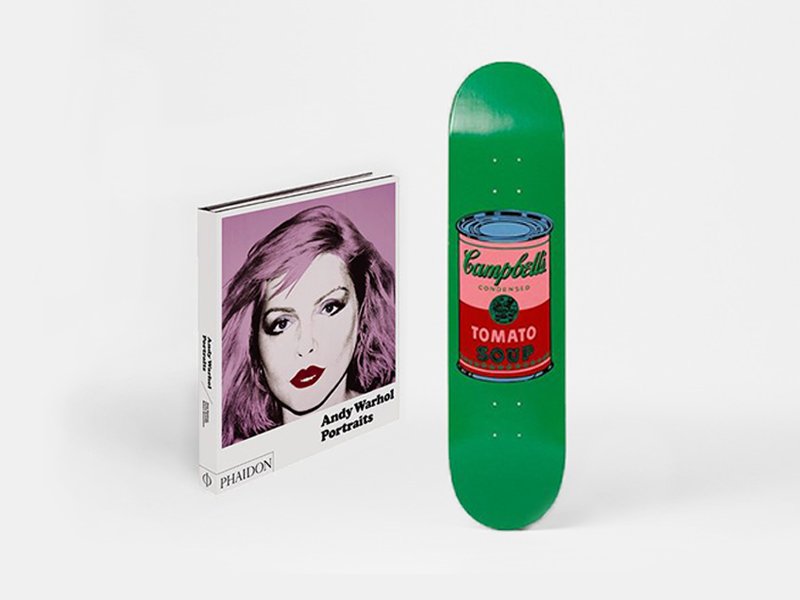 Whether your loved one is an art expert or just art curious, you really can't go wrong with an Andy Warhol gift set. Marked with the iconic Pop artist's signature Campbell's soup can, this skate deck doesn't just add a pop of sophisticated color to any wall, it also raises money for Skateistan, an award-winning non-proft that uses skateboarding and education for youth empowerment with programs in Afghanistan, Cambodia, and South Africa. For a limited time, the purchase of this special skate deck comes with a complimentary book, Andy Warhol Portraits—Phaidon's comprehensive overview of Warhol's many portraits, including comissioned portraits of art dealers, politicians, and cult figures—works largely unkown even by avid Warhol enthusiasts.
MAURIZIO CATTELAN
Beige Teapot
$140 or as low as $13/month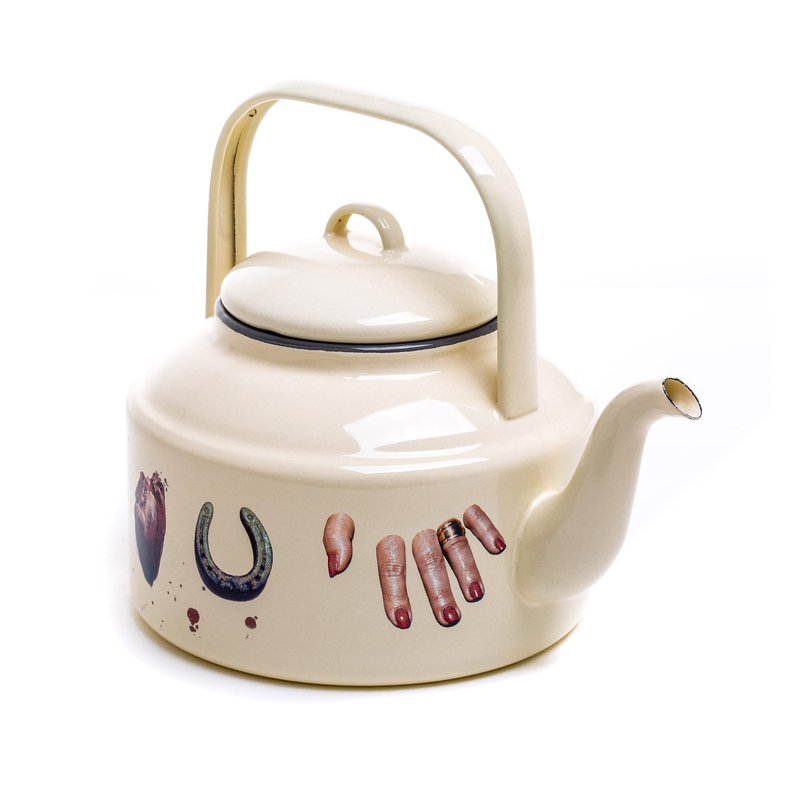 From famed jokester and recently retired artist Maurizo Cattelan, the classic enamel tea kettle is the perfect gift for your quirky friends who have a serious dedication to art, and a light-hearted sense of humor. Controversial and wildly popular, his works lampooned icons and societal conventions, as serious in their implicit critiques as in their humorous irreverence. Cattelan has seen his works exhibited at the Venice Biennale and the Whitney Biennial as well as at numerous institutions, including Centre Georges Pompidou, the Tate Gallery, and the Museum of Modern Art. If you're feeling particularly keen on upping your Cattelan game, check out the rest of his enamel tableware collection that includes plates, cups, bowls, and mugs.
PHAIDON
The Art Museum—Revised Edition, 2017
$59, or as low as $11/month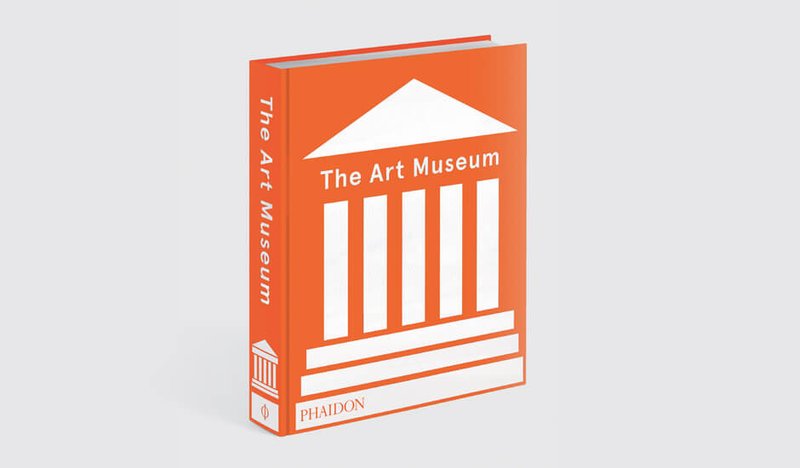 For your insatiably curious friends, give them the breadth and depth of an entire art museum in a book that can fit on their coffee table. Selected and described by 28 expert curators and art historians, 1,600 artworks from pre-historic times to the present fill the pages of Phaidon's The Art Museum. Trust us—for $59 it's a steal.
DAVID SHRIGLEY
Cocaine and Heroin Shakers, 2017
$60 or as low as $11/month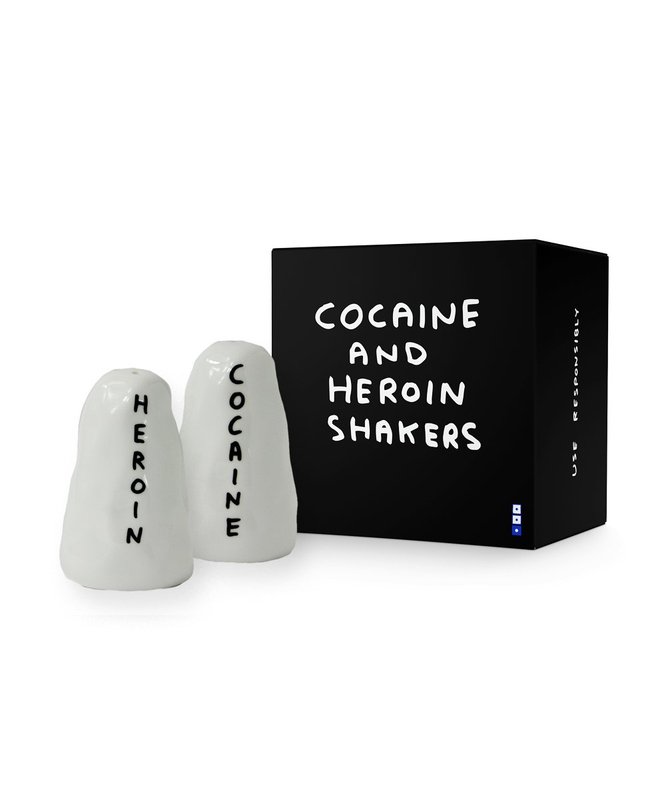 We can pretty much gaurentee that your giftee does NOT have a salt and pepper shaker set that's original as this one. This gift comes from one of our top-selling artists, David Shrigley, an artist and illustrator best known for his hilarious cartoons and hand-drawn text pieces. Add some seasoning to this holiday season, and shock your grandmother with this useful gift.
DEBORAH KASS
OY/YO Earrings
$165 or as low as $15/month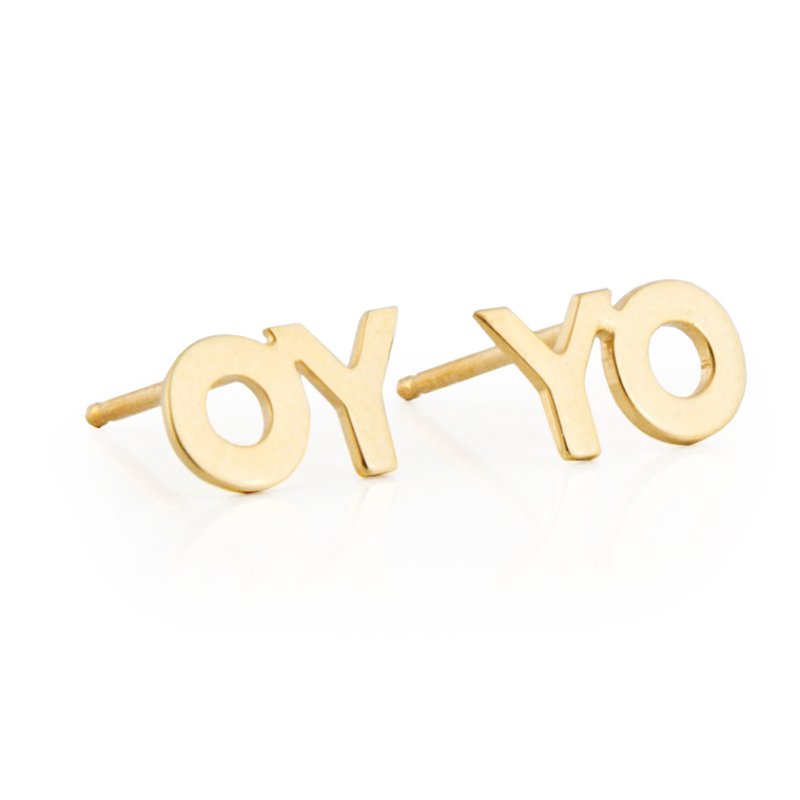 Whether your sweatheart is a "yo" kind of gal or an "oy" kind of gal, these earings from celebrated icon Deborah Kass cover the bases. A playful rendition of her pop OY/YO paintings and sculptures, the phrases are exemplary of Kass's appropriation of popular culture and Yiddish language. The reocurring motif of the two exclamations first appeared in 2011 and since then have been featured in a road range of mediums, including the notable large-scale installation at Brooklyn Bridge Park which debuted in November 2015.
JEAN-MICHEL BASQUIAT
In Italian
$500 or as low as $44/month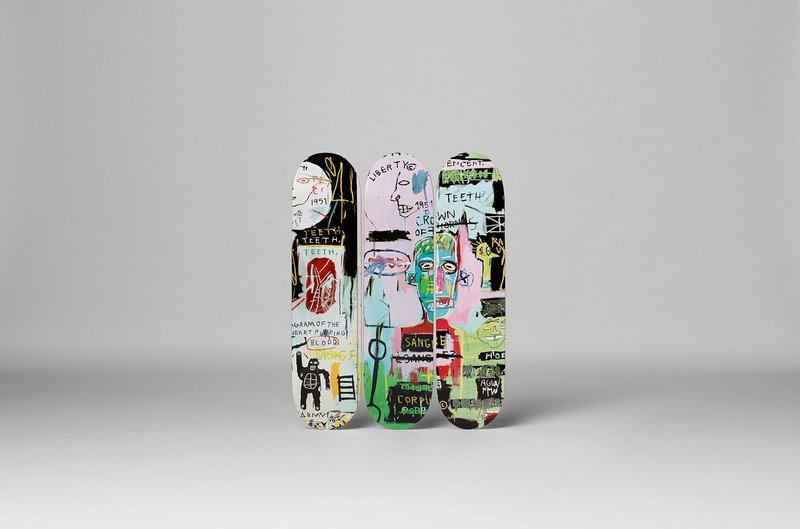 A renowned painter, draftsman, poet, musician, and graffiti artist, as well as an all-around arts icon, Jean-Michel Basquiat was at the forefront of New York's downtown avant-garde in the late 1970s and 80s. Whether on the wall of a child's room, a dorm room, a milenial's loft, a vacation home, or a retirment getaway—this skate deck tryptic is a great gift for all ages.
RENÉ MAGRITTE
Sixteenth of September
$99 or as low as $18/month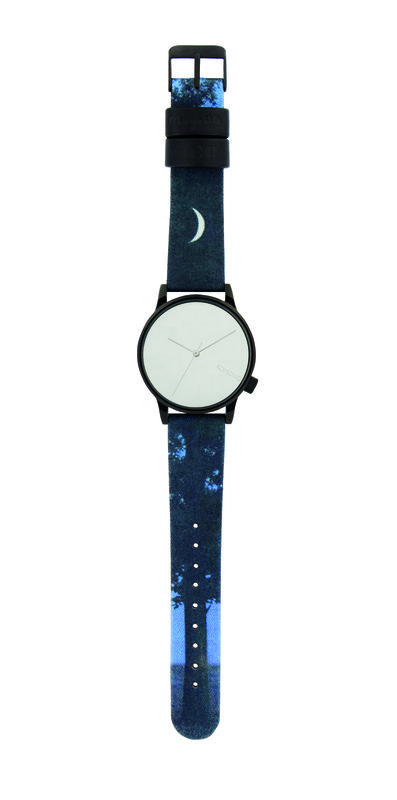 For that someone special who's always late with their head in the clouds, this watch from René Magritte is the perfect gift. From easily the most celebrated Belgian artist of the twentieth century, the Surrealist painter is world renowned for his mysterious images and idiosyncratic juxtapositions. This particular image comes from a 1956 painting of a tree. Of trees Magritte said, "growing from the earth to the sun, a tree is an image of certain happiness."
BARBARA KRUGER
Untitled (Shafted) Mug Set, 2015
$55 or as low as $10/month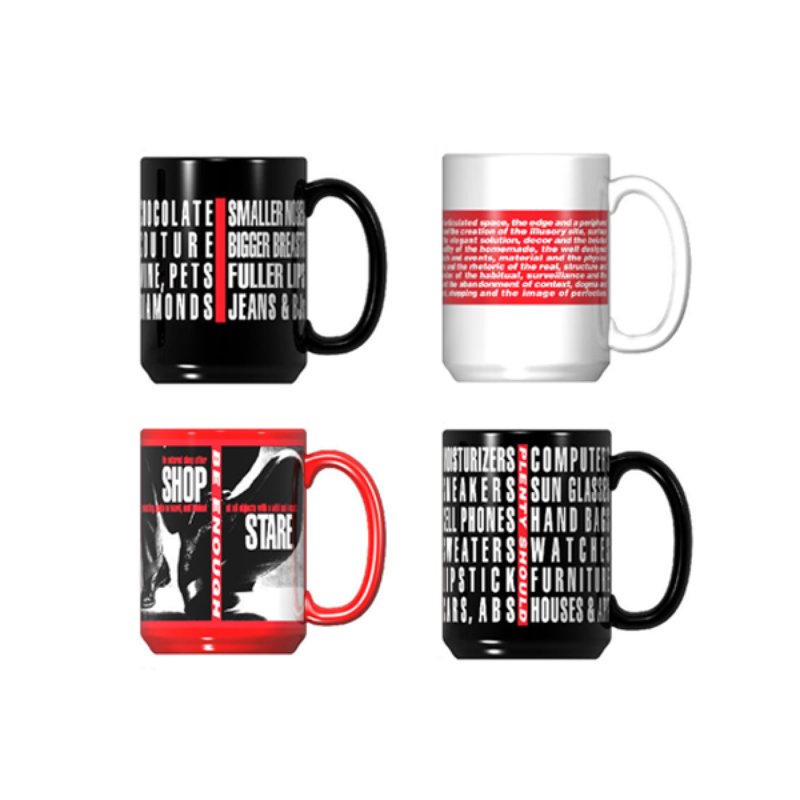 Barbara Kruger's Untitled (Shafted) (2008) installed in the elevator shaft of LACMA's BCAM building is the source of inspiration for this set of four mugs packed inside a graphic box. Known for bold and graphic collaged text and image, Kruger often accuses the viewer with jarring texts that ask us to question our relationships to advertising, consumerism, feminism, and classissm. Start your day with a jolt of bold artistic critique and end it with a steaming mug of hot cocoa.
PHAIDON
Vitamin C: Clay and Ceramic in Contemporary Art, 2017
$69, or as low as $12/month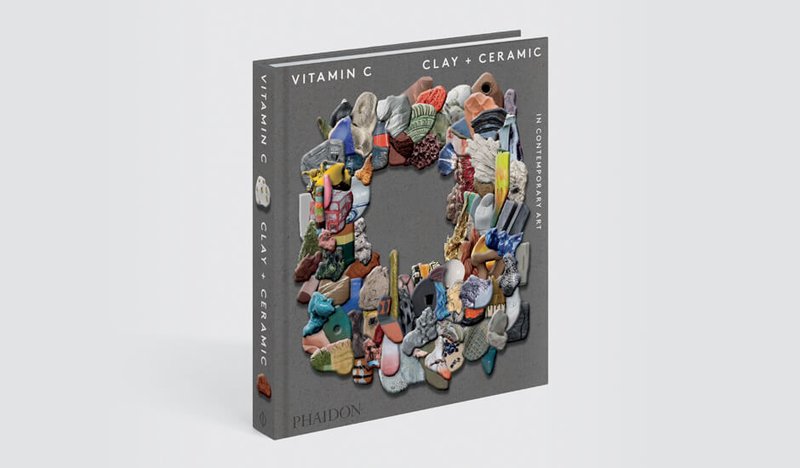 Phaidon's global survey of 100 of today's most important clay and ceramic artists, chosen by leading art world professionals, is a great gift for anyone whos interest lies in the sculptural and ceramic. But don't be fooled—this is not a book about your grandma's favorite vase or your kid's second-grade art project. These artists are pushing the boundaries of the medium, proving that clay and ceramics have been elevated from a craft to a high art material.
AUSTIN EDDY
Flying Fingers Over Ding Dong Beach, 2016
$225, or as low as $20/month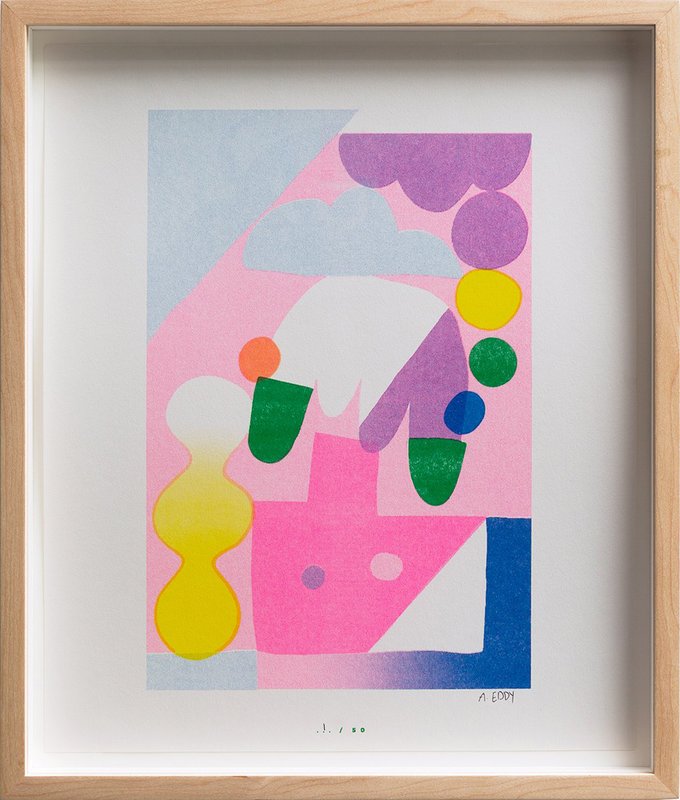 The work of Brooklyn-based artist Austin Eddy is hard not to like. This signed and numbered limited edition print is an inspirational original artwork for a great price. Brighten your loved one's day with this colorful breath of fesh air.
DEAN SAMESHIMA
Men Ruin Everything
$80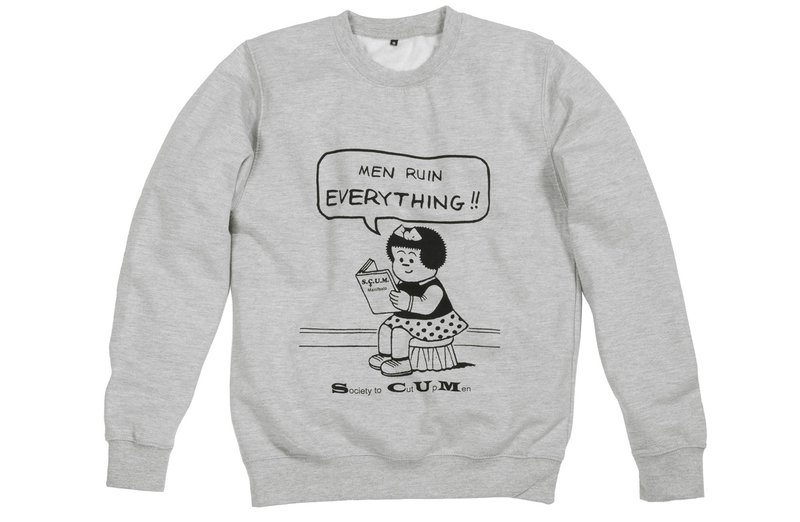 Dean Sameshima, an artist known for investigating the arena of queer histories, nostalgia, desire and fetish in his work, references the SCUM Manifesto—a radical feminist manifesto written in 1967 by Valerie Solanas, and author and perhaps more notoriously, the person who attempted to murder Andy Warhol in the late 1960s. In this exclusive sweatshirt designed specifically for House of Voltaire, the artist has continued his tradition of using silk-screen techniques in his on-going exploration of historical subcultures, in particular the punk rock and DIY movement.