'Tis the season to stress out about what to get your family and friends for holiday presents. But don't fret! Artspace has you covered. Here are 11 gifts for your art-curious loved ones.
AFTER ANDY WARHOL
Campbell's Soup - Tomato, 2011
$408 (or as low as $40 / month)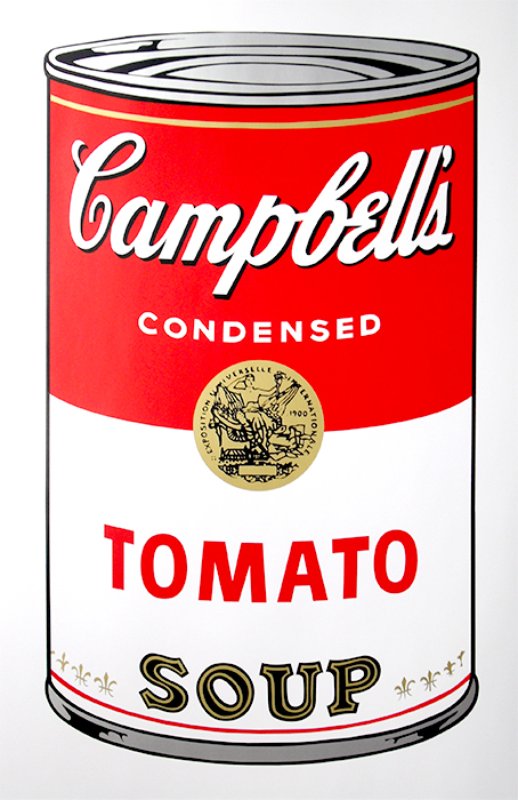 Whether your loved one is an art expert or just art curious, you really can't go wrong with an After Andy Warhol soup can. Campbell's tomato soup has become synonymous with the Pop artist, who sent shock waves throughout the art world when he upended traditional art making by appropriating images from consumer culture and mass media and reproduced them in a factory-like setting. When Warhol first exhibited his soup can prints in 1962, the installation mimicked the aisle of a grocery store; the 32 canvases, representing the 32 different Campbell's soup flavors, were hung closely together in a tight grid. Make your own grid with this portfolio of 10 different soup can prints for $4,082 (just $408 a piece), or buy just one as a gift for $519. Either way, you can't go wrong with Warhol's Campbell's!
MAURIZIO CATTELAN
Beige Teapot
$140 or as low as $13/month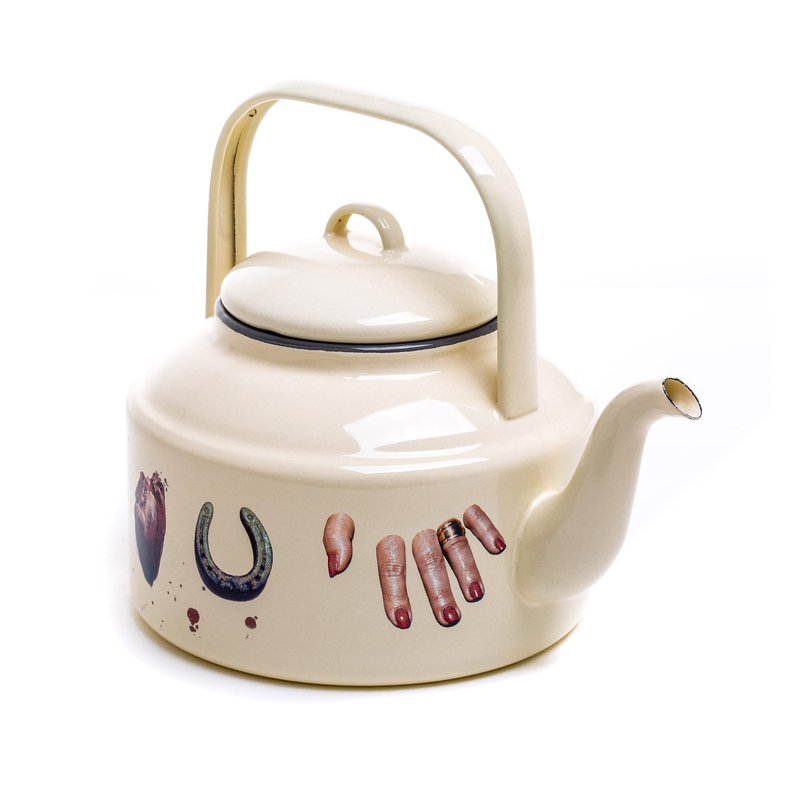 From famed jokester and recently retired artist Maurizo Cattelan, the classic enamel tea kettle is the perfect gift for your quirky friends who have a serious dedication to art, and a light-hearted sense of humor. Controversial and wildly popular, his works lampooned icons and societal conventions, as serious in their implicit critiques as in their humorous irreverence. Cattelan has seen his works exhibited at the Venice Biennale and the Whitney Biennial as well as at numerous institutions, including Centre Georges Pompidou, the Tate Gallery, and the Museum of Modern Art. If you're feeling particularly keen on upping your Cattelan game, check out the rest of his enamel tableware collection that includes plates, cups, bowls, and mugs.
PHAIDON
Hervé Tullet Collection, 2018
$100, or as low as $9/month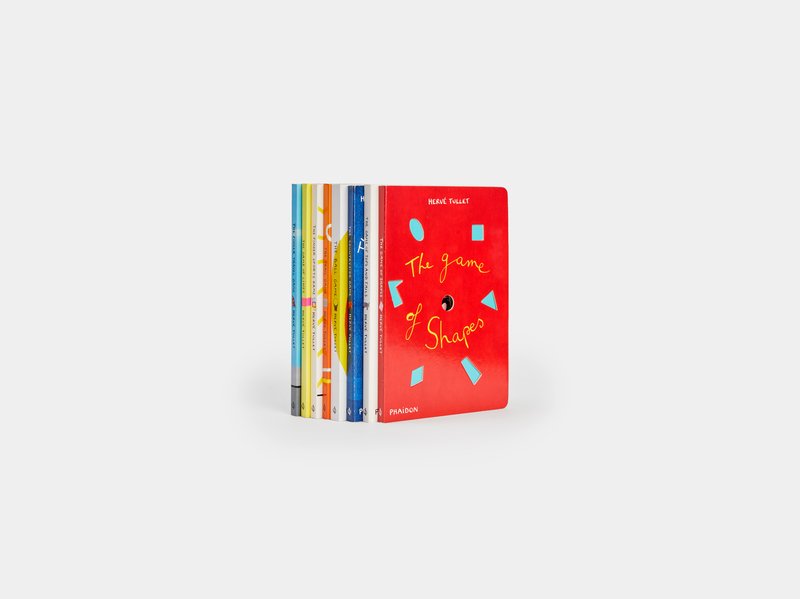 For the kids in your life (or the new parents!), this library of board books comes from the hand and mind of Hervé Tullet, author of Press Here, which has sold over one million copies worldwide and has been a New York Times bestseller for three years running. Known in France as "the prince of preschool books," Tullet takes the concept of reading to a new level, inviting young minds to think imaginatively, independently and creatively.
DAVID SHRIGLEY
Cocaine and Heroin Shakers, 2017
$60 or as low as $11/month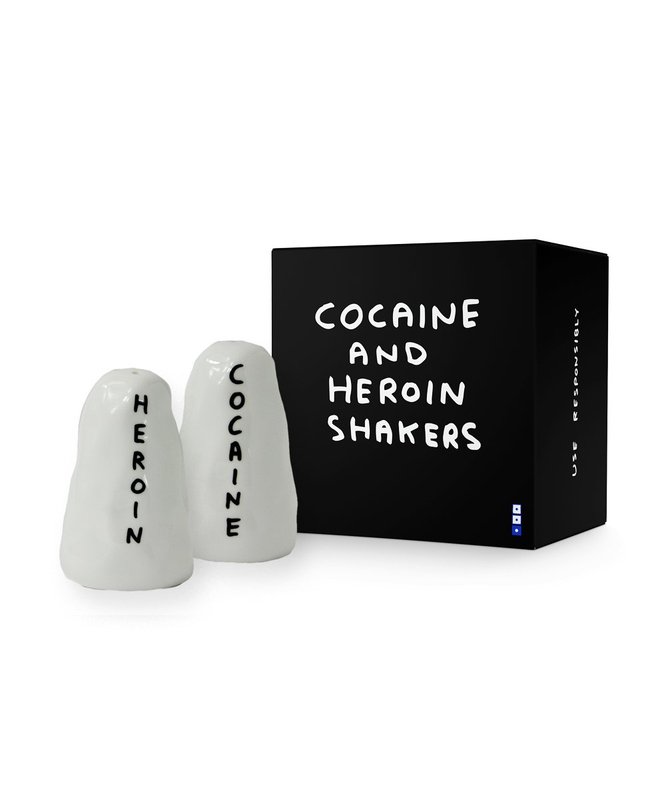 We can pretty much gaurentee that your giftee does NOT have a salt and pepper shaker set that's original as this one. This gift comes from one of our top-selling artists, David Shrigley, an artist and illustrator best known for his hilarious cartoons and hand-drawn text pieces. Add some seasoning to this holiday season, and shock your grandmother with this useful gift.
MAYA LIN 
Colorado River (Sterling Silver), 2016
$650 (or as low as $58/month)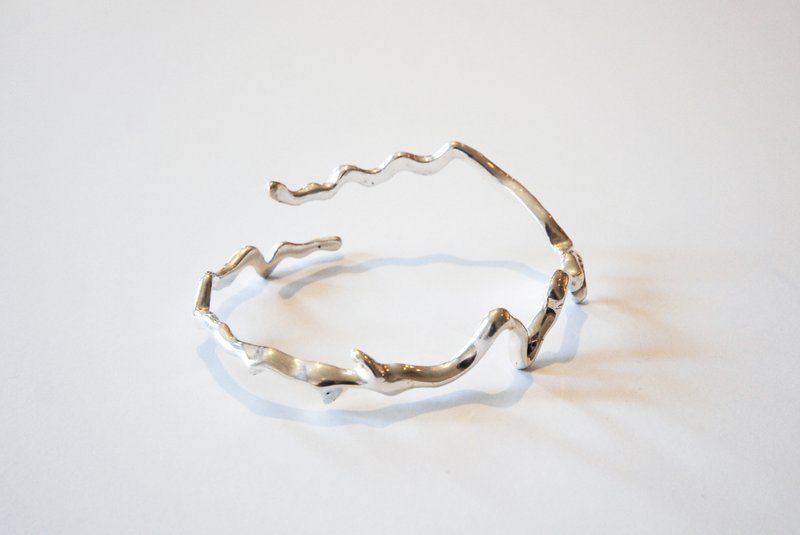 Widely recognized for her long-held, deep commitment to the environment, artist Maya Lin was inducted into the National Women's Hall of Fame in 2005 and has been the recipient of numerous awards, including the Dorothy and Lillian Gish Prize and most recently the Presidential Medal of Freedom presented by President Barack Obama in 2016. She is represented by Pace Gallery. She's used her renowned reputation as an artist to raise awareness about environmental issues, and created the What is Missing? Foundation to do so. Not only is this bracelet stunning, its proceeds also support the foundation. (In addition to sterling silver, Colorado River also comes in 24k gold plated, and 14k gold.) Make someone's day with this gorgeous artist-designed bracelet, and support a good cause while you're at it.
PAOLA PIVI
One Cup of Cappucino and Then I Go, 2013
$450 or as low as $40/month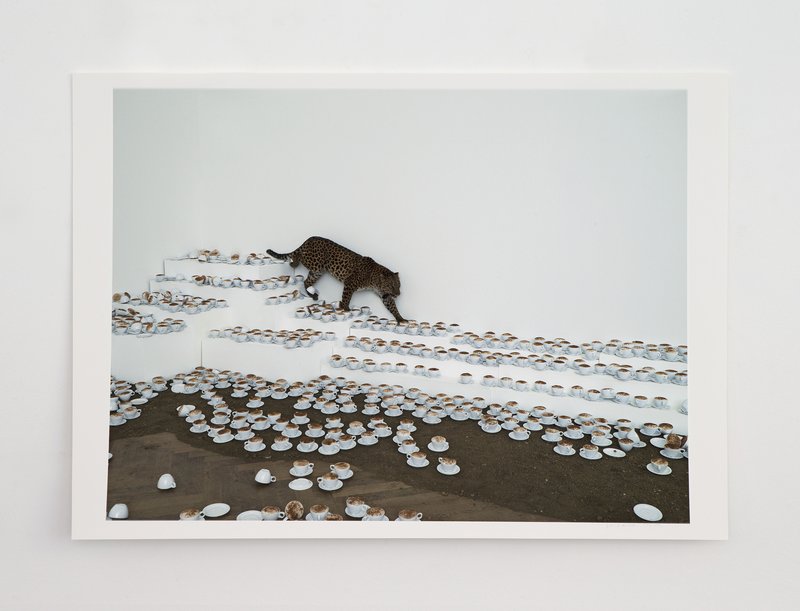 Arguably the most talked about artist during Miami Art Week this year, Paola Pivi currently has a major solo exhibition at The Bass, Miami Beach's contemporary art museum. Covered by just about every art publication (and then some): The New York Times, Living, Vogue, Garage, Designboom, Artsy, Artnet News, Vanity Fair... just to name a few. See her artist's page on Artspace for a greater selection of stunning photographs—each for just $450!
JEAN-MICHEL BASQUIAT
In Italian
$500 or as low as $44/month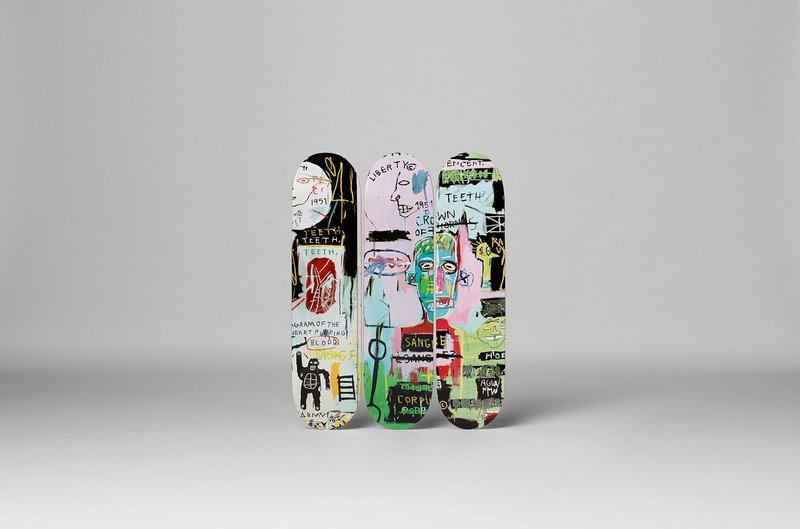 A renowned painter, draftsman, poet, musician, and graffiti artist, as well as an all-around arts icon, Jean-Michel Basquiat was at the forefront of New York's downtown avant-garde in the late 1970s and 80s. Whether on the wall of a child's room, a dorm room, a millennial's loft, a vacation home, or a retirement getaway—this skate deck tryptic is a great gift for all ages.
RENÉ MAGRITTE
Sixteenth of September
$99 or as low as $18/month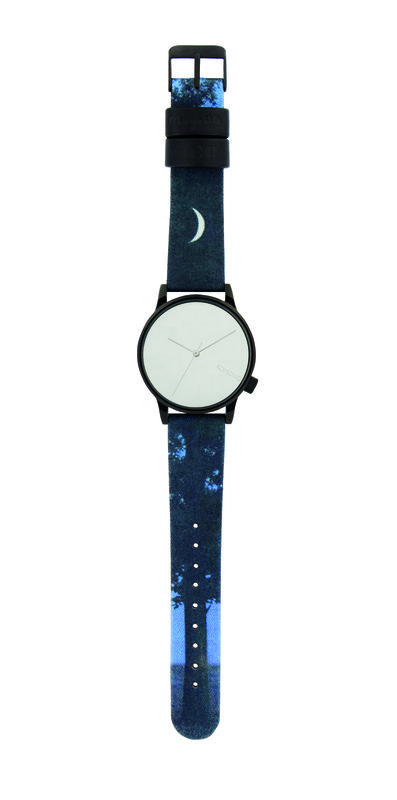 For that someone special who's always late with their head in the clouds, this watch from René Magritte is the perfect gift. From easily the most celebrated Belgian artist of the twentieth century, the Surrealist painter is world renowned for his mysterious images and idiosyncratic juxtapositions. This particular image comes from a 1956 painting of a tree. Of trees Magritte said, "growing from the earth to the sun, a tree is an image of certain happiness."
BARBARA KRUGER
Untitled (Shafted) Mug Set, 2015
$55 or as low as $10/month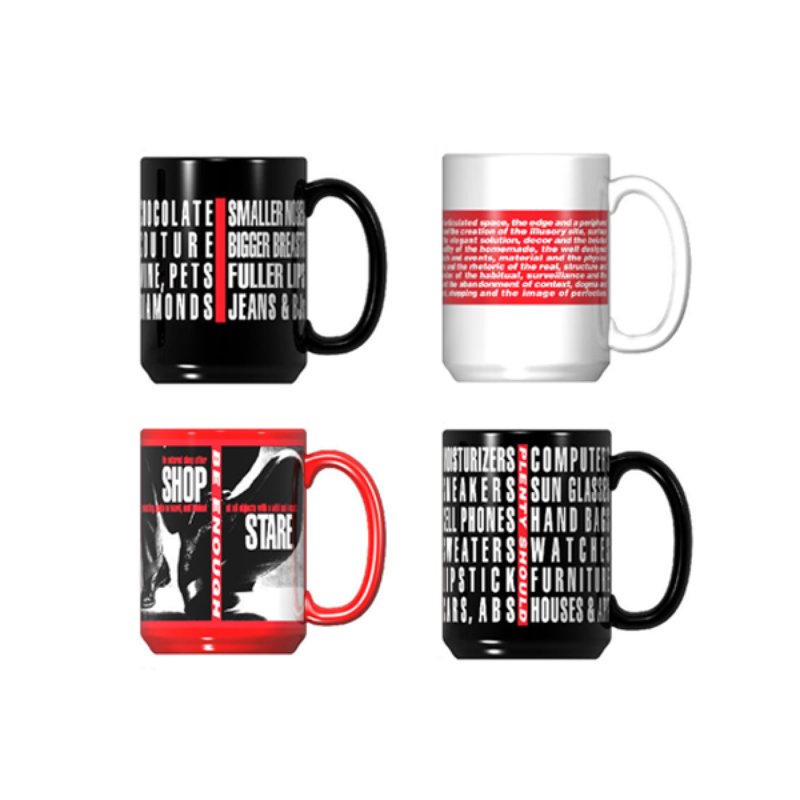 Barbara Kruger's Untitled (Shafted) (2008) installed in the elevator shaft of LACMA's BCAM building is the source of inspiration for this set of four mugs packed inside a graphic box. Known for bold and graphic collaged text and image, Kruger often accuses the viewer with jarring texts that ask us to question our relationships to advertising, consumerism, feminism, and classissm. Start your day with a jolt of bold artistic critique and end it with a steaming mug of hot cocoa.
PHAIDON
Lucian Freud, 2018
$500, or as low as $44/month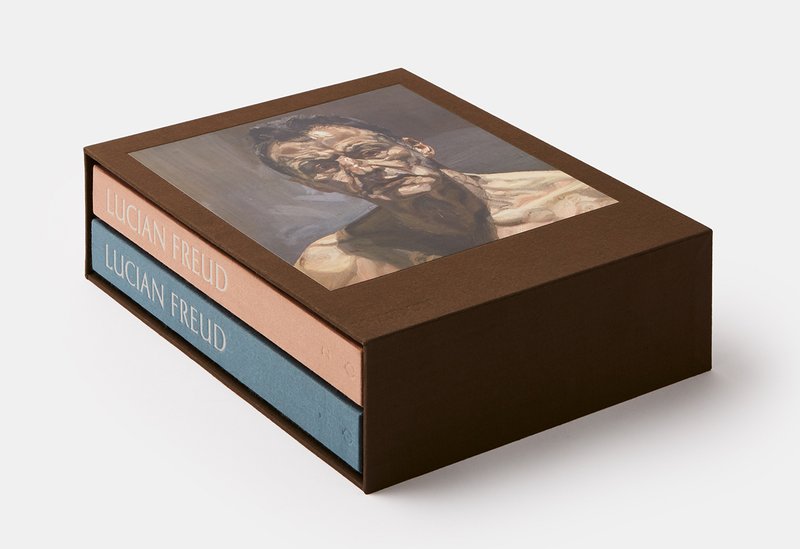 For a limited time, you can receive Phaidon's brand new two-volume set Lucien Freud—the most comprehensive publication to date on one of the greatest painters of the twentieth and early twenty-first centuries—for free when you purchase this limited edition print John Minton. (The book alone is worth $500!) Gift one and keep the other!
AUSTIN EDDY
Flying Fingers Over Ding Dong Beach, 2016
$225, or as low as $20/month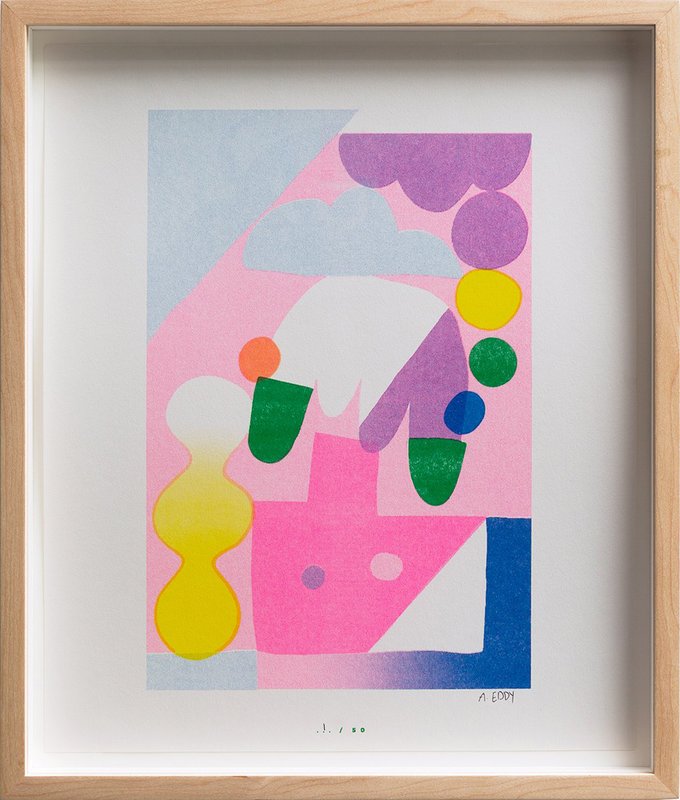 The work of Brooklyn-based artist Austin Eddy is hard not to like. This signed and numbered limited edition print is an inspirational original artwork for a great price. Brighten your loved one's day with this colorful breath of fesh air. 
DEAN SAMESHIMA
Men Ruin Everything
$80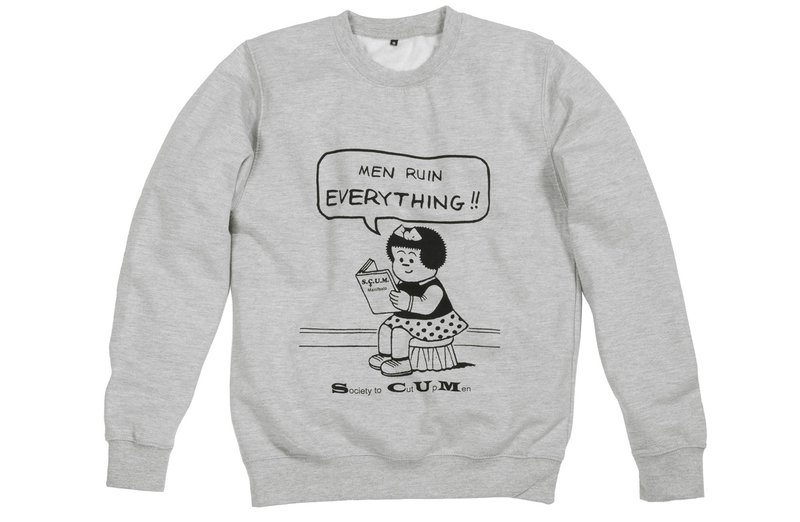 Dean Sameshima, an artist known for investigating the arena of queer histories, nostalgia, desire and fetish in his work, references the SCUM Manifesto—a radical feminist manifesto written in 1967 by Valerie Solanas, and author and perhaps more notoriously, the person who attempted to murder Andy Warhol in the late 1960s. In this exclusive sweatshirt designed specifically for House of Voltaire, the artist has continued his tradition of using silk-screen techniques in his on-going exploration of historical subcultures, in particular the punk rock and DIY movement.