In its fourth year, Mexico City's Material Art Fair continues to up its own ante. Though it's held in the same EXPO Reforma convention center as last year's rendition, this year's open layout (designed by Mexico City-based architecture studio APRDELESP) has booths facing a central "courtyard." Spread over two floors, the fair hosts 50-plus galleries ranging from young artist-run spaces like Pangeé Project in Toronto and Piedras in Buenos Aires to more established veterans like Ghebaly Gallery in L.A. or Shane Campbell Gallery in Chicago. Here are 10 of the best artworks at the fair.
SOFIA LEIBY
Cleopatra riding on her camel and having snakes on her head (2017)
$4,000 USD
Springsteen Gallery, Baltimore, MD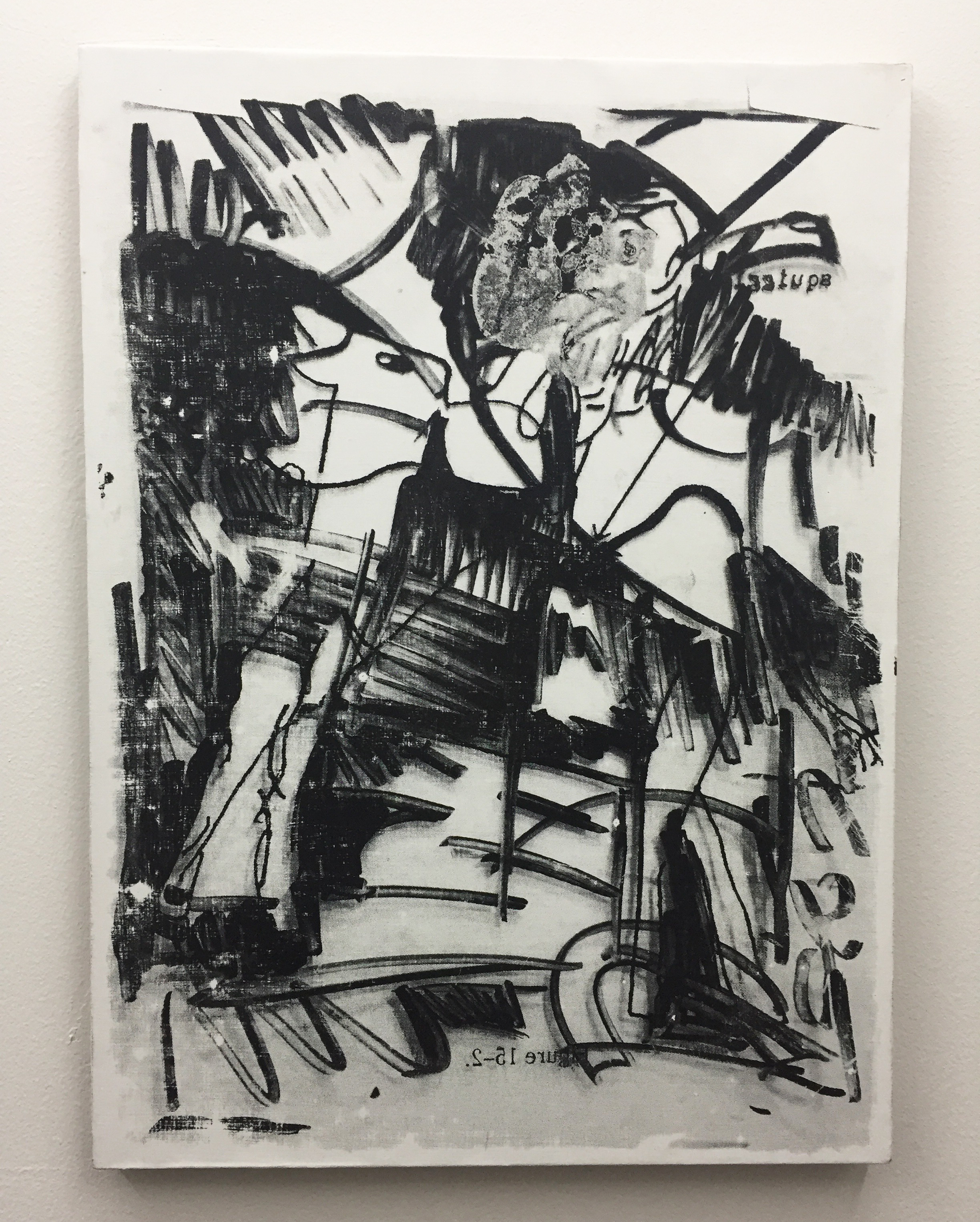 A psychoanalytic test designed to measure creativity seems at odds with a notion most artists would detest: that artistic creativity can be quantified, analyzed, and ranked. But for Sofia Leiby passing a test like this isn't something to aspire to—instead it's a jumping off point for her own artistic process. In Cleopatra riding on her camel and having snakes on her head, the artist uses a young girl's drawing (the subject of which is the title of the piece) that was the result of a test administered by the influential psychoanalyst DW Winnicott, which she then painted over and silkscreened onto linen. The process—clinical, methodical and analytic—produces an image that is anything but. Expressive gestures and incidental byproducts of the printing process, like drop shadows and pixilation, make this work more than an exercise. But does Leiby pass the test? In a press release the artist admits she "wouldn't be rated as creative."
CONSTANZA GIULIANI
Page 11 (OK Sígueme / A tear for you serie)
$500 USD
Piedras, Buenos Aires, Argentina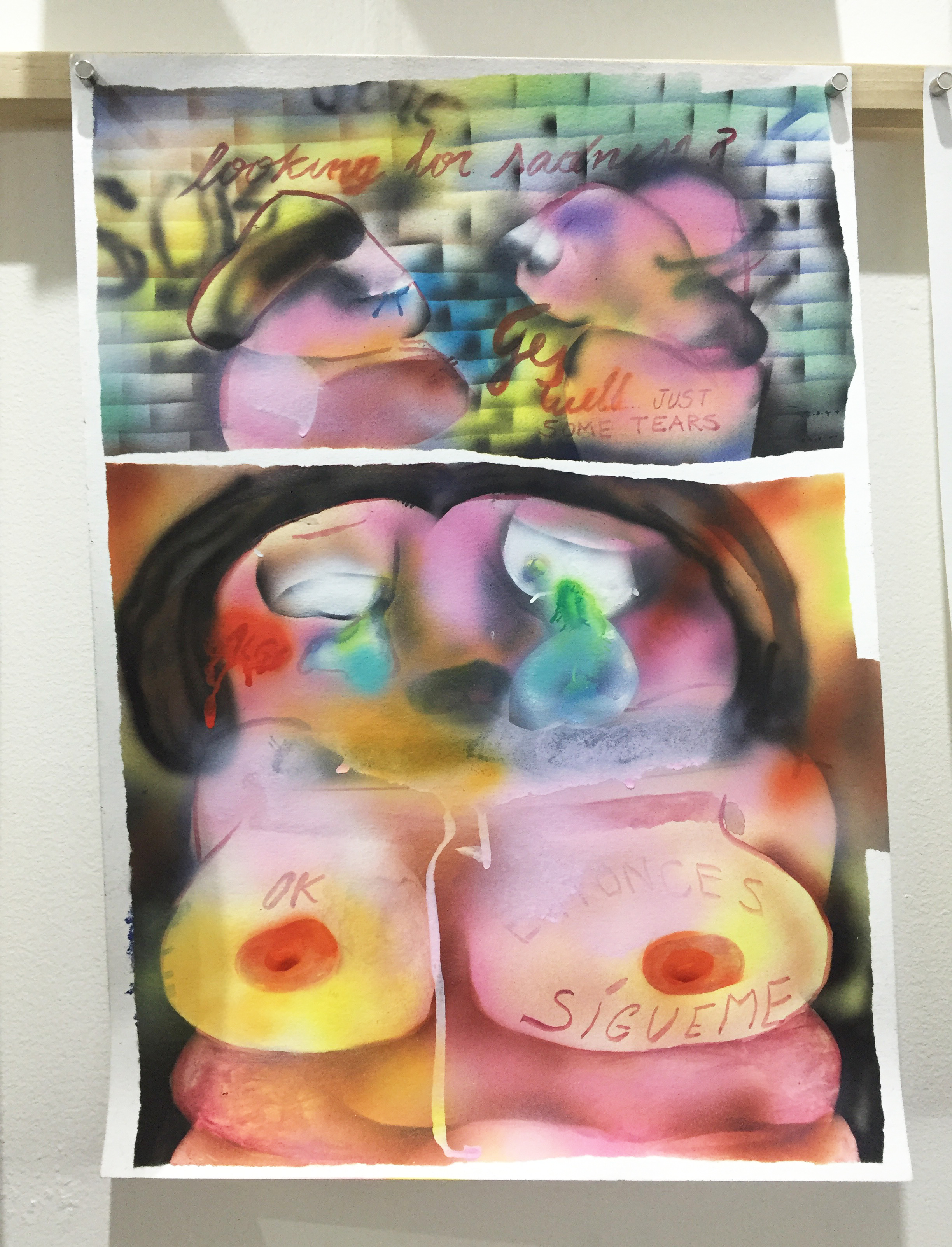 Constanza Giuliani's small solo booth with Piedras packs a hard punch, boasting one large painting on one wall, flanked by a grid of 20 smaller works on paper on the other. Each of Giuliani's airbrushed scenes are strange and disorienting as standalone works, but hung together they act like paneled sections of a surreal graphic novel. Page 11 (a steal for only $500 USD) is perhaps the most in-your-face of the bunch, where the artist's "Ren and Stimpy"-like cartoon figures meet a hint of realism. Giuliani's renderings of dewy, translucent flesh make these works difficult to shrug off as simply cartoons.  The series on view, called "Bad Sleep," is the fruit of a residency at Mana Contemporary in New Jersey, but beyond her brief stint as a garden state resident, the young artist has yet to show beyond Latin America. Although with a talent like hers, we're sure this won't be the case for long.
DAVID LEGGETT
The meek. (2016)
$650, including frame
Shane Campbell Gallery, Chicago, IL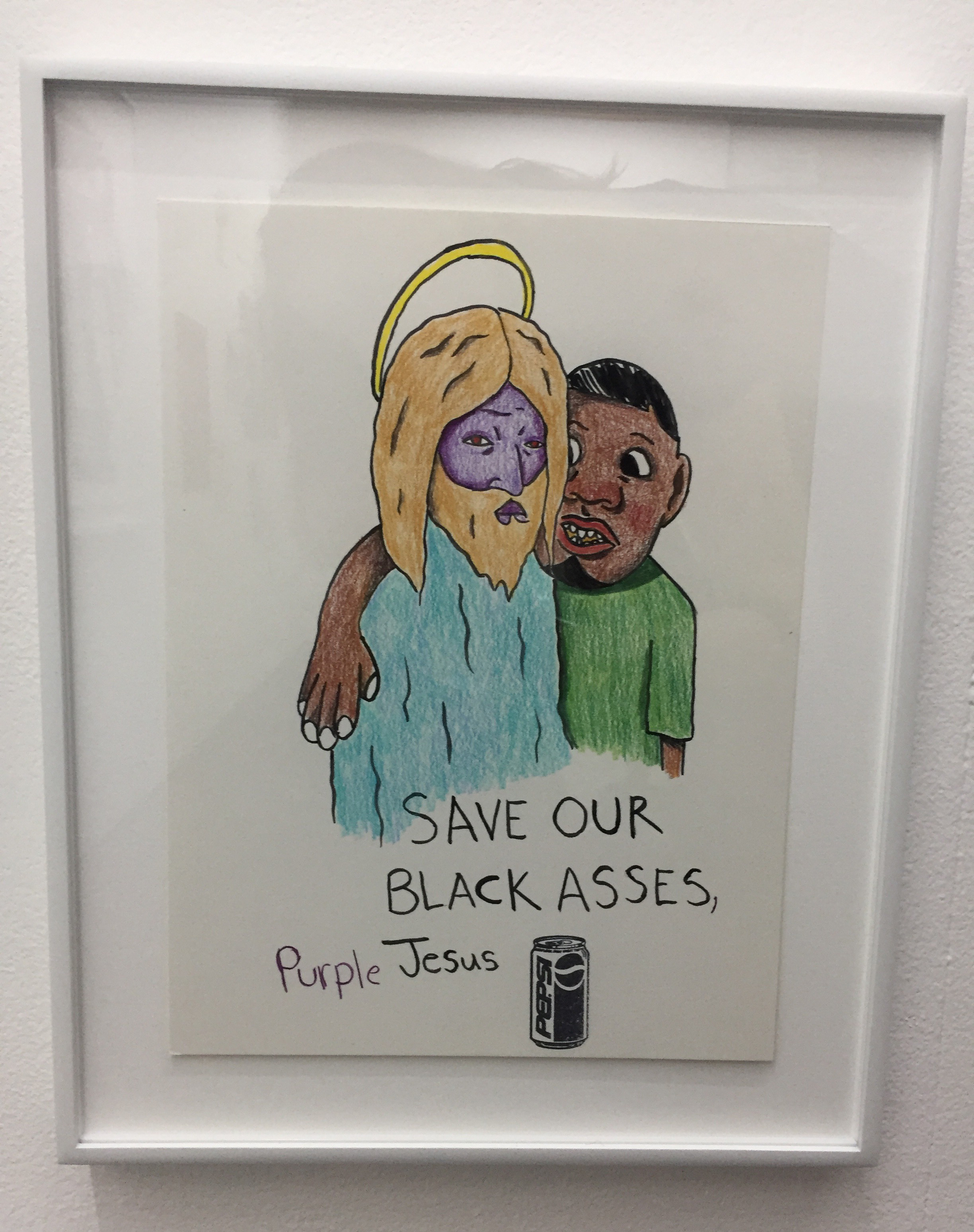 Formally, the drawings of Chicago-based artist David Leggett are simple and straightforward, with color pencil-drawn figures and juvenile handwriting floating on a white background. But Legget's subject matter is a bit more complex. Borrowing recognizable characters from "The Simpsons" and other pop-culture references, the artist deals with race and social issues without necessarily commenting on them. In one work on paper, a series of written statements make comical, innocuous generalizations about white people: "White people use two hands when they drive.… White people go to the store and say, 'Show me all the cheese.'" And in The meek, Purple Jesus—the name of a grape-flavored cocktail—is rendered under the arm of a skeptical-looking black man. The African-American artist created this series of drawings as part of a blog project called Coco River Fudge Street, which involved posting one artwork a day for three years. The project ended in 2013, although according to the blog's Tumblr page, the artist "periodically returns to blog for limited times like the McRib."
DAVID BAYUS
Session 1 (2016)
$1,800-2,000 USD (edition of 5)
Alter Space, San Francisco, CA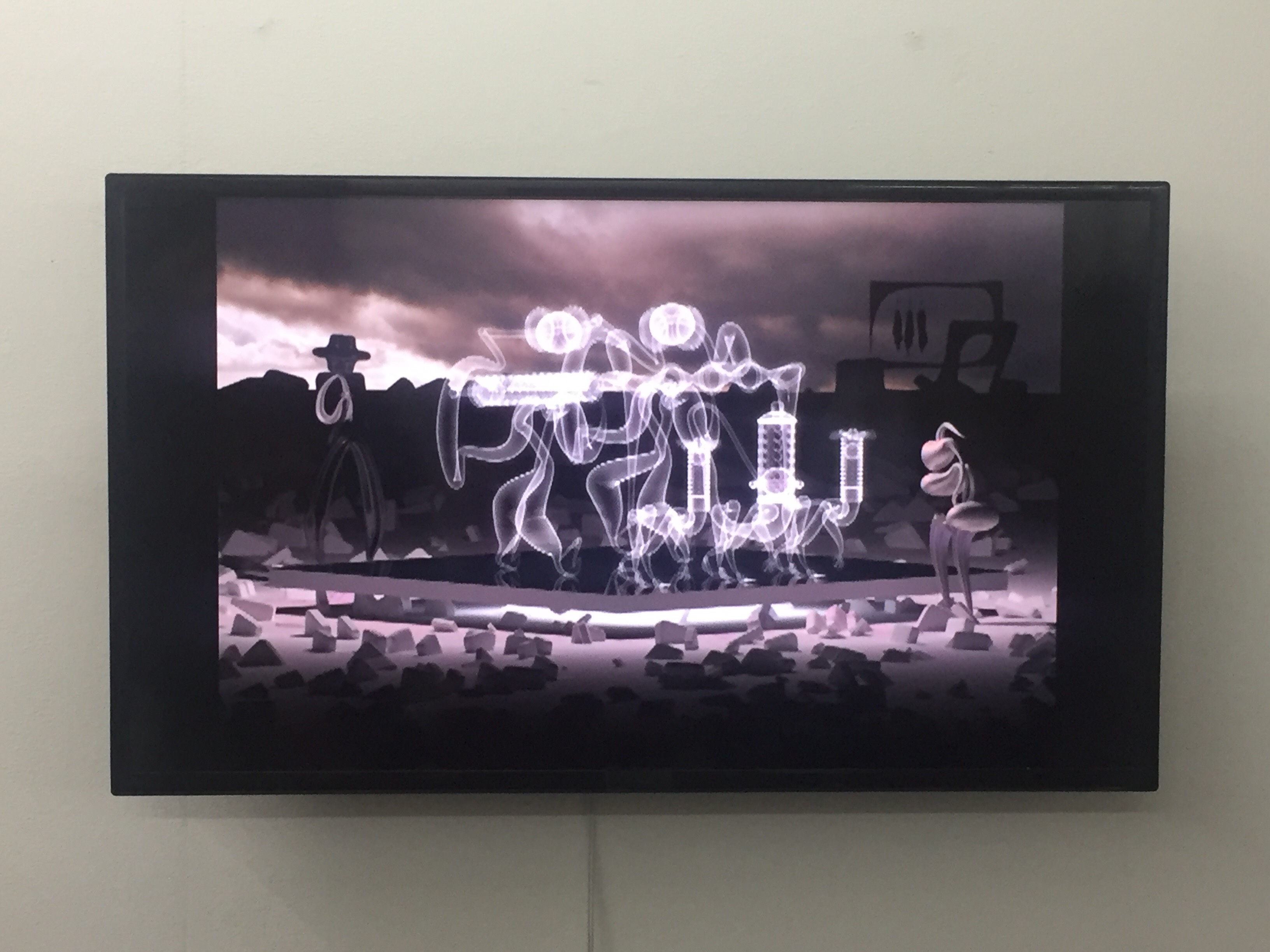 Sharing a two-person booth with KOAK, San Francisco-based artist David Bayus certainly doesn't limit himself to one specific medium—in Alter Space's booth alone, Bayus's works range from laser-sintered nylon and printed digital composites to graphite on paper and video. But his works do have one thing in common: John Hutchison, the Canadian inventor who claims to have discovered (and forgotten) the secret to making objects levitate. Hutchison's home-made science experiments are reanimated using computer generated imagery in Session 1, an 11-minute-long video in which Bayus introduces two characters (one digitally rendered, and one in-the-flesh human albeit covered in mud) to drive a rather strange narrative (the two compete with one another to maintain creative control over a television show they are co-creating.) Though Bayus's work definitely isn't lacking in conceptual and historical context, it doesn't rely on it; his surrealist animations are breathtakingly beautiful and strange, and the effortless toggling between CGI and video can have a mesmerizing effect.
JORGE SATORRE
Formal meetings (in the garden) (2016)
Price Undisclosed
LABOR, Mexico City, Mexico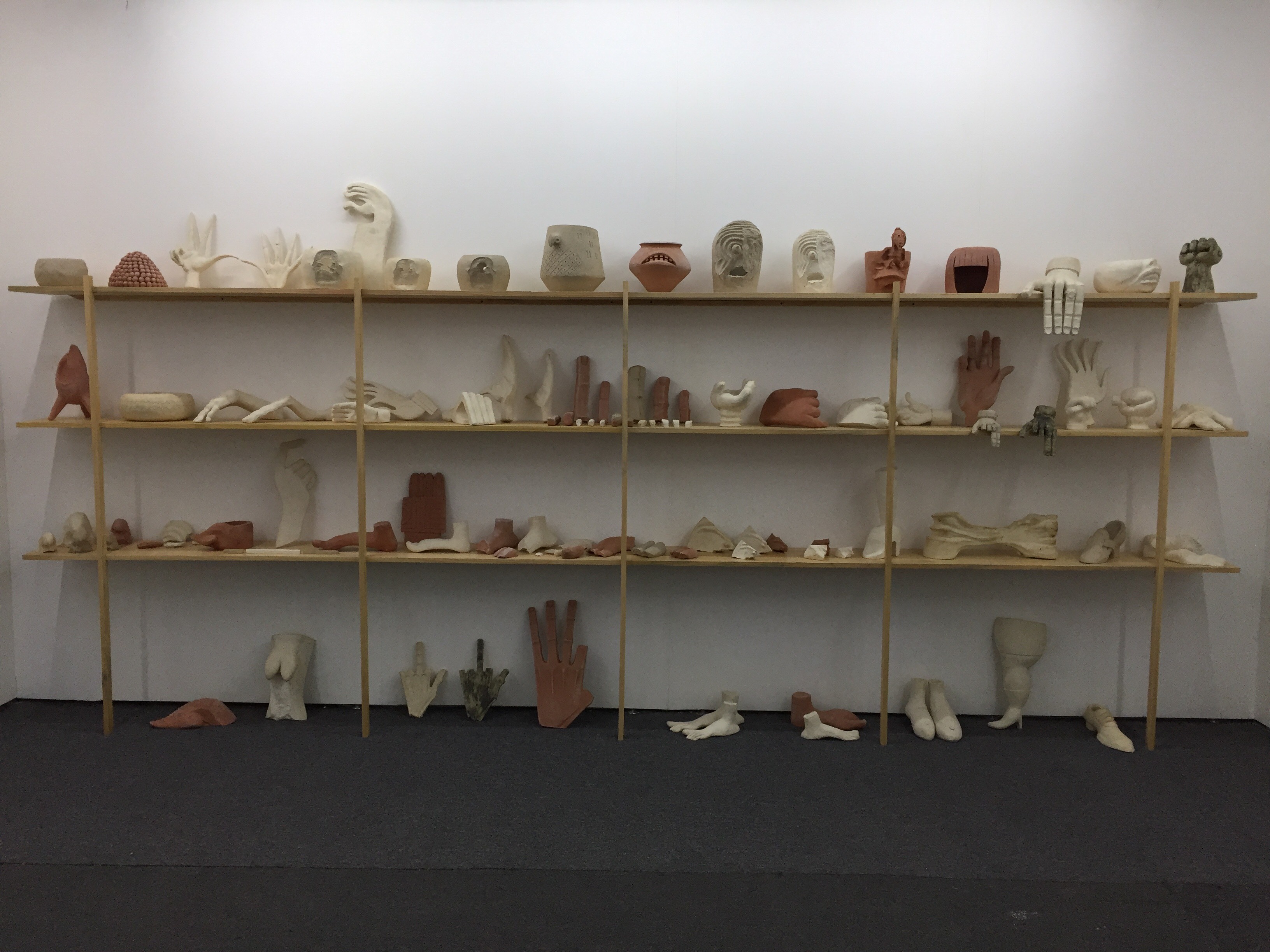 In the first half of the 20th century, renowned Mexican architect Luis Barragán commissioned drawings by the illustrator Miguel Covarrubias, who was known for his celebrity caricatures on the covers of Vanity Fair and The New Yorker. Almost a century later, artist Jorge Satorre studied these drawings in depth to prepare for yet another commission from the Barragán House—this time, of his own work. Based on the cartoonish drawings of Covarrubias, Satorre's whimsical terracotta forms feel like three-dimensional sketches as the artist renders the same body parts over and over in different moods and styles.
RAFAEL DELACRUZ
Chelsea Manning (2016)
$2,500 USD
Kimberly-Klark, Queens, NY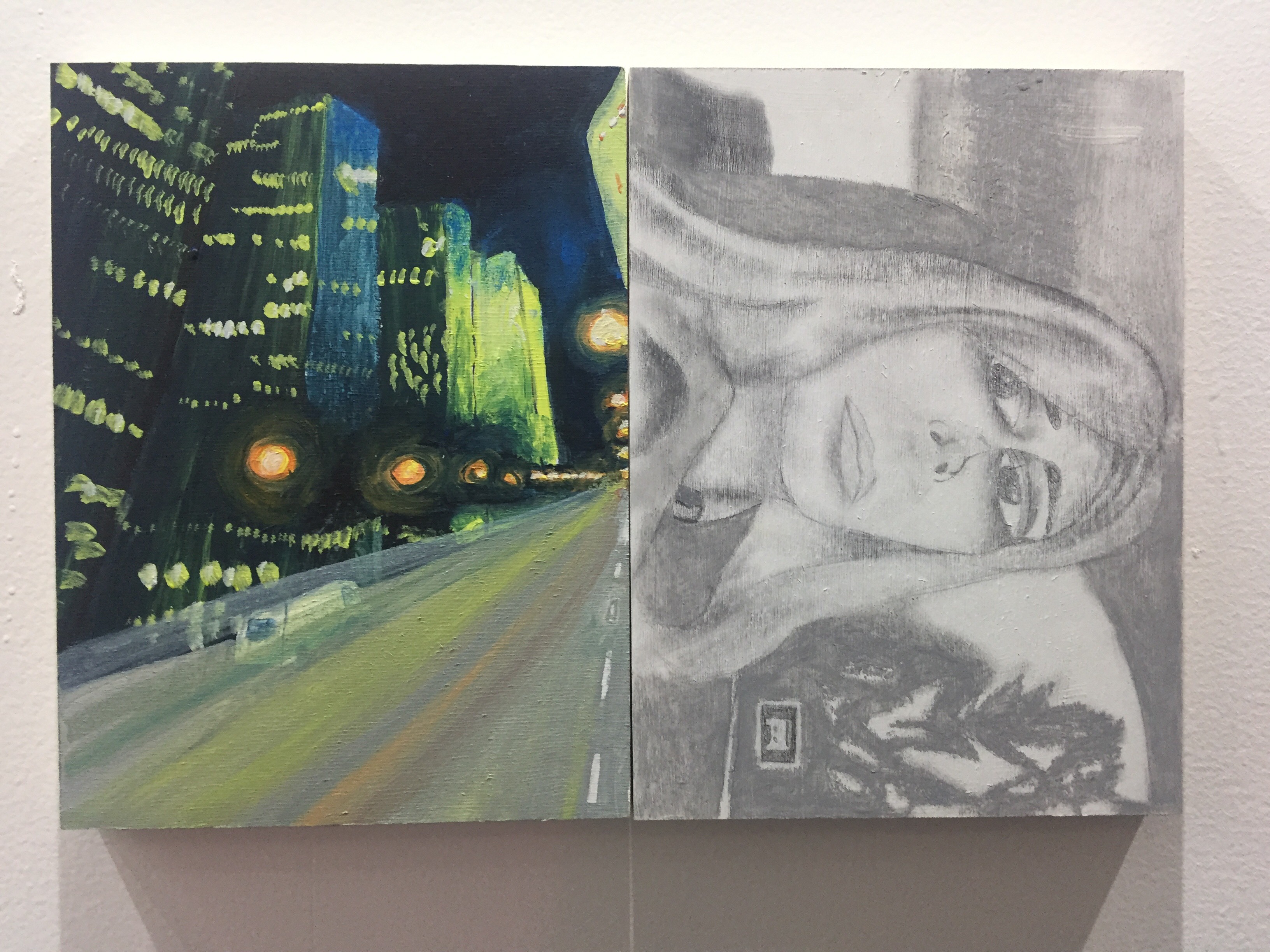 In Kimberly-Klark's solo booth it's, as co-director Dennis Witkin says, "All Raf, all the time." Raf, or Rafael Delacruz, seems to be having an emerging moment after having had four solo or two-person exhibitions last year at The Middler, Kimberly-Klark, Et al., and most recently Rachel Uffner, where he originally debuted Chelsea Manning. The split painting depicts a rendering of the now-famous photo of the transgendered U.S. Army soldier who was imprisoned for espionage after disclosing classified information on Wikileaks. Although the artist made the painting sometime last year, the image has serendipitously accrued additional significance since Obama commuted Manning's sentence as one of his last acts as president.
CHELSEA CULPRIT
Making Rain (2017)
$12,000 USD
YAUTEPEC, Mexico City, Mexico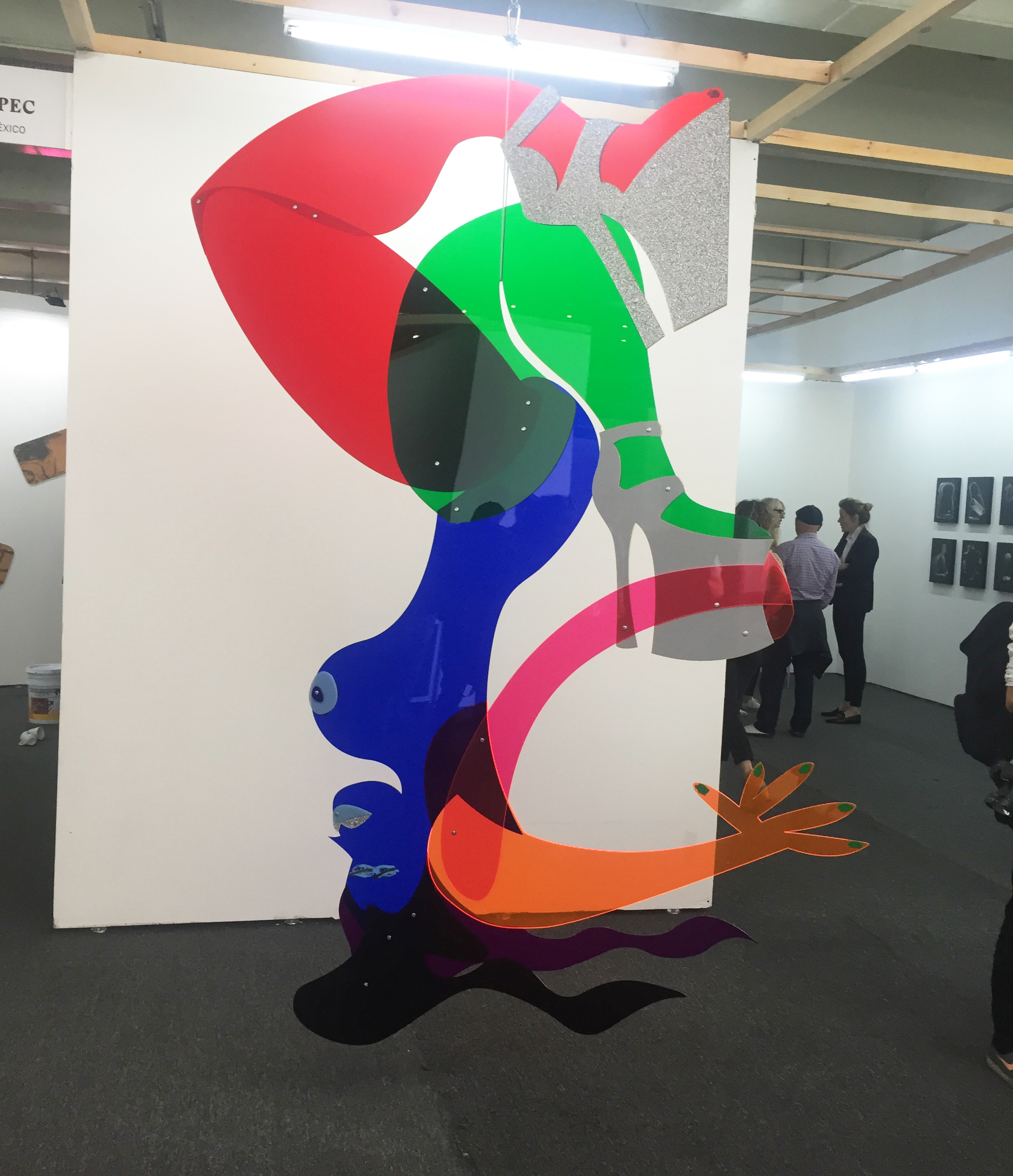 Chelsea Culprit might be on the crest of what could become an incoming wave of American artists moving to Mexico City, which has become an international destination for emerging artists across the globe, in part thanks to the growing audiences for Material Art Fair and Zona Maco (and a growing distaste for American politics.) Showing with Yautepec, a local gallery directed by Material founders Brett Schultz and Daniela Elbahara, Culprit began two new series of works since relocating several months ago. In keeping with her ladies-of-the-night subjects, Culprit has traded in her messy plaster and paint for the clean-edged efficacy of colored Plexiglas. Making Rain is part of a series called "Illumination," which mixes "modernism with nightlife," says Culprit. The series is the first of two that explore our increasing desires to "define ourselves as independent individuals in a fractured world" while also needing the intimacy and support of close relationships during times of uncertainty. The next series, yet to be titled, will involve multiple figures embracing one another and melded into singular, flesh-colored two-dimensional forms.
NINA BEIER
Untitled
Around $6,000 Euros each
Joségarcía, Mexico City, MX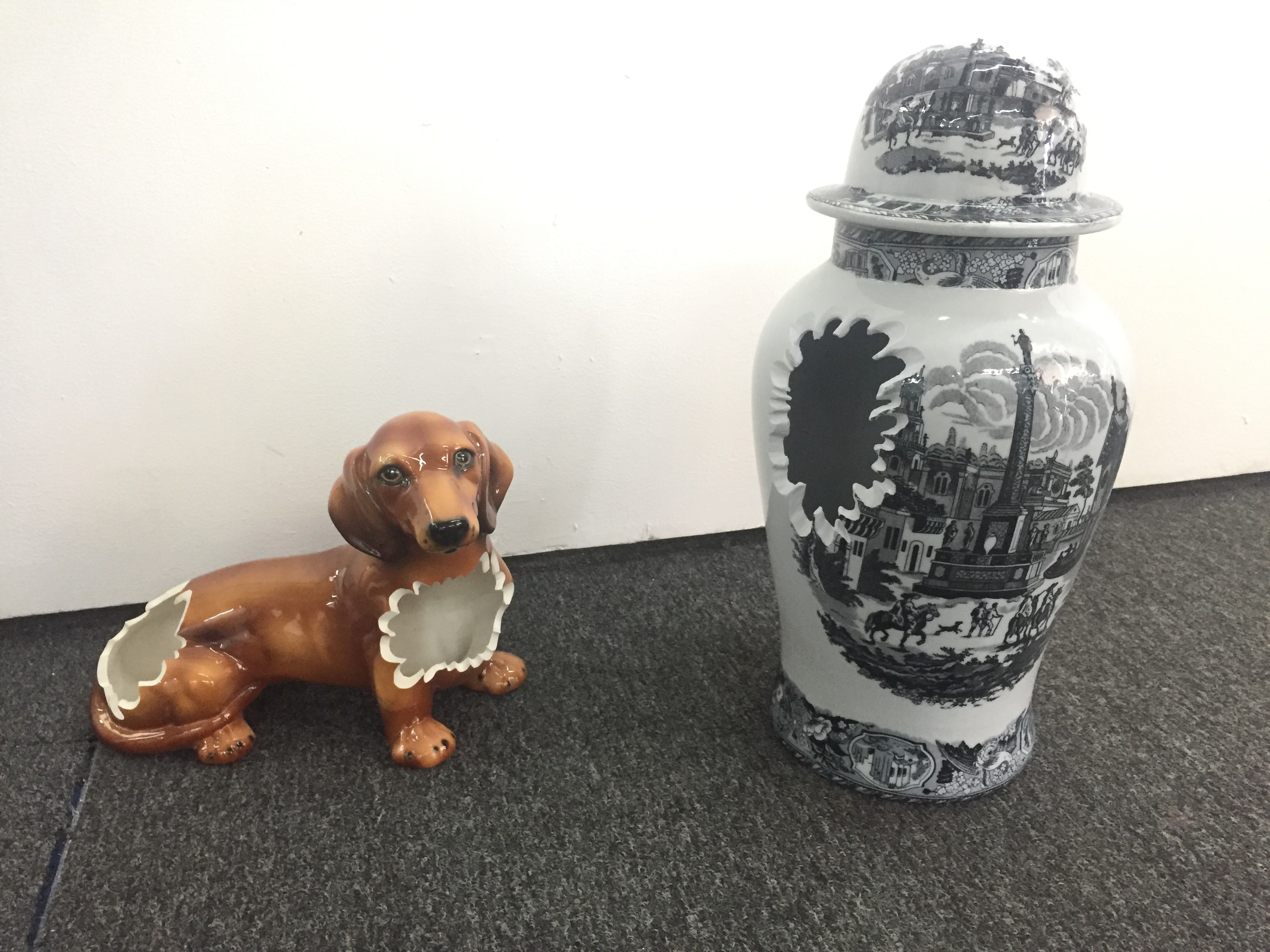 Nina Beier has a pretty good formula: buy something for not too much money, break it, and then sell it for way more money, as art. These floor sculptures are store-bought ceramic items that Beier carefully and deliberately cut chunks out of. "What does it mean to give an object value?" her dealer asks, pointing out the humor and irony that has come to define the Danish-born and Berlin-based artist. While Beier's dog holds down the fort at Material, Joségarcía will feature an offsite solo presentation of the artist's work inside of a model apartment in a building under construction.
DARBY MILBRATH
Home (2017)
$2,750 USD
Project Pangeé, Montreal, Canada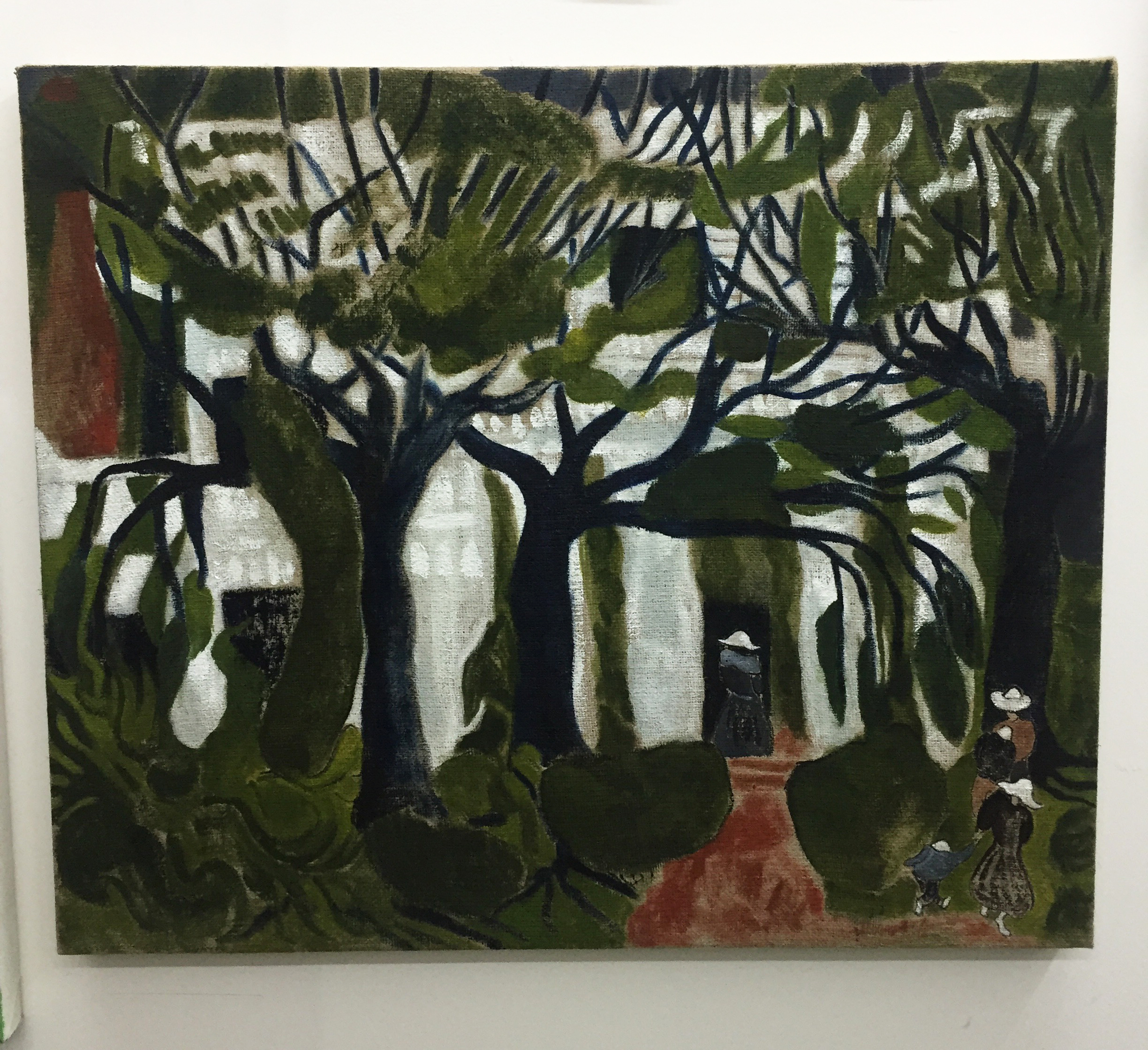 If you've ever wondered if figurative oil painting runs in the family, in the case of the Milbrath sisters, it does. Darby and Claire Milbrath hail from Canada (they currently live in Toronto) where they and their two other siblings grew up in a mansion on the coast. "It's haunted," says Darby, who attributes her creativity to a childhood filled with make-believe. (But are your friends imaginary when they're actually real live ghosts?) Home depicts the said haunted house, which to this day is where the sisters often spend time their time painting. The historical roots of Milbrath's dry-brush paintings on linen dig deep (the influences of Matisse and Gauguin are obvious) despite the artist being entirely self-taught.
CLAIRE MILBRATH
Picnic Scene (2016)
3,000 USD
Project Pangeé, Montreal, Canada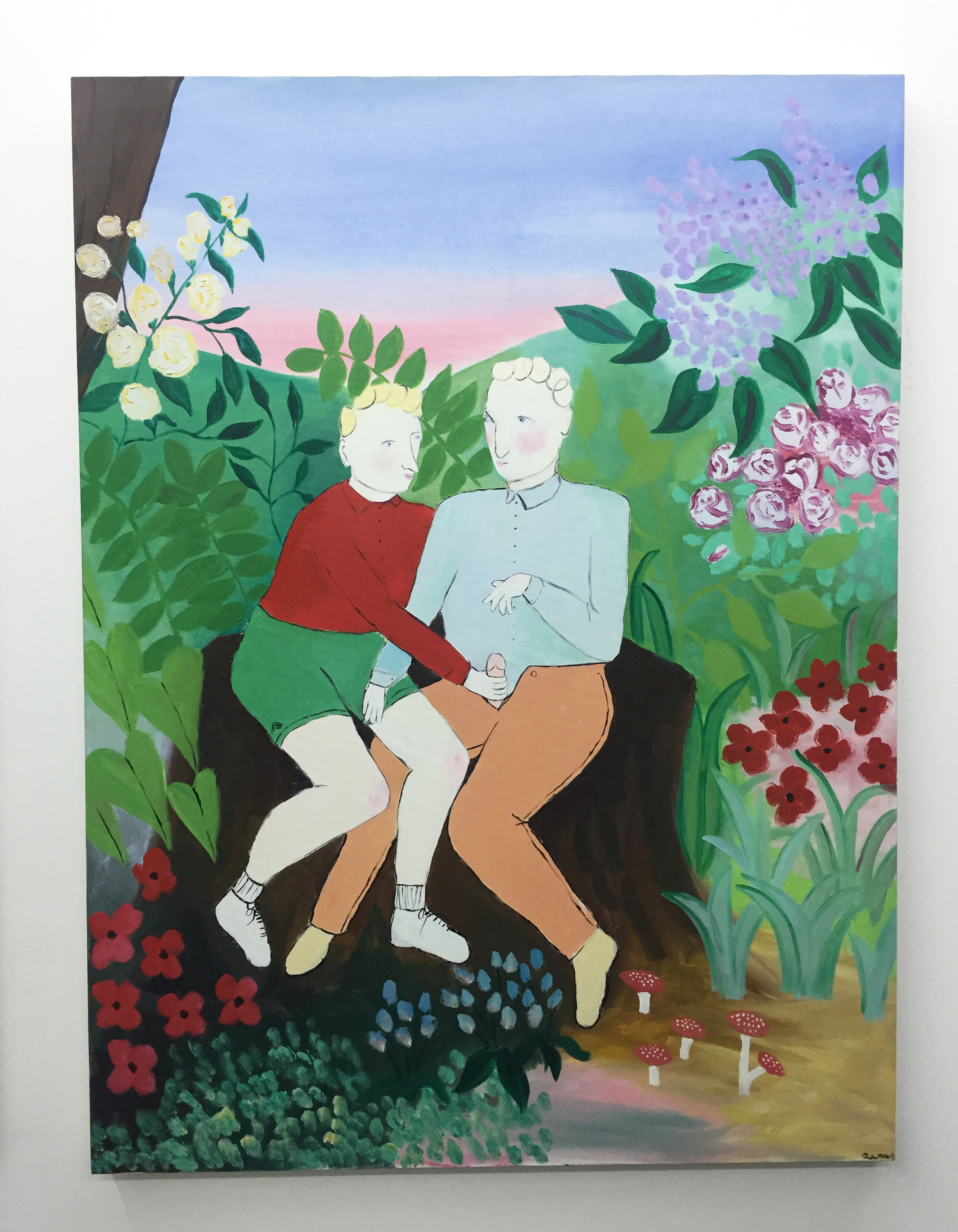 Like her sister, Claire Milbrath takes her cues from Matisse. But when it comes to subject matter, Claire is primed for an audience firmly rooted in the 21st century. "Poor Gray is a character I created eight years ago when he first got trapped in the world I created for him," says Milbrath of the recurring male figure in her vibrant and sometimes pornographic scenes. Milbrath, a 28-year old heterosexual female, says she feels as though she is Poor Gray, whom the artist describes as an "anxious, upper-class gay man who is always smoking." "I think I wish I was a gay man," she says, though her choice in subject matter isn't only out of envy. After working in fashion photography, Milbrath became disenchanted by the female form, which she says she saw too often depicted laying down and passive. By painting passive men, Milbrath can express her own anxiety and nervousness without projecting those qualities onto female subjects.