Walk into almost any fast fashion retailer you'll find apparel riffing on iconic art, like the Junk Food Basquiat Crown Tee at Urban Outfitters or Uniqlo's Keith Haring Graphic Tees . But long before iconic artworks became silkscreened branding strategies, art apparel had emerged as a medium in it's own right. Artists like Henri Mattise , Salvador Dalí , and Louise Bourgeois experimented with fashion as an extension of their work, while artists like Nick Cave and K8 Hardy have dedicated the bulk of their careers to the medium. Here are eight wearable sculptures that definitly don't fit the dress code.
1. Giacomo Balla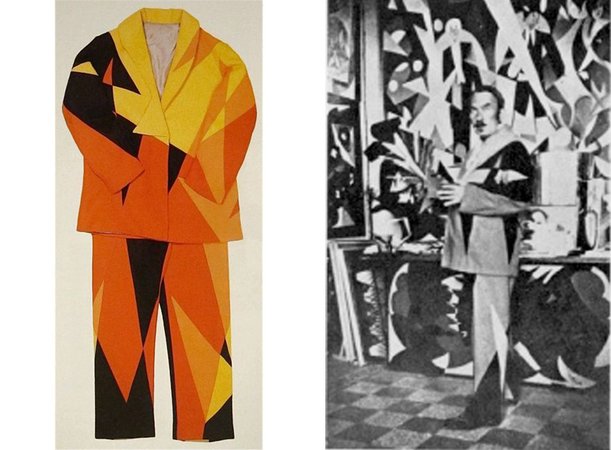 In 1914, Italian Futurist Giacomo Balla 's wrote The Antineutral Suit: Futurist Manifesto which condemned 'funeral' black and instead championed colorful clothing that embraced industrial, urban life. The manifesto foreshadowed the artist's flamboyant suits of the 1920s, which the artist described as "inspiring the love of danger, speed, and assault, and loathing of peace and immobility." This violent outlook materialized following WWI as the Futurists developed close ties to Mussolini and the Fascist movement.
2. Salvador Dalí


Salvador Dalí's collaboration with Elsa Schiaparelli pushed the prominent post-WWI Italian designer to embrace her Surrealist sensabilities. The illusionistic, trompe l'eoil Tear Dress references some of Dalí's paintings that depict figures in ripped skin-tight clothing—appearing as if their flesh is torn. And Hat , inspired by a photograph of Dalí wearing a shoe on his head, reached new heights of Surealist absurdity in fashion.
In 1951, Henri Matisse designed and constructed the Rosaire de Vence Chapel as a monument for his nurse, Monique Bourgeois , who posed for several drawings and paintings in addition to helping the artist recover from cancer-related surgery. Matisse created a series of colorful chasubles—the outer garment a Catholic priest wears while celebrating the Mass—which Matisse viewed throughout the design process as a crucial element of the chapel project. The colorful garments, which keep within the traditional liturgical colors schemes, are still worn today by priests during mass.
Browse wearable art for sale on Artspace
4. Frida Kahlo


Frida Kahlo 's bright, bold wardrobe was locked away in storage for decades after her death as requested by her lover Diego Rivera . In 2004 the clothing was uncovered, becoming a testament to the artist's unique sense of style that in addition to heavily layered skirts and corset style bodices, included tweed men's suits and traditionally masculine outfits. After suffering injuries to her pelvis, back, leg, and collarbone, Frida recovered in a body caste, bedridden for months. She painted the castes that immobilized her, like the one pictured above.
Working in her family's tapestry workshop as a child, Louise Bourgeois developed a skill for textiles that would later inform the giant spiders, mutant penises, and contorted female bodies that made her famous as an adult. Bourgeois often cut up clothing from her own closet to incorporate into her works and was once quoted saying "clothes are about what you want to hide." In 1978, Bourgeois's performance piece A Banquet/A Fashion Show of Body Parts involved wrapping students and art historians in white drapery embellished with anatomical forms, such as the lumpy garment that the artist wears in the picture above.
6. Jean-Michel Basquiat & Andy Warhol


Though perhaps not intended to be an artwork, this jacket was tagged by Jean-Michel Basquiat and Andy Warhol during Basquait's first opening at Mary Boone. The jacket originally belonged to Joy Bouldin , a friend of the artists who worked the door at an early '80s club frequented by the cool kid art crowd in the LES. Bouldin also held onto a second leather jacket she wore while working the door that sported tags from Basquiat, Keith Haring , and Dave Scilken , an artist and member of the Beastie Boys , among other underground artists as they entered the club where she worked.
7. Nick Cave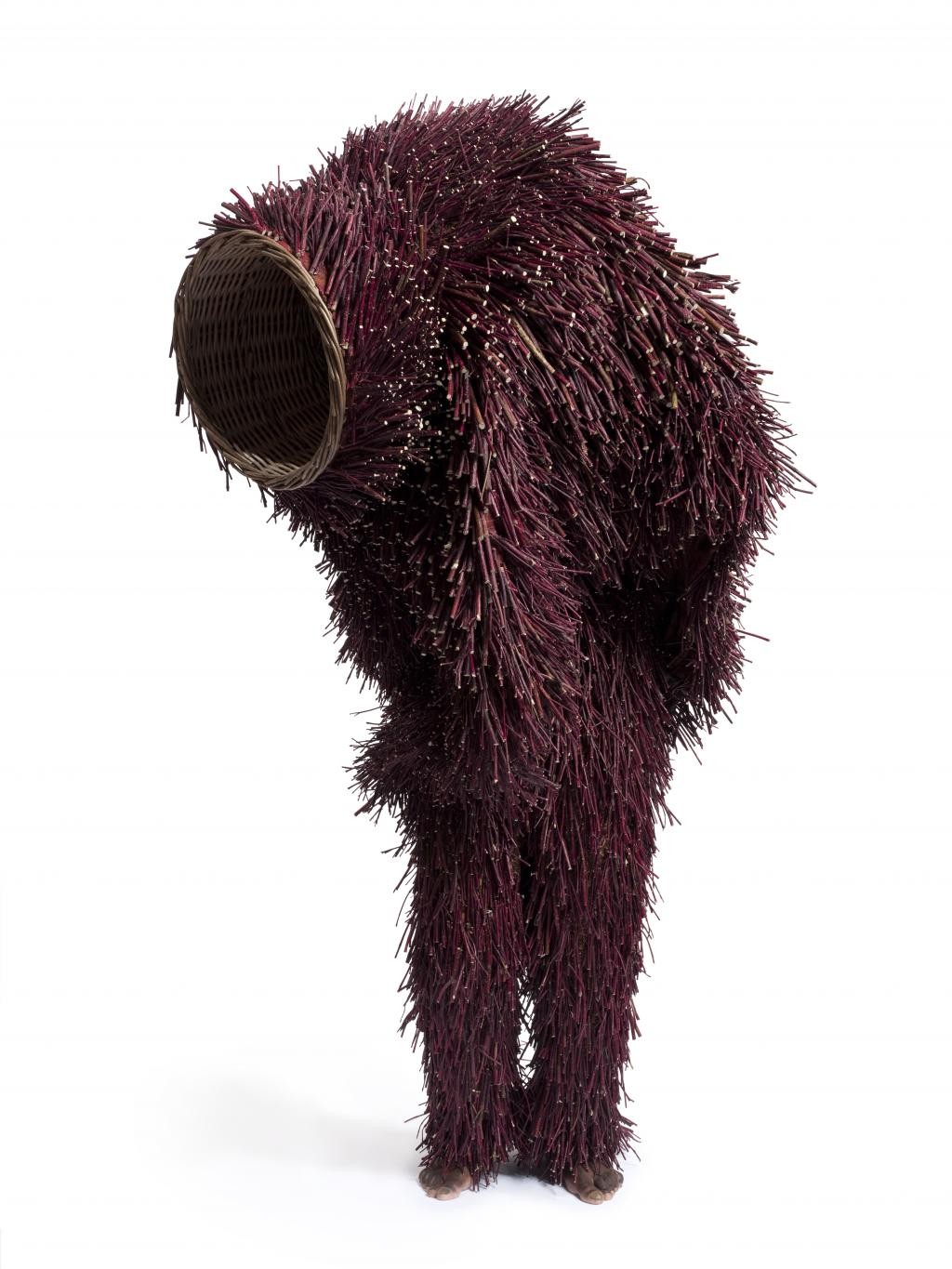 Nick Cave's Soundsuit #4 is available as a photograph on Artspace for $350

Performance artist and sculptor Nick Cave is most known for his Soundsuits , which in some contexts stand on their own as sculptures, and in others, are animated by the dancing bodies moving within them. The brightly colored six-foot-tall suits are the artist's attempt at camouflaging the body to create a second skin that conceals gender, race, and class. Some suits look like they jumped straight out of Where the Wild Things Are while others are pieced together from kitsch and craft materials like beanie babies, plastic buttons, yarn, wigs, and pipe cleaners.
8. K8 Hardy


Performance artist and founder of the queer feminist journal and artist collective LTTR , K8 Hardy staged a fashion show at the 2012 Whitney Biennial that showcased a collection of garments made form found and recycled items. Subverting traditional notions of consumerism and fashion, Hardy aims to inspire the viewer to ask how their own clothes are made, and why they dress themselves according to certain conventions.
Turn your body into a walking gallery with these artist-designed wearables